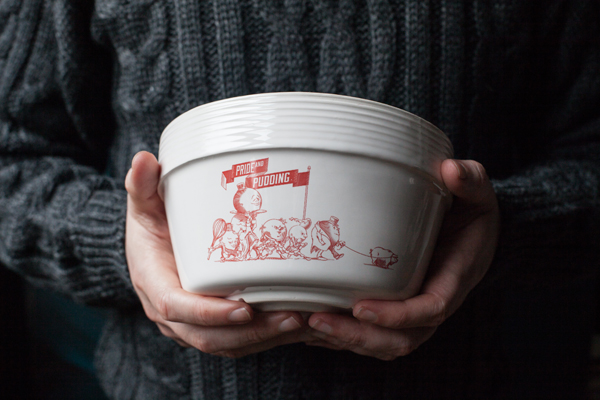 At some point when I was working on Pride and Pudding, probably in one of those moments of super clear thoughts in the middle of the night, I decided I wanted to try and create a Pride and Pudding – pudding bowl. Since I have been collecting the vintage and antique pudding moulds of England's past, the need for creating a new one was great. In fact, it became something that nearly seemed impossible to pull off. But when I was introduced to the ceramics artist Solomia Zoumaras by another potter in their studio in Hackney, the first little piece of the bowl was made.
It took 6 months from that first meeting, several skype calls, messages, visits and samples, until I picked up the first finished bowl last week. Today 25 handmade bowls are available for sale in the Limited edition package of the book, and for 5 days only it is still possible to choose your illustration from the book for your signed print. The limited edition pack contains a signed book, a 5 piece postcard set, a signed illustration print and this amazing illustrated pudding bowl. You will find more information about the pre-order here on the book page >
But the reason for this post is about the incredible art that is pottery. I want to celebrate Solomia and tell you how the basins were made. It is a fascinating process and I will never look at a piece of pottery the same way again. Watching The Great British Pottery show on the BBC was great, but seeing this come to life showed such complexity and skill, even though it might look like a very simple design. Over to Solomia who will take you through the process which I have tried to document with pictures in her studio in London….