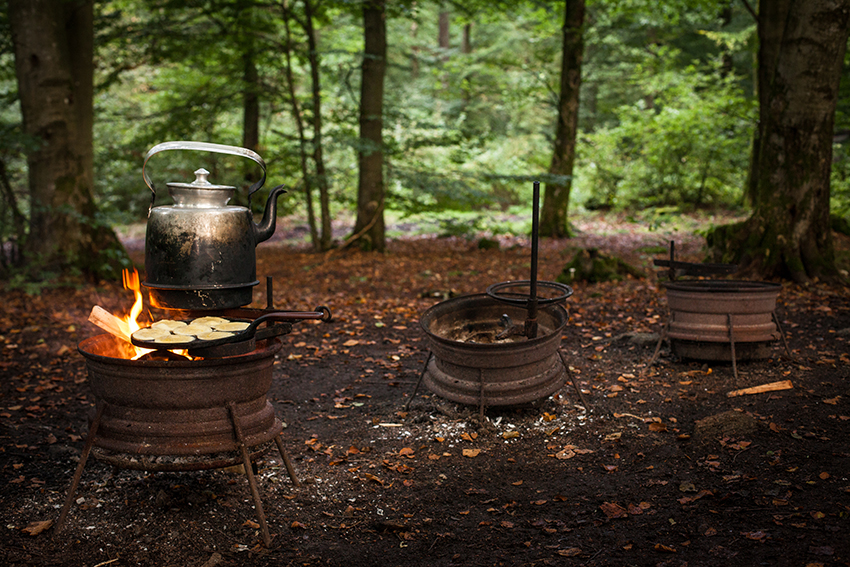 I didn't really know what to expect when I stepped on a plane with final destination Sweden in what was possibly one of the most dreadful moments of my life. My heart was pounding in my throat because I just left my gravely ill and much beloved 15 year old cat in the very loving hands of my husband. I sat on the Copenhagen station platform waiting for a train to Malmo in Sweden, I felt utterly alone and I just wanted to be home.
But suddenly I looked up and there I saw the wonderful smile of Sarah from Vienna. Like me she had a huge backpack, accompanied by a small one, dressed in outdoorsy clothing but in a far better mood than I was. Excited she asked if I was traveling to the food camp and we started talking, trying to figure out delayed and cancelled trains and word by word I was letting go of the overpowering sadness and worry.
We boarded a train and then a taxi which brought us to a beech forest in Skane. We were greeted by Lotta Ranert, creator of Pure Food Camp and one of the two women who brought us all together here and Camilla, the owner. There was cheese to welcome us, cheese made by Cecilia Timner, 20 footsteps from where we were standing, made with the milk of the pale creamy fudge-coloured cows we heard mooing in the distance.
Nothing happens in my brain here before I have made sure we have this fire and it's going and we can make food and tea.
The camp existed out of a couple of yurts and a big mother-yurt which was the heart of the site. In the centre of that yurt was a warming wood fired stove with water boiler that created a spectacular display of steam, there were pots, pans, crockery and a couple of essentials. Each of our own yurts had a sweet little blue door, painted with illustrations. Two little beds with a duvet and woolly blanket in each yurt, a water container, oil lamps, matches, a kerosene fire and a bowl to hold water to wash ourselves. It was a simple set up but yet it felt like luxury.
Our outdoor loo was of the glamorous sort with a see through roof, wooden walls and an actual toilet seat. Much more than I was expecting but very welcome indeed on moments when going behind a big tree wasn't an option.
After talking us through how to tend to the oil lamps and kerosene fire, loo and a few other practicalities we were expected up a gentle hill where a large table was set with vintage teacups and plates ready for "Fika". Fika can be compared to a simple afternoon tea yet less formal and it can happen several times a day. One of the Swedes told us in many Swedish companies Fika is even a big thing, Fika is serious business and should not be skipped.
The kanelbullar (cinnamon swirl buns, see my recipe here), almondbullar and chocolatabullar (balls made of butter, cacao and oats) were passed around the table laughing as if we were at day 5 not hour 2 into the camp week. Tea and coffee came from tall sturdy steel teapots who hung from the smoking open fires. It was supposed to be raining I remembered, but instead here we were, outside, drinking hot drinks and eating all kinds of bullar while secretly gazing around us, taking in the details of the forest, savouring this unique moment in our lives.
The sun was lowering on the sky and Camilla, the owner of the Nyrups Naturhotel that was our yurt camp introduced us to the menu of the dinner we would be cooking on the fires. Two vegetable starters, a main and a pudding, each in a basket, just the ingredients and the suggestion of what to do with them. Sarah from Vienna and I teamed up and went for the main. In our basket we found locally caught perch, potatoes, cavollo nero, a selection of forest mushrooms and a couple of carrots. Sarah did potatoes and pickled carrots while I fried the cavollo nero and the mushrooms in plenty of butter and a touch of fire in a pan I'd love to call my own. When it was time for the fish I thought of a recipe I learned to make a week before by a friend in England, cooked in clay, straight onto the embers. Lacking clay we used every bit of newspaper we could find – although it was meant for starting fires – rubbed the fish with lemony wood sorrel we quickly foraged in the last evening light, a bit of thyme, juniper berries and a healthy doze of pepper, salt and a good knob of butter or two. The fish we wrapped in baking parchment because we did not have a large leaf at hand, then we wrapped each parcel in the soaking wet newspaper. Everyone went in to start dinner while a couple of us stayed behind to cover all the open fires with pans of fish parcels.
By the time we had finished our starters: cauliflower, bacon and potato by Gabriella from Spain, Emily from England and Helen from Germany and beetroot & Swedish halloumi by Kerstin also from England we gathered the parcels and removed the now charred newspaper. The perch was to my great amusement perfectly done, not too far, pearly white and very moist. Everyone got a parcel and as a side the kale and mushrooms I had fried on the fire earlier, parts of the kale slightly crisp because fire tends to lick the inside of your pan. Fire adds a seasoning you can't recreate, because it's also the smoke in your eyes, the heat on your hands and arms that add to the taste of cooking food in the wild.The wood sorrel is definitely a new favourite leaf to use, I wonder if I can make it grow in my wild garden at home… Fair haired Titti Qvarnström – our other host and the first female head chef in Sweden to receive a Michelin star – was sitting next to me at dinner and she approved of the fish so that's good enough for me!
Pudding was just that, a delightful cake skilfully baked in a tin on the open fire by former UK Masterchef winner Keri. The darker bits were the best, we had seconds, drowned in a custard she made from scratch and on a temperamental fire, no mean feat.
By now I bless myself and the stars to be here. This is already an unforgettable trip and were only just started our journey. I realise however that we are all so out of touch with nature. When you have no electricity things become simple and difficult at the same time.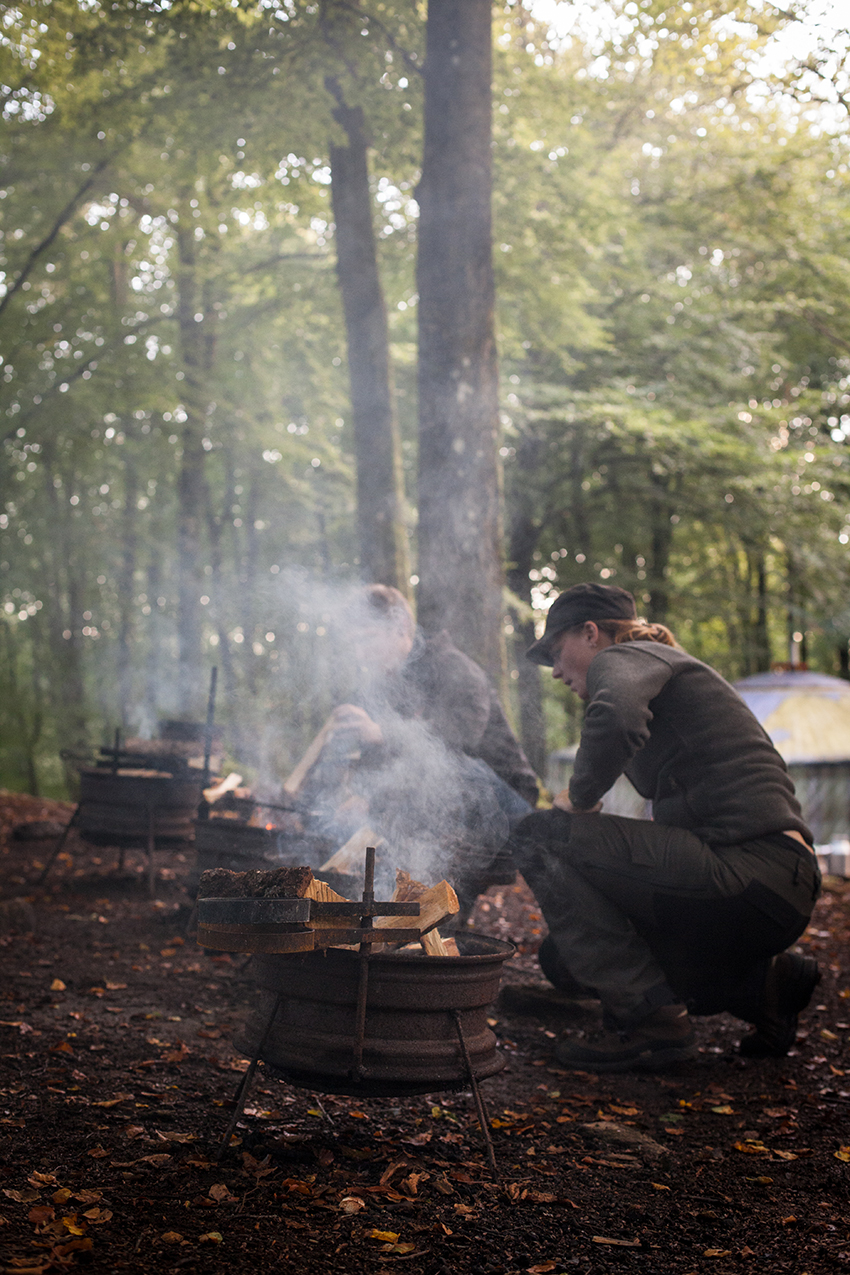 After this feast accompanied by excellent local Swedish wine and beer the last ones standing toast with a traditional herb liqueur Sarah kindly brought us from Austria. Then it suddenly it hits me when I go outside to find a big tree… it's incredibly dark. Kerstin comes with me because I am a wimp. We head back to our yurts, armed with all the oil lamps we can find because I managed to scare the group with my own fears about zombies in the forest. We all have a laugh but secretly hold to that lamp with a passion.
First night in a yurth, in the middle of the woods, with someone we only just met a few hours ago… My yurt-mate Keri and I decided to keep the oil lamp on while we try to sleep… we can't face the complete darkness just yet.
The next morning my insomniac self awaited dawn eager to cook breakfast on the fires. I looked out of our yurt, the sky is red, beautiful. I decide a simple bun in my hair instead of my intricate hairdos and no make-up are in order, because we don't have a mirror, and we're in the middle of a forest, who cares! I do, but still I go with the bun.
…