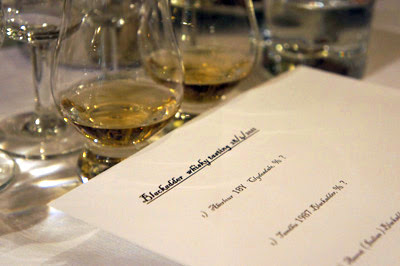 My dad loves Whisky so when he turned 60 I wanted to do something with him that he would really enjoy. When I found out there was a tasting with Robin Tucek from Blackadder in Antwerp, my choice was made.
Blackadder was originally founded by Robin Tucek and John Lamond who you may know as the authors of the popular whisky book "The Malt Whisky File: The Essential Guide for the Malt Whisky Connoisseur". John Lamond ceased to be part of the company by the end of 1999
Blackadder believes in bottling only whiskies that are completely natural.
Robin's challenge, is to select and bottle only individual casks as naturally as possible. To ensure this they only give their whiskies a light filtration to remove any cask particles that may otherwise get into the bottle. Blackadder Raw Cask whiskies, however, are completely unfiltered. Whisky with the bits still in it as Robin referred to it.
All Blackadder whiskies are single cask bottlings. This also applies to whiskies bottled under all Blackadder International labels such as; Aberdeen Distillers, Clydesdale Original and Caledonian Connections whiskies.
"Cask is King."
Each cask is chosen to represent one of the very best examples of its type and age. No two casks of whisky are ever completely alike, because the type of oak used and the conditions under which it is stored will both influence the ultimate spirit produced.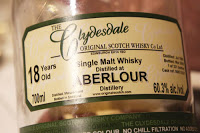 My favourite!
We had the pleasure this evening to taste 6 beautiful Whiskies:
Aberlour, my personal favourite. An 18 year old Whisky by Clydesdale at 60,3%
Tamdhu, 1987 by Blackadder at 49,3%
Amrut, by Blackadder at 62% amazingly made from Barley grown in the Himalaya.
Clynelish, 19 year old Whisky by Riverstown at 67%
A drop of the Irish, 10 years old by Blackadder at 46%
Smoking Islay, by Blackadder
I can tell you how they all tasted to me but as Robin pointed out, everyone will experience the taste differently. What I can tell you is that I didn't fancy Whisky much before this evening, but now I do! I'm still thinking about the sweet and full taste of coffee and chocolate when I wetted my lips with the first Whisky and how much it tasted like Crème Brullee and tobacco when I added a drop of water …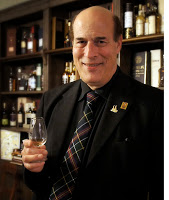 Robin Tucek
Robin Tucek was a pleasant speaker and really taught me to enjoy and taste Whisky instead of just drinking it. I got talking to him after, he's a guy with standards and principals about food and drink, very much like my own.