Every time we go for dinner at my parents house, we hope for my mum's Moussaka.
It's a dish that she makes best of all, her signature dish so to speak.
It brings me back to a summer evening when I was just about 3 or 4 years old, my parents and I walked to the park that day so I could play in the playground. It was a very long walk and a hot day and I must have been very tired that evening. We had Moussaka for dinner and I can still remember looking forward to it as the lovely smells came out of the oven.
I was sick that evening and I'm sure it wasn't the Moussaka but the tiredness and the heat that day.
Normally I wouldn't consider a memory like this pleasant, but it's the first memory that I have of my mum's Moussaka so I kinda treasure it anyway.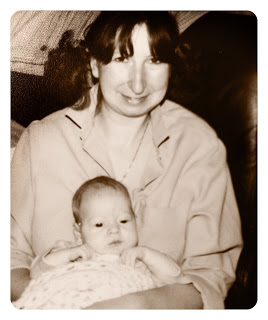 Mum and me
Sometimes my mum changes something in her Moussaka recipe which is followed by utter disappointment as the whole family was expecting "the" Moussaka.
"The secret lies in using the best olive oil" my mum always said but even with my best olive oil, I can't reproduce this dish. When I make my mums Moussaka it tastes completely different…
So I decided not to try anymore and enjoy her Moussaka when she makes it, and boy do we enjoy it when she does.
Mum, don't change the recipe again and keep on making it exactly as you have been for the past 30 years. Watching you bring this dish to the table with the whole family sitting there, eager to tuck in gives you a lovely glow. We all love it and love you for it.
Happy birthday Mama!
We are all hoping you are cooking your Moussaka tonight!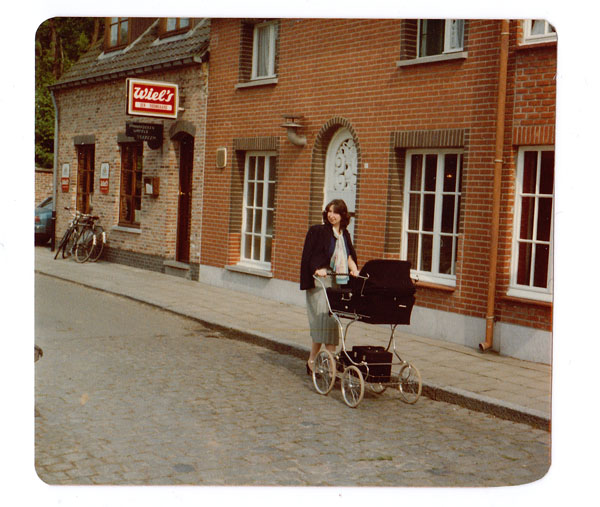 My mum and I, me 9 months old, my mum 31
So here it is…
A dish inspired by my mums
This dish is best prepared the day before so all the flavours can develop.


Ingredients (serves 3-4)
350 g of minced beef* (you can also use pork or a 50/50)
A few sprigs of fresh thyme (you can use dried, my mum does)
1 big onion chopped finely
1 clove of garlic chopped finely
1 big aubergine (or 3 small ones like in the picture)
3-4 tomatoes
Olive oil (the good bottle)
Ricotta 1/2 tub
1 small tin of tomato concentrate
white wine
milk
Parmesan
Mozzarella (or another melting cheese)
*For a vegetarian version:
You can substitute the meat with Quorn and not use the wine.
Method
Preheat the oven to 160°C
Chop the onion and the garlic, put a pan on a medium heat fire. (I always use a cast iron pan)
Put some regular olive oil into the pan and add the onion and the garlic, let it color for a bit then add the meat and thyme.
Cook the meat until it starts to stick to the pan and pour over just under half a glass of white wine.
Let the wine evaporate and add the tomato concentrate. Heat it and turn down the heat and leave while you prepare your Aubergine.
Cut the tomatoes in 0,8 cm discs.
Put a heavy based pan on the heat, I always use a cast iron griddle pan so I can put it into the oven afterwards. Finely slice (0,5 cm) the aubergine in discs and take of the skin. Arrange neatly next to each other into the griddle pan and drizzle over some good olive oil so every slice of aubergine has some oil, flip the discs. Put into the oven for about 10 minutes while you prepare the ricotta sauce.
Just mix half a tub of Ricotta with some milk to make a soft sauce, slowly heat it in a small pan and season with salt and pepper, add some parmesan cheese to your taste.
Evenly spread the meat on the bottom of the pan you used to prepare it in.
Arrange you Aubergine over the meat in one layer and then a layer of tomatoes.
Season with a turn of the pepper mill and some thyme.
Pour you Ricotta sauce over and finish with Mozzarella so the whole dish is covered. Do not layer it to thick.
Finish of with some leftover slices of tomato and thyme.
Put in the oven for 40 minutes, the olive oil must come to the surface and the cheese must have melted.
Serve with bread and/or a green salad.
I'm not saying this is the real Greek Moussaka, in fact this has become more an Italian dish. So if you are reading this and you are Greek, I would love to hear your comments!
Drink some dry white wine with this dish, we had a Soave Classico.
Enjoy!