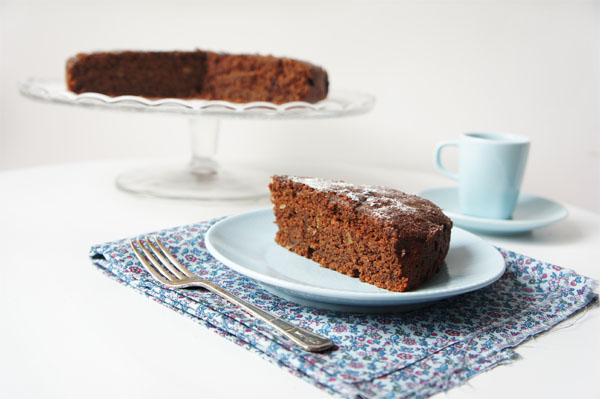 Chocolate cake, don't we all need it once and a while?
I do, not even being a chocaholic I do crave chocolate cake sometimes.
But my needs are specific, I don't want it to be to sweet, to spongy or to dry. I want a moist, firm cake with a bitter taste of chocolate and some nuts.
I spent years baking chocolate cakes trying to perfect the recipe, they all came out wrong. Some were to moist, to heavy, to sweet, to salt, to dry, to burned… you know the story.
A few weeks back
Zita
a fabulous vegetarian food blogger from Hungary I met in the summer, shared a
vegan chocolate cake
recipe with us, using whole grain and white spelt flour. I love Spelt, I use it for bread all the time but for some reason I've never tried using it to bake this cake before.
I decided I wanted to use Ricotta, because I had cake in our favorite Italian restaurant that had Ricotta in it and made it taste so creamy. That, and because I just LOVE Ricotta in every way.
The best chocolate cake I ever ate was in a small tearoom in Glastonbury when I was 18 years old, it was the first holiday I went on without my parents.
This means it took me 10 years to create a cake that equals that cake I ate in 2001.
To be fair, I didn't bake for about 5 years. And perhaps the fact that I was on my first holiday alone had something to do with it.
But here it is, my favorite chocolate cake.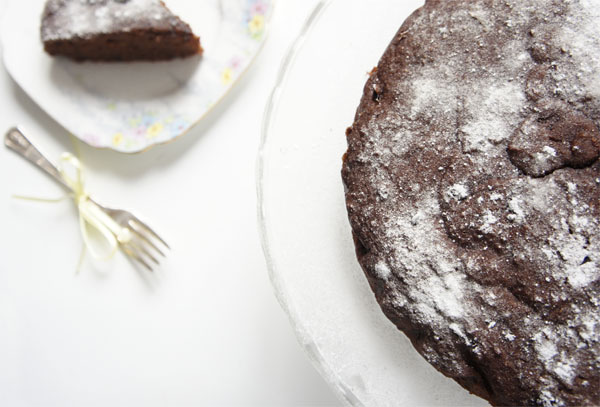 Ingredients
6 teaspoons of cocoa
2,5 teaspoons of full fat milk (I use raw milk)
250 gr of Ricotta (1 tub usually)
2 eggs (free range)
1 teaspoon of vanilla extract
150 gr wholemeal spelt flour
1,5 teaspoons of baking powder
150 gr of good quality salted butter (I used salted Jersey butter as I had some in the fridge)
140 gr of cane sugar
a handful of roasted hazelnuts and pecan or walnuts, crushed
a few pieces of the darkest chocolate you can find (I used Cote d'Or 86% noir)
Optional:
about half a teaspoon of Whisky, you can leave this out or substitute with another type of liquor. It gives the cake that little extra touch.
Note: Spelt is not Gluten-free, some people may tolerate it better than others. For a completely Gluten-free cake you can use chestnut flour instead of spelt.
Method
Preheat your oven to 160° (gas)
Cover a baking tin with baking paper
1. Crush your hazel- and pecan nuts in a mortar, not too fine as we want bits in it
2. Mix your butter and the sugar, whisk until creamy.
3. Add the cocoa powder, the chocolate, the vanilla, the Whisky and the crushed chocolate to the butter mixture and stir.
4. Add the baking powder, 2 eggs and the milk to the flour and mix it together.
5. Add the Ricotta to the butter mixture and stir.
6. Add all of this to the flour mixture and stir well so you get an even batter.
7. Pour the batter into your baking thin and put in the oven for about 50 minutes.
When you take it out of the oven, leave it to cool in the baking tin.
Decorate with some icing sugar.
Enjoy!