A visit to the Christmas market In Aachen, Germany.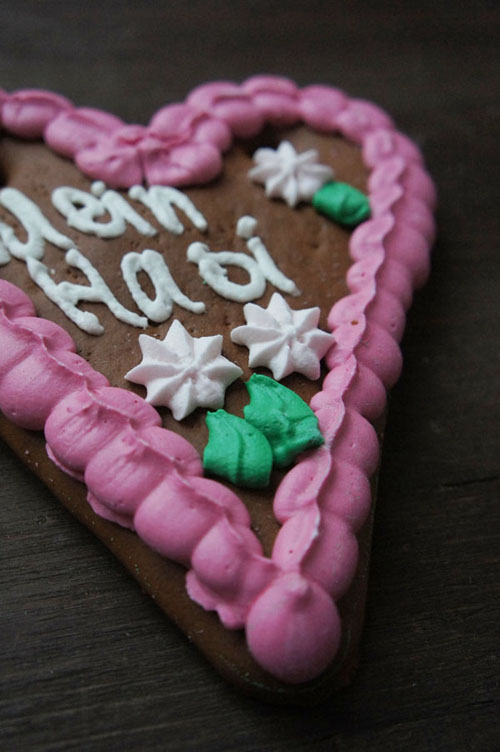 Lebkuchen heart, similar to gingerbread
I went on a day trip to Aachen with my parents, just like we always did when I was growing up.
It was one of the highlights of the year for me when I was a child, I clearly remember sitting in the pushing chair covered with one of those big plastic covers feeling cold but enjoying the christmas lights in the dark.
I recall the cold, my frozen feet and my hands being warmed by a little leftover glühwein my parents allowed me to have. When I started to walk, I remember the large people surrounding me, stepping on my new little boots, and the lebküchen heart I was looking forward to picking out.
Aachen means christmas to me. The scent of spices and chocolate from fresh lebküchen and the smell of anise from the artisan candy maker. Not a year went by that we didn't visit Aachen in the last two weeks before christmas. It just didn't feel like christmas without it.
My parents always tell me a story of them losing me in a shop and eventually finding me staring at the huge christmas tree in the middle of the store trying to get out one of the balls.
I loved the lights, the cosy feeling of going to the christmas market with my parents and the food.
Oh yes, the food.
When I was five or six I was allowed more sips of the glühwein to keep me warm and had Reibekuchen to warm my hands. I remember my face and hands being all greasy by eating those hashbrown like potato cakes, and sticking my hands in the air so my mother could take the grease away. I was well trained, no way was I going to clean my hands on my new wintercoat!
This year all those memories from my childhood came back to me, my mum and dad indulged me by eating Flammenkuchen for lunch, Lebkuchen whilst walking around Aachen and Reibekuchen after we strolled around the christmas market.
My parents asked me if we needed to go and look for my candied apple and even stopped and offered to buy me a Lebkuchen heart, on days like these I feel that they completely understand my love for food.
Mum and dad smiled all day, even though it was raining all the time. I think they were thinking about our trips to Aachen from the past 20 years too.
When we were leaving the market, I stopped to look at a little girl who was sitting in her pushing chair, protected from the rain by a plastic cover, being fed little pieces of Reibekuchen by her parents. She was sitting cosy but cold enjoying the christmas lights and perhaps she will be allowed a little sip of warming glühwein too.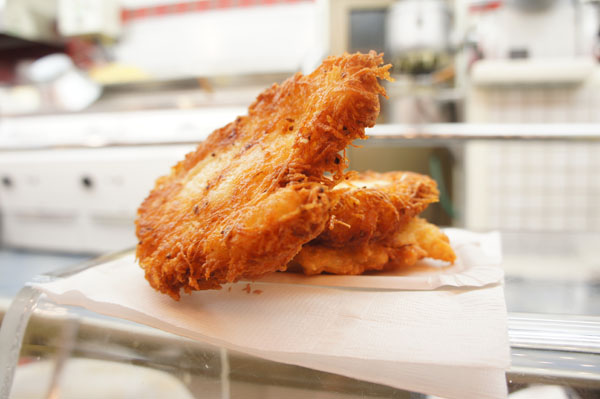 Reibekuchen, delicious with apple sauce
Reibekuchen are a potato pancake similar to a hash brown. They are also referred to as Rösti, Kartoffelpuffer and in the Jewish kitchen they are called Latkes. Basically you add onion, flour and egg to grated potato and fry it in oil. Traditionally they are eaten with apple sauce or sour cream.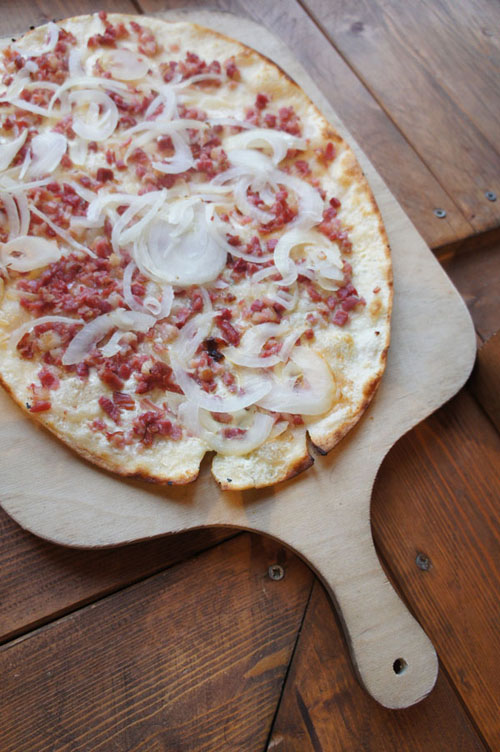 Flammenkuchen originates from Alsace. Farmers used to bake this pizza like tart to test the heat of their wood fired ovens before starting to bake the bread. It is a very thin rolled out dough traditionally in the shape of a rectangle. Toppings consist of sour cream or crème fraiche, speck and thinly sliced onion. The one we had in Aachen was deliciously thin and I'm going to share the recipe as soon as I can.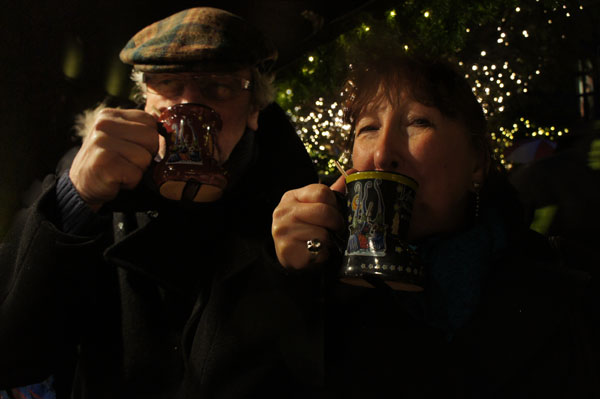 My mum and dad, sipping glühwein. Bless them.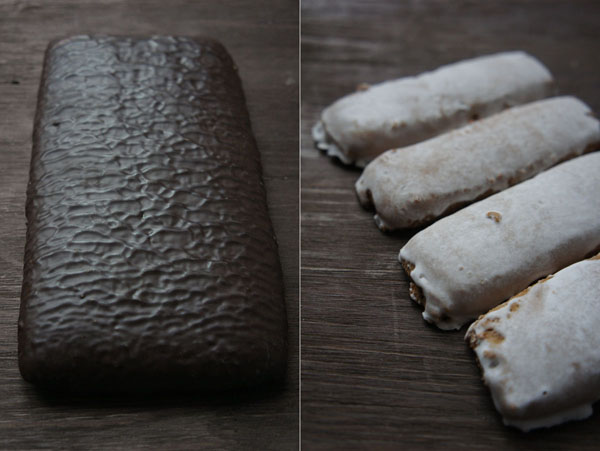 Bitterschocolade print and Prinzess printen
'Aachener printen' are protected by designation of origin and so they can only be found in Aachen. They are a type of lebkuchen. In Dinant, Belgium exists a similar kind of pastry and it is believed that the Aachener printen originate from these 15th century 'Couque de Dinant'.
The Couque de Dinant are made with engraved copper casts as for the Aachener printen, they are usually plain or decorated with chocolate, nuts and glaze.
The Couque de Dinant are still widely available in the Citadel city of Dinant but the taste is not as herby as the Aachener printen. We usually buy the beautifully decorated Couque de Dinant as a souvenir as the texture is a bit tougher to eat.
I you would like to go to a Chrismas market in Aachen, it starts around the last week of november and ends on christmas eve.
Places to go to
For Aachener printen: Nobis, Charlottenburger Allee 30
For artisan bread: Baeckerei Moss, Kellershaustrasse 60
For Flammenküchen: Pomm' Pös, Krämerstrasse 7
For Reibeküchen: Chrismas market behind the Räthaus.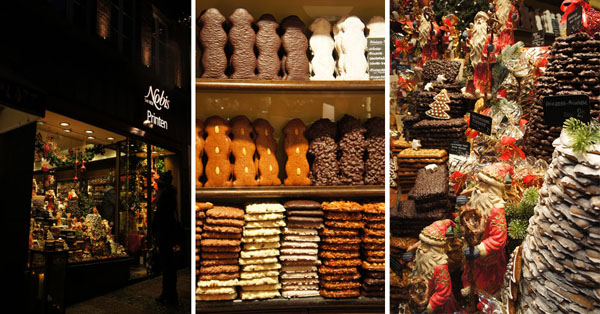 What does christmas mean to you?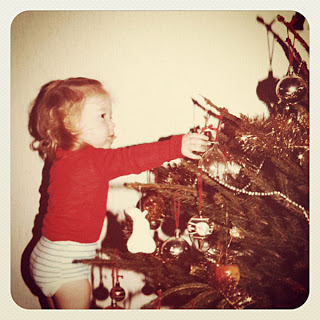 Please leave a comment. I appreciate every single one.