Last night when I got home there was a note awaiting me from the postman.
I was expecting a package from Ireland so I was very excited.
The next day I gave 'the guy from the news agent' my note from the postman "ah the parcel from Ireland, we don't get that every day" surprised by that fact as Ireland isn't at the end of the world, I collected my parcel laughed at the news agents jokes and went on my way.
What came out of the parcel was a white cake box, closed with a black ribbon and a postcard placed underneath.
I had no time to open it as I had to leave for work but I couldn't resist. I read the card, opened the bow on the box and revealed something very special an
Irish reader of my blog
had sent me.
This is christmas, my birthday, valentine…
A gift given with pleasure.
Received with joy.
And eaten with a smile on my face.
So where does the name 'tea brack come from'?
There are two types of 'brack': 'barm brack' and 'tea brack'. Yeast is used as a raising agent in 'barm brack', while 'tea brack' rises with the aid of baking powder.
The word 'brack' comes from the old Irish work 'breac' meaning 'speckled'. This might have referred to the way the the 'brack' looks with all the fruits in it.
Barm is thought to be from an old English word 'beorma" meaning yeasty. Some say it is a mispronunciation of 'aran', which means bread. So 'Aran breac' would have meant Speckled bread.
There is a tradition of baking trinkets inside, small items are mixed into the 'brack' before baking, each with a message or prediction for the person who gets it in a slice. The items sometimes include a ring, which predicts a wedding within the year, a small piece of cloth for poverty, a pea for plenty, a thimble for a spinster, a button for a bachelor and a matchstick to beat your husband or wife with.
The Irishman, gave me the advice to have a slice of his 'brack' with some good butter and to wash it down with tea. So I did on this freezing morning, imagining the Irish countryside and the dramatic coastline.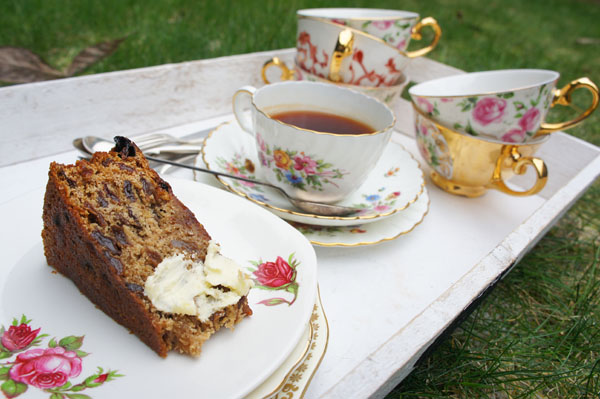 A recipe for this Irish tea brack can be found here >
I haven't made it myself yet, I do think the one I have now, straight from Ireland can't be beaten in flavour. If I ever visit Ireland, I will buy the ingredients there and bake a real Irish tea brack with Irish flour, eggs, butter, tea and whiskey!
This gift of a 'tea brack' is going to be savored with a cup of Earl grey tea and cherished until the last crumb.
Thank you
Brian
, for showing me the 'good' in people, the selflessness and the friendship.
*Regula*
I love hearing from you, please leave a comment…