Guest post*
Today I would like to introduce you to Charlotte, a 50s loving girl like myself and a baker of fabulous special occasion cakes. Charlotte and I met in februari when we were both modelling pretty dresses for my dear friend Sassy and her epic shoot in Birmingham (wanna see? you'll find it here).
She is sharing with us her 'Sticky lemon curd cake' and the story of how she became to be a professional cake designer.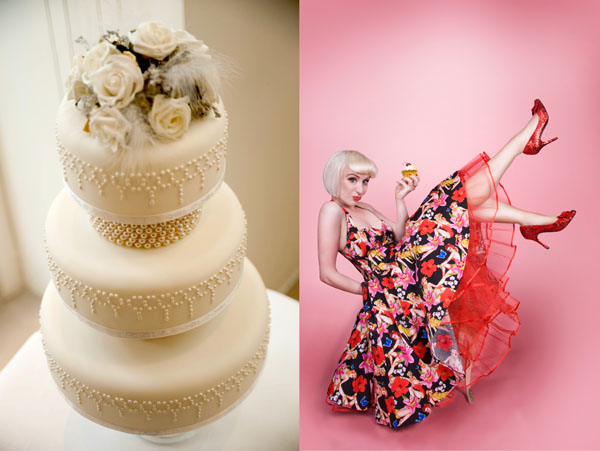 picture by Carla Thomas picture by Rockabetty Studios
If I could go back in time ten years to tell myself that I would be baking for a living in 2012, I doubt very much that the cocky little film student would believe me. I was studying with the intention to be a film producer 'when I grew up' and my baking was limited to delicious treats for our student parties. Honestly, I think that these were probably the most civilised student parties ever – our house was always filled with baked goods whenever we had guests, perhaps as a little something sweet to mask the taste of that cheap student alcohol. When we needed to raise funds for our final year documentary, I made fudge and sold it on campus; when we were away shooting on location, I baked cakes for the student crew. It never crossed my mind that this was a potential career. I had just always baked.
My Nana taught me the basics and my Mum gave me free reign of the kitchen to experiment, with the strict proviso that I clean up after myself. My family photo albums are littered with pictures of me at various ages, proudly displaying my latest cake creation. Each cake was generously covered in a thick layer of that awful cooking chocolate and strategically placed chocolate Buttons and Smarties. You would have to crack the shell to get to the cake! Thankfully, my family all share my sweet tooth so there were no complaints!
The suggestion that I could bake for a living came from a couple of friends after their Wedding in 2007. They had been working with a strict budget so I offered to bake them enough cupcakes to serve all of their guests as my Wedding gift. 150 cupcakes and a day off work in my kitchen later, I had trays of tasty treats all ready to go. I had iced them simply with flat buttercream and had topped each one with a red fondant rose that I had bought from a lady on Ebay. I wanted to learn how to make my own cupcake toppers so I attended an evening course at a local college. Then another. Then another.
As I learnt more and more tricks of the trade, I grew in confidence and set up Restoration Cake in 2009. I went full-time Cake Designer six months ago now and I have never been happier to get up and go to work in the mornings! I doubt that I will ever win that Best Picture OSCAR but I make a wicked bit of lemon cake…
Sticky Lemon Curd Cake
I have searched all over to find the best lemon sponge cake. I knew that I wanted it to incorporate the lemon drizzle method and contain ground almonds and lemon curd, to keep the sponge moist and slightly sticky. This one rises really nicely and creates a very pale, even sponge. The lemon cream cheese frosting is a delicious accompaniment to this cake as it has a cheesecake taste to it!
There are quite a lot of ingredients required and you will end up with enough mixture to make 3-4 cupcakes too! All ingredients need to be at room temperature before you get started so bring them out of the fridge the night before if you can.
Ingredients for an 8″ cake (half all quantities for a 6″ cake):
300g butter
400g caster sugar
zest and juice 3 lemons
8 large free range eggs
300g self-raising flour
250g ground almonds
2tsp baking powder
8tbsp lemon curd
Oven temperature = 160C
Method
1) Cream the butter and the sugar until almost white. Seriously, the minute you think you are done creaming, add on another 5 minutes! This is best done in a free-standing mixer, to avoid a very tired arm!
2) Beat the eggs in a jug and add the lemon zest and juice to this. Gradually incorporate this mixture into the butter and sugar, mixing all the time and adding a teaspoon of flour if the mix begins to curdle.
3) Add the lemon curd and mix through.
4) Combine your dry ingredients in a separate bowl and fold these into the wet mixture a third at a time.
5) Divide the mixture between two lined sandwich tins and bake for approximately 45 minutes. The cake is done when a skewer comes out clean.
Ingredients required for Lemon Syrup
Juice of 4 lemons
120g caster sugar
1) Heat the lemon juice and sugar in a saucepan over a low heat until the sugar has completely dissolved.
2) As soon as you remove the cake from the oven, poke it right down to the bottom of the tin in several places with a skewer. Pour the syrup over the top of the cake. Really go for it and use all of the syrup but leave each pouring of syrup to soak in before you add more. Leave the cakes to cool in their tins for 10 minutes before turning out on a wire rack to cool completely.
Ingredients for Lemon Cream Cheese Frosting
125g butter
125g cream cheese
4tbsp lemon curd
1tsp vanilla essence
500g icing sugar
1) Using a food processor, cream the butter and vanilla essence until smooth.
2) Add half of the icing sugar, followed by half of the cream cheese. Repeat this with the remaining icing sugar and cream cheese.
3) Add the lemon curd and process until smooth.
4) Use this frosting to fill, top and cover your cake to taste.

Thank you Charlotte for sharing your wonderful story and cake recipe with us!
*This is not a sponsored post, I have not received any payment to feature this article
Please leave a comment, I love reading them!