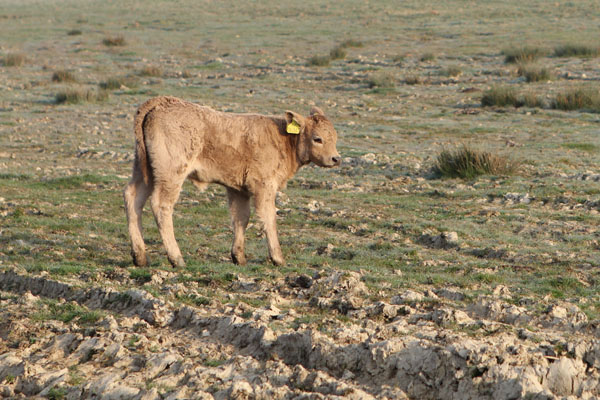 We should all eat veal
If we don't, a lot of bull calves in the intensive dairy industry will be shot at birth.
Veal is a byproduct of the dairy industry, so if you eat a lot of cheese and dairy… eat veal. Even to the vegetarians out there who do eat dairy, please eat veal.
Bull
calves are of no use to the dairy industry if there is
no demand for
veal
and therefore the little animals need to go. Numbers reached 260
000 male dairy calves in 2007.To feed our milk and cheese habit, dairy cows are kept constantly pregnant but while female cows can grow up to become dairy cows like their mothers, there is no room for their brothers. Male dairy calves are not always suitable for producing beef therefore (Rose) veal can offer a good alternative.
TV farmer Jimmy Doherty, is trying to persuade people to try veal.
"Dairy calves are being shot at 24 to 48 hours old and if we drink milk
we all have to share in this instead of leaving the burden of it to the
farmers. Eating rose veal is utilising those calves and solving a
problem," said Jimmy Doherty, who is raising veal calves on his own farm.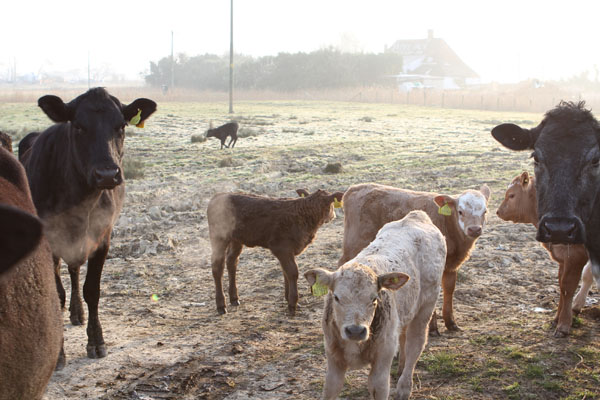 When
you buy veal, try and find 'rosé veal' this high-welfare veal comes
from calves that are not fed the restricted diet mainly consisting of
'milk replacer' that is needed to produce the 'white veal' meat, it keeps the meat light colored.
Rose veal is high in protein and has a pink color, hence the name 'rose veal'.
The calves are raised alongside their mothers in open fields, and have access to their mother's milk. After a few weeks they will get a diet of cerial and grass. This is why Rose veal has more flavour than the 'white veal'.
The UK is the best country if you want to buy veal, the
RSPCA's Freedom Food programme
label is very strict. Sadly the veal being produced in the rest of Europe is not of the high welfare standard like the British and Irish.
I have been wanting to buy veal for months, I can't get it at the butcher or at the farm where I buy my beef and pork. So I don't eat it. I refuse to buy white veal.
Last saturday I found a butcher who is selling free range 'rose veal' in Brussels. Happy days. I came out of the shop holding my veal shanks as if it were a bunch of flowers.
If you are a vegetarian/vegan and you are still reading, thank you.
I hope you see my point.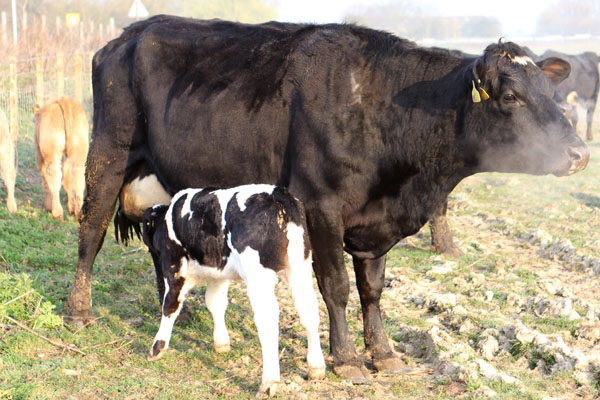 this little one couldn't get enough of mommies milk…
If there is one type of meat we should be eating, it's veal. Meat is more costly to produce in terms of energy and resources then vegetables. In times where we have to mind our ecological footprint and eat less meat, veal is the most responsible choice.
Cuckoos Pit Farm. Susans Hill Woodchurch TN26 3TF
Cowdray farm shop Cowdray Park, Easebourne, West Sussex
Serve this dish with mashed potatoes, pappardelle or another wide pasta. Also delicious with a slice of humble home baked bread!
2 veal shanks
1 carrot
2 stalks of celery
1 medium onion
1 clove of garlic
30 ml of dry white wine
2 bay leaf
a few sprigs of fresh thyme
a tin of skinned tomatoes
30 ml of beef or vegetable stock
salt and pepper to season
flour to dust
olive oil
knob of butter
*optional: some bread for the marrow…
– preheat your oven to 180° C
– get your butcher cord out and bind the shanks so they stay in one piece
– season the veal shanks with salt and pepper anddust them with flour.
– chop you vegetables finely.
– heat 1 teaspoon of butter and 1 teaspoon of olive oil in a heavy based or cast iron casserole.
– add the vegetables and glaze them
– put them to one side and add the veal shanks
– brown them slightly on each side
– add the white wine and let it simmer for a while
– add the stock and finally the tomatoes
– let it simmer for a while and finally lay some of the tomatoes on top of the veal and press down so they stay there.
– add the herbs
– press some baking paper down in the casserole until it almost touches the food
– Put the casserole into the oven and let it simmer for 2 hours or until the meat is nice and tender
– When the meat is cooked, transfer it from the casserole to a serving dish and cover with tin foil.
– Transfer the juices into a saucepan and boil for about 10 minutes or until reduced
– add the veal to the juices again and start covering it with the sauce until completely glazed.
Enjoy!
Why not pull the meat into strings and add to a nice tomato sauce for a pasta dish!