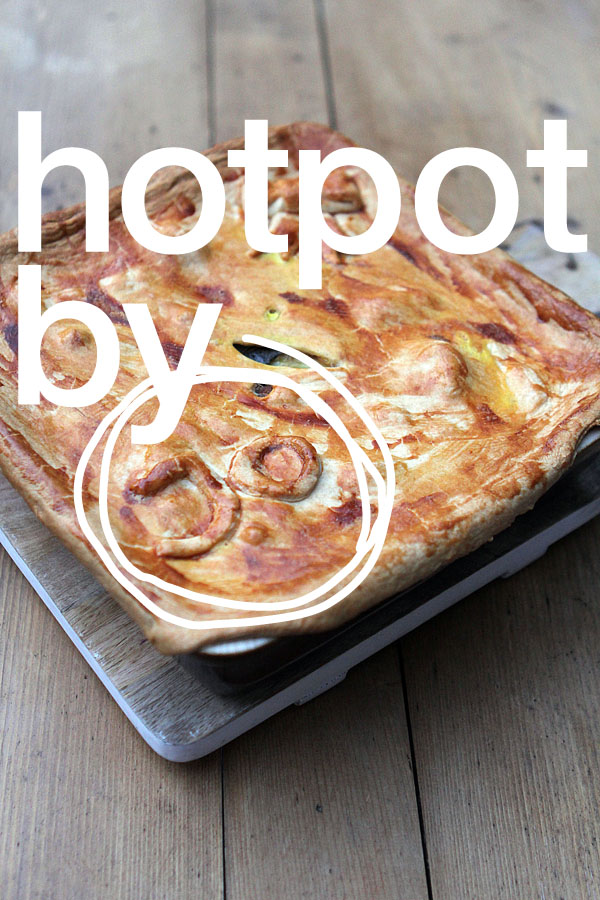 I think she didn't realize how much she filled my heart with joy when she handed me a jar of pickled red cabbage to go with a Lancashire hotpot she cooked for me to take home. Insecure about what I was going to think of her dish, she provided me with the instructions for heating the hotpot at home.
Joanne, a bridal gown designer originally from Lancashire, moved to Birmingham a few years ago to open her fabulous bridal studio in the old Custard factory. She cooks this hotpot a lot for her family and I was lucky enough to have a taste myself.
The Lancashire hotpot is the most famous dish to come from the county of Lancashire. Traditionally it is made from mutton, topped with sliced potatoes. It's a quick and simple dish to prepare with long slow cooking, the tale goes that the women who worked at the cotton mills prepared this dish in the morning and placed the Hotpot in the oven to simmer. Hours later when the family returned home, they would have a warming dish to enjoy. This is an economical dish, making the most out of cheap cuts of meat. Nowadays lamb is mostly used but in the old days cheap cuts of mutton were used as they have a strong flavour and therefore little would go a long way.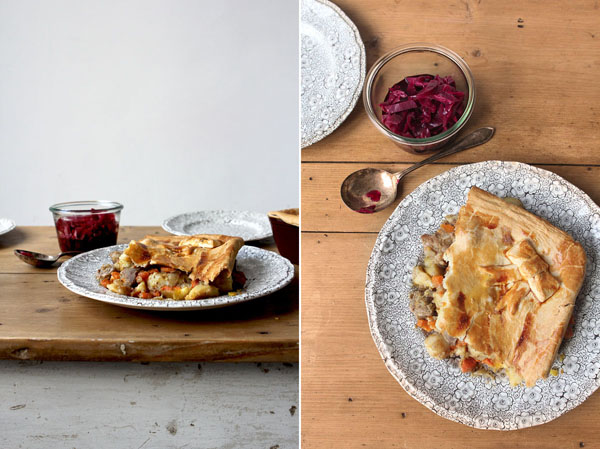 Jo's Hotpot is made with a pastry lid instead of being topped with sliced potatoes on top. The pastry gives some extra texture to the dish that I quite like!
I'm sure this dish will be a favourite in our house like it is at Jo's. Thanks so much for sharing Jo, you are amazing!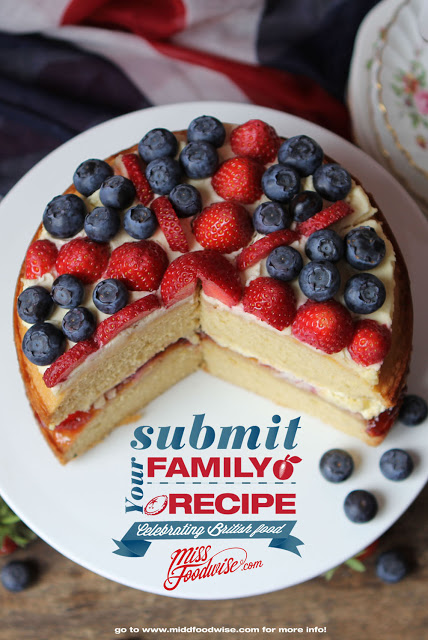 This is the first of hopefully many recipes sent to me by readers, friends of readers, mums and aunties for my British family recipe challenge. Do you have a family recipe for Huffkins, puffkins, pudding or any other traditional recipe?
Something you mum made a bit differently because her mum told her to?

Submit your recipe and I will cook the dish and post it here on the blog!
Do
let me know where you got the recipe from, it could be your grandmother
or even your grandmother's grandmother! And tell me the story behind
the dish if you like!
Can't wait to read all about it!
More in info here >
You can send you recipe to: recipe@missfoodwise.com Cheers x
Jo's Hotpot

What do you need
2 tsp of olive oil
500g of minced lamb, or lamb cut into small pieces
2 medium onions, chopped
1-2 garlic cloves (optional) chopped
2 large carrots, peeled and thinly sliced
1 kg Potatoes, sliced 0.5cm thick
2 pinches of salt
200 ml Lamb or beef stock
1- 1 1/2 level tsp of ground black pepper
2 bay leaves
Shortcrust pastry to go on top
1 egg for eggwashing the pastry
Method
Peel and slice the potatoes in 0.5cm thick discs, Par boil in water with 2 pinches of salt
Whilst potatoes are boiling: lightly fry the garlic in the oil with half the pepper in a large stew pan.
Add the lamb and brown
Add the onions and fry until they soften
Add the carrots
Add 200 ml of stock
Add the rest of the pepper and the bay leaves
bring to the boil then simmer for about 10 minutes
preheat the oven 160°
Check potatoes after 10 minutes and as they are starting to go soft at the edges, add them along with some of the water they are cooking in, the water level should cover the food just.
Cook for a further 10 minutes to allow the flavours to blend
Thicken the juice with corn flour or some other thickening agent, it should still be runny liquid and not too stodgy/glupey (I didn't need to do this, as I cooked it a further 10 minutes to thicken the sauce)
Transfer to a casserole type dish and the add shortcrust rolled pastry to edges, seal edges of pastry to side of dish, glaze with milk/egg and prick with a fork
Put in the lower part of the oven and cook for 40 -50 minutes until the pastry is golden on top
Serve with Pickled red cabbage, mushy peas and crusty buttered bread
Jo tells me black pepper is the key to this dish, and I agree so give it a good dose!
Enjoy