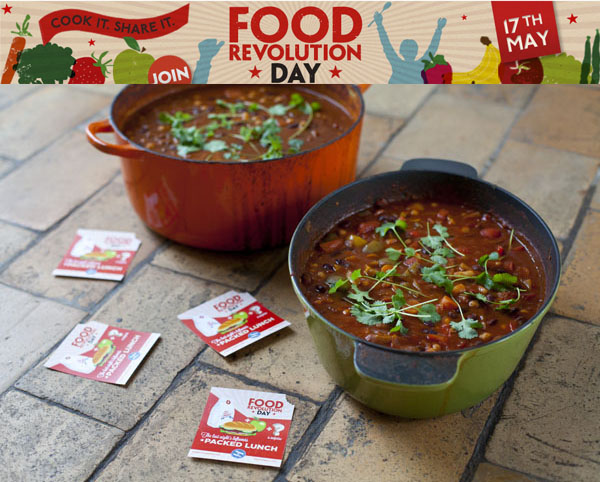 There was a time when everyone knew how to cook, cooking skills used to be passed down from generation to generation but somewhere in the last decades it all went terribly wrong.
There are now millions of people who struggle to cook up a basic meal. If we don't take action now, soon there will be a generation without cooking skills and no knowledge to pass on to their children. It is of vital importance to our health and those of our children to eat well as obesity is spreading like a plague. But it's not only for our health but for community and family spirit, to sit down to enjoy a meal together and talk, to exchange recipes and to keep our food traditions which are historically and important alive.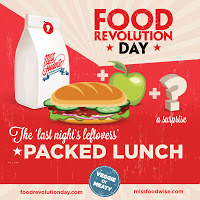 Jamie Oliver says: "Food Revolution Day is all about people power.
I was amazed and massively inspired by our first global day of action last year.
For me, this is one day for us all to get together and shout about the importance of food education and the need to share and pass on food knowledge and cooking skills. This is an opportunity to build better relationships with great food, whether that's through hosting a big event like a farmers' market or a small dinner for your mates and cooking everything from scratch. It's about giving people
the knowledge and confidence to  cook using fresh ingredients and to make better choices about what they feed themselves and their families."For last years Food Revolution a bunch of my food blogger friends and I joined forces for an online 'local food' potluck dinner. We all brought a dish to the virtual table that was local and sustainable. I brought
mussels and Belgian fries
– remember not to call them French 😉
This year I'm focusing on the workspace as we spend most of our time there. I myself tend to take my lunch box to work containing mostly the leftovers from dinner the night before or a quick spelt or couscous salad. Next to breakfast lunch is the most import meal of the day. It is to provide us with fuel for the work day.
Inspired by my own lunchbox I came up with the idea of cooking everyone a 'Last Night's Leftovers' lunch pack.
As I'm not at the office on friday the 17th, I decided to do an early Food Revolution event on tuesday. My 13 colleagues all ordered one, some even two lunch packs. The catering company and pop-up restaurant that is also housed in the old printing factory where my office is kindly donated me the use of their kitchen and ordered for the entire family. Bruno's colleagues, also graphic designers like the guys at my office and me also put in their order. I am thankful for the positive response and I hope people will bring in their leftovers more often now. I so enjoy a decent meal at lunch time, although I adore bread and cheese, it is not my idea for a working lunch.
Chilli con carne is one of mine and Bruno's favourite leftovers as it just gets better by the day. Naturally this was also the first thing I thought of when I put down some ideas for leftover dishes. I cooked up a veggie version and a meaty one and had plenty of salad on offer for on the side. I made lunch bags containing an apple, bread and a few little bunt cakes for dessert.
It was the first time in my life I cooked and served 30 people and although I was completely knackered, I was very happy.
The thing that made my day were the words of a five year old little girl named Pilar.
She is the daughter of Loes and Krikke from the catering company who had my
'Last Night's Leftovers' lunch pack for dinner. When her dad -the chef- put her to bed her final words were "Daddy we had such a delicious meal tonight, really yummy".
Thank you to all who supported Food Revolution by ordering my 'Last Night's Leftovers' lunch pack. Your fivers will all be going to 'The Better Food foundation'
You can still donate on the website of Food Revolution day.
Thanks to
Bruno, my husband for his support and help every time I get a grand idea.
My office, Volta, for donating the ingredients for the lunch • Loes & Krikke, for the donation of the use of their kitchen and their orders • the grandparents of Krikke for their lovely words of support while I was cooking in their sons kitchen • my colleagues at Volta for ordering their lunch packs and eating them with joy • the people from IWWU for ordering their lunch packs • to the lady from Washington DC who wanted to order a lunch
I promise I'll add the recipe for my chilli con carne once I get home xxx