Four girls in a little white car, smiles on their faces gazing outside, taking in the views over the gliding landscape of Tuscany on a sunny october day…
One moment will always be in my mind, we drove through a valley and stopped the little white car to look at the miles and miles of vines that were withering under the october sun. My eye spotted little blue jewels, grapes left behind after the harvest on the nearly bear sleepy vines.
With a hesitation I picked a tiny bunch, feeling humble for this wonderful gift of sweetest little grapes bursting with flavour and filling my heart with joy.
That moment was captured and immortalized in a book …
My friends book, the girl with the little white car and the yellow brick house in the Tuscan countryside.
I am so proud of her, so proud to be a small part of the memories in the book.
It is a book to treasure, full of love for a region and her family. This is a book that came straight from the heart and it shows, it shows in every recipe that is beautifully presented in and around her beautiful Tuscan house and it shows in her words …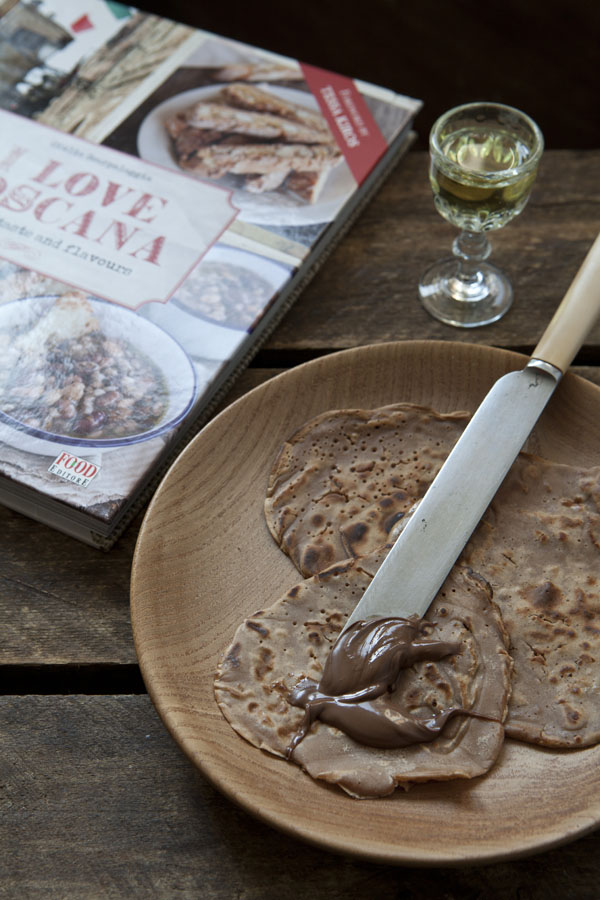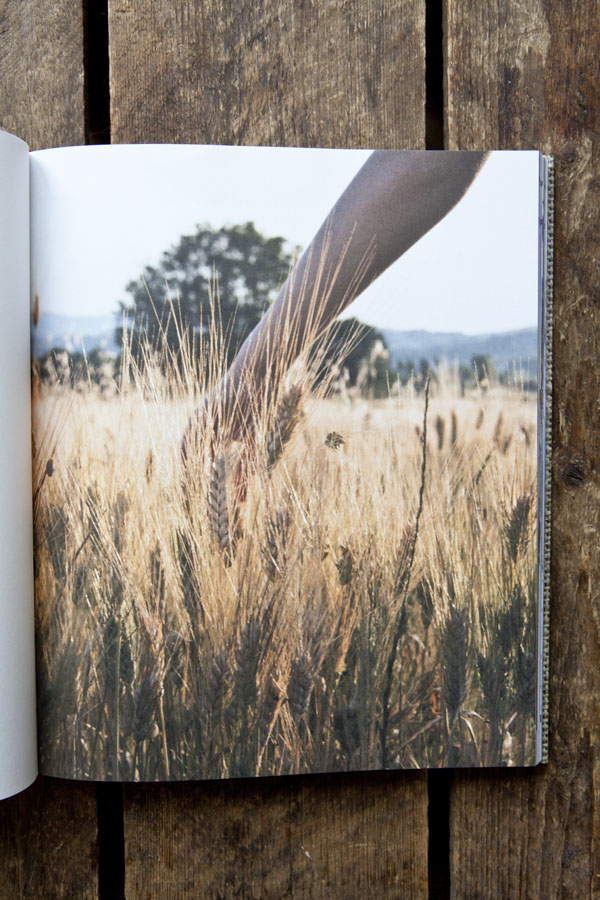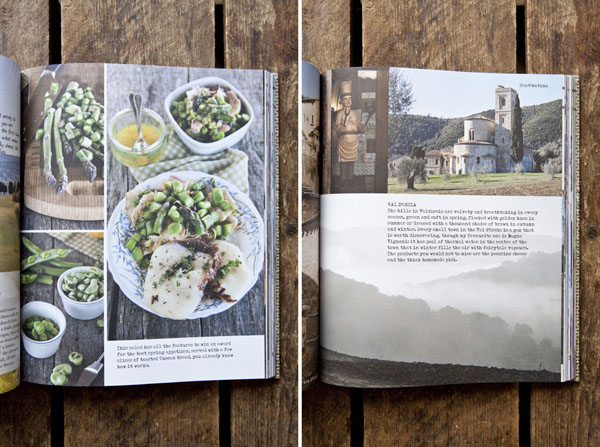 If there is an Italian – pardon me – Tuscan cookery book you want, I can tell you with earnest that I Love Toscana is 'the' book. There is no book as genuine and filled with traditions and tales as this one.
It is a joy, a feast.  And for me it will always be a little trip down memory lane – a memory of a trip around Val D'Orcia with the autumn sun on our side and a few summer days by the sea, the welcoming refreshing breeze when we were out on a boat catching our dinner, the taste of the freshly caught fish on an evening by the beach…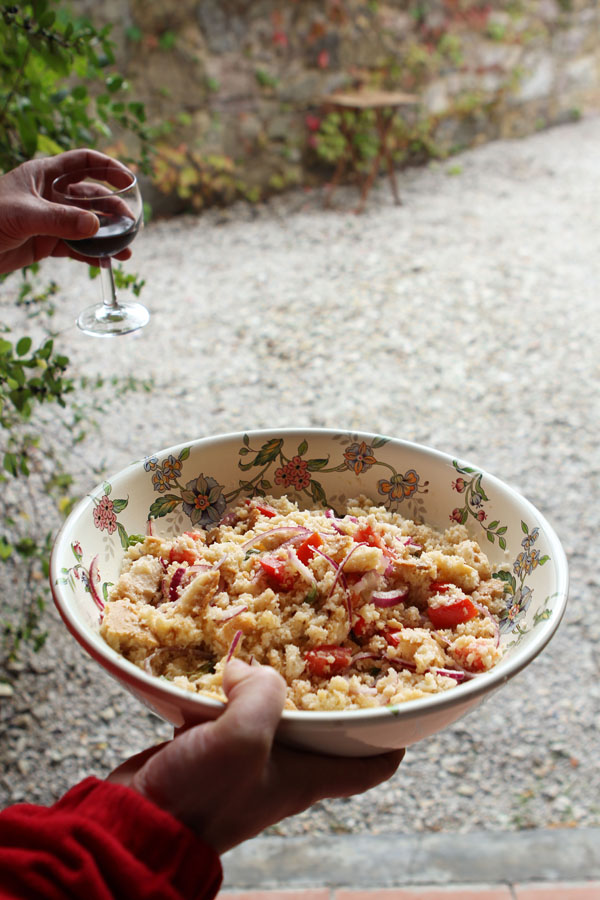 Giulia's Panzanella, captured on one of our trips
Giulia, chef, photographer, stylist, teacher, daughter, granddaughter, sister and friend.
You will meet her in this book as she shows you around her Tuscany and tells you the story of a region that really adores its food.
She will be your guide in the kitchen as she is my guide when I cook her meat sauce (page 44) – a big favourite in our house, her spelt soup (page 62), her necci (page 161) when I'm lucky to have chestnut flour, maybe a freshly prepared Pici (page 50) that brings me back to a delicious lunch we ate together in Bagno Vignoni. Her panzanella (p 60) for when the sun finally rewards us with her warmth is a new one on our summery menu.
I love Italian food nearly as much as I love British food and I found in her book the most British of Italian dishes. Stewed beans and sausages with toasted bread (p 118), delicious on the same day and even better the next day spread on warm toasted bread oh heaven.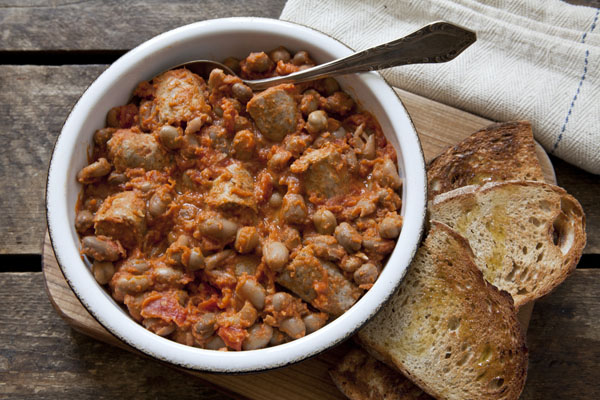 The very British 'Stewed beans and sausages' with toasted bread, our dinner last sunday…
My other Italian books stay closed as I flip through this book to build up and appetite and decide on what to cook after a busy day at work or on a lazy sunday afternoon.
Good real food, humble, simple and absolutely gorgeous.
Get this the book I tell you, you will treasure it almost as much as I do I'm sure of it.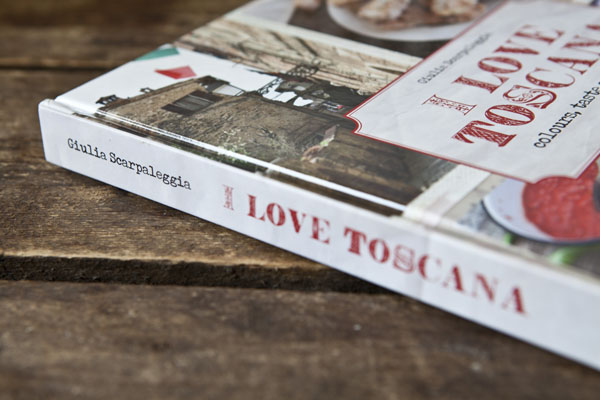 I love 'I Love Toscana'
Have a look at what some other lovely people have to say about this Tuscan cookery treasure. Emiko cooks up Giulia's Pappa al Pomodoro and Asha has a few words to say as well.