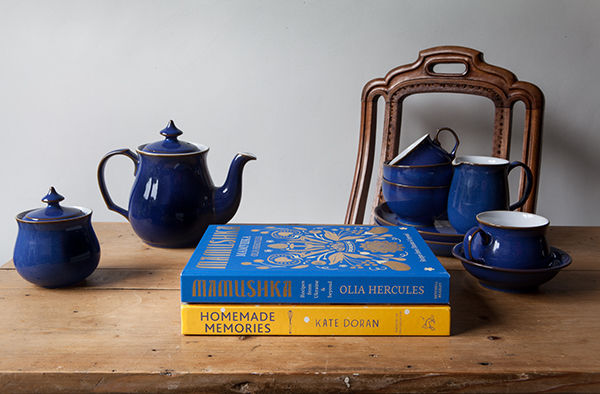 I know, summer has started two weeks ago, but to be fair I have a valid excuse for being late with my 'summer reading' post… I needed to finish my own book!
Anyway we are in the editing and layout fase in English and Flemish so the book isn't completely finished yet, but it has been written and I have made all the photographs so that part is done.
The past months there were quite a few interesting books coming out, but I have chosen just four of them, because these are the ones I would buy or have bought. These are four different books, so I am confident that there will be a book for all of you in this list.
Cooking & Dining in Tudor & Early Stuart England
Swallow This, Serving Up the Food Industry's Darkest Secrets
Homemade Memories
Mamushka
Exploring a new cuisine:
Mamushka by Olia Hercules
I was eagerly waiting to get my hands on this book because the author Olia and I have known each other for over 3 years now on instagram and I watched her going from chef to food stylist, and from food stylist to the Observers 'rising star'. Olia Hercules, who doesn't only have the most wicked name, is also a very warm and generous person. It shows in her book where she shares the food of Ukraine and beyond, teaching us about a cuisine that hasn't really been explored yet in books.
I can't wait to try the Ukrainian 'narcotics', and Tartar lamb turnovers. And the Poppy seed roll brings up memories of my childhood travels around the Czech republic and Hungary where this dish is also a favourite. The watermelon skin jam is just intriguing as are the fermented tomatoes. The Moldovan giant cheese twist calls for a theatrical way of stretching a super thin dough, but Olia assures us we can do it and tells us we should attempt it when in a playful mood.
Other than providing us with many new and exciting traditional soviet dishes to have a play with, we also catch a glimpse of her family as the book travels to Ukraine and visits her home turf. The photographer of this book Kris Kirkham captured the mood of Olia's life perfectly and adds to the storytelling as photography should do.
Why buy? It's a whole different and exciting cuisine to explore, and the book is aesthetically beautiful and more importantly, it's very real and not at all staged like so many books are these days.
Childhood nostalgia:
Homemade memories by Kate Doran
I don't know about you but when I saw the cover of this book I was sold. I have a weakness for Jaffa Cakes and as Kate, the author explains, the passion for many of these childhood favourites kinda cools when you look on the back of the pack and read about all the stuff they put in there.
But I'd never considered making my own Jaffa cakes, fearing it would be a right faff and wouldn't taste the same as the 'real deal' or rather the 'shop bought'.
Most of the recipes don't conjure up childhood memories for me as they are mostly British treats, but then the book reads like a childhood memory and Kate's short stories with each chapter and recipe surely add to the story of this book. You know I wish these were my childhood treats! What an array of gorgeous things. I can't wait to start baking from this book when I finally have some time to bake things that aren't related to my book anymore.
Why Buy? Firstly I would say Jaffa Cakes, but that's just me. The book is beautiful and I believe it would bring lots of joy to families with children and to grown up children too. We all need a Caterpillar cake or Jammie Dodgers in our life. And did I mention Battenberg cake? Oh yes that too.
The truth is out there:
Swallow This, Serving Up the Food Industry's Darkest Secrets 
by Joanna Blythman
I met Joanna Blythman two weeks ago on the Great Taste Award judging where we always meet, she asked me if I was enjoying her book. I said to her 'It's awful! I mean, not your writing, but it's just awful and it smacks me in the face'. Joanna smiled and understood what I was trying to say. 'Yes – she said – it is awful and you would probably have to put it down at times'. And she was right. Swallow This is a book which is really hard to swallow because in it Joanna goes undercover in the food industry and uncovers that even the most basic of products have been adulterated. Butter flavour, strawberry flavour, and vanilla that hasn't even a drop of the original in its ingredients list. And then there is the ludicrous way in which a basic frozen pizza is created, the base is made in x country and frozen, then shipped to x country for tomato sauce to be added and then another location adds vegetables and cheese. When your frozen pizza is ready and boxed, it can have travelled more than you have in two years time. Do we really want that? In a time when food miles are on every food conscious person's mind? What you are thinking when you picture processed food is only the tip of the mountain. The valley goes deep and dark and Joanna shows us the truth, and although we want to run and hide and never hear these awful stories again… We can't ignore what is in this book, and we have to think twice about buying that healthy looking fruit salad that has been sprayed to stay 'fresh' for days, or those Feta, with Glucono-Delta-Lactone which will never go off. Food has become science, and we're two seconds away from eating flavoured plastic and artificial meat. This book reads like a horror movie, but sadly this isn't fiction.
For an extract of the book published in The Guardian follow this link >
Why buy? Don't you want to know how you can avoid consuming adulterated food? Don't you want to know what is in your food? This book is an eye opener and goes much further than Michael Pollan has ever done.
Everything you ever wanted to know about the food in this period:
Cooking & Dining in Tudor & Early Stuart England by Peter Brears
Peter Brears' new book was highly anticipated by me for a while, it was due publication last year but came out in februari this year. If you just gaze upon this magnificent and especially huge tome of Brears you understand why the book was late. Brears spent ten years writing this book, so a few months later wasn't going to make a difference, except for those people like me constantly checking the Prospect books site to see if it has come out. Imagine my delight when Tom Jaine from Prospect emailed me to say it was finally available to buy. This is the follow-up to Brears' volume about food in the Middle Ages, a book I mentioned in my 'Best food books' list (find it here >). The period covered in this book is a time when new foods from the New World were starting to influence English food. The book starts with the reign of Henry VII and covers dining and practical arrangements and techniques in the kitchen and dining hall up until Charles I. If you are a geek like I am, this book is for you. The words in the book are illustrated with illustrations made by Brears himself and explain us the system of The Counting House to the Buttery and the Pantry.
Why Buy? If you want to learn about Tudor and Early Stuart cooking of course. And also if you are eager to reproduce recipes from this period. This book is an absolute delight and a bible full of knowledge about food of times gone by. Although for me this book makes excellent bedtime reading, it is a huge and heavy volume so make a cup of tea and enjoy it in the comfort of your favourite comfortable chair… maybe with a cushion to support it.
The end
This is it for this years summer reading, these are only four of many great books out there. Rachel Roddy's Five Quarters: Recipes and Notes from a Kitchen in Rome just came out and is also still on my list to buy and Zinziber, sauces from Poitou is another title from Prospect books which I have been waiting for for some time now. Let me know if I missed some great books!
* I received a review copy from 'Swallow This' and 'Homemade Memories'. The other two books were ordered and payed for by me. All views are my own.


Further reading: 'Best food books' list (find it here >)