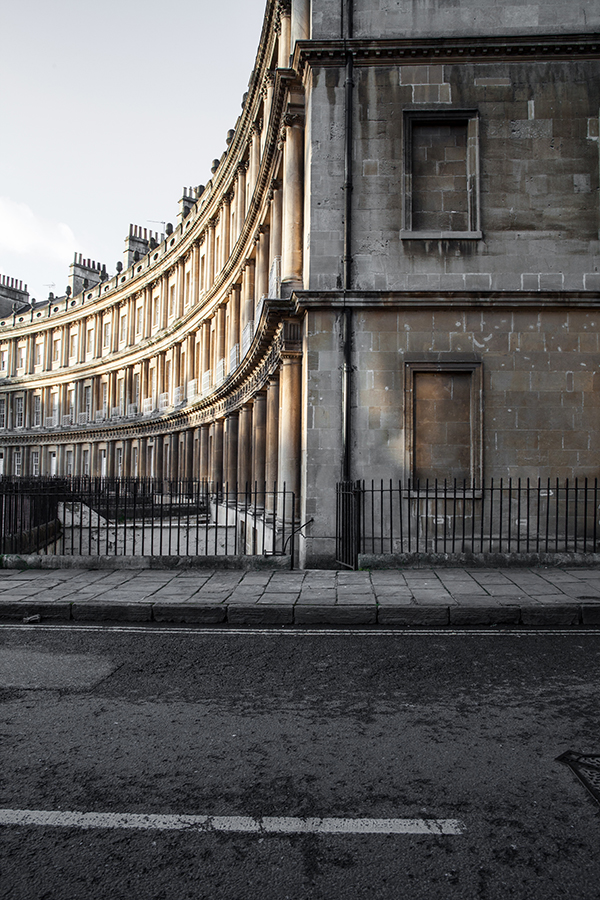 It was a crisp winters day when we took the train from London Paddington to Bath on an early februari morning.
Bath must be one of my all time favourite cities to go to in England, the Somerset town is small enough so you don't have the hassle of having to work out buss and underground systems and large enough to spend the day walking and taking in the gorgeous sights. The city has been designated a UNESCO World Heritage site, something that won't surprise you when you arrive.
Bath is named as such because it is and has been a spa town since Roman times and possibly even before that. The Roman Baths are still one of the city's largest attractions and they are well worth a visit. When we visited on a gorgeous winter morning in february, we were alone for most of our visit which was quite magical. After the Roman empire fell in the first decade of the 5th century, the Roman baths fell into disrepair and were slowly lost. The entire structure above the level of the pillar bases which you can see today is a later construction. The hot water spring is now housed in 18th-century buildings, designed by architects John Wood, the Elder and John Wood, the Younger.
Visitors in Georgian England drank the waters in the Grand Pump Room, which is still accessible from the Baths and is a good way to end your visit with tea and cake – rather than water. With the opening of Thermae Bath Spa in 2006, Bath has become the only town or city in the United Kingdom where you can bathe in naturally heated spring water. With it Bath is reclaiming it's historical heritage.
The city is primarily built in Georgian architecture crafted from light golden Bath stone and is well known for its terrace structures. The most spectacular of Bath's terraces, the Royal Crescent, was built around 1767 and designed by the younger aforenamed John Wood. Walking around these streets, especially when the beams of sunlight are kissing the stone buildings and colouring them golden is a very nice way to spend an afternoon.  I am not surprised that Bath has such an uplifting and positive feel to it, every time I arrive, I just want to stay.
Jane Austen lived in Bath in the early 19th century and you can visit the Jane Austen Centre on one of the larger impressive lanes. Go to the gift shop if you need an I love Mr. Darcy tote bag or mug in your life. My favourite view is looking up the hill towards Pulteney Bridge from the banks of the River Avon. The bridge is one of only four in the whole world to have shops built across its full span on both sides and was completed in 1774.
Another place I like to go to – especially for its cellar again – is one of the oldest buildings in Bath called Sally Lunn's in the formerly Lilliput Alley. This is an eating house which houses the historical kitchen in which the recipe for the Sally Lunn bun was recovered in the 1930's. Legend goes that Sally Lunn created the first Bath bun – naming it the Sally Lunn all the way back in the 17th century.  The Sally Lunn Eating House claims that the recipe was brought to Bath in the 1680s by a Huguenot refugee called Solange Luyon, who became known as Sally Lunn. Another theory is that Sally Lunn is the anglicisation of 'Sol et lune' which is French for 'sun and moon', representing the golden crust and white base. It was a custom in the past to name things after how they looked. Like Hot Cross buns were named Cross buns because they were marked with a cross. Pop downstairs to see the kitchen and the 12th century faggot oven. I just want to cook in it, push the dolly who sits in front of it aside and take over the kitchen. Seriously, why are places still putting creepy old dolls in settings?
Bath has two buns today, the Bath bun and the Sally Lunn, and both are competing to be the first bun to be made in Bath.
The Bath bun is said to have been invented as a cure in the 18th century by a doctor called William Oliver, het later invented the Bath Olivers, a rather dry biscuit that served his purpose to be easy for the stomach much better than the rich Bath Bun did.
The bun is made of a sweet dough very much like that of an original Hot Cross Bun, it is dotted with currants and at the bottom of each bun you will spot a knob of sugar. The buns are finished with a sticky wash and dotted with a couple of extra currants and a few of those teeth breaking sugar nibs. There is a description of this bun in a mid 19th century journal showing us that the bun was known all over England and Scotland by this time.
The Bath-bun is a sturdy and gorgeous usurper – a new potentiate, whose blandishments have won away a great many children, we regret to say, from their lawful allegiance to the plum-bun. The Bath-bun is not only a toothsome dainty, but showy and alluring withal. It was easier for ancient mariners to resist the temptations of the Sirens, than it is for a modern child to turn away from a Bath-bun…Large, solid, and imposing, it challenges attention, and fascinates its little purchasers.
Edinburgh Journal of 1855, Chambers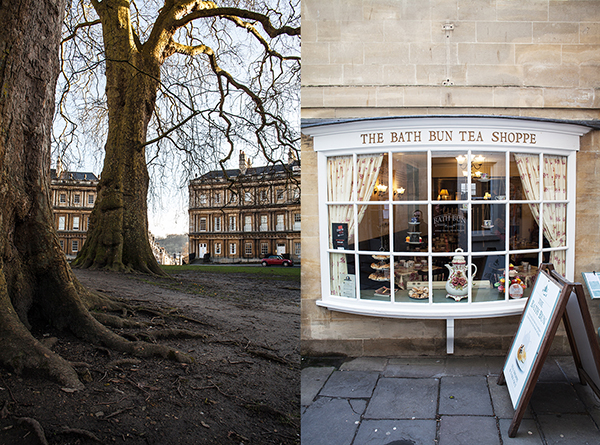 Address book
See and do
The Roman Baths
Jane Austen Centre
The Circus
The Royal Crescent
Bath Abbey
Theatre Royal
Pulteney Bridge
Food
The Foodie Bugle Shop and Cafe
7 Margaret's Buildings, Bath BA1 2LP
My number one spot for breakfast, light lunch and cake and tea or coffee. But also for carefully sourced groceries, your daily loaf of decent bread, cheeses, pastries, vegetables, and homewares in the basement shop. Beautiful vintage kitchen and home items and carefully chosen new items to grace the home, kitchen and garden. A must visit for the perfectionist foodie. The owner Silvana is a friend.
The Fine Cheese Co
29-31 Walcot St, Bath BA1 5BN, Verenigd Koninkrijk
www.finecheese.co.uk
For cheeses from Britain, France and Italy. They also have a cafe.
Sally Lunn's Historic Eating House & Museum
4 North Parade Passage, Bath, BA1 1NX
For Sally Lunn buns served with all kinds of extra's like eggs, bacon, jam etc.
In the basement a rare faggot oven can be seen in an ancient kitchen setup.
The Bath Bun Tea Shoppe
2 Abbey Green, Bath
For Bath Buns and tea
Pump Room, Searcys (££)
Stall Street, Bath, BA1 1LZ
For Afternoon Tea in Jane Austen style surroundings, right by the Roman Baths.
The Circus Cafe and Restaurant (££)
34 Brock St, Bath
+44 1225 466020
For lunch and dinner, serving modern British food and English wines (French and Italian too)
Jamie's Italian Bath (£)
10 Milsom Street, Bath BA1 1BZ, Verenigd Koninkrijk
For Italian inspired dishes cooked with fresh ingredients. Always a winner
Outside Bath
Eat and Stay
The Pig restaurant and hotel (££)
Hunstrete, Pensford, 4NS
+44 1761 490490
www.thepighotel.com
For lunch and dinner, serving modern British food and English wines and ales. Breakfast for guests of the hotel.
The food prepared is sourced within 20 miles of The Pig and from their own kitchen garden. I highly recommend this place and a whole post about my visit is following soon.