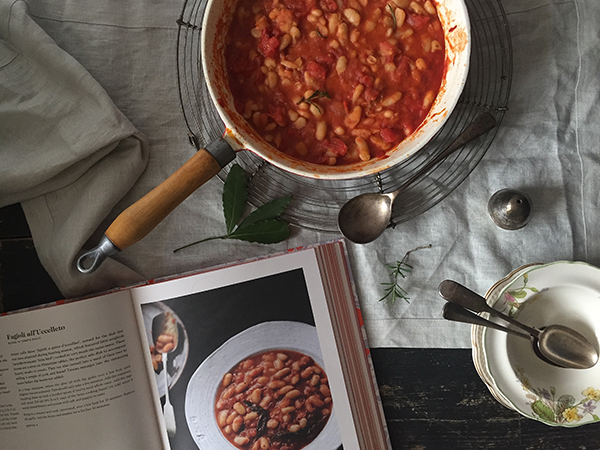 When Florentine arrived on my doorstep, I decided not to read bits here and there and save it for a moment when I could really tuck in with greed. When I did, on a spring-like winter morning with the cats warming my feet and purring silently out of utter bliss, I read it cover to cover.
Other than the fact that Florentine is a good book, it was also written by a close friend. Emiko Davies was born in Australia but grew up in China, and after her studies in Amerika she ended up in Florence where she lost her heart to a city and a Florentine man.
Quickly she fell in love with the food on offer in la pasticceria (pastry shops), la trattoria (small eatery), il forno (bakery) and food vans in the street selling Lampredotto (tripe) for which Florence is famous. Therefore it is not surprising that the recipes of her book are divided into these chapters, adding il mercato (the market) and il maccellaio (the butcher).
It is refreshing to see a cookbook divided up differently. Too long have chapters been divided into starters, sides, mains and desserts. Florentine's chapters tell part of the story as do Emiko's beautiful photo's of the city that transport you to the streets yourself and make you long for a coffee and a Sfogliatine or Bonboloncini on a white paper napkin in an old fashioned bar.
A few recipes
Cecina in the Il Forno chapter is definitely a must try, although not originally a Florentine dish, it is very good and therefore I employ you to give it a go. Basically this chickpea cake are somewhere between pancakes and flatbreads. I don't know about you but I always have half open bags of chickpea flour and this recipe puts them to a splendid use. Emiko tells us the Cecina which is also called Torta di ceci, is most popular in Tuscan seaside towns. We visited the coastal town of Livorno together with Emiko and a couple other friends a few years ago, there we visited a small eatery with a wood fired oven where Cecina is served  between bread and called Cinque e cinque. The Cecina is crisp and with a healthy dose of black pepper and the addition of grilled aubergine or ham, it is incredibly satisfying.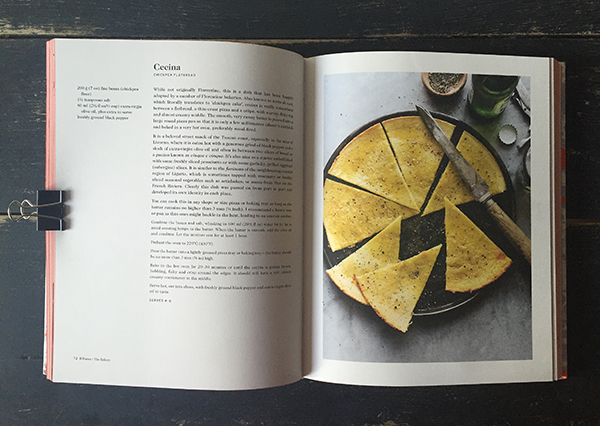 Fagioli all'Uccelleto, or white beans cooked in tomato sauce, are a favourite breakfast dish for me – think posh English baked beans on toast – but in Italy they are one of the accompaniments to steak or roast meat. It is also prepared adding Tuscan pork and fennel sausages making it a firm favourite of my husband Bruno.
Another traditional and favourite is the Crostone con salsiccia e Stracchino – or crostone with sausage meat and stracchino cheese – which Emiko used to eat at her favourite wine bar. It was introduced to me years ago by Giulia, a mutual friend and fellow food writer of Emiko and me. When I went back home, I carried sausages and stracchino cheese in my hand luggage and made the crostono for Bruno that same evening. The beauty of this dish is how simple it is, just mixing raw sausage meat with a soft young cheese, and then grilled in a got oven. Make sure you have enough of everything in your fridge because you will be wanting seconds, or the same the next day.
The ravioli di pera e ricotta is one on my list to make as I often enjoy the dish at our favourite Italian eatery where the chef is Tuscan. Emiko's recipe serves the ravioli with a sage and butter while our Italian restaurant chooses a green pepper sauce. I never thought of sage and pear, but now I can not wait to try it.
The Papardelle all'Anatra – or papardelle with duck sauce – makes me want to ring around poultry sellers and farms for a free range duck. It is one of those dishes that just scream comfort in the company of a good full-bodied red wine. Emiko writes that it is now made with duck legs while it used to be made with a whole duck and that papardelle is a favourite pasta shape from the Florentines.
There is something good for everyone in this book, rice gelato, cornetti and Pandiramerino for those with a sweet tooth, meaty sauces and braises for the carnivore, and plenty of vegetable dishes. The book is also beautiful, with food photography by Laura Bamford and photo's of Florence by the author Emiko. Emiko takes you on a journey through Florence like no other book on Florence has ever done, although I admit I haven't read any others I'm sure it must be true. It is definitely the first book which looks at Florentine food primarily. Recipes are easy to follow and well explained. I might be biased because Emiko is a good friend, but that also gives me the insight knowledge that she worked very hard on this book.
Florentine: The true Cuisine of Florence is published by Hardie Grant Books March 2016 and available in English in bookstores and online.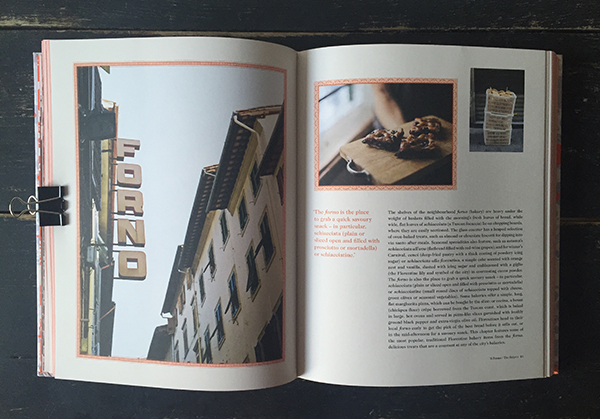 You might also enjoy these books on Italian food:
I love Toscana from aforenamed Giulia Scarpaleggia, a book about authentic Tuscan food with beautiful glimpses  into her life in the Tuscan countryside where she lives with her family. The recipes are rustic, real and traditional, and have been cooked in my kitchen many times.
Five quarters by Rachel Roddy is a newly published book about Roman food. Rachel lives in Rome and tells us about her life there. With charming stories from the market and beautiful images taken in her Roman flat, it is a book with good home cooking and satisfying flavours.