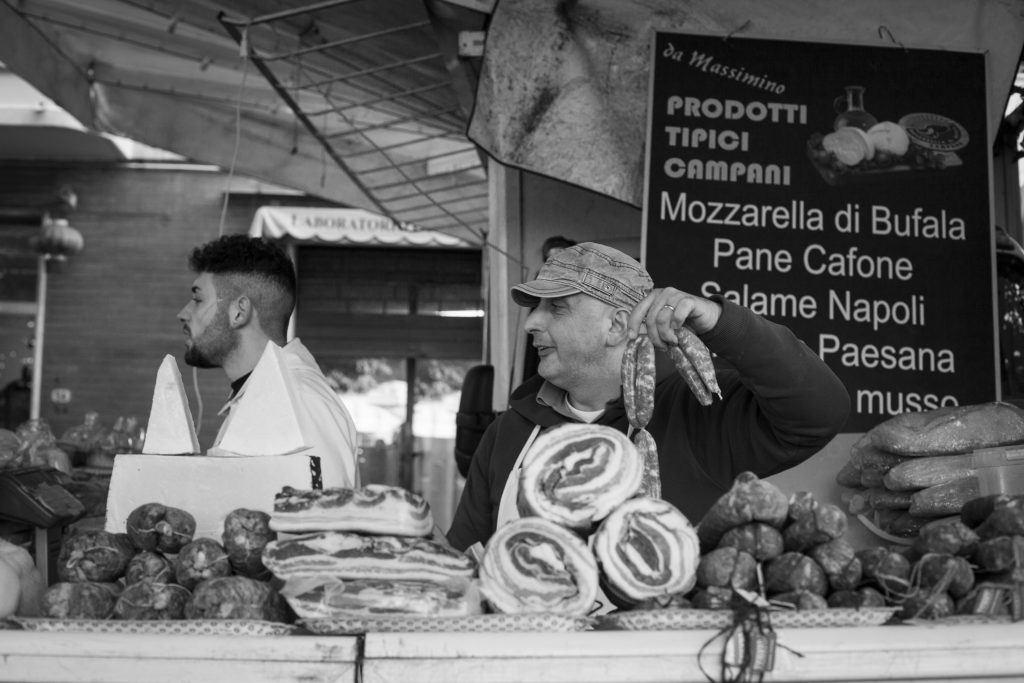 If you've been reading, you will have noticed the recap of our autumn creative gathering last week. So as promised this week we can bring you the schedule! We will visit the local market and an artisanal butcher to buy produce, we will then cook with Giulia in her beautiful Tuscan home and studio. We'll walk around San Gimignano by night and have dinner there, explore Sienna, visit a working farm, learn about sourdough baking, and table arrangements to go home as a perfect host. We will eat, drink and have fun, but we will also learn. There is an introduction to Lightroom if you are interested to participate, there is a talk on food writing, and Sarka, Giulia and I will talk you through how we photograph. We will also talk about how we got where we are today.
The event will be one day longer as our previous guests gave us the feedback they would have loved an extra day. This edition it is also a possibility to choose a single room, and there is an option to stay longer as on tuesday after the gathering there will be a big garden party in Giulia's garden.
What is Three Acres Greative Gathering
For five years now we have been growing creatively together and while we struggled to find a work/life balance, especially in the process of writing books! We always managed to find new strength by arranging creative get togethers where we laugh, cook, eat, drink and most importantly learn from each other. We have now joined forces under 'Three Acres' to create this get together in beautiful places so you too can join in the conversation, the learning, the cooking and the eating. We will take photo's though you don't have to be a professional or even hobby photographer, just capture the moment with whatever camera you got. From a smart phone to a proper shooter, all is welcome.
Email to book your Spot!
Details
Siena countryside, Tuscany
20-23 april
Nearest airport: Florence or Pisa
You can also arrive in Rome and take a train to Florence.
Max 6 participants
Book your flights as soon as possible as the 25th of April is national holiday in Italy, so everyone will be traveling during the long weekend.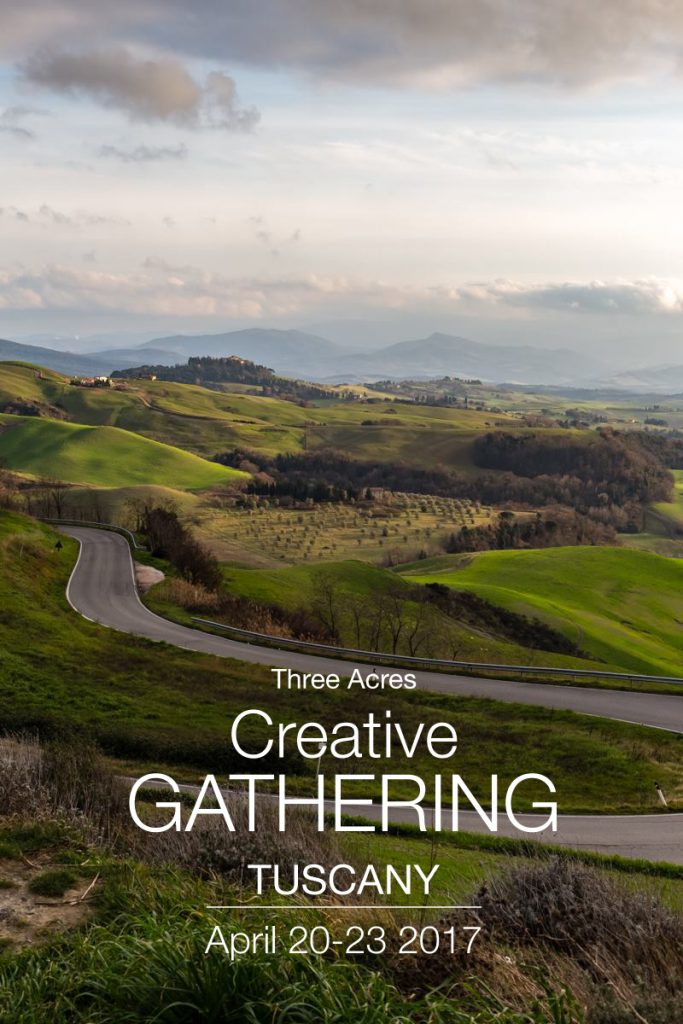 Total Cost
1.350€ per person, shared room, your own bed, one roommate
1.500€ per person, single room
*Contact us for payment options*
The cost includes:
3 nights accommodation at Tenuta Mensanello, a beautiful Agriturismo just 2 km from the Studio **
1 dinner on Thursday at Juls' Kitchen
1 dinner on Friday in an Osteria in San Gimignano
1 dinner on Saturday in a restaurant in Siena
3 lunches cooked at Juls' Kitchen
3 Italian breakfasts at your agriturismo
1 cooking class
Drinks and refreshments during the weekend at Juls' Kitchen
Transport during the weekend
All teachings and excursions
Not included:
Transport to and from Italy and to the agriturismo
Anything extra you would like to purchase personally
Travel insurance
Cancellation insurance
Cancellation Policy : Due to the involved logistics, we offer no cancellations or refunds. Please know you can make it before booking. We strongly encourage you to have travel insurance to cover the retreat in the event of strikes, natural disasters, health problems, and other unforeseen events.
The Schedule
Day 1 – Thursday the 20th of April
3pm Check-in at Tenuta Mensanello Agriturismo
5pm Introductions & Aperitifs at Juls' Kitchen Studio
Welcome Dinner at Juls' Kitchen with home made pizza baked in the Tuscan wood fired oven
Day 2 – Friday the 21st of April
Breakfast at Tenuta Mensanello
A trip to Colle Val d'Elsa weekly market for second breakfast, Italian coffee ritual & ingredient shopping. Visit to an artisanal butcher shop.
Cooking class and lunch at Juls' Kitchen studio.
Session I – Food Photography
Food tour in Siena with some free time to explore the town on your own and perhaps buy some treats to take home
Dinner at a traditional restaurant in Siena
Day 3 – Saturday the 22nd of April
Breakfast at Tenuta Mensanello
Tour of Tenuta Mensanello to discover where they produce their olive oil, wine, beer and charcuterie.
Session II – Sourdough bread making introduction with Manuela Conti
Tuscan Lunch with local produce under the olive trees at Juls' Kitchen
Session III – Lightroom introduction
Walk in San Gimignano by night and dinner in a local Osteria
Gelato at Dondoli in San Gimignano, an artisanal and world renowned gelateria.
Day 4 – Sunday the 23rd of April
Breakfast at Tenuta Mensanello
Session IV – DIY Natural Cosmetic workshop with Claudia Scarpaleggia
Session V – Table setting and flower details with Irene from Valdirose
Lunch in the garden (weather permitting) at Juls' Kitchen
Session VI – A talk on food writing
Goodbye at Juls' Kitchen at 5pm
**Option to book an extra night at the agriturismo if you want to travel back on Monday. You are welcome to join us for dinner at a restaurant but each will pay for their own.
You have also the option to stay until Tuesday to take part in the Juls' Kitchen Fettunta Party in the garden surrounded by olive trees. It is an annual event, a great way to meet fellow food enthusiasts and feast together. Fettunta is another name Tuscans give to bruschetta, a toasted slice of bread doused in good olive oil.
*Note the schedule is subject to change*
Who can attend?
It is open to everyone, not just photographers and bloggers, but all creative people who want to explore different styles and deepen their visual voice.
Who are we?
Giulia is the author of 5 cookery books, she has been running Tuscan cooking classes, food excursions and workshops for 5 years from her Tuscan family home and studio Juls' Kitchen.
She also writes an awardwinning blog Juls' Kitchen:
www.julskitchen.com
Twitter & Instagram: @Julskitchen
Regula is the author of 2 books on food and drink culture. She photographs and writes for a living. She is also a graphic designer. Her focus lies with reality, this can mean natural light or going on a fishing boat at 4 in the morning to capture the essence of a situation.
Regula also writes a blog which was shortlisted for a Saveur Blog Award:
www.missfoodwise.com
Twitter & Instagram: @MissFoodwise
Sarka has been a professional photographer for 6 years working with editorial clients in the UK and her homeland Czech Republic. She has been tutoring photography workshops for years and she is your go to girl for the technical part.
She has a huge following on Instagram where she shares her daily eats and will always get that perfect shot.
www.sarkababicka.com 
Twitter & Instagram: @ Sarkababicka
Email regula -at- MissFoodwise -dot- com to book or for more information.
Why this price?
We have done everything to keep the price as low as possible but as we pay each producer or business and work with beautiful local produce, the price reflects that. We want the small businesses we work with to benefit from this, not be left out of pocket because we are after a freebie. Everyone deserves to get the price they or their product is worth.
Why not read Simone, Manuela and Irene's blog posts about our lovely weekend together! Or read my post or Sarka's !