**In payed collaboration with Malmö town.
The city of Malmö kindly invited my husband and me to come and explore the town for 2,5 days. I had visited before because I have friends in town who persuaded me to come over to Parabere Forum, a conference for women in gastronomy whose aim it is to fight for gender equality, that is if you get in because although I was invited to join the conference as press last year, this year suddenly my application to join – yes you're reading this well, you have to apply to be allowed to pay to come to this conference – was turned down… so far for equality.
Back to Malmö a town where equality is also important, yet it is less about gender and more about general equality which I think is incredibly important as a first step. Malmö used to have a bad reputation, it stood in the shadow of bright and buzzing Copenhagen which is only 30 minutes across the Øresund bridge – known from the tv series – from Malmö. I've visited Copenhagen just for one day but can firmly say I prefer Malmö because it is smaller and more quaint.
You arrive in Malmö by the train station and walk across the river with the majestic Savoy hotel towering over you. A small street takes you to one of the most beautiful large town squares of Malmö. The first thing I notice is the cool advertising on the side of the building of an old apothecary, a well restored ghost sign you'll see a couple more of around town. Malmö is calm, there aren't many cars and the locals are incredibly chill and friendly. I think you would have a hard time upsetting a Malmonian.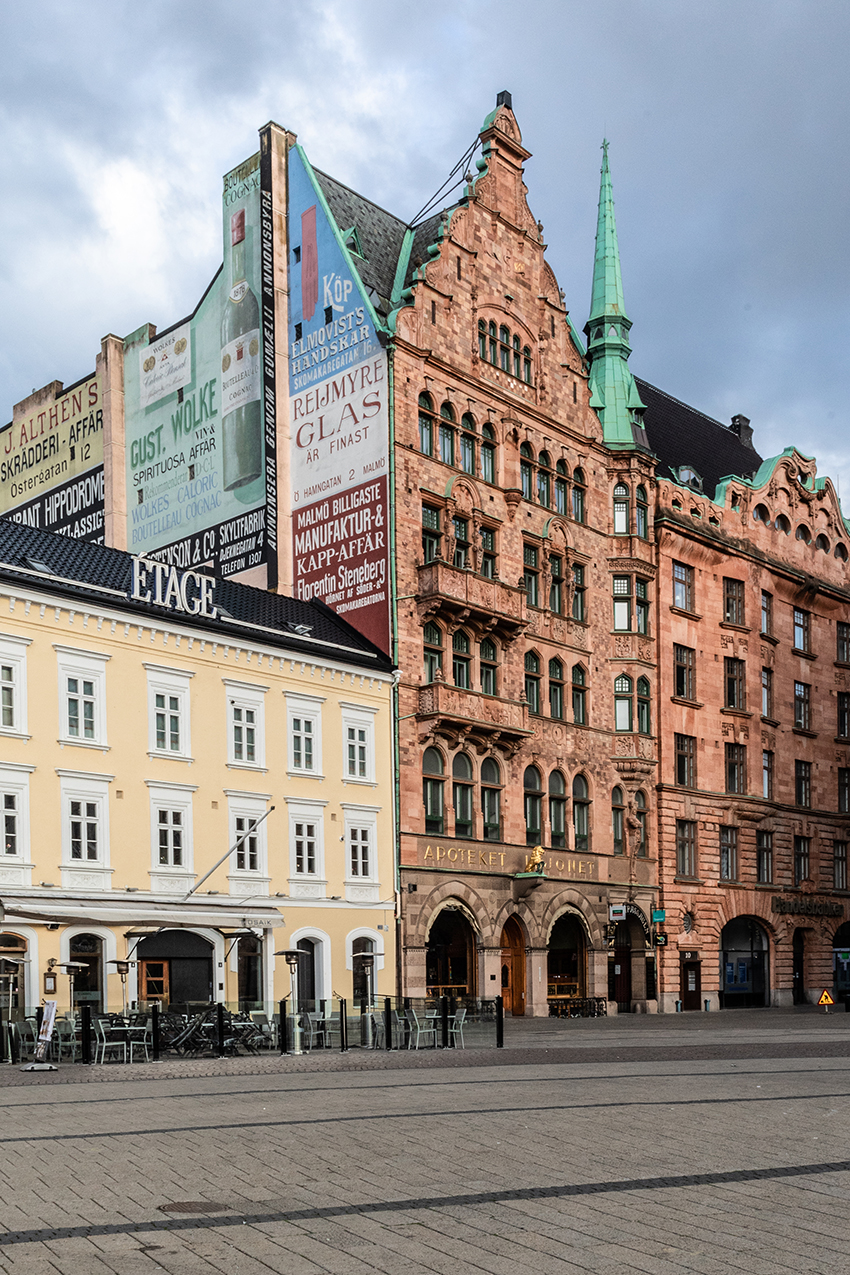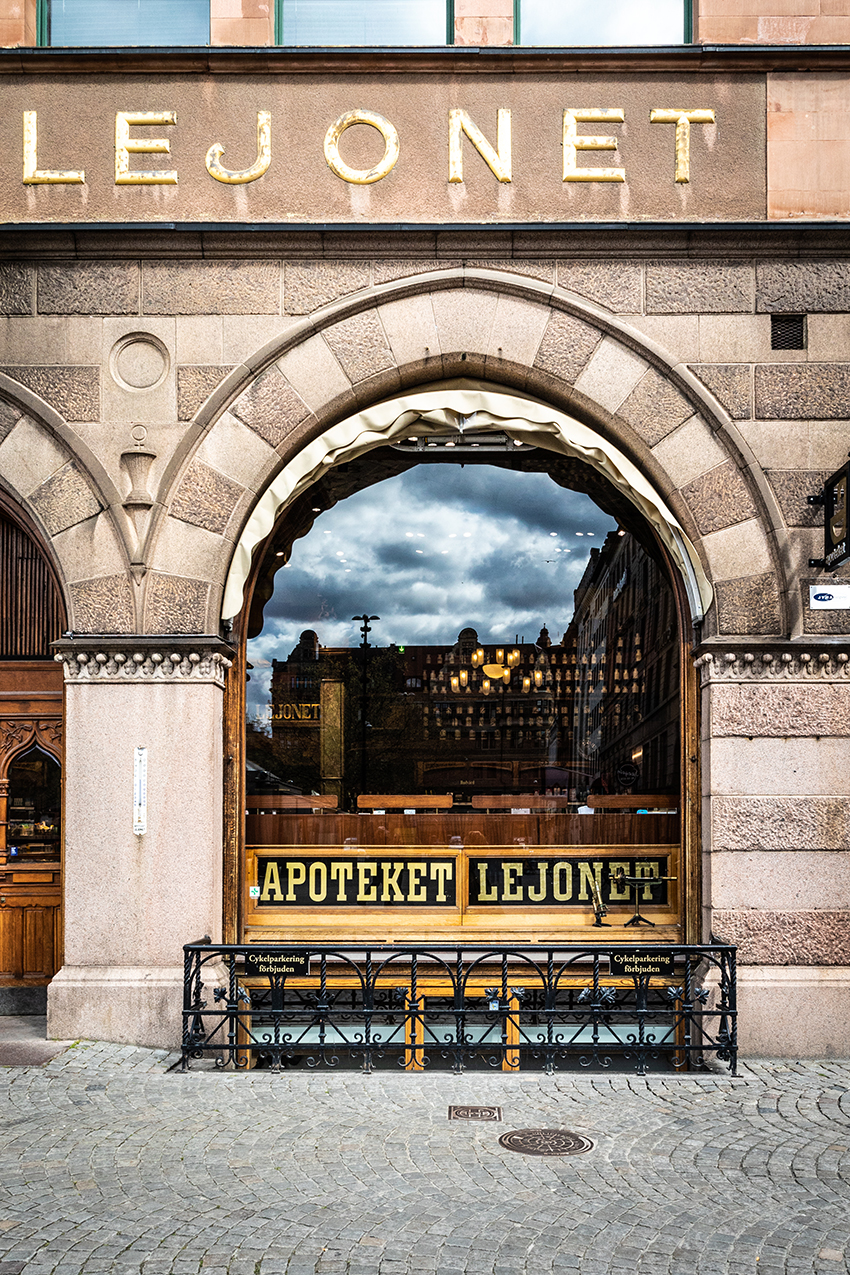 Shopping
Just off the shopping street you'll find the most beautiful little square (Lilla Torg) with old timber houses, there you'll find a small shop selling had painted leather clogs and handpainted Dala horses which aren't a touristy thing, they are very pricy because they're not made in china, they're made in the province of Dalarna since at least the late 18th century. They are perfect Christmas decoration! On this square there are lots of places for cocktails, even with the Northern wind cutting through like a knife you can sit here like it is summer because of the rather crazy amount of terras warmers… global warming much?
The shopping street is wide and houses a lot of Scandinavian stores, there is a Zara and an H&M but it is understated, you definitely see a preference for brands from these parts. There is a Bolia store which had now also opened stores in Belgium but there are also smaller independent Scandi design stores like Olsson & Gerthel. In the side streets of the large shopping street you can find small temporary looking design stores with often vintage scandi designs, well worth a look strolling around as there is always a little coffee place for Fika around the corner. On Södra Förstadsgatan here is Ab Småland, a huge store on two levels with everything from pottery, plants, bed linens and clothing to vintage rustic furniture often beautifully painted with flowers. There was one chest that looked like a prop from the Vikings series! The store also has a restaurant which looks very popular with young families. There is a salad bar for lunch which looked lovely and they sell excellent buns for Fika. Not far from Ab Småland there is Grandpa with Swedish designer clothing and a few other fun bits and bobs. Also in the same street is Designtorget which you shouldn't miss.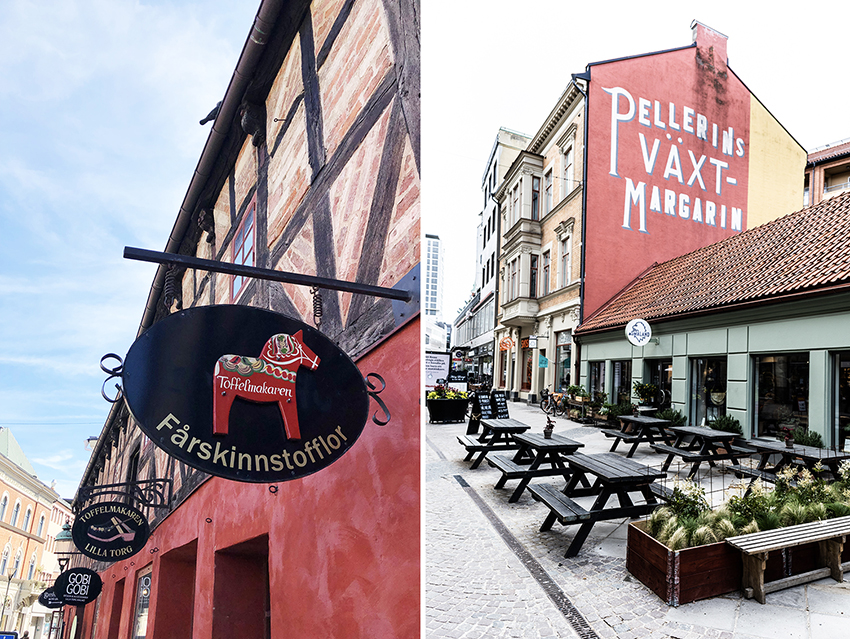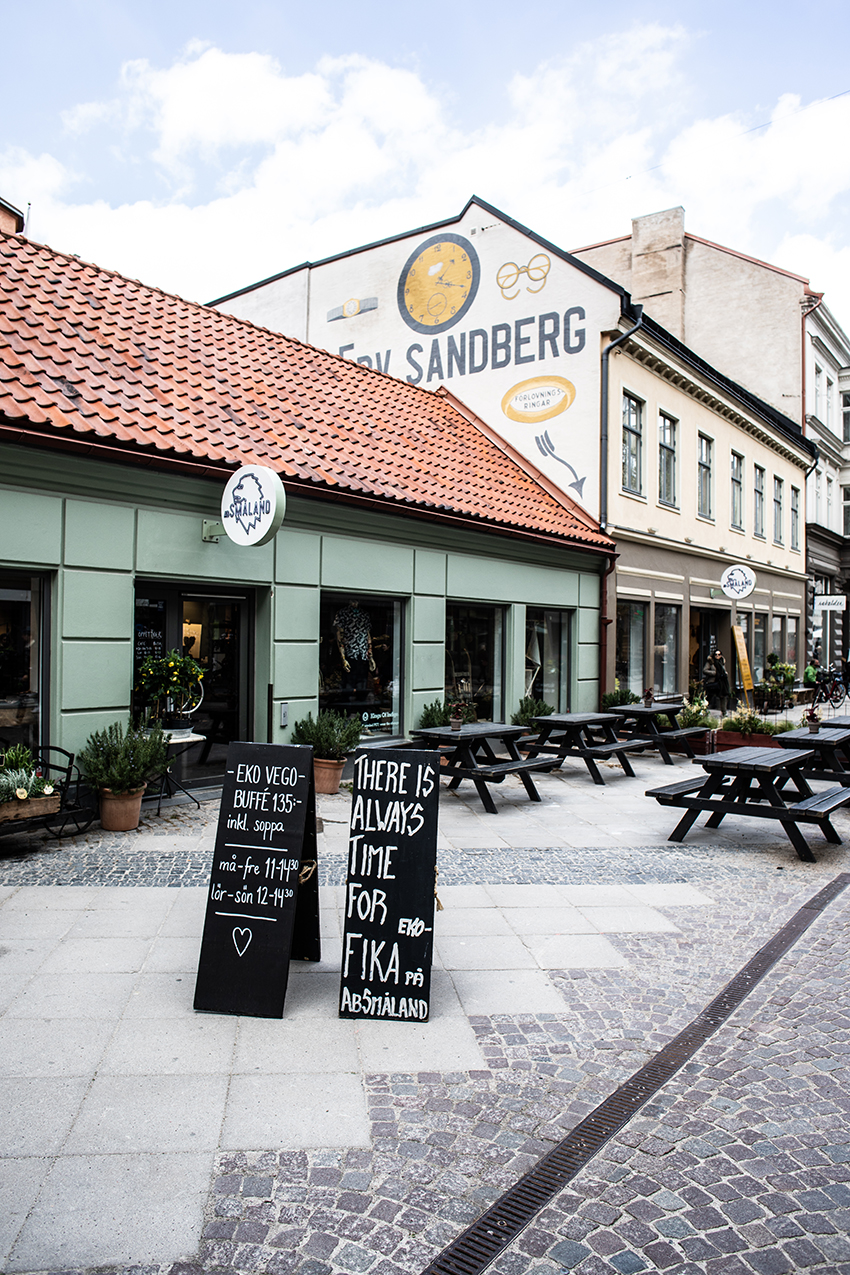 Walking
We walked a lot while here, it's best to get acquainted with the town map or you might be walking in circles. If walks are your thing Malmö has quite a few beautiful parks (Pildammsparken, Slottsparken, Folkets park) and it's often forgotten that the town also has a seafront. We loved our walk on the windy (very windy!!) beach towards the open air swimming pool Ribersborgs Kallbadhus at the end of a pier. And if you're fingers are frozen by the great Northern wind, you'll find a nice little café at the end of the pier which serves great pastries and good looking sarnies. The tea was organic and along with regular coffee you could go for topups which are very needed if you need to defrost those fingers from walking and taking pictures because this pier is very photogenic.
Locals come and swim here in the ice cold water and have been since 1898. I wish I could say I was sad I didn't bring my bathing suit but I'm sure I would have turned into an ice lolly, I definitely do not have viking blood!
Food & Drink
I have Flemish blood and we like to drink, not great amounts like the English with their large pints but rather high alcohol and smaller glasses. Our beer goes up to 10% while the beer sold in regular stores in Sweden has to stay below 4%. The magic is that they can make incredibly good beers with low alcohol, the downside is that a glass of fermented wheat, barley or grapes is so expensive it makes the Swedes drink a lot of water along with it. Compared to Belgium where you'd sooner get a free beer than a free glass of water, this custom is very strange. We've seen people eating dinner with no glass of beer or wine to water down, just water. I wonder how the many amazing small restaurants can survive as in most parts of Europe booze consumed makes up for a lot of the well needed profit.
My local friend Lotta who also runs MoveEat food tours in Malmö and other places across Sweden and the globe, tells me that the government controls alcohol sales in Sweden selling it from special government run shops. Some stores are allowed to sell the beer with max 4% ABV but you'll never find a bottle or wine or Akvavit, you can't even buy a bottle of wine from the restaurant, a normal custom in Britain for example. The exciting thing to this government controlled sale of alcohol is not that Swedes drink less, but that the government also has a funky alcohol app that will tell you the background of each scanned alcoholic beverage, the price and also the suggested food paring. The annoying thing is that as a visitor wanting to bring sea buckthorn akvavit home, you can't just walk into a store to get it, you need to find the government store and they are not easy to find, it's a bit like searching for a fishmonger these days, minus the cool app.
But nonetheless we were able to taste some amazing local beers and there is a big culture in natural wines. We had it minus the big jugs of water and just tried to ignore the price that makes it taste like liquid gold.
The food in Malmö… oh the food!
There is an incredible young and fresh influence in this town, not only are there more amazing independent cafés, bakeries and coffee places in Malmö than there are in the whole of Belgium, they all serve quality along with their sourdough and Kanelbullar. A smile is never too much to ask for and everyone speaks impeccable English. In Malmö you can spend a weekend just walking from one of these places to the next, feasting on quaint looking coconut cones, several kinds of knotted buns, chocolate balls and incredible sandwiches and salads. The people of Malmö are so lucky!
We tried a couple of different spots in town for proper lunch and dinner, from a harbour side canteen serving beautiful food to a Michelin star restaurant and a mad hatters wooden shed in a park where along with the vild (wild) salad the wood fired pizzas are so light and so full of fun flavour combinations you just want to eat the whole menu.
Malmö also has a stunning food hall, the Soluhallen are situated a short walk from the station and the park, it houses a couple of food stalls, a butcher, baker, no candlestick-maker but we did find that fishmonger. Allas no booze for sale apart from where there is food served and that food is of course fab, because we are in Malmö! Great wood fired pizza (sense a theme here?), noodles and a dish Malmö adopted as one of the national Malmo dishes: falafel. There is a large Arabic community here and the city had done a lot to include these new citizens with initiatives like Yallah Trappan where women from all foreign cultures bust mostly Arabic, meet to have Swedish lessons in the morning and cook up gorgeous colourful food in the afternoon. With this system the women gain not only a language but also a community of women, friends even. They're given a voice and they use it to tell everyone about their food.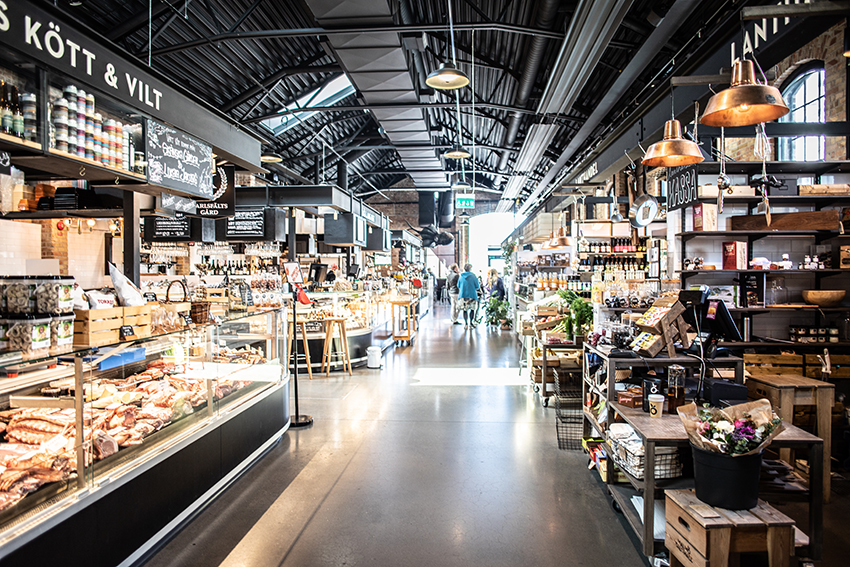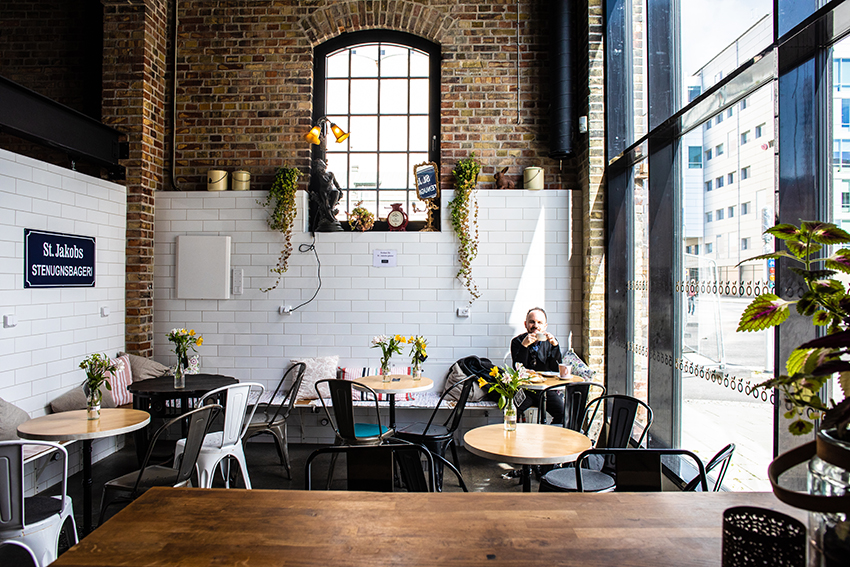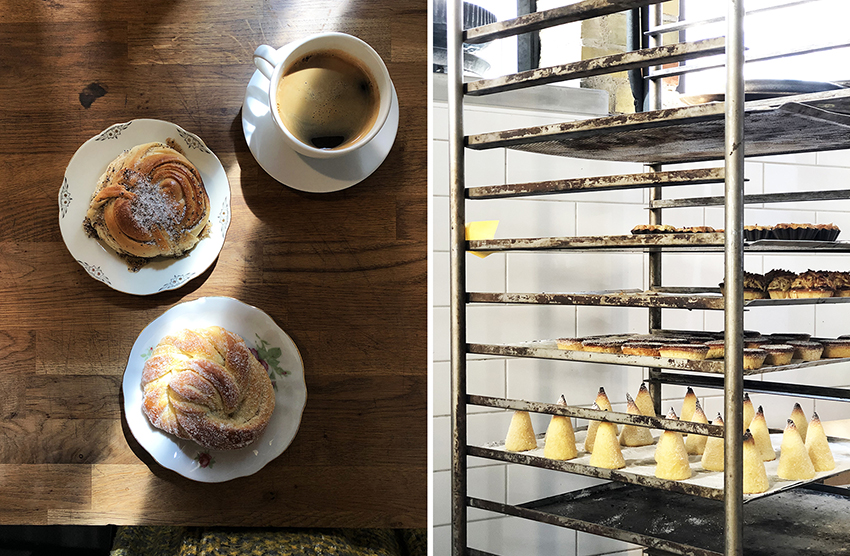 For candy lovers you can choose between an old fashioned chocolate and sweetshop Ahlgrens Konfektyr (Södra Tullgatan) selling a lot of sweets and chocolate that is made in Malmö or a modern candy store in the main shopping street (Södra Förstadsgatan). They love salty candy and salmiak.
Mitt möllan is on the other side of town at Claesgatan and has a great food court and an the vegan ice cream parlour Kold where you can taste a turmeric ice cream which you'll never taste again and if it takes your fancy the flavour there is also Brexit Blues. The centre also houses a large vintage store and several small startups. Getting there you can walk through the street Frisgatan where you'll find Raw food house and several small restaurants and a couple of nice little shops. Close to Mitt mollan is Möllevångstorget, a square with a fruit and vegetable market and an impressive statue, near to the square is the Malmö Chocolate museum and right on the corner is the Möllans Ost, a fantastic place for buying cheeses and everything that goes with it. A great delicatessen that has been at the very birth of Malmö's fantastic food reputation.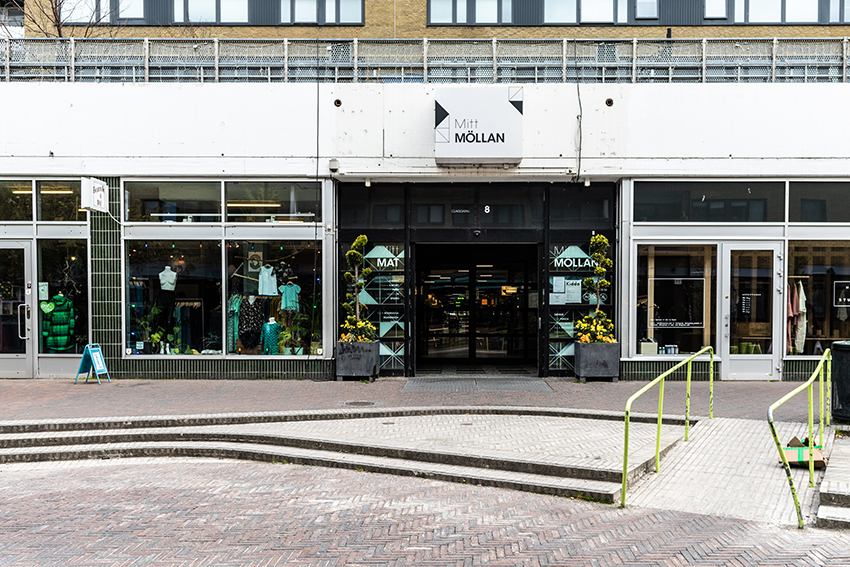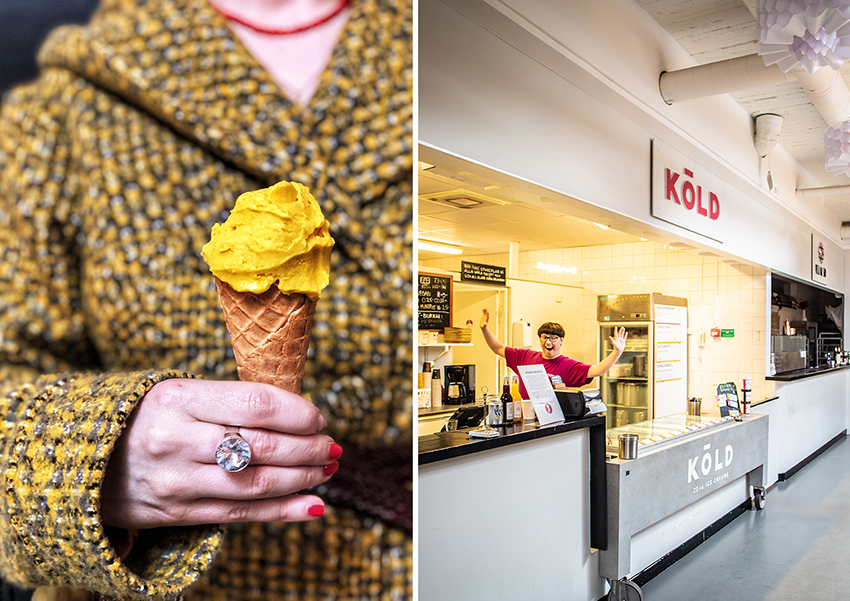 Saltimporten Canteen is a restaurant in the harbour is a stroll through the harbour and you go there only for the food as there is nothing near, no shops, nothing else. But it is worth the walk and you see straight away that it is a top place because there is always a queue for the food. You sit on large communal tables and queue for the food that is prepared in large numbers but to an outstanding quality. There is a meat/fish or vegetarian option and when we were there the main was a stunning piece of pork belly with pea puree, lots of vegetables and a very flavoursome broth to dip your piece of sourdough bread in. Most people who come here just drink the free water, but we went for the natural white wine on offer. I still can't get used to people not paying for their drink with a meal but it must have more to do with our culture than the Swede's, it's quite welcoming and homely to just take a jug of (free) water to the table and share but I still wonder how small businesses make ends meet without the income from drinks, at least soft drinks, juice, it doesn't even have to be alcohol. The food is amazing, go there.
Far i Hatten in Folkets Park is a little gem. You would walk right passed it, or you would choose not to walk in if you'd see it without knowing it's the place to go in this area, heck in the whole of Malmö because I adore this wooden cottage that has been on this spot since 1894. The inside is decorated with fun collages of old photos and vintage furniture. The wallpaper you want to scratch of the walls and take home. They are famous for their pizza sundays when they bake the most AH-MA-ZING pizzas in a wood fired oven. The toppings are creative and the natural wines that go with it made it a perfect sunday early dinner, the fact that you can bake your own waffle at the waffle station is just a giant bonus. On sunny days they have a great outdoor terras which also sports a wood fired oven and the a la carte menu was full of meals I wanted to eat. I had visited Far i Hatten on a previous trip to Malmö and we got to take a look around the kitchen. I cannot recommend this place enough, if not only for their relaxed and friendly staff who went out of their way to make your experience great.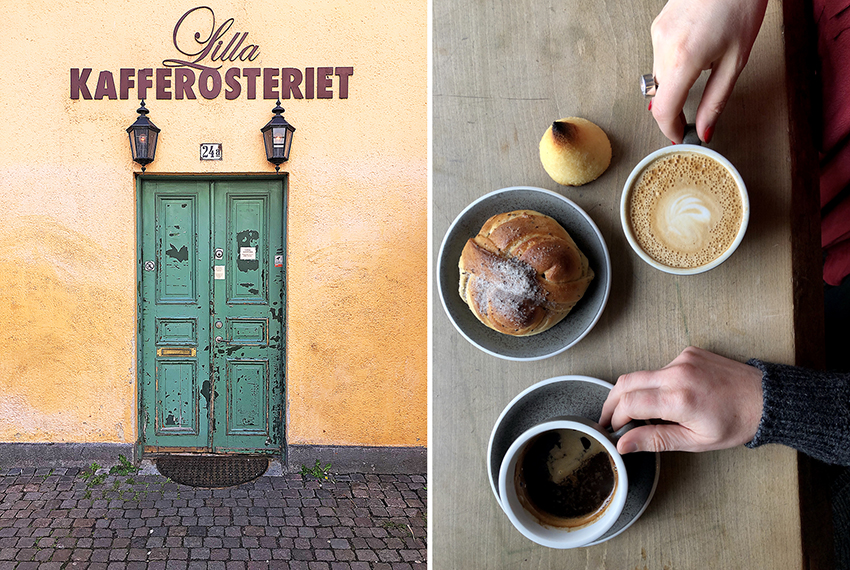 Lilla Kafferosteriet is great for lunch, loved their open sandwiches, and breakfast, but also excellent Fika. Their buns are very good. It's central location is incredibly handy.
Eida is close to Lilla Kafferosteriet although I was less a fan of the buns, it is a great spot for a drink and for a healthy lunch.
St. Jakobs Stenugsbageri you can find in the Saluhallen, behind the central station and a few other spots around town, they are great for Fika and make fantastic Kanelbullar, Cardamombullar and other sweets. I especially like the one situated in the Saluhallen which is light and airy and perfect before or after a trip to the food market.
Söderberg & Sara is in the area of the Mitt mollan and Far i hatten and in my humble opinion this place offers the best Kanelbullar sharing that first place with St. Jakobs Stenugsbageri. 
Smaland also sells a great Kanelbullar but they are not knotted, they are a spiral shape and topped with nuts. My Swedish friends tell me the spiral shape is how their mothers made cinnamon buns, leaving the knots to the professional bakers.
Ribersborgs Kallbadhus offers a well needed Fika after a windy beachwalk or if you are brave a swim in the sea. They have great pastries, though they are more Danish than Swedish and their sandwiches looked great.
For a very traditional Fika Hollandia is the spot, it is located on Södra Förstadsgatan in between the two shopping streets so it brings a nice place to rest and enjoy a Semlor bun (in season) or a slice of bright green Prinsesstårta. The buns on offer are great but not like the ones from Söderberg & Sara, Lilla Kafferosteriet and St. Jakobs Stenugsbageri  which are similar.
MovEat, go on a food tour to discover a lot in a short time. I've been on a walk and loved it as it also shows you around the town and that way you can go back later. Do it at the start of your stay.
Malmö has loads more to offer, if only we had more days to eat everywhere. Sunday and especially monday are difficult for dinner, I'd recommend Far i Hatten's pizza sunday or regular evening menu for a sunday but it is important to book a table as this is a popular little place. We went to Bloom in the park on monday but found it underwhelming, but as it was the only place open on a monday that had free tables, it was our only option. I think I'm not a fan of Michelin star cuisine, it's too much puree, mousse and as you weren't allowed to know what you were actually eating (quite daft and not fun at all) I just had to leave the meat untouched because it just felt super weird not knowing what animal you were respectfully consuming.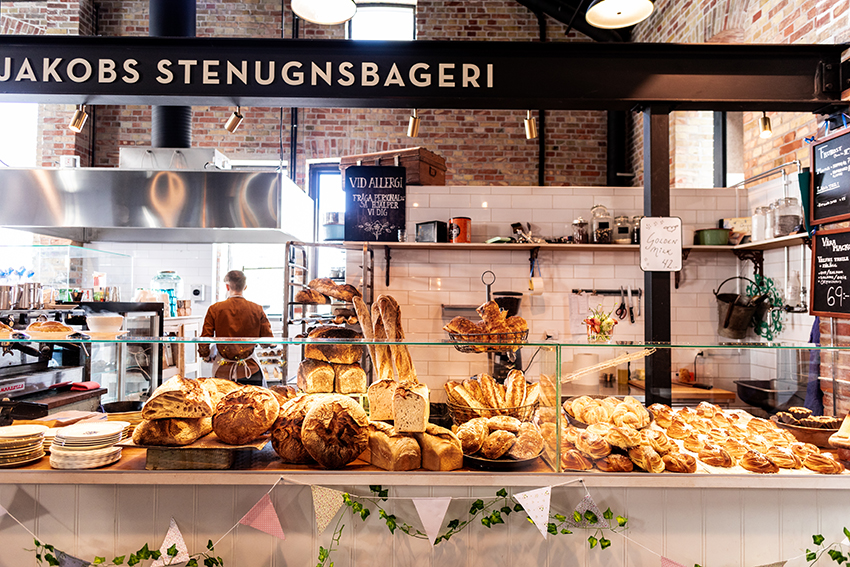 Hotels
There are lots of hotels of course but I can only speak about the ones I already stayed in. I stayed at Hotel Mortensen which is great value, very clean and very central (just round the corner of Lilla Kafferosteriet, the other hotel I've stayed at last year was Elite Hotel Esplanade (just off Lilla Torg) which slightly more upmarket. This time I was invited to stay at Oh Boy Bike hotel which is quite far from the city centre and there isn't much to do or eat near. However the rooms are special as you get a flat with a kitchen, a skateboard and one bicycle (which is a bit annoying if there is two of you, you can hire an extra bike but there is no reception desk present in the weekends so we couldn't use the bike) – however – there is a bicycle station where you can rent bikes in the same street, you have to register online for it. And like in most times there is steps all around, but again you need to register online. Malmö is a great town for using a bike as there hardly is any traffic! The kitchen is great if you like cooking on vacation, or if you've been traveling for long and prefer to not go to a restaurant. I enjoyed it for the fridge and the fact that I could make a strong cup of English Breakfast first thing which is what my body craves first thing.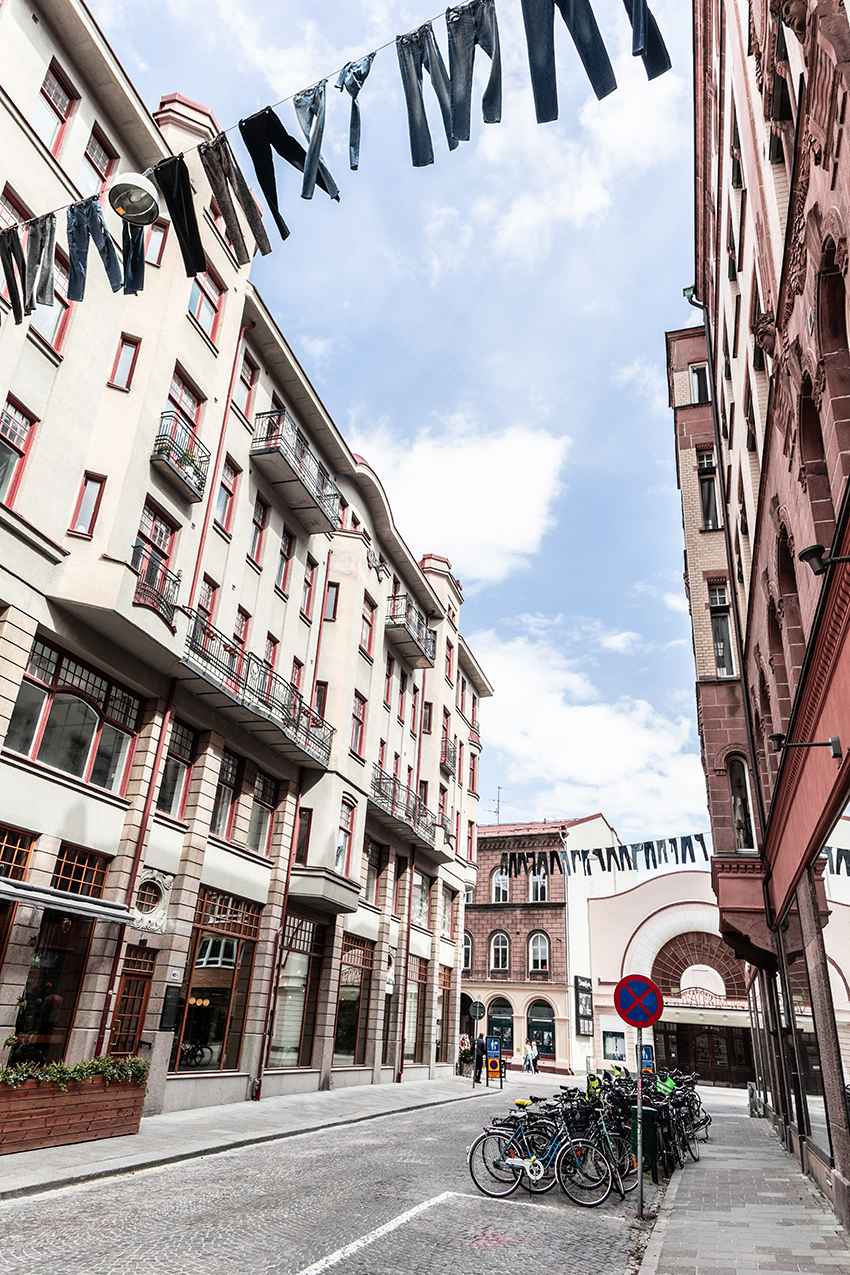 Why go there?
There really isn't anything not to love about Malmö. I've been twice now and am already eager to plan another trip. Flights to Copenhagen are great from most countries in Europe, especially Belgium with a morning flight coming in and an evening flight going out. You can plan in a day of Copenhagen but really Malmö has it all, minus the hordes of tourists. I would say don't hesitate and go there now. And I'm not saying this because this was a press trip. In fact we came in a day earlier so we would have more time here.
Now go and book your tickets for a long weekend to Malmö and thank me forever!
If you have been to Malmö and you know of a place I HAVE to go, do let me know in the comments, and if there is another hidden gem in Europe, I'd love to know where to travel next!
I was commissioned to write this travel story by the city of Malmö who payed for my flights, hotel for two nights and our dinners. All else was payed for by ourselves, there was no extra fee. In payed collaboration with Malmö town.
Fotos: Regula Ysewijn and Bruno Vergauwen