When in Bruges… (scroll down for Dutch)
A usual trip to Bruges would mean a walk by the romantic canals and then a beer and a plate of endives wrapped in ham in one of Belgium's oldest traditional cafés.
But not on Tuesday, Tuesday my co-judge Herman Van Dender and our host Wim Opbrouck from Bake Off Flanders and I were invited by the inmates from the Drug-free wing of the prison of Bruges. Drug-free means these inmates have a history with drugs and want to stay clean, others just want to sit out their sentence in a drug-free environment, because the rest of the prison is full of drugs. Sadly there isn't much that the prison can do about that, the drugs comes in with the visitors and there is no legal way of checking those who visit for carrying hidden drugs. Furthermore checking inmates is not without rules, regular urine checks or full naked body checks aren't legal. Even though some of the inhabitants have done serious crimes, this doesn't mean they are stripped of their human rights.
But at the drug-free wing where we were a guest last night, the prison is allowed to do regular checks because the inmates welcome it. The waiting list to get into this wing is long. Inmates who stay clean, get privileges and one of these privileges is that they are allowed to organise things together. Last week they did an Italian food competition, this week we are here to judge their baking skills.
The three of us are checked rigorously, it takes a while before I get through the metal detector since my hair contains about a hundred bobby pins. We then go on a photo for our badge and are walked to the drug-free wing by the prison's psychologist Maarten; a cheerful tattoo covered guy in his twenties. I jokingly ask him if he used to be an inmate here, making fun of the prejudice that comes with peeps with tats.
And prejudice is a story that is poignant here. I'm a woman and I'm about to step into a prison wing where men are convicted to many years, not months. But it's not my prejudice that causes me worry, it is what to wear, just as I always do when I get ready. I wondered if I should have to wear trousers or if I can wear what I usually wear, a swing dress and a large puffy petticoat. Not once was my thought fear, but I was worried about what is appropriate. Would it be offensive if I turn up dolled up, or would it be offensive if I do not. In the end I decided I should just be myself and put on my polkadot dress and covered up with a knitted cardie.
We get a tour of the cell rows, an elderly inmate welcomes us to step inside his cel to see his little part of this world. The walls are covered in family photos, his bed is tidily made. I remark that my childhood bedroom was about the same size as his cell and that he has made it look very cosy, and I thank him for allowing us to step into his private place, even though nothing is really private here.
Wim explains the baking assignment to the inmates in one of the joined corridors of the block. The men are as excited as a group of young boys ready for footie practice, smiles are wide and jokes are abundant but there is no locker-room talk and they keep their distance. They all go back to their own section to start baking, they have two hours to create their 'Poire bourdaloue'. For it they have to make shortcrust pastry and an almond filling which they then have to bake and decorate. This is a real Bake Off challenge, we didn't come up with something easy, we are treating these men as if they are Bake Off contestants and nothing less.
While they bake we tour around their cell blocks to see them working, four to five inmates are each in their section's kitchen which are regular domestic kitchens from the 1980's. Next to it is their communal seating area where there's two sofa's, a old table and a few chairs and a TV. It strangely feels like being in a flat, that is if you ignore the blocked windows and the long corridor with cells at the other side.
Herman and I went from kitchen to kitchen to see each group work on their bake. The kitchens are tidy, they work in an orderly manner and when I give them a spot of advise it is met with appreciation. The men make me feel at ease, there is not a moment that I feel awkward or feel like I can't be myself.
There is one inmate who I was told is one of my biggest fans, he looks tough but becomes shy when I talk to him. He loves watching Bake Off but also spotted me on the BBC when I was on the program 'Inside the Factory' talking about Bakewell tarts last august. We pose for a photo and although I put my arm around him, he is reluctant to touch me and explains his photo can't be used in the newspaper article due to come out the day after. They all have their reasons why they don't want their face to be visible but often it is out of respect for the people they have hurt. I don't ask him why, I don't ask any of the inmates why or what they have done to be there, they are entitled to keep that to themselves and right now they're all equal to me no matter their conviction.
When we reach the last section, we are just in time to be greeted with the scent of freshly baked pear and almond tart. One of the inmates explained that he tasted the almond slices and thought they didn't have a lot of flavour so he decided to toast them in a pan. He is unsure as to wether this was a good choice and is delighted to be congratulated by Herman and me for choosing this course of action. Three of the men are scattering toasted almond slices on top of their 'Poire bourdaloue', in their faces there is pride, a sense of achievement. I only wish I had been allowed to bring my camera to capture that moment forever.
I exclaim that I can not wait to try their bakes because I'm so hungry, Wim concurs he is too and one inmate offers us one of his food trays. The men all get ready meals for supper as they don't have a cantine like you see in the movies. Each cell has a microwave and I'm told some inmates can get very creative with them. Those who are lucky have a job and earn 1 euro per hour. That money they save up to order not only cigarets but ingredients so they can cook. One of the inmates tells us about the things they baked a couple of weeks ago and the prison guards – all women – show us the pictures. A large gateau in the shape of their prison wing, éclairs, merveilleux, biscuit cake – Prince William's favourite cake, fruit tarts and choux pastry swans… what a feast, I'm incredibly impressed. I ask the prison director – also a woman – why they chose to pick a fairly simple bake for todays competition and she explains to me that not all the men have enough savings to pay for the more fancy ingredients like fruits etcetera so they wanted a bake with basic ingredients. I feel my eyes tear up. Not only have they invited us here, they had to save up for the ingredients to bake for us. They also have the poorest of equipment, one group even had to bake theirs in a broken pan. But none of that showed, they were all of the mentality to get on with it no matter the gear they missed and the knowledge of baking they had. They soldiered on with their heads held high.
We all head back to the communal corridor where a table is set out with plates. The four 'Poire bourdaloue' arrive in time and they all look great. Herman and I are genuinely impressed as we have seen much worse in our time. We congratulate the men, they all look at the 'Poire bourdaloue' as if they are their babies, and my eyes well up again
We judge each one, they are all different, they show personality and they all taste fantastic. There is one ingredient that stands out, the effort they all put in to make this a wonderful evening for us all. Nothing compares in taste, it's love, the secret ingredient that makes food taste as good as it can be.
When the time comes to hand out the scores, we feel bad to announce the fourth and last place. Wim also explains that unlike in Bake Off, the bakers who come last today are not sent home. The 'Poire bourdaloue' we pick isn't fully baked, they had a problem with time management but the flavours were there, we told them they did a really good job but they become angry and walk away promptly. I'm startled… I didn't expect this. I really want to run after them and explain that this isn't a defeat, this is still a victory. Later I'm told the guys were joking, that they acted as if they were angry and that 'Club Brugge' was playing some other football team that night and they figured since they lost they could catch the end of the game. Fair game, I'm just glad they weren't upset.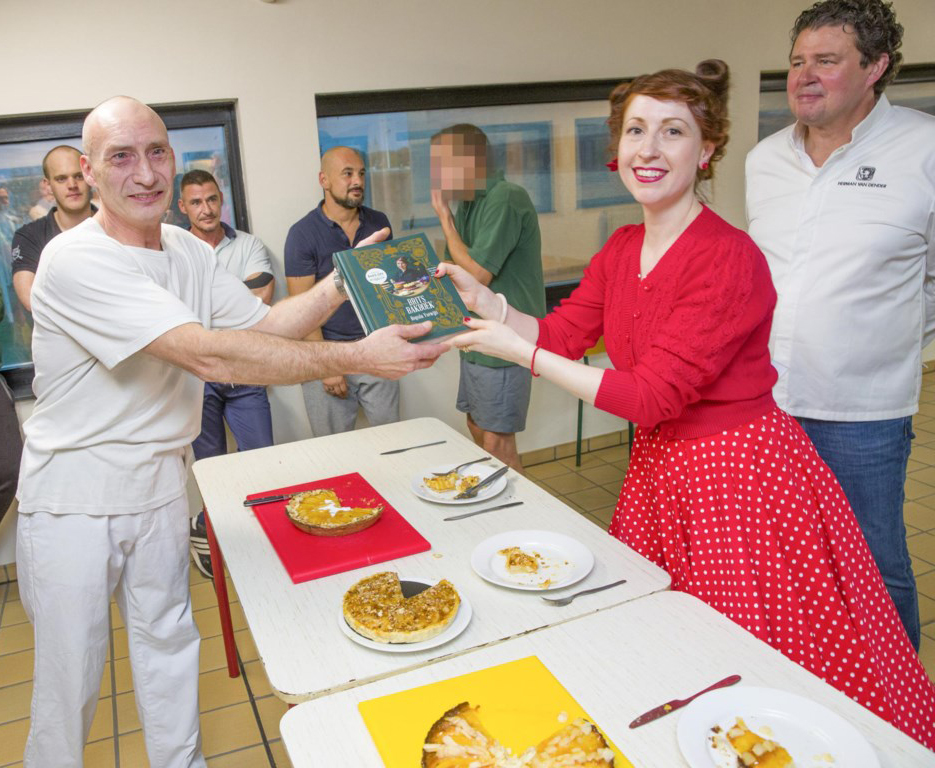 The winner was Geert and his team, I gifted them a copy of my latest book as a prize and there were cheers all round. The distance that was between us when we first met in this corridor at the start of the evening was gone, they weren't going to hug us but there was a warmth, they trusted us as much as we had faith in them.
We walked out of the prison in a sense of calm, were grateful for the fresh air and pondered about how prison is not just being locked up but so much more. It felt like there was no air inside, like being stuck in a cardboard box. If anyone ever says that being locked up isn't a punishment I'll have to disagree. Today wasn't just a memorable day for the inmates, but also for us. I am very grateful to all the inmates for the generous way in which they welcomed us and this is a day I will never forget.
Bake Off is not just a TV program, now 3 years since we've been on air I've encountered an incredible amount of children – boys and girls and teenagers who started baking because of the show. There are families who bake together on the weekends and savour those moments together. Cake brings people together in joy, even in prison.
Op naar Brugge
Een gebruikelijke reis naar Brugge betekent een wandeling langs de romantische grachten en vervolgens een biertje en een bord witloof met ham uit de oven in een van de oudste traditionele cafés van België.
Maar niet op dinsdag, dinsdag waren mijn mede-jurylid van Bake Off Vlaanderen Herman Van Dender en onze gastheer Wim Opbrouck uitgenodigd door de gevangenen van de drugsvrije vleugel van de gevangenis van Brugge. Drugsvrij betekent dat deze gevangenen een geschiedenis hebben met drugs en 'clean' willen blijven, anderen willen gewoon hun straf uitzitten in een drugsvrije omgeving, omdat de rest van de gevangenis vol drugs is. Helaas is er niet veel dat de gevangenis daaraan kan doen, de drugs komen binnen met de bezoekers en er is geen legale manier om bezoekers te controleren op verborgen drugs. Verder is het controleren van gevangenen niet zonder regels, regelmatige urinecontroles of volledige naakte lichaamscontroles zijn niet legaal. Hoewel sommige inwoners ernstige misdaden hebben begaan, betekent dit niet dat ze van hun mensenrechten zijn beroofd.
Maar bij de drugsvrije vleugel waar we gisteravond te gast waren, mag de gevangenis regelmatig controles uitvoeren omdat de gevangenen het net wél willen. De wachtlijst om in deze vleugel te komen is lang. Gevangenen die clean blijven, krijgen privileges en één van deze privileges is dat ze samen dingen mogen organiseren. Vorige week deden ze een Italiaanse kookwedstrijd, deze week zijn we hier om hun bakvaardigheden te beoordelen.
We worden alle drie streng gecontroleerd, het duurt even voordat ik door de metaaldetector geraak omdat mijn kapsel opgehouden wordt door ongeveer honderd haarspeldjes. We gaan dan op een foto voor onze badge en worden door Maarten, de psycholoog van de gevangenis naar de drugsvrije vleugel begeleid. Hij is een vrolijke met tatoeages bedekte man van in de twintig. Ik vraag hem voor de grap of hij hier ooit een gevangene was, spottend met het vooroordeel dat gepaard gaat met mensen met veel tatoeages.
En vooroordeel is een verhaal dat hier van belang is. Ik ben een vrouw en sta op het punt in een gevangenisvleugel te stappen waar mannen verblijven die veroordeeld werden tot vele jaren celstraf. Ze hebben dus best wat op hun kerfstok. Maar het is niet mijn vooroordeel waar ik me zorgen over maak, het is wat ik aan moet, net zoals altijd als ik me klaar maak om ergens heen te gaan. Ik vroeg me af of ik een broek moest dragen – iets wat ik zelden doe – of dat ik kan dragen wat ik altijd draag, een zwierige jurk en een grote poef onderrok. Niet één keer was mijn gedachte angst, maar ik maakte me zorgen over wat geschikt was. Zou het aanstootgevend zijn als ik mezelf optut zoals altijd, of zou het aanstootgevend zijn als ik dat net niet doe. Uiteindelijk besloot ik dat ik gewoon mezelf moest zijn, mijn polkadot-jurk aan zou trekken met een cardiganneke er op.
We krijgen een rondleiding door de cellenrijen, een oudere gevangene verwelkomt ons om zijn cel binnen te stappen om zijn klein stukje wereld te zien. De muren zijn bedekt met familiefoto's, zijn bed is zeer netjes opgemaakt. Ik merk op dat mijn kinderkamer ongeveer even groot was als zijn cel en dat hij het gezellig gemaakt heeft. Ik bedank hem dat hij ons zijn privé-plek heeft laten betreden, hoewel niets hier echt privé is.
Wim legt de bakopdracht uit aan de gevangenen in één van de verbindingsgangen van het blok. De mannen zijn zo opgewonden als een groep jonge jongens die klaar zijn voor de voetbal, glimlachen zijn breed en grappen zijn overvloedig, maar er is geen schuine kleedkamerpraat en ze houden hun afstand. Ze gaan allemaal terug naar hun eigen gedeelte om te beginnen met bakken, ze hebben twee uur om hun 'Poire bourdaloue' te maken. Daarvoor moeten ze kruimeldeeg en een amandelvulling maken die ze vervolgens moeten bakken en decoreren. Dit is een echte Bake Off-opdracht, we hebben niet iets eenvoudigs bedacht, we behandelen deze mannen alsof ze Bake Off-deelnemers zijn en niets minder.
Terwijl ze bakken, touren we rond hun celblokken om ze te zien werken, vier tot vijf gevangenen zijn elk in de keuken van hun sectie, dit zijn reguliere huishoudelijke keukens uit de jaren 1980. Ernaast is hun gemeenschappelijke zithoek met twee zetels, een oude tafel en een paar stoelen en een tv. Het voelt alsof je in een leegstaand bemeubeld appartement bent, dat wil zeggen als je de geblokkeerde ramen en de lange gang met cellen aan de andere kant negeert.
De keukens zijn netjes, ze werken op een ordelijke manier en als ik ze advies geef, krijg ik daar waardering voor. De mannen zorgen ervoor dat ik me op mijn gemak voel, er is geen moment dat ik me ongemakkelijk voel of het gevoel heb dat ik mezelf niet kan zijn.
Ze vertellen me dat één van de gevangenen een grote fans is van me, hij ziet er ruig uit maar wordt toch een beetje verlegen als ik met hem praat. Hij kijkt graag naar Bake Off, maar zag me ook op de BBC toen ik in augustus op het programma 'Inside the Factory' te gast was over Bakewell-taarten. We poseren voor een foto en hoewel ik mijn arm om hem heen leg, is hij terughoudend om me aan te raken, houd z'n armen van me weg en legt hij uit dat zijn foto niet in de pers kan worden gebruikt. Ze hebben allemaal hun redenen waarom ze niet willen dat hun gezicht zichtbaar is, maar vaak is het uit respect voor de mensen die ze hebben gekwetst. Ik vraag hem niet waarom, ik vraag geen van de gevangenen waarom of wat ze hebben gedaan om daar te zijn, ze hebben het recht om dat voor zichzelf te houden en op dit moment zijn ze allemaal gelijk, ongeacht hun bagage.
Wanneer we het laatste gedeelte bereiken, zijn we net op tijd om te worden begroet met de geur van vers gebakken peer en amandeltaart. Eén van de gevangenen legde uit dat hij de amandelschijfjes proefde en dacht dat ze niet veel smaak hadden, dus besloot hij ze in een pan te roosteren. Hij weet niet zeker of dit een goede keuze was en is verheugd om door Herman en mij te worden gefeliciteerd met deze manier van handelen. Drie van de mannen strooien lustig geroosterde amandelschijfjes bovenop hun 'Poire bourdaloue', in hun gezichten zie ik trots, een gevoel van voldoening. Ik wou alleen dat ik mijn camera had mogen meenemen om dat moment voor altijd vast te leggen.
Ik roep uit dat ik niet kan wachten om hun bakjes te proberen omdat ondertussen wel honger heb van die heerlijke geur, Wim geeft toe dat hij dat ook is en een gevangene biedt ons een van zijn bakjes eten aan. De mannen krijgen allemaal kant-en-klaarmaaltijden als avondeten omdat ze geen kantine hebben zoals je in de films ziet. Elke cel heeft een magnetron en er is mij verteld dat sommige gevangenen er heel creatief mee zijn. Wie geluk heeft, heeft een baan en verdient 1 euro per uur. Dat geld sparen ze om niet alleen sigaretten maar ook ingrediënten te bestellen zodat ze kunnen koken in hun jaren 80 keukentjes.
Een van de gevangenen vertelt ons over de dingen die ze een paar weken geleden hebben gebakken – hoewel ze wel elke week pannenkoeken bakken – en de bewakers van de gevangenis – allemaal vrouwen – tonen ons de foto's. Een grote gateau in de vorm van hun gevangenisvleugel, éclairs, merveilleux, koekjestaart – de favoriete cake van prins William, fruittaartjes en choux-zwanen … wat een feest, ik ben ongelooflijk onder de indruk. Ik vraag de gevangenisdirecteur – ook een vrouw – waarom ze ervoor kozen om een ​​vrij eenvoudige gebak te kiezen voor de competitie van vandaag en ze legt me uit dat niet alle mannen genoeg spaargeld hebben om te betalen voor de meer luxe ingrediënten zoals fruit, enzovoort, dus wilden ze een gebak met basisingrediënten. Ze hebben ons niet alleen hier uitgenodigd, ze moesten ook sparen voor de ingrediënten om voor ons te bakken. Ze hebben ook de armste apparatuur, één groep moest zelfs die van hen in een gebroken pan bakken. Maar niets van dat bleek, ze waren allemaal van de mentaliteit om ermee door te gaan, ongeacht de spullen die ze misten en de kennis van bakken die ze hadden. Ze renden verder met opgeheven hoofden. Het doet me toch wel wat en ik krijg een krop in mn keel.
We gaan allemaal terug naar de gemeenschappelijke gang waar een tafel is gedekt met borden. De vier 'Poire bourdaloue' komen op tijd aan en ze zien er allemaal geweldig uit. Herman en ik zijn oprecht onder de indruk omdat we al veel slechter hebben gezien door meer ervaren bakkers. We feliciteren de mannen, ze kijken allemaal naar de 'Poire bourdaloue' alsof het hun kindjes zijn en ik vind het toch erg emotioneel.
We beoordelen elk gebak, ze zijn allemaal verschillend, ze tonen persoonlijkheid en ze smaken allemaal fantastisch. Er is één ingrediënt dat vooral smaakt, de moeite die ze allemaal gedaan hebben om dit een memorable avond voor ons allemaal te maken. Niets is vergelijkbaar in smaak, het is liefde, het geheime ingrediënt dat eten een magische touch geeft.
Als het tijd is om de scores uit te delen, voelen we ons slecht om de vierde en laatste plaats aan te kondigen. Wim merkt ook op dat de verliezer vandaag niet naar huis mag zoals in de Bake Off tent het geval is. De 'Poire bourdaloue' op de laatste plaats is nog niet helemaal gebakken, ze hadden een probleem met timemanagement, maar de smaken waren er, we vertelden hen dat ze het heel goed hebben gedaan, maar ze worden boos en lopen snel weg. Ik schrik… ik had dit niet verwacht. Ik wil ze liefst achterna rennen en uitleggen dat dit geen nederlaag is, dat dit is nog steeds een overwinning is. Later werd me verteld dat de jongens een grapje maakten, dat ze deden alsof ze boos waren en dat 'Club Brugge' die avond tegen een ander voetbalteam speelde en ze dachten dat ze het einde van de wedstrijd nog even konden meepikken. Ik ben gewoon blij dat ze niet van streek waren.
De winnaar was Geert en zijn team, ik schonk hen een exemplaar van mijn nieuwste boek als prijs en er was overal gejuich. De afstand die er tussen ons was toen we elkaar voor het eerst in deze gang ontmoetten eerder die avond, was verdwenen, ze wilden ons niet omhelzen, maar er was een warmte, ze vertrouwden ons evenveel als we in hen geloofden.
We liepen de gevangenis uit met een gevoel van kalmte, we waren dankbaar voor de frisse lucht en dachten na over hoe de gevangenis niet alleen opgesloten zitten is, maar zoveel meer. Het voelde alsof er geen lucht was, alsof je vast zat in een kartonnen doos. Als iemand ooit zegt dat opgesloten zijn geen straf is, kan ik het daar niet mee eens zijn. Vandaag was niet alleen een gedenkwaardige dag voor de gevangenen, maar ook voor ons. Ik ben alle gevangenen erg dankbaar voor de genereuze manier waarop ze ons hebben verwelkomd.
Bake Off is niet alleen een tv-programma, nu 3 jaar sinds we in de uitzending zijn geweest, ben ik al veel kinderen tegengekomen – jongens en meisjes en tieners die vanwege de show zijn beginnen bakken. Er zijn gezinnen die samen bakken in het weekend en genieten van die momenten rond het gebak. Taart brengt mensen samen in vreugde, zelfs in de gevangenis.
Dit is een dag die ik nooit zal vergeten.
Regula Ysewijn
Photo's in this post: Simon Mouton for Het Nieuwsblad