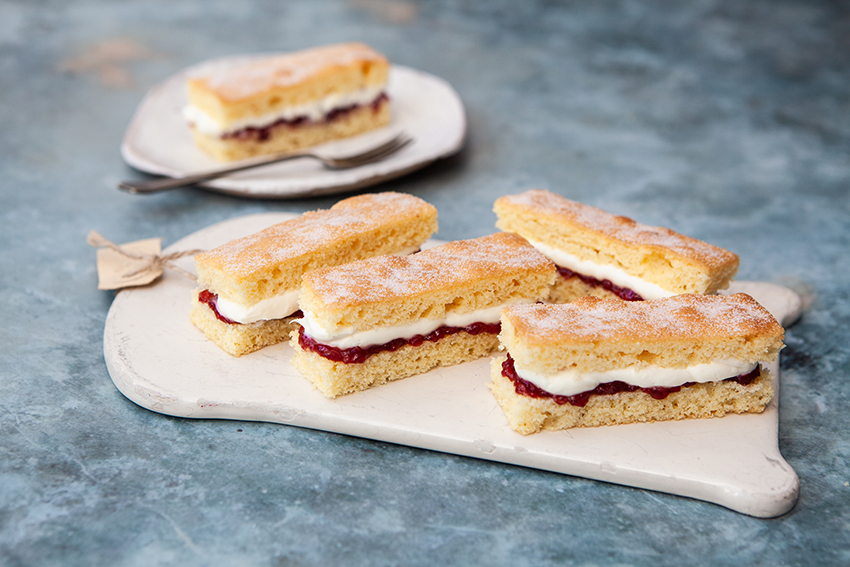 This week was Queen Victoria's 200th birthday and in honour of her and to raise funds for charity, major kitchen brand Franke has asked me to create a cake for their Blooming Great Tea Party. The charity Marie Curie offers vital support to people suffering with cancer and Franke want to support the work they do by generating vital funds for them as well as awareness of the work they do. Cancer is the disease that has touched everyone in some way and while cancer research is of paramount importance, so is the care for those who suffer from it or are trying to recover.
In my Victorian cookbooks I noticed the first Sandwich cakes were made into individual finger portions so that's what we chose for this charity tea party. What you can do is visit a Franke retailer near you which is hosting a Blooming Great Tea Party and have a nice finger sponge cake with a cuppa! You can find out which retailers are taking part by visiting www.franke.co.uk/charity.
If you can not make it to a tea party you can easily donate through this page www.justgiving.com/fundraising/frankeuk2019-mariecurie
For 32 small Victoria sponge finger cakes (recipe can be halved)
Needed: 1 or 2 non-stick baking tray size 39 x 27 cm
For the Cake
4 eggs, weighed in their shell

same weight of: soft butter, caster sugar, self-raising flour

2 tsp baking powder

1 tablespoon milk

butter for greasing

flower to dust

2-3 tbsp raspberry or strawberry jam

200 g double cream, whipped

fine white sugar, for sprinkling
For the filling
100 g powdered sugar

1 tbsp or 12 g custard powder 

(pudding powder)

50 g of butter

1 teaspoon milk, warm (or water)
Method
Make the filling by mixing powdered sugar, pudding powder, butter, milk or water and salt in the food processor until you get a cream. If it is much too dry, then add milk or water per ¼ teaspoon. Let the filling rest covered.
Preheat your oven to 180 ° C
Weigh the eggs in the shells to determine the quantities of butter, sugar and flour.
Put the eggs in a large mixing bowl, add soft butter, sugar, milk, self-raising flour and baking powder. Mix the batter until it is smooth.
Scoop the batter into the baking tray(s) and neatly smooth out using a scraper or spatula.
Place the tray in the center of your oven for 18-20 minutes. Leave to rest for 5 minutes, remove from the tray and allow to cool on a rack.
When making one tray, cut the cake with a serrated knife into eight, then cut each piece into 4 finger cakes and halve them so that the filling can be sandwiched in between.
When making two trays, simply cut the whole cake into fingers or for a quick method top the whole cake with jam and cream and then cut into fingers.
For creating individual fingers smear the bottom finger cake with jam, pipe or smear the cream on top and put the top cake on top.
During strawberry season it's delicious to add slices of fresh strawberries to the filling.
Sprinkle with fine sugar.