Books, the treasure that is bound pieces of paper.
I've been planning this post for over a year now, but never really had the time because I was busy, reading books 😉 Seriously, it's just one of those things you can never seem to finalise because there will always be other and more exciting books to buy.
Of course this list is quite personal, but if you like this blog, I think you will find it useful. Especially with the time to buy presents near, here is what I had on my list and what you will find in my book case. A book is always such a treasure, and as a book buying addict myself, mostly antiquarian, I know how handy a list can be.
First up: Books for food geeks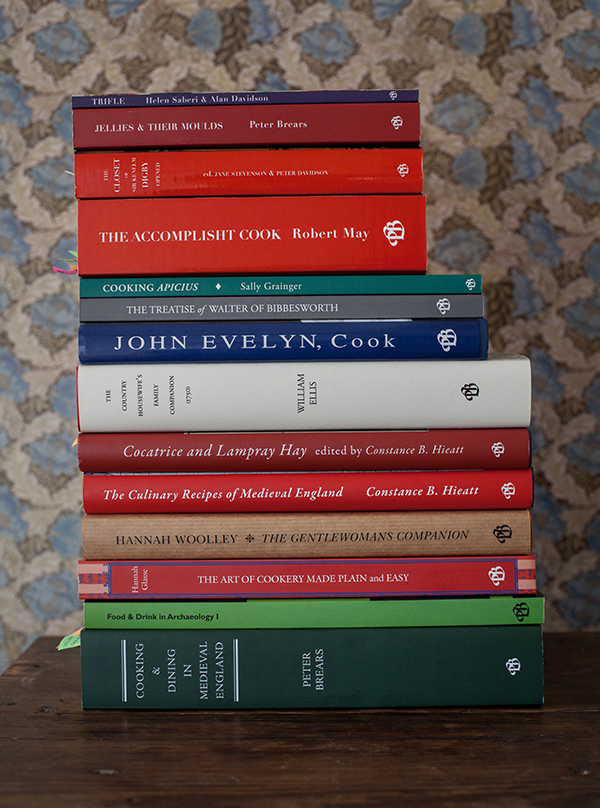 Prospect Books hardly ever publish a title I wouldn't buy. These are the books for geeks, for those who wonder how the food was prepared centuries ago on an open fire, on the first range in the 18th century and the Victorian stoves. For those who wonder how to build a wood fired oven, how to cook in it and how to treasure it. For those interested in Medieval British or Arab food, Catalan, Ancient Greek or Roman food.
Prospect has books on cookery, food history and the ethnology of food. They are one of the very few to specialise in this field of food geek books Any book by Prospect would make me happy, though the books in this picture are but a few of the titles I have. Prospect Books was founded in 1979 by the late Alan Davidson – who wrote the Oxford Companion to food – and his wife Jane Davidson.
Must buys as gifts?  Quinces: Growing & Cooking, Apicius, Honey from a Weed, Medieval Arab Cookery, Alan Davidson's Mediterranean Seafood, Roman Food Poems, Sugar-plums and Sherbert The Prehistory of Sweets, The Book of Marmalade, The Centaur's Kitchen and many, many more…
Cooking & Dining in Tudor & Early Stuart England by Peter Brears (Prospect)
Peter Brears' new book was highly anticipated by me for a while, it was due publication last year but came out in februari this year. If you just gaze upon this magnificent and especially huge tome of Brears you understand why the book was late. Brears spent ten years writing this book, so a few months later wasn't going to make a difference, except for those people like me constantly checking the Prospect books site to see if it has come out. Imagine my delight when Tom Jaine from Prospect emailed me to say it was finally available to buy. This is the follow-up to Brears' volume about food in the Middle Ages, a book I mentioned in my 'Best food books' list (find it here >). The period covered in this book is a time when new foods from the New World were starting to influence English food. The book starts with the reign of Henry VII and covers dining and practical arrangements and techniques in the kitchen and dining hall up until Charles I. If you are a geek like I am, this book is for you. The words in the book are illustrated with illustrations made by Brears himself and explain us the system of The Counting House to the Buttery and the Pantry.
Other publishers of very interesting and geeky books on food history are The British Museum who published 'The Curious Cookbook' recently, and the Oxford University Press. I was just given 'Movable Feasts' published by them. Also Grub Street publishes books about interesting subjects, like ice creams (historic) and British food in general.
Vintage Books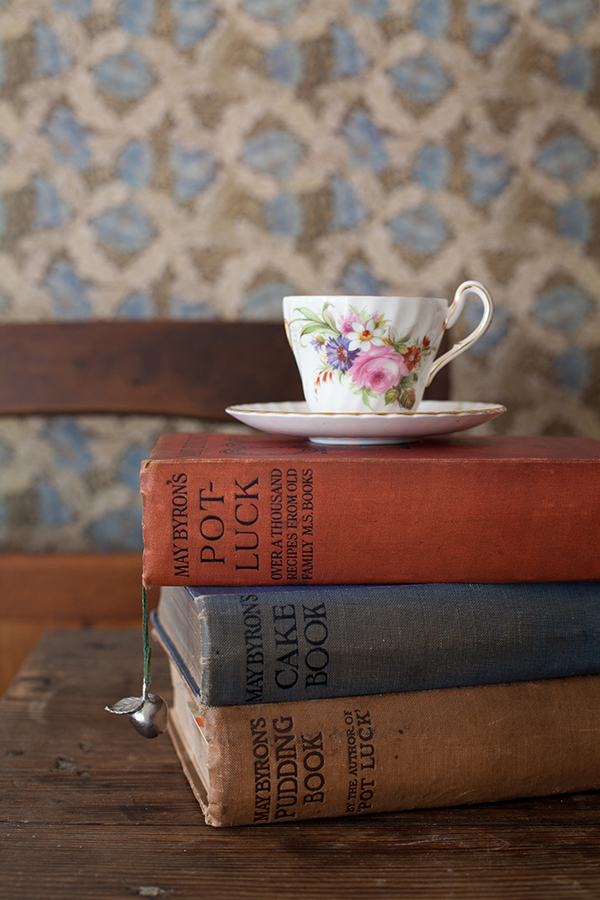 Vintage books are always a nice gift for the hard core food lover, and especially the hard core food lover who also loves hoarding books. I always have a look in charity shops, but for many decent antiquarian books you really need to see a specialised dealer. A book can cost as little as 50 £ but prices can also go up to 20 000 or more!
Building a relationship with a seller is always a good idea.
Books about British food


If you want to learn about British food then these books are a good way to start.
There are a few missing from this picture, like Dorothy Hartley's 'Food in England' and Elizabeth David's 'Spices, Salt and Aromatics in the English Kitchen'. The only reason being that I forgot to put them on the pile.
'Food Britania' by Andrew Webb is the most recent of the bunch but nonetheless a delightful book on regional British food and produce. Eliza Acton, is often referred to as the 'real Mrs Beaton' and her book is an extraordinary account on British food of that period. Even then she touches on some food issues which are still very relevant today.
Florence White's books were written with the help of the members of the 'English Folk Cookery Association' she founded. A lot of the recipes in her books may have been lost if she hadn't recorded them. Her 'Good things in England' (1932) is easy to get online or with the publisher, the 'Good English Food' (1952) you also see here is very rare but it never hurts to google it. 'Cooking in Europe, 1650-1850' was written by food historian extraordinaire Ivan Day, and of course very interesting indeed. It is fairly hard to get in the UK, but easier to acquire in the US and Canada. Jane Grigson's English food is as important as Dorothy Hartley's 'Food in England' and used as a reference work by many. For those who wish to learn how British food evolved over the centuries, then let C. Anne Wilson take you on a trip through history in her 'Food & Drink in Britain'.
Of course there are more books like this, but some of them printed in such a small number that finding them can be very hard and very frustrating.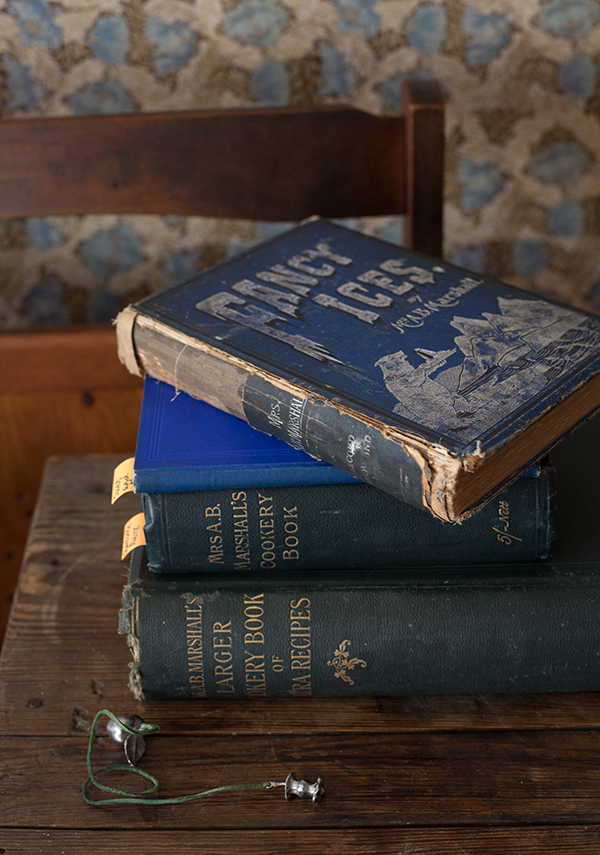 Books by Agnes B Marshall, the very first female celebrity chef of Victorian England, touring the country giving cookery demonstrations, and teaching in her cookery school. She also invented one of the first ice cream machines and ice caves, and sold cookery utensils from her store. She died and was forgotten and fell into the shadow of Mrs Beeton, who is no match for Mrs Marshall. She was nicknamed the Queen of ices and her book on ice cream was republished last year. Here you see my original books, with the post-its in it, showing that they are loved and used in my home.
Books for people who like to investigate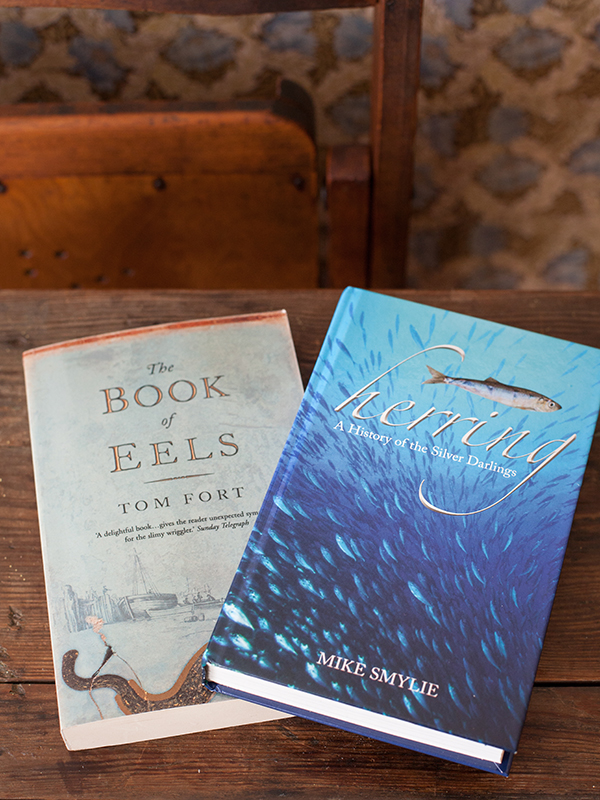 'The book of Eels' by Tom Ford and 'Herring, a history of the silver darlings' by Mike Smylie, are both very interesting reads if you like to know more about the history of both these fish and how they are caught. It is delightful to see these two men write so passionately about these little sea creatures. I can't recommend these books enough.
The truth is out there:
Swallow This, Serving Up the Food Industry's Darkest Secrets 
by Joanna Blythman
I met Joanna Blythman two weeks ago on the Great Taste Award judging where we always meet, she asked me if I was enjoying her book. I said to her 'It's awful! I mean, not your writing, but it's just awful and it smacks me in the face'. Joanna smiled and understood what I was trying to say. 'Yes – she said – it is awful and you would probably have to put it down at times'. And she was right. Swallow This is a book which is really hard to swallow because in it Joanna goes undercover in the food industry and uncovers that even the most basic of products have been adulterated. Butter flavour, strawberry flavour, and vanilla that hasn't even a drop of the original in its ingredients list. And then there is the ludicrous way in which a basic frozen pizza is created, the base is made in x country and frozen, then shipped to x country for tomato sauce to be added and then another location adds vegetables and cheese. When your frozen pizza is ready and boxed, it can have travelled more than you have in two years time. Do we really want that? In a time when food miles are on every food conscious person's mind? What you are thinking when you picture processed food is only the tip of the mountain. The valley goes deep and dark and Joanna shows us the truth, and although we want to run and hide and never hear these awful stories again… We can't ignore what is in this book, and we have to think twice about buying that healthy looking fruit salad that has been sprayed to stay 'fresh' for days, or those Feta, with Glucono-Delta-Lactone which will never go off. Food has become science, and we're two seconds away from eating flavoured plastic and artificial meat. This book reads like a horror movie, but sadly this isn't fiction.
For an extract of the book published in The Guardian follow this link 
If there is one book to buy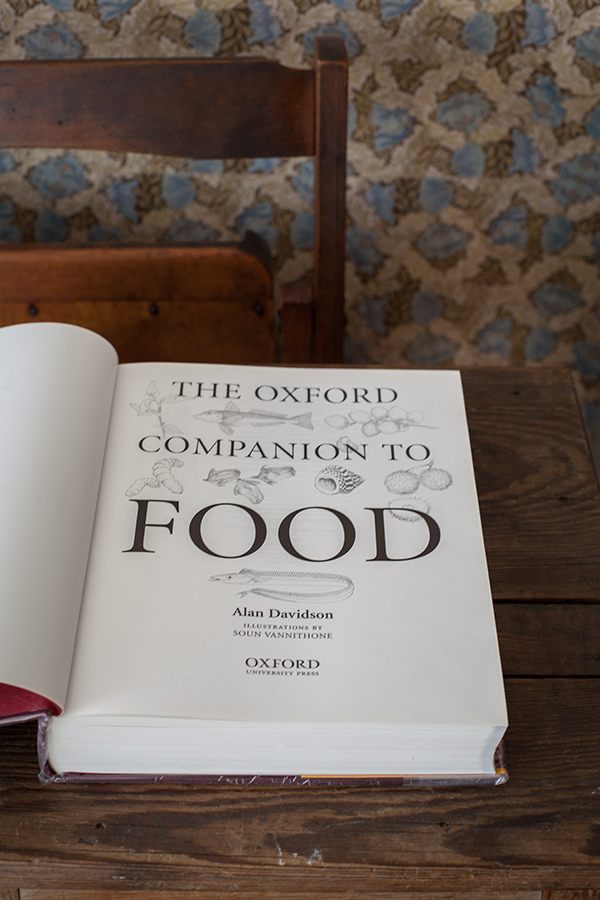 If there is one book to buy, it should be Alan Davidson's 'The Oxford Companion to Food'. Davidson spent 20 years of his life writing and researching this book. In a time before the internet, he create a massive library of reference books which are unique but sadly split up and sold after his death in 2003.  'The Oxford Companion to Food' lists all the food you can think of and gives an explanation which often almost gives you an entire idea of the place where it came from and how it was grown. His writing style make it a book worth reading, and worth cherishing. The new and revised version was just published, edited by Tom Jaine, his life-long friend, who also took over Prospect Books from him. There really couldn't have been a better person to oversee this new edition Davidson's work.
Books for food activists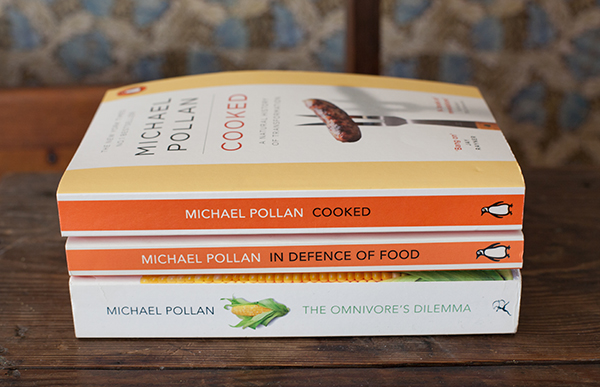 Any Michael Pollan book should be on your list. In fact, I believe that it should be read in high schools so young people can start their lives knowing what they can do to eat well, and most importantly knowing what is in their often preferred processed food fad. Pollan's books aren't lectures, they are fun to read, sometimes even funny but mostly very informative. You WANT to know what is written in these pages people, you NEED to know.
"The shared meal elevates eating from a mechanical process of fueling the body to a ritual of family and community, from the mere animal biology to an act of culture."  
Michael Pollan, In Defense of Food
Books for hard core bread bakers… 
and those who want to take it a step further, learn about fermentation, wild bread yeasts for sourdough and other useful tricks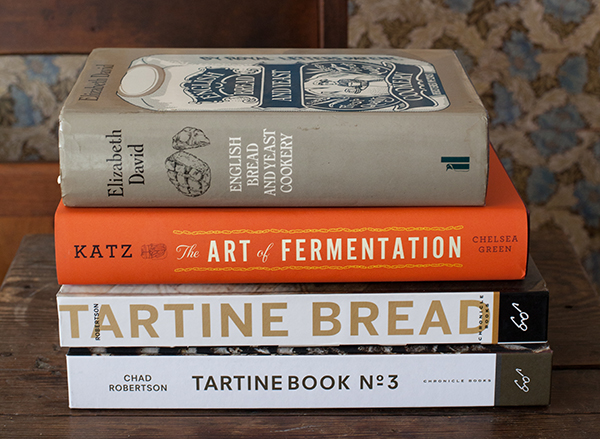 Elizabeth David's 'English Bread and Yeast Cookery' is probably my all time favourite book when it comes to bread books. She teaches you in her unique voice all you never knew about bread and regional bread varieties. This rare first edition is very precious, but a modern edition is available from your regular bookstore.
'The Art of Fermentation' is written by Sandor Ellix Katz, aka Sandorkraut. It is a do-it-yourself home fermentation guide. Katz, like Pollan, believes whe should eat more fermented foods like we have done for centuries. There are many health benefits. It is a very interesting read if you are interested in healthy eating, and using food to cure ailments.
The two 'Tartine' books by Chad Robertson are an epic guide to making the perfect sourdough breads. I had the pleasure of learning his technique from one of his students and it really makes a difference. No endless kneading here, just very tasty and healthy sourdough bread.
The best books on Italian food culture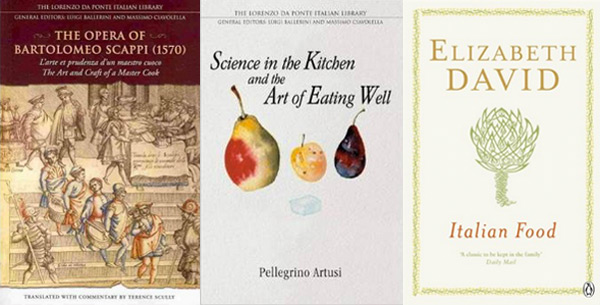 These are again, books for hard core food lovers who are hungry for knowledge.
Bartolomeo Scappi's book from c. 1500-1577 is named the most famous chef of the Italian Renaissance. He oversaw the preparation of meals for several Cardinals and was such a master that he became the personal cook for two Popes. He compiled the largest cookery treatise of the period. His recipes inherit medieval culinary customs, but also show the start of modern Italian cookery.
Science in the Kitchen and the Art of Eating Well by Pellegrino Artusi. Although he found it difficult to find someone who wanted to print his book, the book has consistently remained in print since it was first published in 1891. The book is dressed with witty anecdotes and observations of the author which make you relate to him even easier. The book was written for housewives and their domestic helpers rather than the court kitchens which makes it unique in its time.
I don't think Elizabeth David's 'Italian Food' needs much explaining in this list. It is a classic, published way back in 1954, and one that might be more likely to be in your book collection already. This book was an inspiration to British cooks when it was first published – a time when people – including David, were tired of everything they already knew. They wanted a taste of foreign cuisine, to travel by reading a book and recreating the dishes.
The best books on Tuscan food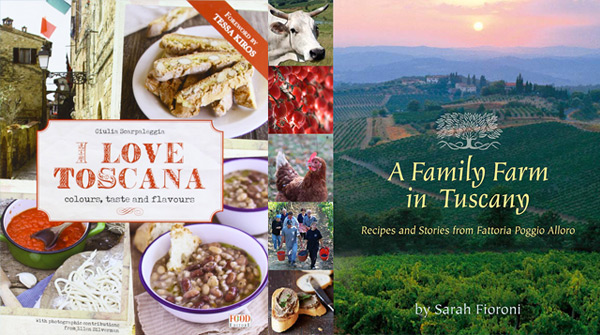 Okay, I must admit I know both of these authors. It is no secret that Giulia is one of my dearest friends and you can read a review of her 'I love Toscana' here on this blog.
The fact is that 'I love Toscana' is a book that oozes Tuscany for me. It's the colors, the dishes, and it is all very easy to cook so a perfect gift for that person who loves Italian food. Giulia also gives Tuscan cookery classes in the season, from her home in the most stunning surroundings of Sienna.
I know I gave you books on Italian food culture before, but Italian food doesn't exist. Italian food is made out of different regional specialities and produce and can't be named under the one heading Italian food.
Even in Tuscan food there are regional varieties, this can be because you are from the coast, or more South. In any case, these are two books which I recommend.
Sarah Fioroni writes about her family farm and the stories and recipes. The book is full of lovely images of the land she and here family work on for wine, saffron, olive oil and grazing. The great thing is that you can also stay at the farm and taste the food, bring some wine home and experience the whole thing.
Perfect books to give to any food lover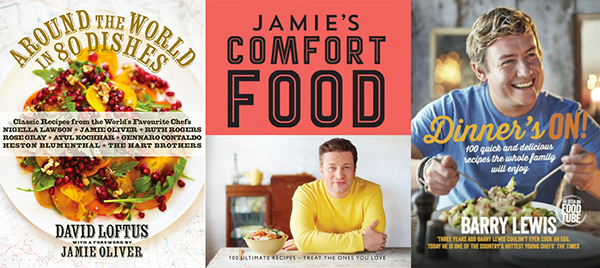 When you're giving books you don't really know 100% sure if the receiver is going to be happy with it. Books are personal! But these books I will show you here are winners every time!
'Around the World in 80 dishes' was published a little while back but still a fabulous book to give as a gift to any food lover. It features 80 dishes from around the world, like the title says, but not just that, the photography is stunning, and how could it be anything less if you know that this is the book of David Loftus, the world's most famous photographer who photographs all Jamie's books. The recipes are all donated by the chefs he has met over the years, and gives you a divers selection to choose from.
Jamie has a new book out! 
And Jamie's books never fail. I have ALL his books and love every single one of them. Again with stunning photography by David Loftus, these two are on fire in the book. I'm sure any Jamie book would be a great gift, he's got a book on Italian food, on American food, British food, Spanish, easy to prepare food, quick to prepare food, and now Comfort food. The thing I love the most is that Jamie's recipes are solid, they never ever fail. It's always tasty and always fun to eat.
Dinner's On!
Barry Lewis is nicknamed the new 'Naked chef'. Some time ago he couldn't even bake an egg, and now he has a book out. He has a very fun youtube channel and cooks up the most crazy and monstrously large things. His book has easy to follow recipes for the home and I feel it's a perfect book for a dad who wants to get into cooking for his family. It's a bit bloky – if that is even a word. It is fun and will get anyone cooking for sure.
Perfect books to give to borderline food geeks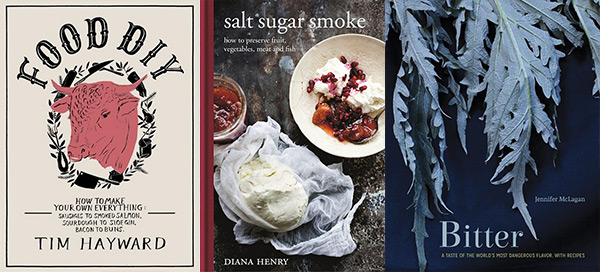 Again not a new release but Tim Hayward's book 'Food DIY' is just a great book to give to the enthusiastic home cook. Also a perfect bloky book but just as good for a cool lady! To make your owns sausages, smoke your own salmon. A hands-on book.
Diana Henry's book 'Salt Sugar Smoke' is a delightful book on preserving, salting and curing. I have made her beetroot cured salmon so many times I can now say I have my own variation of it. All of Diana's books are very good books to give to a borderline food geek, just like the new book 'Bitter' by Jennifer Mclagan which is devoted to, you'll never guess: bitter foods. It's refreshing to see a book on bitter foods as it is a flavour we are often not very fond about. If you love endive, stout beer and radicchio, you will love this book.
Middle Eastern Food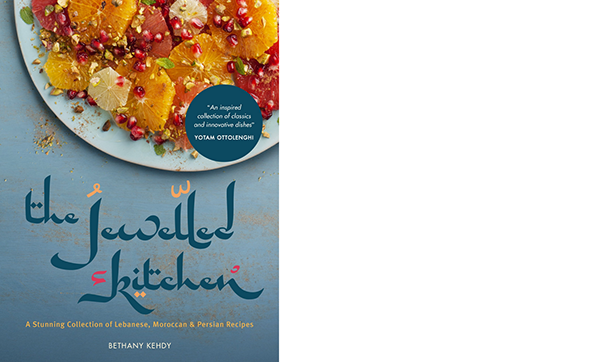 'The Jewelled Kitchen' is a book about Lebanese, Moroccan and Persian recipes, I have reviewed it on my blog here. It is my go-to book when I want to cook something Arabic and Bethany Kehdy's recipes are of course her adaptations but still very authentic to her roots. The book also benefits from very pretty images by my mate Sarka Babicka.
Persiana by Sabrina Ghayour
Intriguing and colourful.
Ukrainian food
Mamushka by Olia Hercules
Olia Hercules, who doesn't only have the most wicked name, is also a very warm and generous person. It shows in her book where she shares the food of Ukraine and beyond, teaching us about a cuisine that hasn't really been explored yet in books. I can't wait to try the Ukrainian 'narcotics', and Tartar lamb turnovers. And the Poppy seed roll brings up memories of my childhood travels around the Czech republic and Hungary where this dish is also a favourite. The watermelon skin jam is just intriguing as are the fermented tomatoes. The Moldovan giant cheese twist calls for a theatrical way of stretching a super thin dough, but Olia assures us we can do it and tells us we should attempt it when in a playful mood.
Other than providing us with many new and exciting traditional soviet dishes to have a play with, we also catch a glimpse of her family as the book travels to Ukraine and visits her home turf. The photographer of this book Kris Kirkham captured the mood of Olia's life perfectly and adds to the storytelling as photography should do.


Baking books
Kerstin Rodgers has a new book out called 'Ms Marmite Lover's secret tea party', it's the follow-up on her 'Supperclub' book in which she explains how to start your own supperclub. Kerstin is a lovely lady her books are as edgy as she is, a bit bad-ass in a fascinator. I'm still waiting for my copy of her recent book, it seems there was a delay with the bookstore posting it. I know one recipe in there at least, Kerstin asked me if she could include my recipe for Cornish Splits. I'm sure the Secret Tea Party will be worth the wait.
Homemade memories by Kate Doran
I don't know about you but when I saw the cover of this book I was sold. I have a weakness for Jaffa Cakes and as Kate, the author explains, the passion for many of these childhood favourites kinda cools when you look on the back of the pack and read about all the stuff they put in there.
But I'd never considered making my own Jaffa cakes, fearing it would be a right faff and wouldn't taste the same as the 'real deal' or rather the 'shop bought'. 
Most of the recipes don't conjure up childhood memories for me as they are mostly British treats, but then the book reads like a childhood memory and Kate's short stories with each chapter and recipe surely add to the story of this book. You know I wish these were my childhood treats! What an array of gorgeous things. I can't wait to start baking from this book when I finally have some time to bake things that aren't related to my book anymore.
A book for experienced cake makers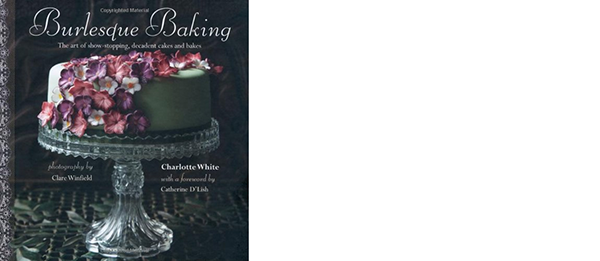 Charlotte White has her own company, creating special occasion cakes in the most crazy and elaborate shapes you can imagine. In her first book she shows us how to decorate and create burlesque style cakes that would make any host proud to serve the guests.
Books for food writers 
There are so many books I haven't mentioned here, like Elizabeth David's 'An Omelette and a glass of wine' a book that is frequently found on my bedside table, and 'The Art of Eating' by M.F.K. Y Fisher. I assume these works are known, and if not, look them up and read them, you will not regret it and they will probably never leave your bedside table too.
Also take a look on my Books link, with a couple of other books, like The Taste of Belgium I shot the photos for over the summer
The end for now …
I will keep adding books and post the updates when I've made them.
All views are my own. I was not payed in any way whatsoever to mention these books.
Of 'A Royal Cookbook' and 'Diner's on' I received a review copy.
Any books not on here you are crazy about? Let me know!