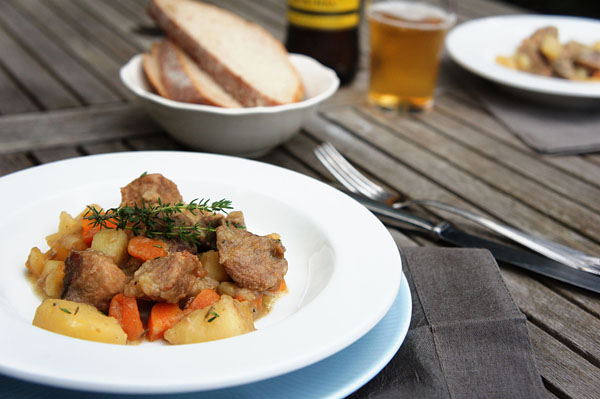 The comfort of food
Although it was the last week of August the weather became quite chilly, not to speak about the storms we've been faced with.
There's been thunder and lightning every evening for about a week now. At times the weather got so bad a tent collapsed at a music festival leaving utter destruction and fatalities.
I had some friends there who kept themselves safe, thank god for that. But others did lose friends and are now left to cope with the loss. It leaves you with a strange feeling when tragedy strikes a place where thousands of young people are gathered to enjoy themselves and be merry.
Some of the young people's lives will never be the same and others will be strengthened by it but nevertheless the experience will be a part of their lives for a very long time, if not forever.
At times like this I'm beginning to think about warming stews and the comfort they can give you.
I love making stews, you can make it in the morning and leave it to simmer for a few hours so it fills the house with a mouthwatering aroma. There's something about a big pot of delicious food on the stove that always gives me a feeling of warmth towards my family.
I wanted to cook something with the last of my discovery apples and I knew I had some Cider tucked away from our wedding. Apples and pork are one of my all time favorite combo's, classic.
This is a truly British dish, I hope you'll like it !
Ingredients: (serves 4)

Cider half a pint
Water half a cup
500 g of free range/Organic stewing pork
a few sprigs of fresh thyme
2 medium potatoes
1 carrot
2 medium onions
1 teaspoon of cider vinegar
1 or two small (I used my discovery) apples
Salt and pepper
Flower to dust the meat
Method
Preheat your oven to 160° (gas)
Take 1 tablespoon of salt (I always use coarse seasalt), a bit of freshly ground pepper and the leaves of a few sprigs of fresh Thyme and rub meat in with it, dust with a bit of flour.
Cut the onion into medium sized wedges, quarter the carrot (half if it's a small one) and slice the potatoes in cubes like seen in the picture above.
Peel and slice the apple in small cubes (about the size of a dice).
Put on the heat under a heave base pan (I always use cast iron) and pour in some olive oil.
Add the onion and carrot to the pan and stir for about two minutes, now add the potato and the apple.
Stir a few times and add the meat, let it color a bit and than add the Cider and the water.
Bring to the boil and than put it in the over for about 2,5 hours.
You can take it out sooner but I like it when the meat falls apart.
Drink this with a Cider, just delicious!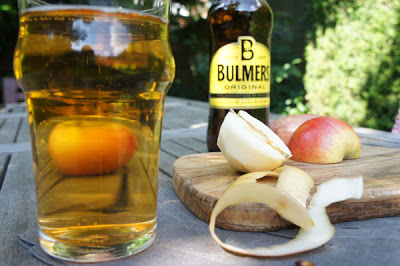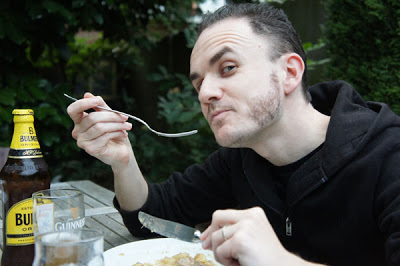 My sweetheart enjoying his meal and his Cider, bless him X