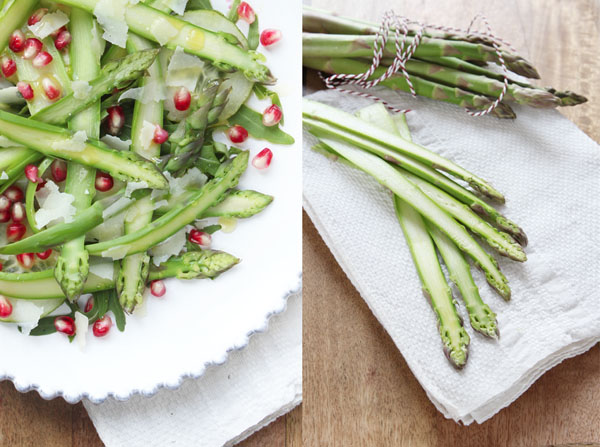 Spring is finally here.
The trees are parading their lovely blossoms and the days are starting to get longer again.
The thing I love most about spring are the colors, the vibrant green of the new leaves on the trees and plants. The scent of flowers and the snow of blossoms when the wind blows through the trees.
I enjoy sitting in the garden enjoying the first rays of sun, wearing a warm jumper and big scarf. I'm reading a cookbook and the leaves of the Magnolia flowers are tumbling down on the pages of my book like bookmarks pointing out delicious recipes.
It's quite chilly, apart from the blossoms the branches of the trees are still bare and showing off their slender forms.
I run inside with rosy cheeks and try to create spring on a plate.
The first green, the first flowers.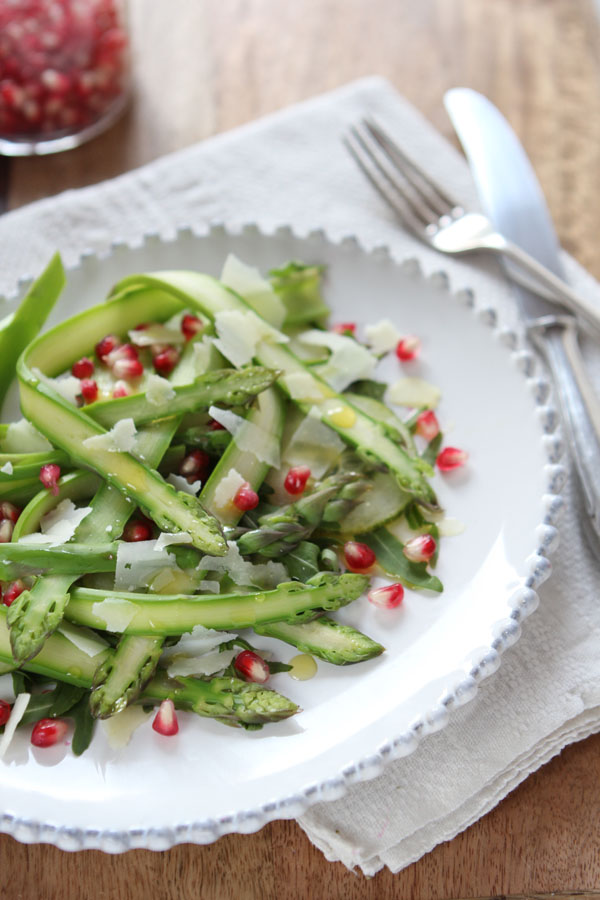 This dish is spring for me, welcoming one of my favourite veg: the green asparagus.
Green
asparagus aren't easy to come by where I' from. Mostly they are imported from Peru so I can only buy them the few times I can find them from local farms. There are loads of
white asparagus, but I crave for the green ones. Asparagus grow red
berries which are poisonous so here we have the pomegranate pearls to accompany the asparagus in color and in taste giving some acidity to the dish.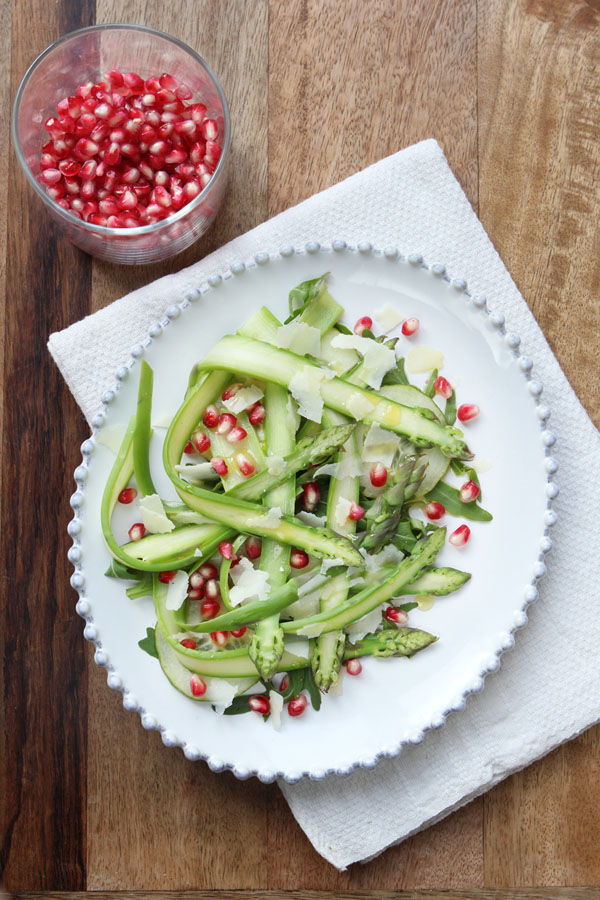 What do you need (serves 2-4)
1 bunch of green asparagus
half a cucumber
half a pomegranate
a bunch of Rucola
a handful of parmesan shavings
some good quality olive oil
Method
Use your mandolin or hand slicer to create ribbons from the asparagus.
You can use a knife, but try to slice it as thinly as possible.
Slice the cucumber into thin discs.
Wash you Rucola and arrange on a plate.
Remove the pearls from the pomegranate.
Boil salted water and blanch the asparagus, have a bowl with cold water standing by.
Remove the asparagus after you counted slowly to 10.
Add to the cold water to stop them cooking.
Arrange the slices of cucumber over the Rucola.
Dry the ribbons with some kitchen paper and arrange over the cucumber.
Sprinkle the pomegranate pearls over the dish.
Add the parmesan shavings
Drizzle some nice olive oil over the salad.
All done!
Lovely with a dry but flowery white wine.
Enjoy!

Next week I have a guest post for you!
Please leave a comment, I love reading them!