My grandmother always wore a number 13 on a golden chain around her neck. She had a tough life, raising 4 children on her own after grandfather didn't come home from sea. She worked from dawn till dusk. Nanna died from old age many years ago because her body was just completely worn down. I remember her stern nature and I'm sure my father didn't have an easy childhood. I know he wanted to go to school to become a carpenter, dreaming to work with wood and create his own furniture, but he had to work instead.
My father is a man with ambition, a fighter, a daredevil and a great teacher in life. He worked hard to become a paramedic when I was born, and got the degrees needed to save lives. His precious weekends off he spent them as a volunteer with the Red Cross and the Flemish Cross, aiding people in need of care on events, disasters and accompanying disabled children and adults on trips.
I used to joke that the reason he always went to be on the Flemish Cross care unit on big Raves was that he knew I was safe at home but that other parents didn't have that luxury fearing their children were somewhere possibly doing drugs or drinking way to much. He had many teenagers on his gurney and I know he was secretly happy about me being a New Waver and a romantic rather than a raver wearing neon trainers.
My dad taught me – not by telling me this but by example that when I wanted something, I should just go out there and do it.
2013 has been anything but unlucky and it reminds me of my grandmothers golden number 13 which I inherited after her death and is one of the only things I have to remind her by. For her, and as for many other cultures, number 13 was a lucky number.
I got to do fantastic stuff last year but most importantly, I found a way to live with an autoimmune condition. When I got diagnosed in the summer of 2012 I found myself on a roller coaster of emotions. I got worse before I got better in 2013. I know found that living a balanced life, especially with your food is the best way to stay stable and healthy. I am fortunate to be at a stage with my condition that it can stay stable if I rest enough and stay healthy. For someone who is used to running through life rather than walking, it hasn't been easy to slow down. But I did it.
Enjoy my round-up of favourite happenings of last year.
I went on a pig keeping course and it was one of the most splendid days of my life, I have a -not so- secret dream of having a little pig farm one day. You can read the full story here.
You see, I ain't afraid of getting down in the mud with a pig!
In april I visited a watercress farm in Hampshire and met Steve from Steve's leaves. Not only is this pretty green leaf my favourite salad, it is also super healthy. You can read about my visit here and more here.
In may I organised a Food Revolution Day event cooking 'last night's leftover's' lunches for those who ordered one. The idea was to focus not only on what we eat for lunch but also on food wastage. Leftover dinners make the best lunches!
After my Food Revolution Day event I went to Torino in Italy where I was invited to visit the Food Rev events going on in the city. You can read about both of my Food Revolution Day adventures on the Jamie Oliver's Food Revolution website here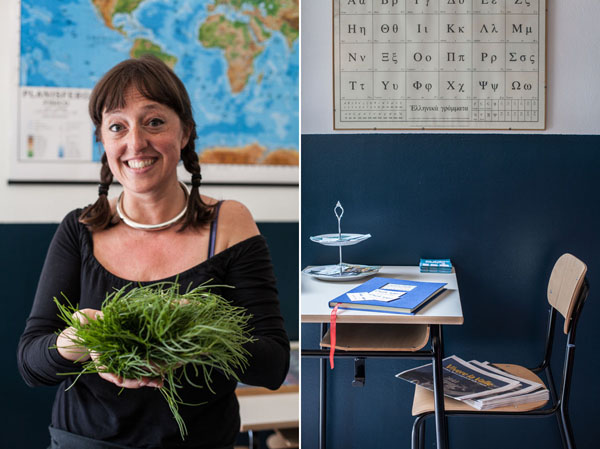 Betta from L'Aula Magna, Torino.
Also that week I was in Aosta, only a short drive from the Mont Blanc I was invited to come and stay at the Village Hotel and Swedish brasserie Bjork who are inspired by Scandinavian design. I learned to make Gravad lax, smoke meats, bake Swedish cookies and enjoyed their wonderful beers. The hotel is something completely different, you sleep in log cabins on the domain and the food is sublime. The Swedish brasserie menu is a celebration of Scandinavian culinary delights and you will always have some Knäckebröd at hand for a nibble. During dinner we had a loaf of bread in a wooden box and a glass cover so we could see the bread rise as the evening went on.
We also had the chance to visit an apple orchard that produces a very special Italian cider, the Maley Mont Blanc. As wine has always been the national drink of Italy, this village struggled to bring back this cider which nearly completely died out during fascism. The ancient trees grow in the valley on a very idyllic spot between the mountains.
Another
highlight was the honor of being a judge in the Great Taste Awards.
Every year thousands of food products are judged, from rapeseed oils to
cookies and from beef pies to delicate chocolate treats. The awards was
set up by Bob Farrand of the Guild of Fine Foods in 1994 in an effort to
celebrate and award the quality of Britain's best small and artisan
producers.
For
weeks judges are gathered in Dorset judging every product with the utmost care, when not
sure, another bite is taken, no decision is taken lightly. The judges
range from food buyers for Harrods and Fortnum & Mason to small
speciality Deli owners, seasoned food writers, critiques and then me. I
must say, this years winner Marybelle Greek style yoghurt is an absolute
delight, look out for it!
Then summer finally came and I got to spend some time with lovely people at Jamie's Food Tube and Jamie's Feastival.
I made my first ever food video with the charming Loyd Grossman and ate some fabulous puddings with Heston Blumenthal for his new TV series.
Oh gosh, so many things! I think I better stop here in fear of boring you!
Let's go back to this cake shall we? I'm having a piece right now!
Cardamom and yoghurt spelt cake
What do you need
250 g spelt flour
3 large free-range eggs – separated
250 g unsalted butter, soft not melted
220 g raw cane sugar
3 tbsp of greek style yoghurt
1 tsp of freshly crushed cardamom seeds
1 tsp of organic lemon extract (if you have decent lemons, use fresh juice)
1 tsp bicarbonate of soda
icing
220 g icing sugar
1tsp lemon extract
30 ml greek style yoghurt
decoration (optional)
dried cranberries
candied orange peel
Method
Prepare a 18 cm – 20 cm round cake tin with greaseproof paper and set aside
Preheat your oven to 180° C
Cream the soft butter and sugar together in a mixing bowl and use an electric mixer to beat the mixture until light and fluffy
Add the egg yolks one by one, beating well
Add the cardamom, lemon extract and the yoghurt and stir well
Sift the flour and the bicarb
Whisk your egg whites until stiff
Gently fold the ingredients together and combine well
Transfer the dough into the prepared cake tin and put in the preheated oven for 45 minutes to 1 hour
Combine all the ingredients for the icing and transfer into a piping bag or use a spoon later.
Decorate with the icing, dried cranberries and candied orange peel
You might also like
Madeira cake to get through the busy days
Vegan chocolate and beetroot cake