Planning christmas dinner ahead of time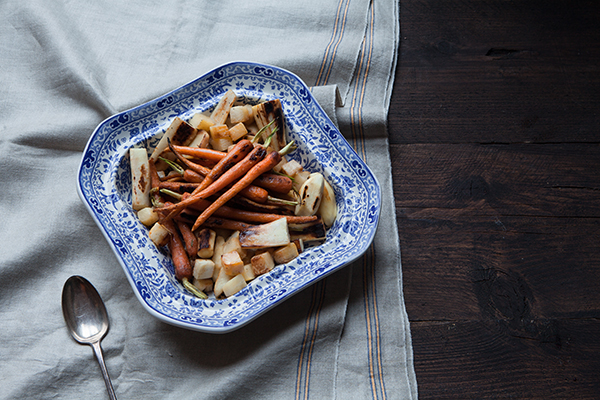 I had it all under controle weeks ago, I only needed to sort out the bird for which I was late. To get a good bird, and with that I mean a bird that has roamed freely and has had a happy life without cruelty, I need to order at the farm over 6 months in advance. And I wasn't that prepared this year. Getting a turkey, goose, duck or a capon like that is not easy in Flanders. Yes you can walk into a supermarket and get one, but since I don't know where that bird has been, I tend to try and avoid it. Why? By buying factory farmed meat, you support it. So the number one thing to do if you want to take a stand is just not buying it anymore.
I now have a small turkey in my fridge, from a brand with a good name I'm not going to name. I'm going to treat it like a capon and go medieval this year. For the veg I have done my prep a little while ago, and there are a couple of side dishes which I am doing on the day itself. For us that is tomorrow, we traditionally come together for christmas eve rather than christmas day as we don't have father christmas coming. Confusingly our father christmas came 6th of december and he is called Sinterklaas or Saint Nicolas. This is a pagan tradition which was adapted by christianity, and in some areas, Saint Nicolas became father christmas and was moved to christmas day. Children get gifts twice this month… imagine if you do not have a lot of money to spend.
But back to christmas and the food that come with it.
The veg prep in advance
Root vegetables.
These are so easy to prepare in advance so you can just finish them off just before serving. Especially if you have no help in the kitchen and the whole family has come to enjoy the celebrations at your house. First things first is choosing your roots, these can be parsnips, celery roots, turnips, celeriac and carrots. Clean and cut celeriac and turnip into dice, quarter thinner ones like parsnip or celery root, and leave small carrots whole.
The best way forward and this will take a little time, is to fry these veg separately because they will each be done at a different stage. If you get your mind set to it, it is actually a relaxing task and arranging all the veg to cool is actually quite pleasant, especially if you are a bit OCD, check my tray. Now leave them to cool, bag them carefully and chuck in your freezer. Then when you need them, defrost in your fridge overnight and glaze them with some butter and stock if you have it just before serving. If you are doing this the day before, you do not have to freeze them of course. Make sure the roots are warm all the way through and place in a warmed serving dish. The full and detailed recipe will be up on the Guardian soon but I think you will manage.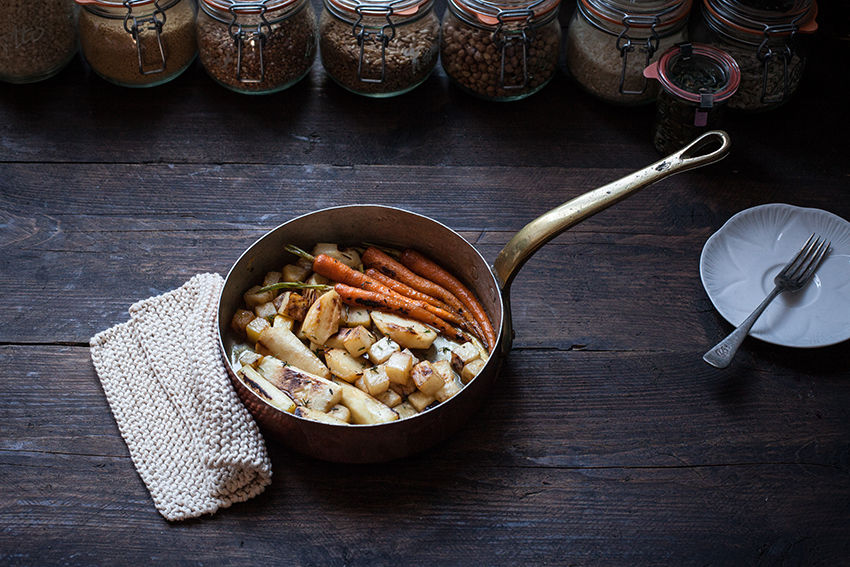 Next up are Brussels sprouts.
Now I am not particularly fond of sprouts, I don't think they are pleasant to bite into except when they have stewed for hours in a quintessentially Dutch/Flemish dish called Hutsepot. In this dish, potato, roots, and sprouts are stewed with salty meat and sausage. A bit like a cassoulet but without beans and vegetables instead. But it can not be christmas without sprouts, I always prepare them, without fault. So here is an idea to make them a little more fun. I've added roasted pumpkin to give a little sweetness, and nuts to bring out the earthiness of the sprouts, and kale because I like it and because it gives a little silkiness and it works like a shawl around the other veg.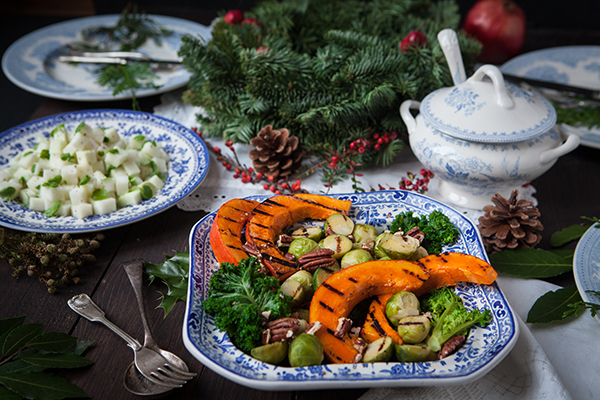 I prepped these veg in advance by blanching the sprouts and the pumpkin and then freezing them. Again if you are doing this the day before, you do not have to freeze them. The kale is blanched on the day, then finished off by tossing it in a hot pan with a generous know of butter, salt and pepper. The pumpkin is charred on a grill and the sprouts also tossed in a hot pan with butter. You can add bacon if you must, but some chopped up nuts and whole ones are enough for me.
Celeriac
Another veg that is always on my christmas table. I peel and cube these in advance, blanch and freeze or keep in the fridge until needed for either celeriac puree or soup. I saved you on time to do this in advance and it feels very good when you just have to finish these veg on the day. You feel wonderfully prepared!
Over to the fresh and crisp vegetable sides to make on the day
Kohlrabi is to winter what cucumber is to summer, a refreshing mouthful. I simply peel and dice the kohlrabi and toss them with a very simple dressing made of yoghurt diluted with water and salt and pepper. Then the whole lot is mixed with torn up watercress leaves and basil just before serving. More watercress then basil. It looks pretty and is perfect to bring a little fresh note to the meat and butter heavy table. Keep covered in the fridge until needed.
More roots – fresh beetroot and carrot salad
I can't seem to get enough of them, but they are extremely healthy. If you can get your hands on multicoloured beets and carrots then use these. Some people just really love this stuff and will empty the plate quite quickly. This salad is made on the day. Just use a food processor or mandolin (careful!) to finely grate the carrots and beets. Cut parsley finely and mix in with the roots. Make a dressing by mixing a little apple vinegar, olive oil, yoghurt and salt and pepper. Now toss in with the roots. If you used more vegetables you might need to double the amount of dressing.  Now cover up and place in the fridge until needed, or serve at once.
Beans, for bean lovers
Beans at the christmas table? Why not? I love beans. All too often I won't have a large appetite after cooking christmas dinner, I will be running around giving people more sauce, more meat, more whatever. So I will end up, not eating meat and enjoying the vegetables instead. These beans are also good the day after for lunch. They are tasty. Vegetarians on your table will also be grateful for these. These are also okay to make a day in advance, or a couple of hours in advance. Soak a cup of white beans overnight and cook until done, let them cool. Finely chop up a half of red paprika, heat up a little olive oil in a small pan and fry lightly with one crushed clove of garlic. This will help it digest better. Chop up a handful of parsley and mix in with the beans, paprika and garlic. Now prepare 1/4 cup of yoghurt with a teaspoon of water and season with salt and pepper. Toss in with the beans, ready.
Mulled wine or Ypocras. (find my recipe here)
You need to make this a couple of days or  a week in advance so the flavours can develop. You can even make the base and freeze it. I always make my mulled wine to an ancient recipe for Ypocras, or Hypocras. The spice mixture for ypocras was known as 'Gyle' and usually contained cinnamon, grains of paradise, long pepper and cardamom pods. These spices were bruised with a pestle and mortar and then left to steep in the red or white wine overnight or possibly even longer to soak up all the flavours.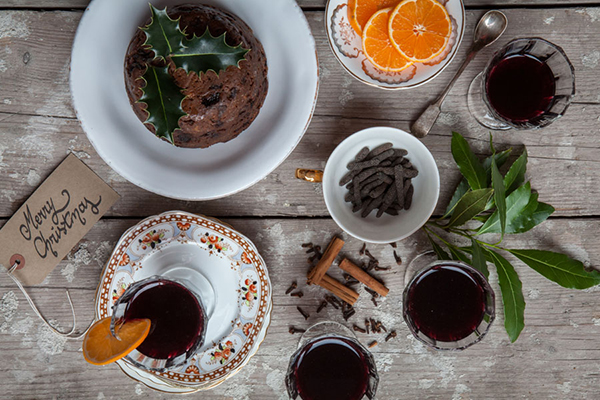 Of course it can't be christmas without christmas pudding if you are British, or obsessed with Britain like I am. But unfortunately it is too late to cook a christmas pudding, this is definitely a task you should do weeks and sometimes months in advance if you like a boozy pudding. I you want to be prepared for next year, you can start your pudding early with this recipe I posted a couple of years ago here >
I've written up the vegetable recipes in a more detailed manner for my friends over at Burleigh pottery, these are the links to the pages:
Preparing for christmas part one >
Preparing for christmas part two >
I'm wishing you a happy christmas wherever you are, and I hope to see you over on this blog again in 2016!
Love
Regula x