Welkom op aflevering 1 van mijn podcast 'Regula Culinaria' In deze podcast ga ik, Regula Ysewijn, het hebben over culinaire tradities, hun oorsprong, hun evolutie en hun invloed op het leven. Het is eigenlijk verder bouwen op de culinair historische onderwerpen waarover ik schrijf in mijn boeken. Alleen geeft deze podcast me de vrijheid om breder te gaan.
.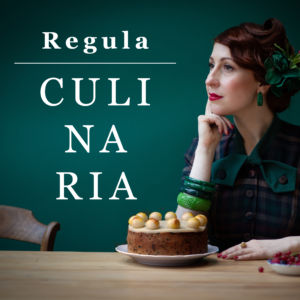 .
Regula Culinaria komt natuurlijk van mijn naam, maar wist je dat mijn naam Regula Latijn is voor de wet of de regel? Nu in deze podcast gaan we ons hoegenaamd niet aan de regels houden hoor.
Vandaag is het Vette Dinsdag. Vette dinsdag, hoezo vet?
In veel landen eten ze vandaag pannenkoeken maar wij hebben die al gebakken op lichtmis. Hoe zit dat nu eigenlijk en wat zijn onze gebruiken op vette dinsdag in Belgie. We kijken op het einde van de aflevering ook kort naar de gebruiken in het buitenland.
.
.
Onderwerpen in de aflevering
'De strijd tussen Vastenavond en Vasten' is een schilderij uit 1559, geschilderd door Pieter Bruegel de Oude. Het toont ons meteen wat de kookboeken uit die tijd en later ook verraden…
Wafel recept uit een 16de eeuws handschrift 
Dit recept maakt een lopend beslag zoals het beslag dat we zien op het werk van Pieter Bruegel de Oude. Het bestaat uit bier, verse gist of biergist, gesmolten boter, eieren en lichtbruin meel.
Om te maicken dicke wafelen 
Neemt zess eijeren mit dat witte ende zess sonder wit ende slaetse wel cleijn mit een lepel vol versche ghest mit een half cruijse warm biers, die helfte meer boters gesmauten mit den bier, mit veel suijckers alsoe dattet wel soet is, ende dan neemt gebudelt meel ende menget wat dicker dan die lepel daer in overeijnt in staen mach , ende mengetse eenen halven dach te voeren eer ghijse backet ende setse bij tvier dattet warm blijft ende maict het vier van koelen ende maket yser wel heet ende doet dat deech daer in ende backsche ende neemt versche boter ende doet daer suijcker in ende maect die boter wel heet ende ghietse over die waefelen.
476 UB Gent
Het Carnaval van Binche
Het is een 400 jaar oude traditie die zo belangrijk wordt geacht dat het in 2004 de Unesco-wereld- erfgoed status kreeg.
Verdere links
Voor het carnavals recept van de Italiaans – Toscaanse Cenci moet je hier zijn: bij Julskitchen
Regula Culinaria
Vergeet mijn podcast niet toe te voegen aan je favoriete podcast app (Apple podcast neemt 10 dagen om een nieuwe podcast goed te keuren dus voorlopig enkel via de link hier of in je spotify app), en 'subscribe' in de rechter kolom bovenaan om bericht te krijgen van een nieuwe aflevering. Voorlopig zal er eens per maand een aflevering online komen.