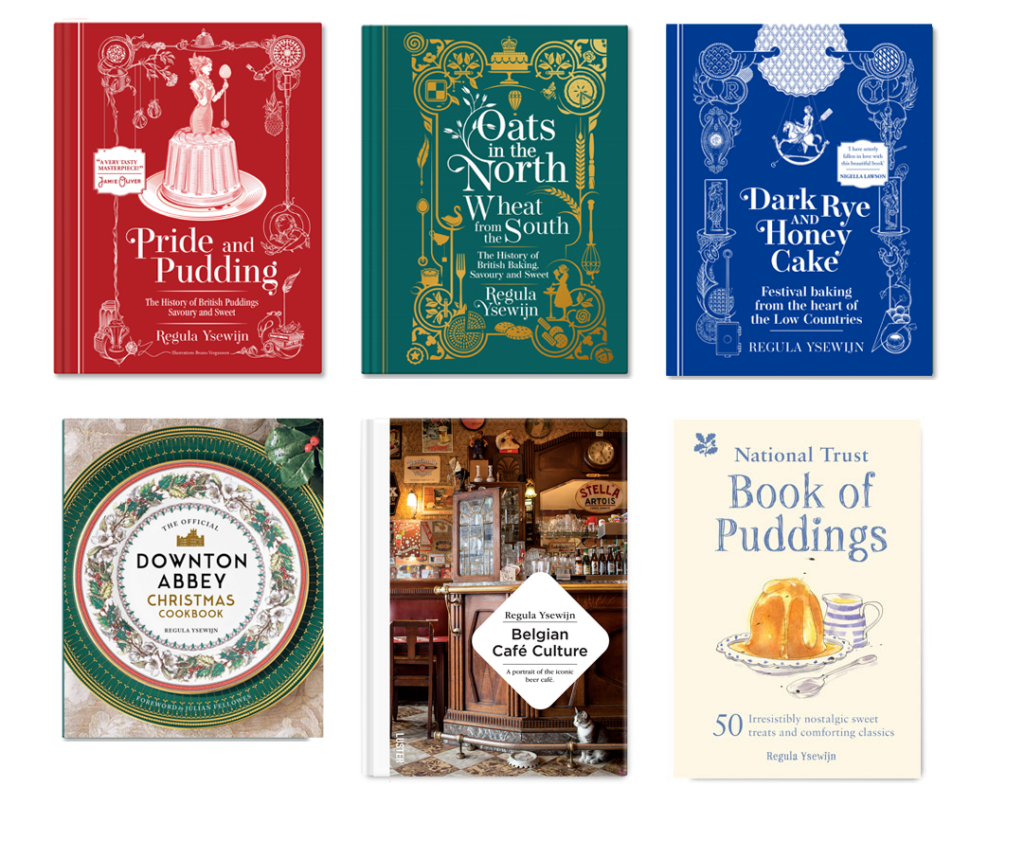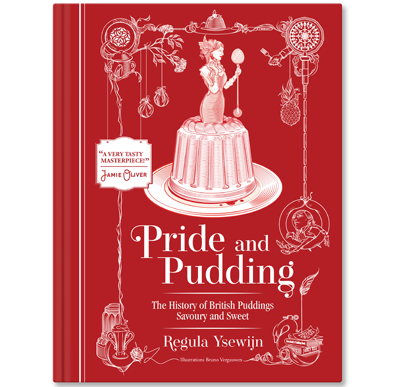 Every book I write is about preserving a heritage, because in the present day far too much importance is given to new and exciting things while the past holds a treasure of beauty that is often forgotten.
English editions:
• Pride and Pudding (English version): the history of British puddings savoury and sweet
• Belgian Café Culture – a portrait of the iconic café / 

• The National Trust book of Puddings
• Oats in the North, Wheat from the South: the history of British baking savoury and sweet (The British Baking Book in the US)
• The Official Downton Abbey Christmas Cookbook: a book with historical recipes and the history of Christmas (editions available in German, French and Italian)
• Dark rye and honey cake – Coming februari 2023
Dutch editions:
• Pride and Pudding (Dutch version)
• Brits Bakboek (Dutch)
Authentieke Belgische Café's – in Woord en Beeld (bilingual English and Dutch)
• Van Wafel tot Koek – Coming februari 2023
Pride and Pudding (2015-2016)
Buy Here –
The history of British Puddings Savoury and Sweet.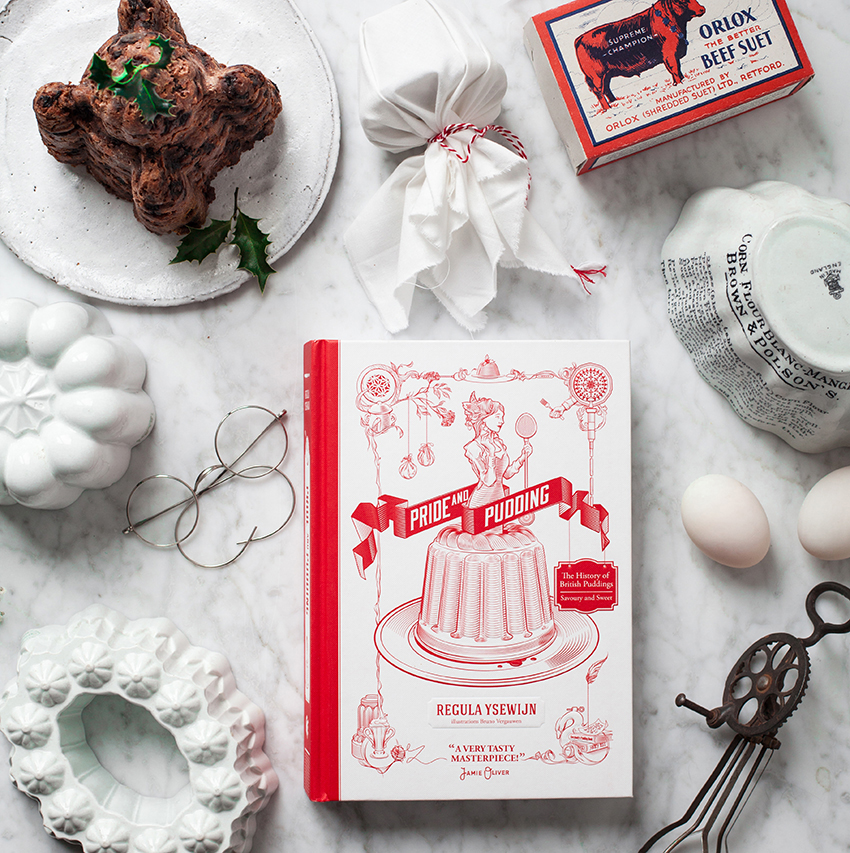 This is a part recipe book and part food history book, illustrated with beautiful artwork by my husband Bruno Vergauwen, with photographs by me. Many of these historical dishes have never been photographed for a book so it is definitely an exciting work to look at and read. Published in English by Murdoch books in UK, NZ and AUS, and in The Netherlands and Belgium by Davidsfonds/WPG.
Read more about the book and some reviews here ->
Pride and Pudding was shortlisted for the prestigious Andre Simon Awards and the Fortnum & Mason Food & Drink Awards. The book was a winner for the UK in the Food Heritage category of the Gourmand World Cookbook Awards.
In 2019 Pride and Pudding was included in 'The Best British Cookbooks of the 2000s' of the Great British Food Awards.


What my publisher Murdoch Books has to say about this book:
In Pride & Pudding, food photographer and writer Regula Ysewijn takes you on a journey through the fascinating culinary history of Great Britain. Hailed as 'a truly wonderful thing of beauty…a very tasty masterpiece' by Jamie Oliver, Regula's Pride and Pudding contains over 80 recipes that give the reader an insight into the life and times of the Great British Pudding in its various sweet and savoury forms. Divided into chapters of Boiled and Steamed Puddings, Baked Puddings, Batter Puddings, Bread Puddings and Milk puddings, jellies and ice creams, Regula's refreshingly original book traces the history of the British pudding in all its guises as she delves through historical texts dating from the 14th century. With a distinctly gothic-romance aesthetic, Regula recreates the well-known puddings such as Haggis, Black pudding, Bakewell pudding and Queen of puddings, to the lesser known (yet once popular) puddings such as Snake fritters, Cabinet pudding and Mock plum pudding ice for the 21st century kitchen. With stunning photography and fascinating facts along the way (did you know the Jam Roly-Poly was nicknamed 'Dead Man's Arm' due to the custom of it being boiled in an old shirt sleeve?), Pride and Pudding is a refreshingly different kind of cookbook that's a must for anybody who delights in British history and British food.
Published by Murdoch Books in English (original) and Carrera Culinar in Dutch (translation).
There is a limited edition which comes with a hand made pudding bowl, a card set and signed print and book! More on that here ->
You can order a  book from the usual places Amazon or Waterstones, or support your local book store.
Belgian Café Culture (2016)
ALSO 5 YEAR ANNIVERSARY EDITION coming November 2021
– Buy Here –
A Portrait of the Iconic Café.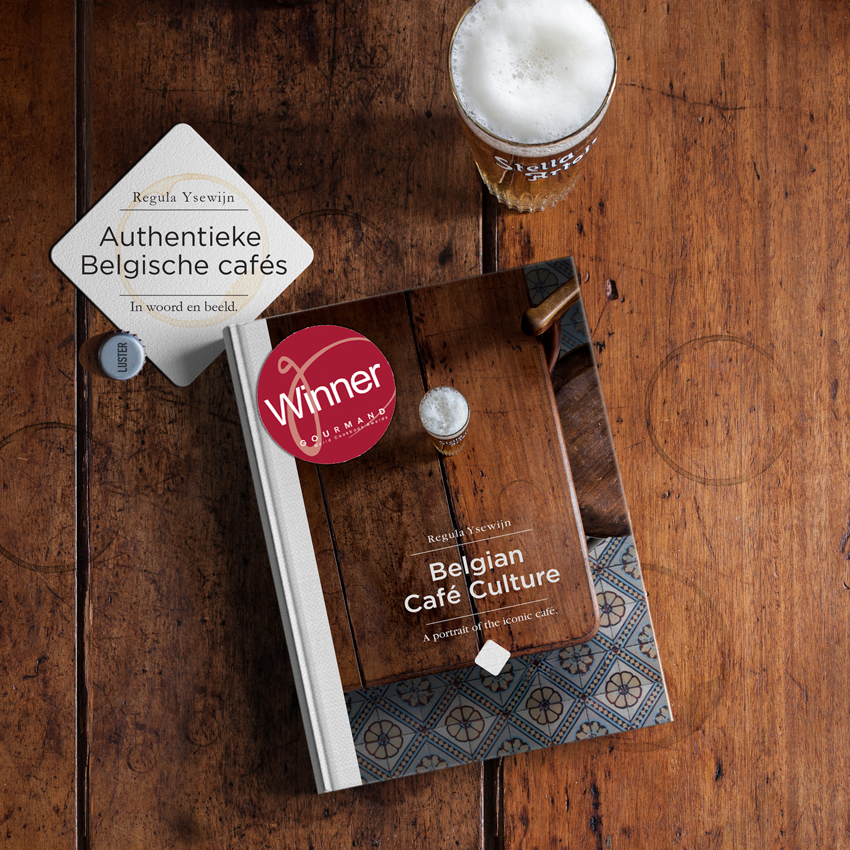 Belgian Cafe Culture tells the story of the ancient Belgian café's. Traditionally Belgian Café's would be managed by women, because the pubs were often in their homes and the men would go out to work at the factory or on the field while their wives would serve beer to the community. Very few of these traditional Café's still remain and I have tried to visit them all, capturing them with my camera before they are lost forever, some have recently closed and I was probably the last to note down their history. In the book I will show you the traditional Café world and architecture, and tell you the stories that built the Café into more than just bricks and mortar. Luster Books October 2016 – published bilingual in English and Dutch. (two covers).
Belgian Café Culture won the Gourmand World Book Award for Belgium in the 'Culinary History' category.
Back cover blurb:
This book is an ode to Belgium's traditional cafés, to their landlords and -ladies, and to the regular customers who have become part of the interior. It is also a plea to handle the café patrimony of Belgium with the greatest care. Because we have been taking these little cafés for granted for far too long and now, their existence has become fragile, despite the fact that they are an important part of our social and cultural heritage.
Food writer, photographer and graphic designer Regula Ysewijn writes the blog Miss Foodwise. She is also the author of 'Pride and Pudding', a book about the history of British puddings savoury and sweet. She's a true Anglophile, and she often works for clients in London, but she lives in Belgium and cherishes her Belgian roots, in particular the iconic beer and café culture.
For this book Regula visited 45 traditional cafés in Belgium. From the oldest café in the country (it opened in 1515) to the oldest Belgian café landlady, Juliette, who is 96. She visited cafés with beautiful Art Deco interiors, and cafés with the charm and warmth of a living room. In each of these establishments she talked to the landlords and -ladies and to the people who have become part of the soul of these cafés, and she managed to capture all of this in beautiful, touching photographs.
To buy a book you can buy from the publisher directly here (I get an extra percentage of these sales!) or go to your local bookstore (in Belgium) or order online at the usual places (Amazon, or Waterstones to name two) – update 2021: the book is getting a 5 year anniversary edition which will come out early November!! Both the English and the Dutch edition!
The limited edition of Belgian Café Culture comes with a signed photograph printed on gyclee art paper. This edition is limited to 50.
The National Trust Book Of Puddings (2019)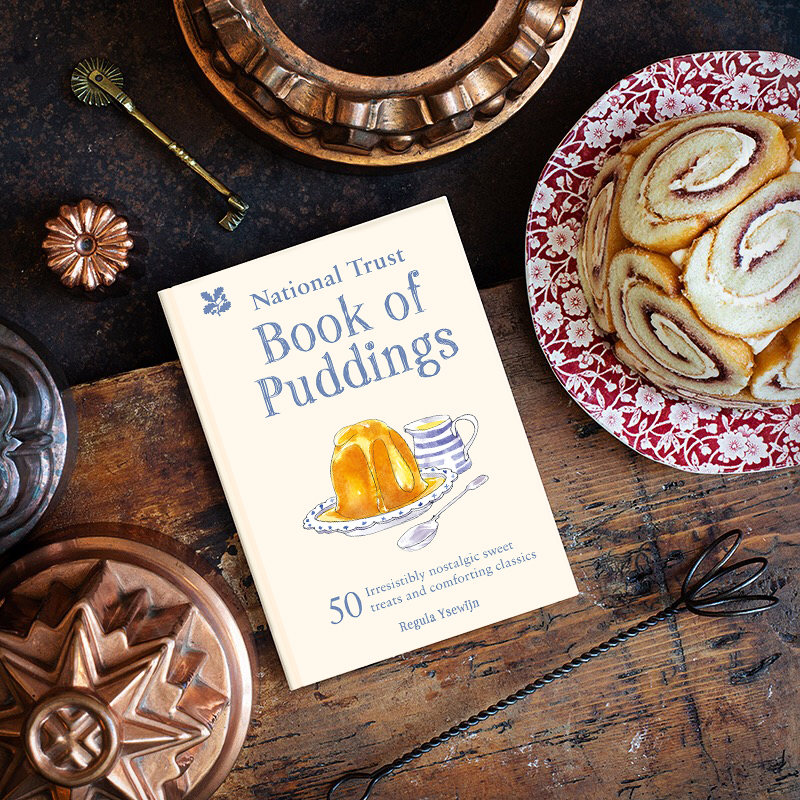 The National Trust book of Puddings was published in april 2019 and gave me the opportunity to finish my story about British puddings. This book gives you the traditional ones, including foreign ones like Zuppa Inglese and Latvian Trifle.
From the publisher: Let pudding queen and food historian Regula Ysewijn introduce you to 50 irresistibly nostalgic sweet and savoury puddings. Britain's puddings are legendary – everyone has a favourite. Whether it is a Syrup Sponge with custard or a Sherry Trifle piled high with whipped creams, these iconic sweet and savoury recipes, are mouth-wateringly good and the perfect dish for anyone with a sweet (or savoury) tooth!
Including childhood classics such as Jam Roly-Poly and Cornflake Tart to timeless treats such as Rhubarb & Apple Crumble and Summer Pudding, the book is full of recipes for steamed puddings, syllabubs and blancmanges too, and regional specialities with deliciously dotty names Wet Nelly, Bedfordshire Clanger, Apple Dappy and Whim Wham.
Alongside the recipes, Regula has added quirky facts and uncovered some fascinating connections with National Trust properties, including the St George's Pudding served to Winston Churchill.
Brits Bakboek (2019)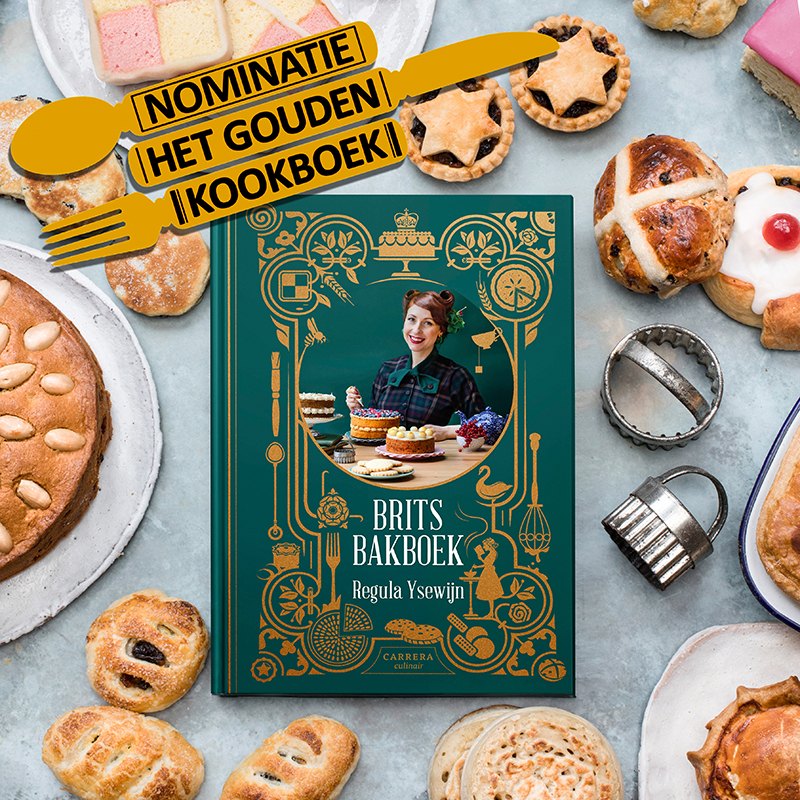 'Brits Bakboek' was published in may 2019 and was written for Belgium and The Netherlands. It is a baking book featuring British baking recipes savoury and sweet and their stories. With this book I was hoping to give an insight in the incredibly diverse baking culture of the British Isles for a non-English audience. The book has been nominated for a prestigious Golden Cookbook Award in The Netherlands, with it I am the first Belgian author to be nominated for this award.
Oats in the North, Wheat from the South (2020)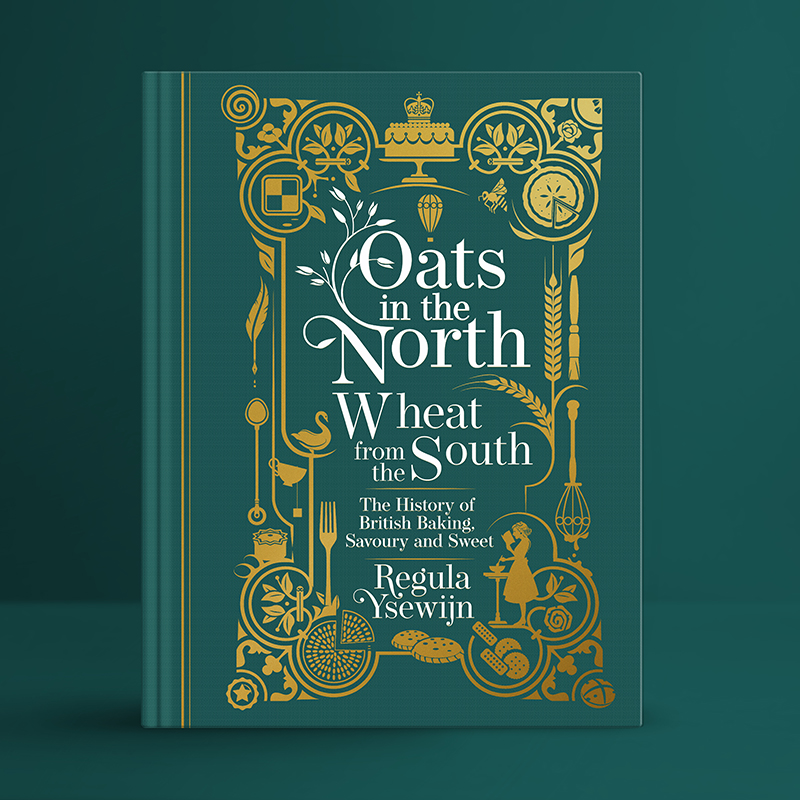 Oats in the North, Wheat from the South is Regula Ysewijn's evocative, meticulously researched and beautifully photographed love letter to the history, heritage and ingenuity of British baking culture. Regula shows us how the diverse climate of the British Isles influenced the growth of cereal crops and the development of a rich regional baking identity. She explains how imports of spices, sugar, treacle, fortified wines and citrus fruits added flavour, colour and warmth to a baking culture much adored and replicated all over the world. The book takes the reader on a guided tour of British cake lore, exploring the British affection for tea and toast, as well as the one small Yorkshire town's 200-year-old obsession with baking the world's largest meat pie. Each of the timeless recipes is accompanied by stories of the landscape, history, traditions and legends of Great Britain, from Saffron cake, Cornish pasties, Bakewell tart, Victoria sandwich cake, Lardy cake, Banbury apple pie, Welsh Bara brith, Clapcake to the many oatcakes, gingerbreads, buns and bread rolls such as Aberdeen buttery rowies, Kentish huffkins and traditional loaves.
The book was published in the United States with the name 'The British Baking Book' (Weldon Owen)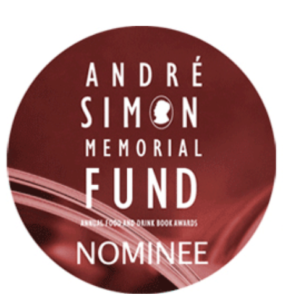 Oats in the North, Wheat from the South was nominated for the André Simon Memorial Awards and was 'Highly commended' at the Guild of Food Writers Awards. It was also named as one of the best books of 2020 by the BBC Radio Four's The Food Program, The New Yorker Magazine and The Washington Post.
"

An excellent and diligently written book celebrating some super-tasty British treats"
—  JAMIE OLIVER

A feast for the eyes, as well as the stomach, meticulously researched and beautifully photographed, this is a true love letter to the food Britain does best. One to savour, and treasure, but most of all, one to bake from!'
—  FELICITY CLOAKE, THE GUARDIAN
"

While this is a book that you just long to bake from instantly, it is also one to be read, and savoured, as it brings alive the link between culture, climate and cuisine."
—  NIGELLA LAWSON

"It's a love letter to British baking and all that that implies. It brings together buns and bakes that you'll find in every local shop, and cakes and breads that have long since disappeared. Here you'll find recipes both old and new, resurrected for the future, together with the stories that make them such a window onto both the past and the present. The joy of Regula's writing is that through it all, we realise that it takes an outsider looking in to show us who we truly are.This is a beautiful book. It is a lyrical book. It is a book full of good things, modern and old, with a multitude of real heritage and imagined tradition behind them. Enjoy.
 — Dr Annie Gray, food historian

'Regula – who is Belgian – has an obsession with Britain, not just its food but its literature, landscape and architecture, and we're lucky to have such an enthusiast looking in from the outside. As well as recipes, she writes about the connections between bakes and ingredients – it's often difficult to unravel the threads that link foods – and tells stories. A book to read as well as to cook from and an absolute gift for the curious baker.'
— Diana Henry, cookbook author

This stunning ode to British baking went semi-viral earlier this year, when the Tokyo-based writer Kat Bee tweeted a page from the book in which the author, Ysewijn, acknowledges the inextricable role of slavery, particularly in the Caribbean, in the development of British sweets: "Sugar has a cost, and that cost was paid by those in bondage." This clear-eyed perspective on the line between the past and the present runs throughout the book, which threads together Cornish pasties, treacle tarts, seed cake, and all the other greats of the British baking canon. 
–Helen Rosner, The New Yorker 
The Official Downton Abbey Christmas Cookbook (2020)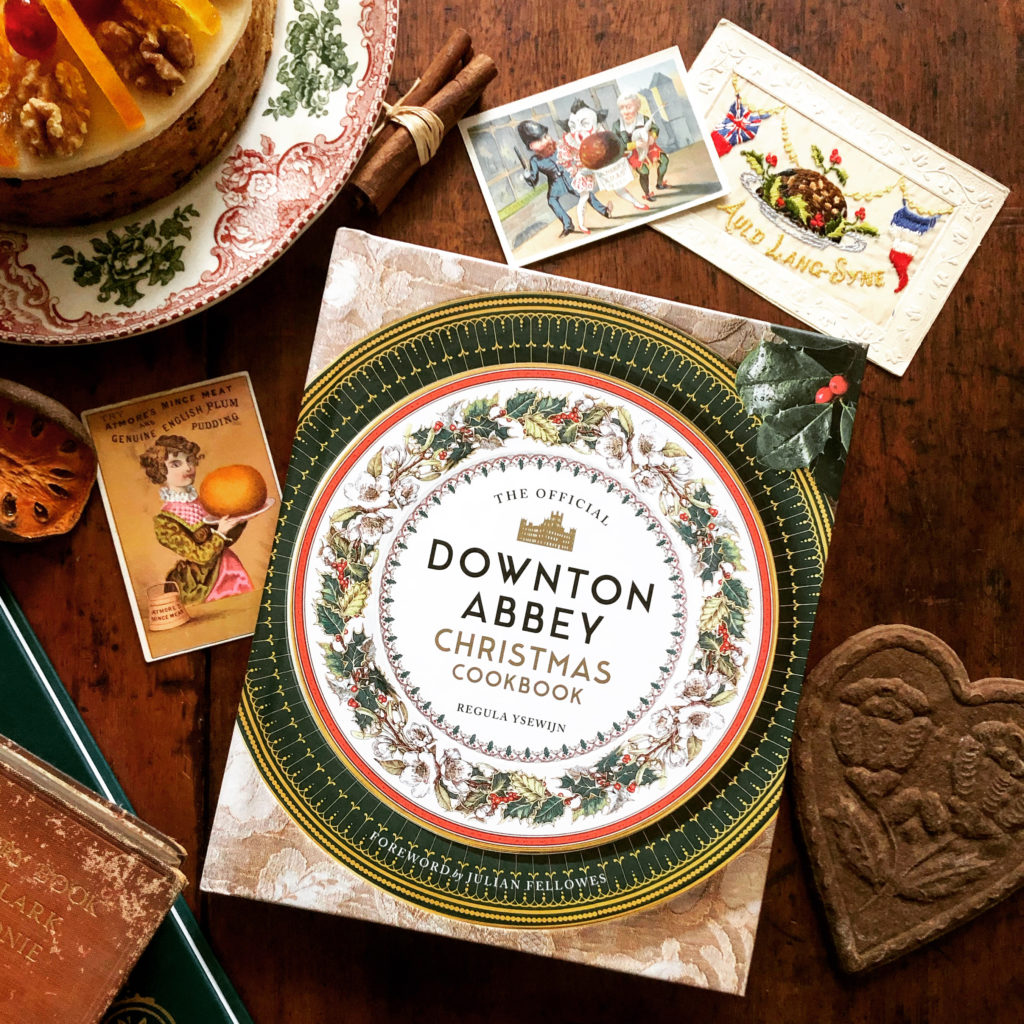 This book is a celebration of Christmas, showing you where those traditional old customs come from and how some of them aren't very old at all. Popularised by Charles Dickens 'A Christmas Carol' todays Christmas is what he made of it. Reviving long lost customs and placing family at the centre of it all. This book praises history but also looks at change. There's patriotic pudding and emblematic beef, stunning pies and unexpected treats seasoned with many stories which makes this book not only very Downton, but also very Regula.
Flemish food writer and culinary historian Regula Ysewijn has brought to life not only the dishes of the Downton era but also some of the magnificent edible delights of earlier centuries. It is a brilliantly researched book full of tasty treats. I do hope you enjoy it.
—  Julian Fellowes, Creator of Downton Abbey

This is a beautiful book that goes beyond the expected foods of Christmas to show us delights we've long forgotten. Regula's customary combination of solid research and gastronomic flair has unearthed a world of often surprising recipes seen through the lens of Downton Abbey.
— Dr. Annie Gray, Food Historian