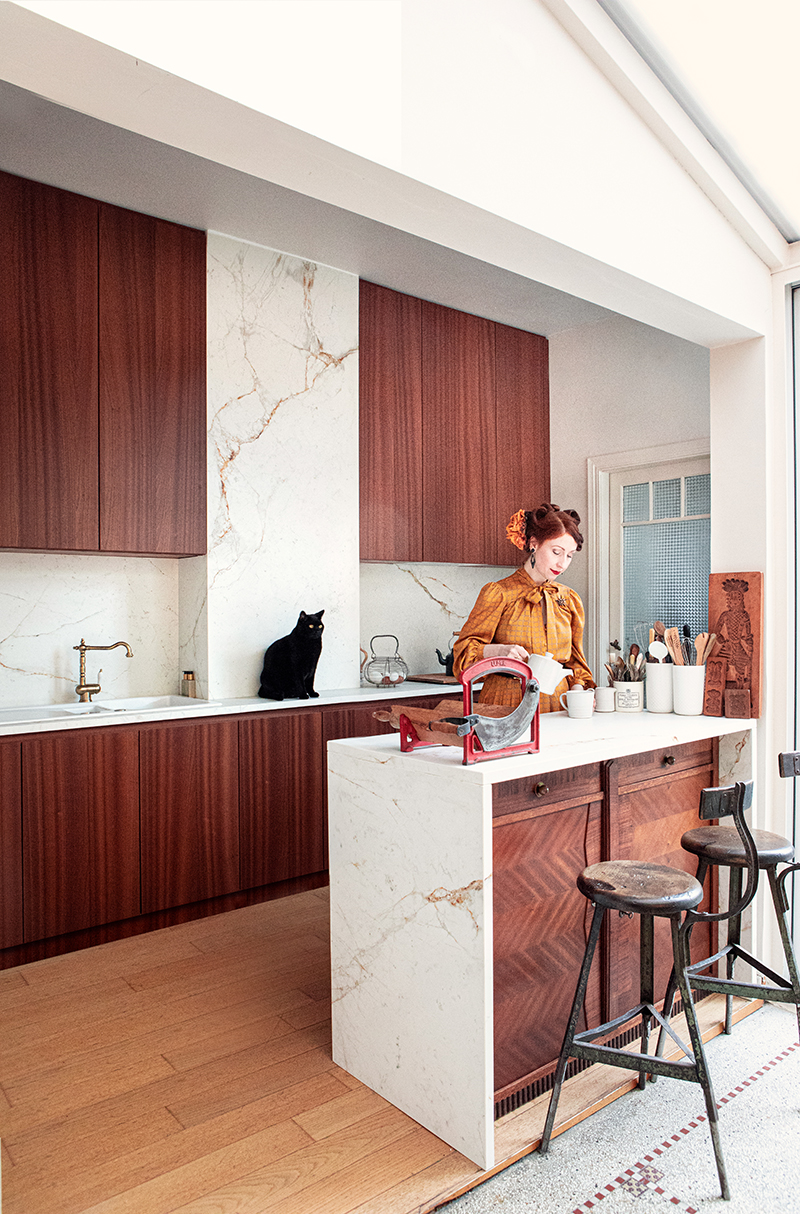 I'm excited to show you all our finished kitchen! It's been great to read all your responses to my stories on Instagram while the renovation was ongoing – you helped me make some important choices for our worktops!
For the new kitchen we chose practicality and durability as the rule of law. You all know my vintage kitchen downstairs with the ESSE stove and the open shelves and the apothecary cabinet… the little drawers on the apothecary cabinet are troublesome for a working kitchen and the open shelves gather a massive amount of dust.
My husband Bruno designed the kitchen and we based it all on a vintage cabinet we found last year which was a reddish wood, shortly after we found the cabinet that has become our kitchen isle which settled the matter. We needed a reddish wood for the kitchen cabinets. The wood has a sustainability grade number 2 which is great and as I mentioned in my last post the sintered stone worktops are also an ecological choice.
Our walls are nearly 3 meters high so the upper cabinets can hold a great amount of our stuff – and keep it dust-free. 
Just before works started on the kitchen we also found these two old factory stools and although the wood isn't the same, I think they make the result a bit more rough, which is nice.
When it came to choosing worktops and wall cladding, I wanted something natural and eco-friendly. Marble would have been my first choice, but in a working kitchen it poses many issues with staining. I am also aware that there isn't an endless supply of marble so I looked into other natural options. I was surprised to find out about 'sintered stone' which is a man-made 
material 
composed entirely of natural minerals. I came into contact with a company called Neolith who see it as their company ideology to be as eco-friendly as they can be. They assured me that as a keen cook, 'sintered stone' would be ideal. It's durable, 
nonporous,
 and it's even being 
installed in 
restaurant kitchens as an alternative to steel, so it's also 
very hygienic. On top of that, Neolith's designs are very versatile, so I had the choice of various patterns which look exactly like marble.
 I was immediately sold when I saw the bold Abu Dhabi 
White
 from their new 
Six•S collection
.
 But it wasn't just purely an aesthetic choice as I said. I wanted to make a conscious choice, like integrating old furniture. Neolith is one of the most sustainable and environmentally-friendly materials on the market right now.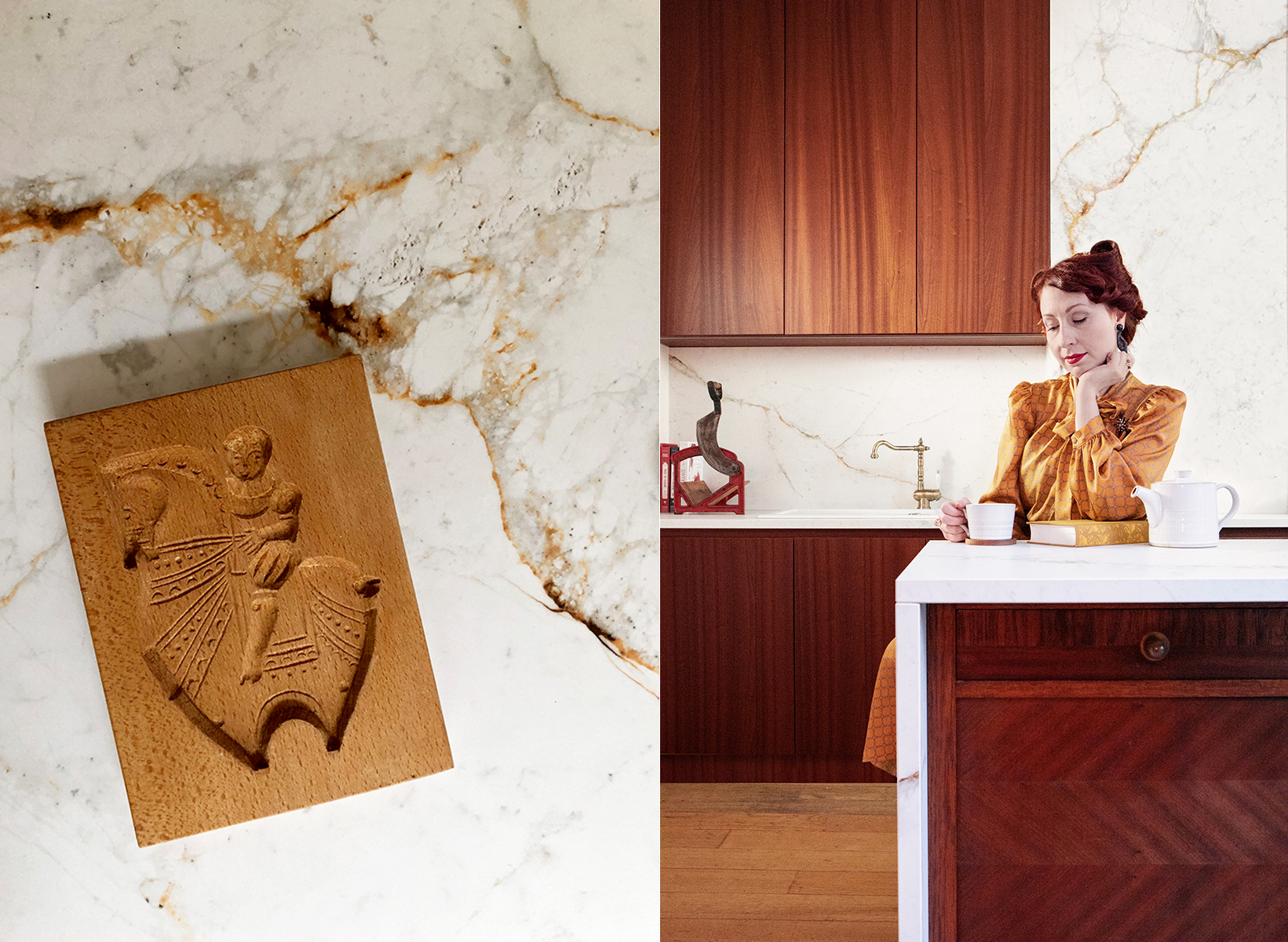 The kitchen downstairs and the new one here upstairs was a great experiment to see how far you can go with using old furniture. While downstairs is definitely a winner when it comes to decor and I love doing my historical research there by the warming ESSE, the new kitchen is much better to actually do cooking in for my work. But to be honest, even though there is a flight of stairs between them – I have found out that I am continuing to use both at the same time when really busy. Because nothing – absolutely nothing compares to cooking in an ESSE cooker like the one downstairs. The regular oven we have upstairs is great for bakes that need exact timings though, so for cookbook writing the upstairs oven always gets the first and last test batch.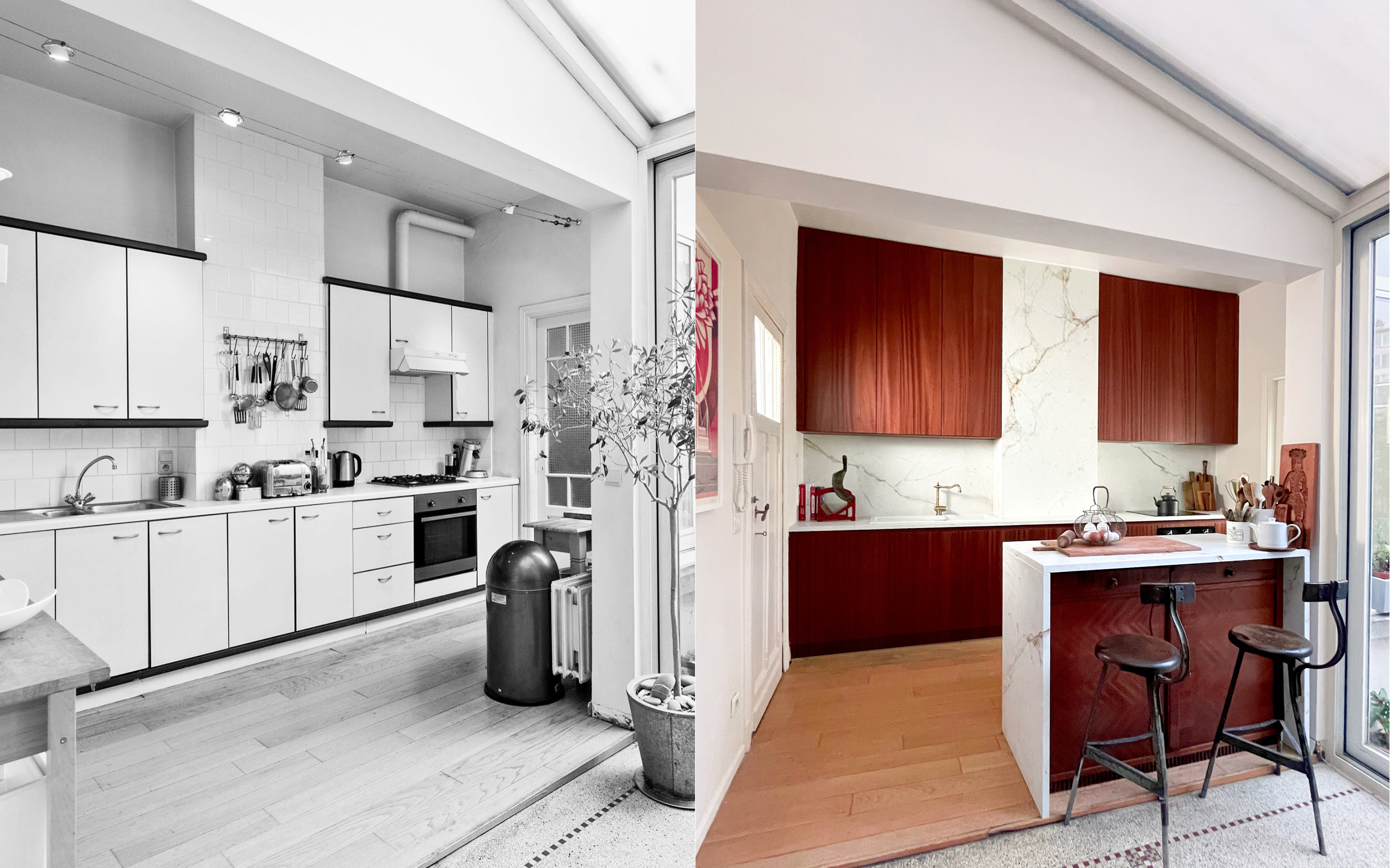 So how do you start this kind of project?
Search for a vintage cabinet that could become a kitchen counter. This should have a height of about 85 cm, of course this depends also on your height, so test how it feels to stand in front of it and do some movements like for example rolling out pastry. The length of course depends on how large your kitchen is but make sure it is a length you can work with. We asked Neolith to create the sintered stone around it and it creates a bar effect so your knees don't get crushed against your cabinet.
Have a look at the wood of your vintage cabinet and give it a good clean and polish. That way you can really see the colour at its best and decide on the rest of your kitchen – if using wood. It's perfectly acceptable to choose all white or black coloured cabinets, this is up to you.
Visit a local kitchen builder. We have found that it isn't that much more expensive to work with an independent company and the result is a more sustainable kitchen.  Your kitchen will be built locally which saves on miles. And also – and this is important – you're not bound to standard sizes which means that if your kitchen has an odd shape or your house is old and your walls are all a bit wonky like ours – they can work around it and still make it work.
For example we have a chimney in the middle that we couldn't remove as it still functions downstairs, our walls were wonky and we have nearly 3 meter high walls. The local kitchen builder made everything bespoke and we now have extremely high cabinets and not such an odd empty space above the cabinets like you see in the old kitchen.
Lastly but importantly, you've supported a local business that can in its place also employ local people and craftsmen for your kitchen.
Checklist:
Find a vintage cabinet that you like for your kitchen counter and give it some love
Talk to a local kitchen builder, they might be just a little bit more expensive but will give you more value
Search for a company like Neolith to help you with a sustainable choice for your stone worktops
Be creative, you can do whatever you like!