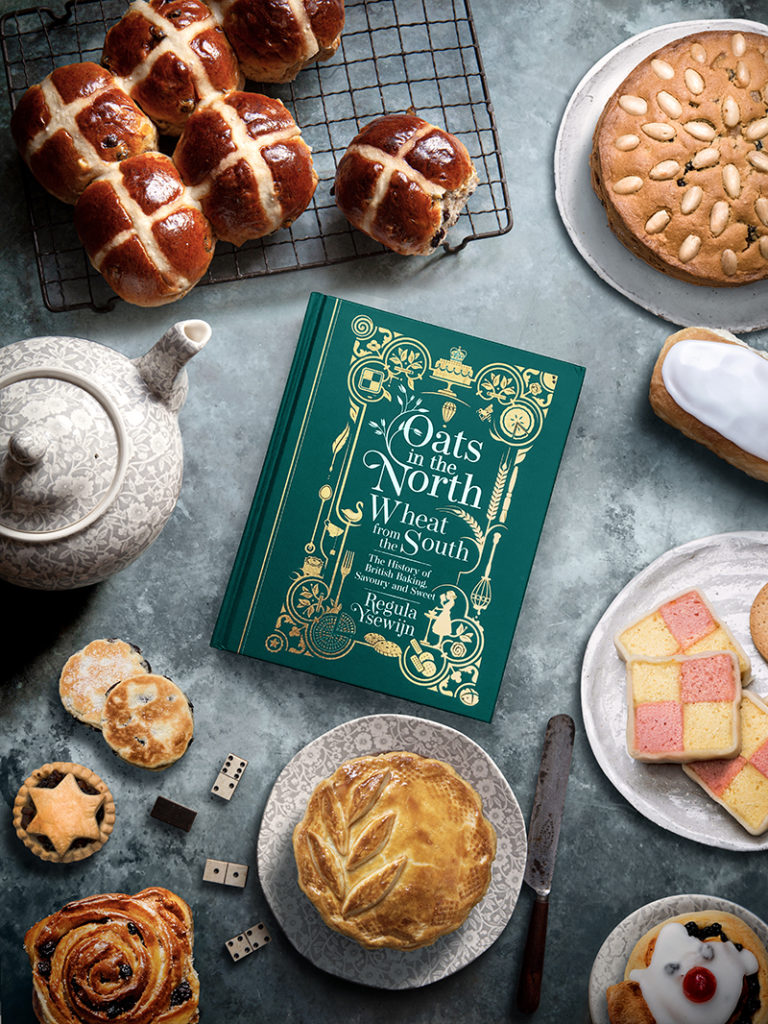 In my new book 'Oats in the North, Wheat from the South' I'm showing the reader how the diverse climate of the British Isles influenced the growth of cereal crops and the development of a rich regional baking identity with it. Imports of spices, sugar, treacle, fortified wines
and citrus added flavour, colour and warmth to a baking culture much adored and replicated all over the world.
With the help of historical cookbooks, diaries and newspaper archives, I have given the most traditional recipe of a bake – which means, how it usually appears in old cookbooks – but often also a more recent version of that recipe to show how recipes evolve through a change of taste, economy and fashion.
With a foreword by food historian Dr. Annie Gray.
The book was nominated for the André Simon Award and included in 'The best cookbooks of 2020' list by BBC Radio 4's The Food Program in the US in  The New Yorker magazine and The Washington Post.
Erratum
There are two errors in Oats in the North: When halving the recipe for Flapjacks the butter wasn't halved, use 100g instead of 200g. For the Bannocks the same thing happened; use 225 ml of buttermilk instead of 450 ml. Mea culpa! In the new print it has been corrected.
Praise for Oats in the North, Wheat from the South:
"

An excellent and diligently written book celebrating some super-tasty British treats"
—  JAMIE OLIVER

A feast for the eyes, as well as the stomach, meticulously researched and beautifully photographed, this is a true love letter to the food Britain does best. One to savour, and treasure, but most of all, one to bake from!'
—  FELICITY CLOAKE, THE GUARDIAN
"

While this is a book that you just long to bake from instantly, it is also one to be read, and savoured, as it brings alive the link between culture, climate and cuisine."
—  NIGELLA LAWSON

"It's a love letter to British baking and all that that implies. It brings together buns and bakes that you'll find in every local shop, and cakes and breads that have long since disappeared. Here you'll find recipes both old and new, resurrected for the future, together with the stories that make them such a window onto both the past and the present. The joy of Regula's writing is that through it all, we realise that it takes an outsider looking in to show us who we truly are.This is a beautiful book. It is a lyrical book. It is a book full of good things, modern and old, with a multitude of real heritage and imagined tradition behind them. Enjoy.
 — Dr Annie Gray, food historian

'Regula – who is Belgian – has an obsession with Britain, not just its food but its literature, landscape and architecture, and we're lucky to have such an enthusiast looking in from the outside. As well as recipes, she writes about the connections between bakes and ingredients – it's often difficult to unravel the threads that link foods – and tells stories. A book to read as well as to cook from and an absolute gift for the curious baker.'
— Diana Henry

This stunning ode to British baking went semi-viral earlier this year, when the Tokyo-based writer Kat Bee tweeted a page from the book in which the author, Ysewijn, acknowledges the inextricable role of slavery, particularly in the Caribbean, in the development of British sweets: "Sugar has a cost, and that cost was paid by those in bondage." This clear-eyed perspective on the line between the past and the present runs throughout the book, which threads together Cornish pasties, treacle tarts, seed cake, and all the other greats of the British baking canon. 
–Helen Rosner, The New Yorker

"Regula Ysewijn blends history and recipes in the most delectable way, with traditional cakes, buns, pies, and tarts. A British baking bible."
— Tom Parker Bowles, The Daily Mail
Virtual Book Tour!
As the Covid19 Pandemic hit right in the week of my book launch we had to cancel all events in the UK and the US and do as much virtually as we could. Here is a great selection of podcasts and interviews!
BBC Radio 4 Woman's Hour – Last guest that episode, find it here >
Olive Magazine Podcast – find it here >
Tea & Tattle Podcast – find it here >
Cooking with an Italian Accent podcast – find it here >
Borough Market's Borough talks – find it here >
Sunday Post interview – find it here >
At the Sauce Podcast – Find it here >
Good Food Hour – KSRO Radio Sonoma County US – Find it here >
Milk Street podcast – Boston – Find it here >
Further listening:
Gastro Podcast, The Great Pudding Off (2019) – Find it here >
Book reviews that could be helpful:
Nigella Lawson's Cookbook Corner >
Article on Otago Daily Times (New Zealand) >
Try a few recipes
Belgian Buns over on the Telegraph >
Carrot cake with cashew topping on the Telegraph >
Chelsea Buns over on The Sunday Times >
3 recipes on the Otago Daily Times NZ >
COVID19 measures: Large outlets will send even outside the UK, for local delivery the independent book stores mentioned below have stock and are happy to send to you.
For sale at
Amazon UK and Waterstones UK
And Indie bookstores with in particular the following stores:
In the UK
Cookbookbake in Brighton (also shipping to you)
Warwick Books in Warwick (also shipping to you)
Toppings & Company in Edinburgh, Ely and Bath (also shipping to you)
Browsers Bookshop in Woodbury (delivers locally)
In Australia
In United States
'Oats in the North, Wheat from the South' Published with Murdoch books in Britain, Australia and New Zealand in April and the US later this year (with a different title: 'The British Baking Book" and cover) with Weldon Owen.
San Fransisco: Omnivore Books @OmnivoreBooks
Los Angeles: Now Serving @nowservingla
Barnes & Noble
Lebanon
Papercup bookstore, Beirut
Selling the Dutch edition in Belgium
Luddites, Antwerpen (selling both EN and NL)
Boekhandel Novelle, Kortrijk
Paard Van Troje, Gent
Standaard Boekhandel
Fnac