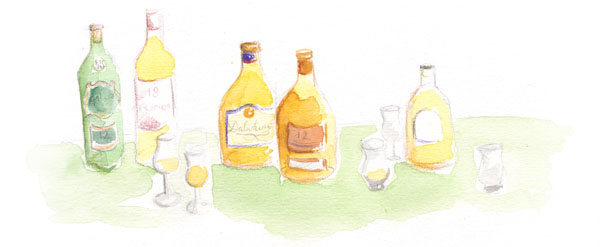 My dad has been drinking Whisky for as long as I can remember and on the occasions when he actually let me sip his glass … I hated it! I wasn't drinking it the way I should, 'nosing' it … turning the glass … 'nosing' the warm aromas again … and then … taking the tulip glass to my lips and just wetting them with the fiery golden liquid. Then licking my lips and warming the Whisky with my mouth … a whole other flavour appears …chewing the small amount of alcohol and feeling its scent rise up in your nose … blossoming. At the back of your tongue the flavour matures and becomes sometimes masculine with notes of tobacco or feminine with hints of vanilla … add a drop of water to this godly spirit … taste … and experience how the flavours evolve …
Trying a new kind of Whisky is an experience … a journey … so much more than a drink.
In my early days of Whisky savouring I got an email from John Lamond, one of the world's leading authorities on Scotch Whisky. The winner
of the prestigious 'Master of Malt' title and he is the author of The Malt Whisky File, The Whisky Connoisseur's Book of Days and The Whisky Connoisseur's Companion.
My lucky day and a chance to ask him the questions I had as a newbie to Whisky. It has taken me nearly a year before posting this interview with John, I felt I had to taste some more Whiskies and grow up a bit in my knowledge before being in the right place to post it.
So here it is, the questions of a Whisky 'virgin' to a Whisky expert.
Why do you love Whisky so much?
I was weaned on whisky. Both my parents drank it as did all four of my grandparents. Several amongst my ancestors have been involved in the hotel business, so it goes with the territory I suppose. I worked with Dewar's in Perth for five years and then with Low, Robertson & Co., a small Edinburgh based whisky company for a further nine years.
Whilst I was at Dewar's I was introduced to cask strength whisky, to single cask whisky on a visit to Aberfeldy distillery and this, in 1976, was a revelation to a 23 year old.
I truly believe and preach that Scotch Whisky is the world's premier spirit: nowhere else in the spirit world can you experience such diverse flavours and such degrees of maturity for so few pennies. I find this diversity, both of flavours and of the people involved in the industry exciting, friendly and very often also humbling.


What is the most important thing regarding Whisky? Location of the factory, water and grain that is used, bottling, casking, aging.
All of these elements are important, but the most influential is maturation. This is what has the greatest effect on flavour and I love the fact that, despite the expertise of the people involved in the industry and the amount of money they throw at it, there remains a degree of mystique over what exactly occurs within the cask during maturation.
"I
have always argued that terroir does exist in Whisky and that the
geographical location of the distillery and of the maturation warehouses
are a part of that terroir."


The received wisdom is that water and grain each account for around 2% of a whisky's flavour, while the wood accounts for around 70%. Shape of the still accounts for around 4%; ambient storage conditions – the jury is currently still out on. I await the Lagavulin 16 bottlings from whisky distilled in 1998. Since '97 or '98, Diageo has not matured whisky at its distilleries, instead shipping it out in bulk, filling the casks and storing them is large warehouse complexes in the central belt of Scotland. The company maintains that the storage location makes no difference to the flavour of the ultimate whisky, I am not so certain, I have always argued that terroir does exist in Whisky and that the geographical location of the distillery and of the maturation warehouses are a part of that terroir.


What is your opinion on blending Whiskies, I for one like my food and drink to be as pure as possible so I always go for a single malt but perhaps I'm wrong to assume blended Whiskies aren't as pure.
You, then, are one of only 7.7% of all Scotch Whisky drinkers; probably less than 2% of all Irish Whiskey drinkers and around the same percentage of US Whiskey drinkers because the VAST majority of whisky drinkers in the world drink blended whisky. Diageo, Scotland's largest whisky producer, for example has stated that they do not make single malt whiskies to be bottled as a single malt, they make single malt whiskies to go into blends.
Blends are far more important for the industry than single malts because blends constitute in excess of 92% of production.
"Yes, the single malt has its place, but,
equally, so also do blends."


The expertise that goes into creating a blend and maintaining the character of that blend is a far greater expertise than that required to produce a single malt. Up to 50 different whiskies (I know that Chivas 100 contains 100 different whiskies, but it is totally unique) go into a blended whisky, each adding a little extra to the character of that whisky, so that the final blend is equal to a sum greater than the sum of its parts.
Yes, the single malt has its place, but, equally, so also do blends.




Do you think single cask Whiskies are the most special ones, are they better?
Single cask whiskies CAN be better than the commercially available version of that distillery's production, but quite often aren't. The bottler of a single cask version has several casks to choose from and will select what they think is the best one. In such a case, the single cask SHOULD be better, but the choice of casks offered to the company intending to bottle the single cask may not be very good, so they are only selecting the best of a bad bunch. In this case, and this happens all too often, the single cask bottling will be too young, or too old, or the wood will have been defective in some way and what is put in bottle is a whisky which is out of balance and lacks the finesse of the commercially available bottling.
I appreciate that, in a sense, by blending several casks together to meet the volumes required for the commercial bottling, the truly stunning casks are being dumbed down by lesser barrels, but the brand owner has access to THE finest casks which the single cask owner often doesn't. Having said that, there are truly stunning single cask bottling out there.



What's your most wonderful Whisky experience to this day?

In tasting, Glenfarclas 40 years old was/is outstanding(and this is not a single cask bottling) and what is so impressive about this whisky is that they can maintain this level of quality on a consistent basis and at only £300 (€360); Highland Park 1976 from the Orcadian Vintage Series is simply stunning; I was amazed by the balance and the way the high alcohol level (50.5%abv) is so naturally integrated into Wild Turkey 8 years old; from Ireland, Redbreast achieves great complexity and characters normally missing from Irish whiskeys.
As an experience, the way I was greeted by the Japanese whisky lovers when I finally visited Japan in 2010.

Adding a drop of water can give your Whisky a whole other taste, adding ice destroys the taste.
Yes, adding water is essential to bring out all the flavour of a whisky; I advocate this to my students in all the classes I tutor and, strangely enough, after a couple of classes, they all agree with me.
I do not advocate adding ice as, as you say, it kills the flavour, however, speaking with Jeff Arnett, the Master Distiller at Jack Daniels who says that his drink of choice is Jack Single Barrel over ice, he points out that Kentucky is much hotter than Scotland or Ireland and this keeps his drink cool and helps prevent the alcohol evapourating from the glass.


What about 'chill-filtration'?
As to flavour, a lack of chill-filtration mean that the fats remain within the spirit (chill-filtration removes them), therefore whiskies which are not chill-filtered have more intensity of flavour.


Is there any word of advice you can give us regarding Whisky?
Enjoy it. I am healthy and argue with my unhealthy vegetarian, gin or brandy drinking wife that my health is because I eat red meat and drink whisky. In moderation, of course.
But all Whisk(e)y is made to be enjoyed, to be consumed. Collectors should be forced to throw a party and open all their bottles so that you and I who enjoy whisky for its flavour can taste these whiskies which have horrible price tags.


A question from one of my Irish readers:
 What are your thoughts about Irish Whiskey versus Scottish Whisky.
I am a fan of Irish Whiskey – sometimes. As I mentioned above, Redbreast is great, as is Green Spot, Jameson's 12 or Bushmills 16. I have a number of friends both north and south of the border and have thrown this around with them over the years, but I still come back to the fact that I think that Scotch Whisky is more diverse, very often more complex and several Scotch Whiskies are certainly more flavoursome than their Irish counterparts.
To a degree, Irish Whiskey lost its way in the middle of the 20th century, while Scotch powered on in its expansion around the world. In recent years, Scotland has seen a number of smaller, you could almost call them boutique distilleries being established. Several other countries, such as France, Australia or Sweden have also seen these niche distilleries open up. Ireland has missed out on this, thus it has a LOT of catching up to do.
There need to be more small (and not so small) Irish entrepreneurs who will develop distilleries which focus on quality first and foremost. Small, stand out, characterful production. Then Ireland will retake its place at the world's top table.

This is a foodblog so what's your favorite dish containing Whisky?

King Prawns Jura
(serves 4)
Ingredients
1 tablespoon olive tapenade
4oz (100g) butter
1 garlic clove (finely chopped)
4 spring onions (sliced)
1 glass Isle of Jura
16 King Prawns
Sea Salt & Ground Black Pepper
Melt the butter in a frying pan and add the Jura, seasoning & garlic
Cook gently for 2 –3 minutes until a light creamy colour, then stir in the tapenade and add the prawns.
Turn the prawns in the liquid & cook for 4 – 5 minutes.
(Do
not allow the sauce to reduce by too much, as this is an important part
of the finished dish. If necessary, add some more whisky)
Just before serving, garnish with spring onions
or, because I am a Scot and we Scots have sweet teeth…
Raspberry Cranachan
(Serves 4)
5 tablespoon porridge oats
150 ml (5 fl oz) whipping cream
150 g (5 1/2 oz) fromage frais
2 tablespoons clear honey
4 tablespoons Glenfarclas 15yo
400 g (14 oz) raspberries
Preheat
the grill. Line the rack in the grill pan with foil and spread the
oatmeal over the foil. Toast under the grill for about 3 minutes,
stirring once or twice, until the oatmeal is golden. Set aside to cool
(about 15 minutes).
Put the cream and fromage frais in a bowl and
whip together until thick. Stir in the honey and whisky, then fold in 4
tbsp of the toasted oatmeal.
Reserve a few raspberries for the
decoration. Layer the remaining raspberries with the cream mixture in 4
glass serving dishes, starting with raspberries and ending with a layer
of the cream mixture.
Garnish each dessert with a sprinkling of the remaining toasted oatmeal and the remaining raspberries.
Thank you so much John for answering my questions, I'm sure I will have more to ask when my experience evolves. Your answers have changed the way I look upon Whisky and I hope for many of my readers it will do the same.
John's recent book 'Le Snob Whisky' is available from his website and it is signed for every one of you! You can find it here >
So tell me, what's your favourite Whisky?