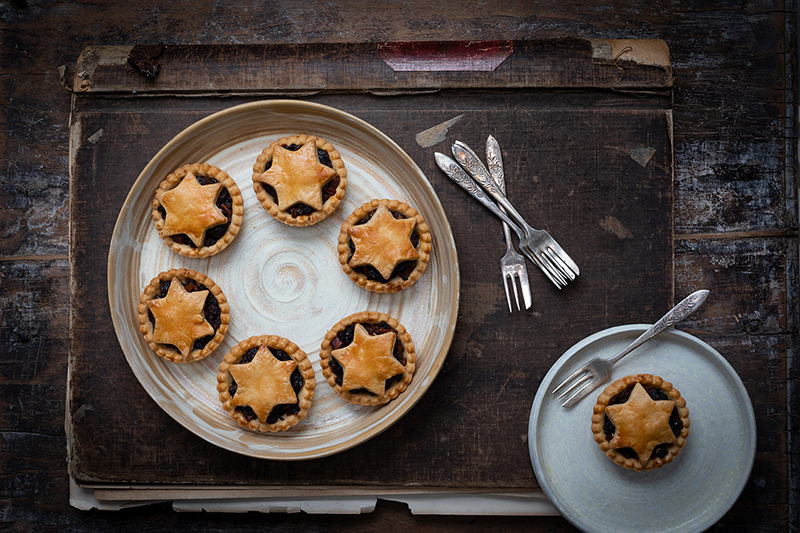 Mincemeat is an ancient recipe that gives you a taste of Medieval times gone by when the usage of this mixture was widely common for sweet as well as savoury dishes. That is if you were well off, dishes with these rich ingredients were the privilege of the very rich and one of the first recipes dates from the 14th century scroll presumably written by the chef of King Richard II.
Mincemeat is best made at least a month in advance so that the flavours can mature. You can use it for different recipes: as a filling for Mince pies of course but also for Eccles cakes and a couple of other British bakes.
The combination of fruits and spices for mincemeat is often diverse, but raisins, currants and candied lemon, cedro and/or orange peel are standard. Some old recipes also contain prunes, dates, figs or candied ginger. Spices are usually cinnamon, cloves, mace and nutmeg. There is always grated apple or pear and sometimes also lemon or orange juice – mostly from Seville oranges (these are very acidic and also the basis for English marmalade – see recipe here).
You can make the mincemeat in this large quantity and store it in the fridge for up to 6 months in sterilised preserving jars.
And then for a little joyeus news: my new book 'Brits Bakboek' has been nominated for 'Het Gouden Kookboek' a prestigious kookbook award in the Netherlands. I'm absolutely chuffed and honoured to be nominated as the only Belgian on the list!

Check back around Christmas for my Mince pies recipe (or check my book 'Brits Bakboek')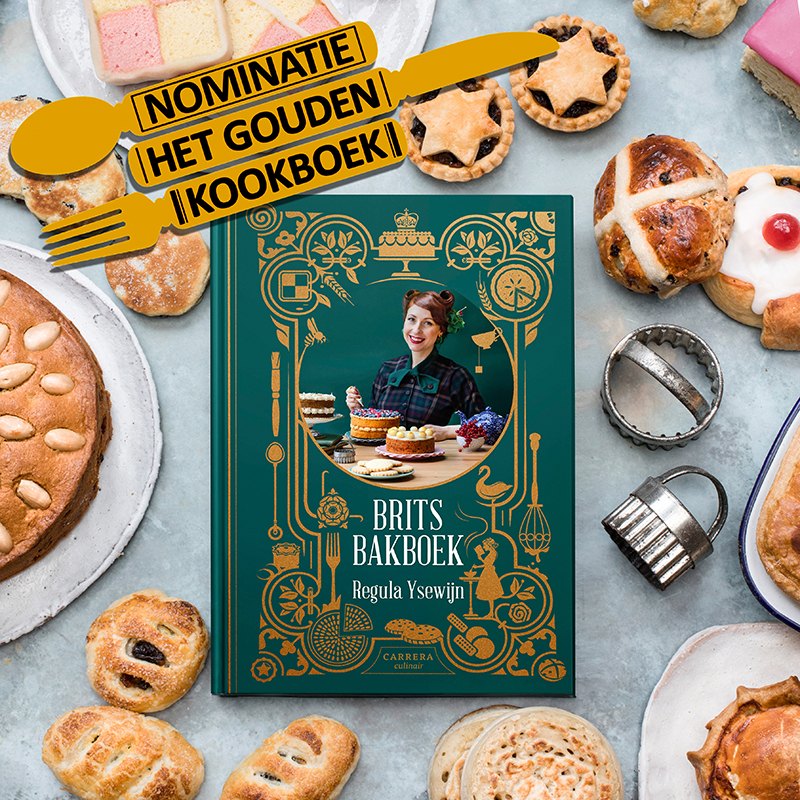 For the mincemeat – makes 880 g/1 lb 15 oz
175 g (6 oz) currants
175 g (6 oz) large dark raisins
175 g (6 oz) stewing apple, coarsely grated
50 g (1¾ oz) candied orange peel
50 g (1¾ oz) prunes, pitted and chopped
115 g (4 oz) shredded suet or butter, frozen and grated
115 g (4 oz) soft brown sugar
½ tsp ground cinnamon
½ tsp ground mace
½ tsp ground cloves
¼ tsp ground nutmeg
¼ tsp ground ginger
pinch of sea salt
½ lemon or Seville orange, juice and zest
250 ml (9 fl oz) brandy or rum (or half sherry, half rum)
Put all the ingredients for the mincemeat in a bowl and add the brandy or rum to cover the fruit. Stir well, then let it rest overnight. The next day, stir again and then divide among sterilised preserving jars.