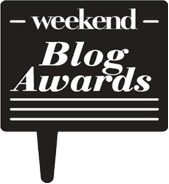 Miss Foodwise has been nominated for an award in my home country Belgium!
How about that, very exciting!
Of course I would love to receive this award here on home turf so if you have a minute, please vote! I thank all of you for your support, not only in voting, but over the 3 years I have been blogging and photographing. It has been amazing, I have met brilliantly talented people, been to amazing places and am now writing like a madwoman on my first book which will be published with Davidsfonds next year!

Voting can be done here >


Thank you, thank you!!!!!!