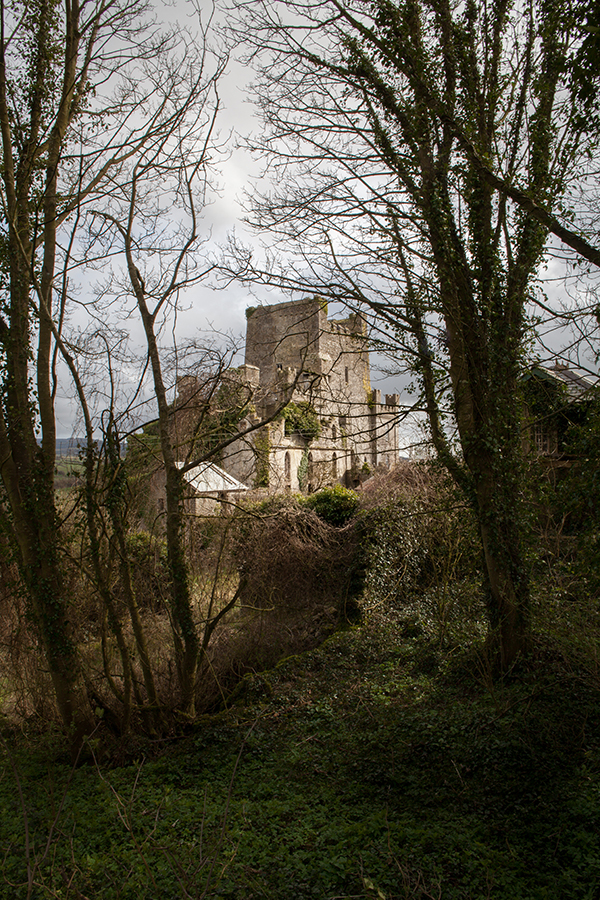 Leap Castle, Ireland's most haunted castle
Last week Bruno and I were invited by Mid-Ireland tourism to come over for a weekend to explore what the Irish Midlands has to offer. It was going to be our first visit to Ireland and we were looking forward to it for a month. We both had one of the busiest times since a very long time, for me it was finishing the English manuscript of my book, for him it were hundred and one things.
It was a relief to step on that airplane – though with the disaster of the German plane crash from a week earlier in the back of our heads – knowing that we were able to take these four days away from our work. We came back revived and full of creative energy. Let me share our highlights with you.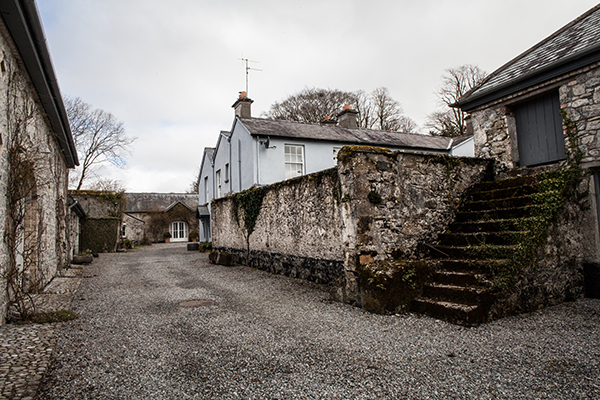 Bellefield Gardens
The first day of our trip we visited the Birr Theatre where regular plays are offered but also workshops for kids, when we were there to assemble for tea, kids were learning to do stop-motion films. So great to get the kids to do creative things.
Home away from home
We then drove off to go and see the beautiful gardens by Garden designer Angela Jupe at Bellefield Gardens. Angela is a garden designer after my own heart. The gardens look very rustic and not at all staged. She works with salvaged materials and creates new things with it. She restored the farmhouse and all the cottages surrounding its courtyard. You can hire them, they each have a cosy log burner, a kitchen and a private little garden. A real treat if you want to get away from the rat race and spend some time walking around the beautiful surroundings and cooking up amazing food to enjoy by the fireplace. I wish I had just 1% of Angela Jupe's gardening talent. The whole estate is truly enchanting.
Fairytale garden
Back in the buss we went to see Fancroft Mill just over the border in Tipperary. The owners bought this derelict mill, garden and millhouse from Angela Jupe who had designed the garden and then sold it because the derelict mill was an enormous project to take on. The new owners restored the watermill, which is housed in a very tall building than can be seen from a distance in the rolling countryside. They accidentally became millers with it. The gardens are – like Bellefield Gardens – immaculately rustic and the little tower makes it look like a fairytale setting. I could sit in this garden for hours, and in fact the owners tell me that that is what they tell visitors, to take their time exploring and sitting in the garden.
Haunted as hell
The next stop is Ireland's most haunted castle – a real treat for Bruno who is a fan of horror movies and other gothic things. Leap Castle is a ruin, but it is lived in by Sean Ryan and his family. It must have looked imposing in its heyday, and scary too because if you committed a crime on these lands, which could have been poaching a rabbit, you were read your last prayer on the top floor of the castle where the 'Bloody chapel' is – or was – and then thrown into a hole which was lined with spikes on the bottom – yikes.
The castle was built in the 1500's and originally named 'Leim Ui Bhanain' meaning 'Leap of the O'Bannons'. The O'Carrolls, the clan who owned the castle, were a fierce and brutal people.  They were known for their cruel tactics,  killing those that came on their path. The 'Bloody chapel' has an 'oubliette', a narrow room, more like a hole where people where in the 1930's three cartloads of human bones were removed. The grandfather of our bus driver was one of the workmen on the job. Sean, the owner of the castle told us about the spirits in his home but ensures us they are not evil, but that they are there. Constant murdering had been going on in the castle up until the 18th century. And at one time one of the owners was so involved with the occult that she summoned a dark spirit that thankfully has remained quiet but is still in the castle. Leap castle was looted and burnt by IRA militants in 1922 during an uprising when it was owned by English aristocracy. Stories say that the villagers from the surroundings stood there laughing when the castle went up in flames. But they did spare the life of the caretaker and his wife and child. The English family who owned was not present when the castle got reduced to the ruin it is today. Did I see a ghost? No, but I can't help but wander what I felt as you go into the cold castle knowing it is haunted, and aware of all the monstrous murders that have happened there.

Lough Boora Parkland was next on our trip but required more time than we had. This is a location to spend a day or an afternoon walking, riding bikes and eating cake at the end of the day. Its surroundings are impressive with ancient bog- and wetland. There is also a nice collection of fauna and flora to admire as well as artwork which is placed in the park without disturbing it.
Birr Castle was the end to our first day and is an impressive castle and estate, it houses a Science museum, Telescope and some fun for the kids too. Mind you I would have gone on the jumping air bed if it wasn't for the rain! For those who are as geeky as I, the grounds of the estate also have an ice house. But you have to ask where it is. We were treated to a tour of the castle itself which is still a private home. It was a privilege to be shown around there and to see an actual living home rather than a museum. The castle has a couple of secret passageways which we explored and I could already imagine the fun you could have as a child growing up in such a place. Allow at least half a day here as there is lots to be seen.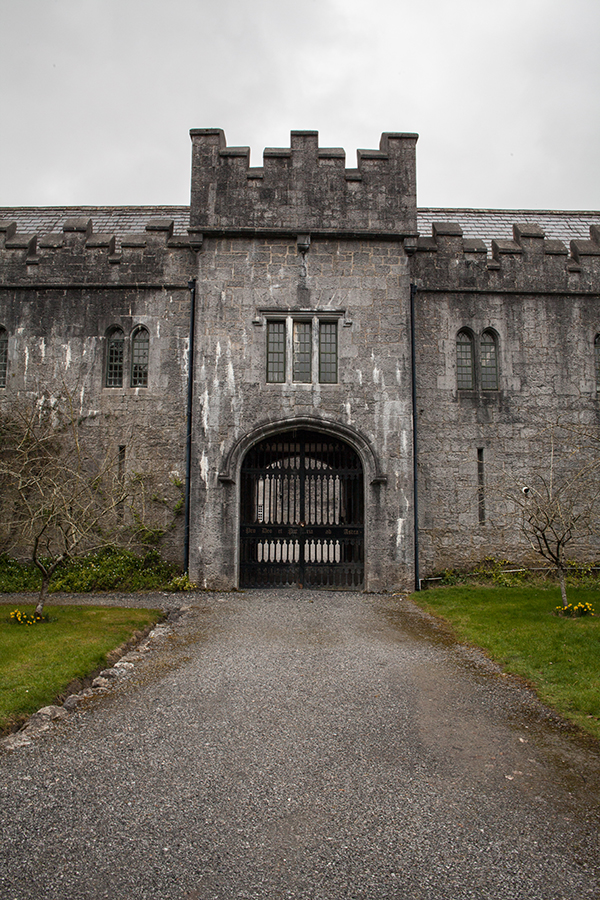 Birr Castle, sadly no pictures from the inside as it is a private home.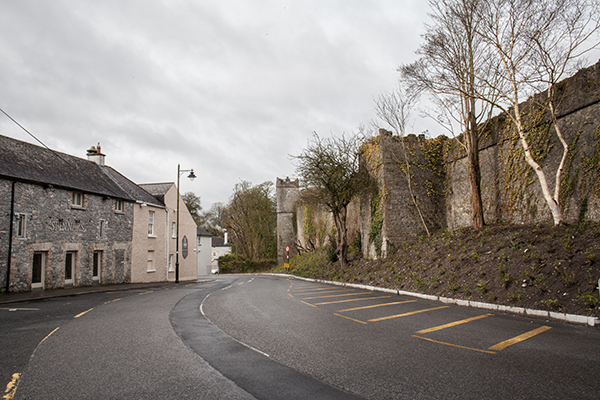 Spinners hotel and restaurant – right opposite Birr Castle
The next day were invited for tea, scones and cakes at Memory Antiques who were very excited to show us all their auction room and bits and bobs. It is conveniently located opposite the entrance of Birr Castle and just round the corner of our hotel. Full with tea and divine lemon syrup cake, off we went for a little cruise on the river Shannon with Silver line cruisers. When we arrived Dublin we carpooled in our taxi with a German family on their way to hire a boat there for two weeks. Apparently the river Shannon is full of fish and therefore people love to boat around and fish for their supper. The surroundings of the river Shannon were tranquil with some rough landscape. Nice to see only nature and an occasional house or ruined barn.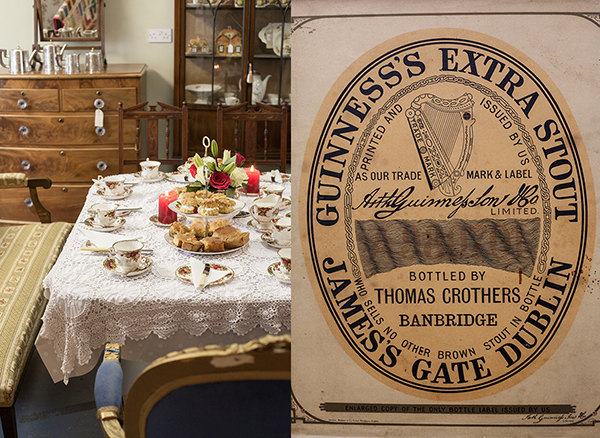 Tea and cakes for us at Memory Antiques. Lots of Guinness stuff, sadly sold!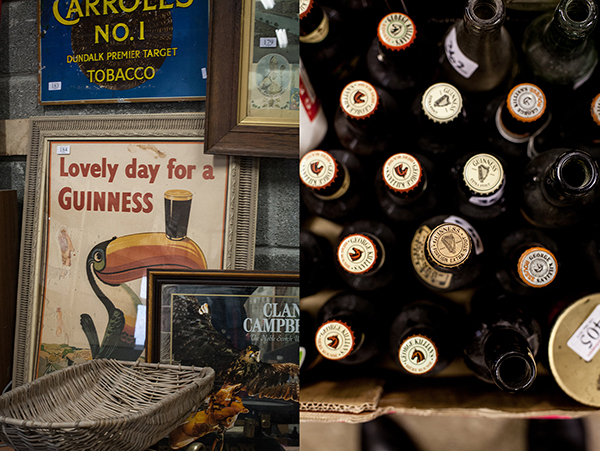 Sadly they were sold, I'd been looking out for a vintage Guinness poster, especially the one with the bird!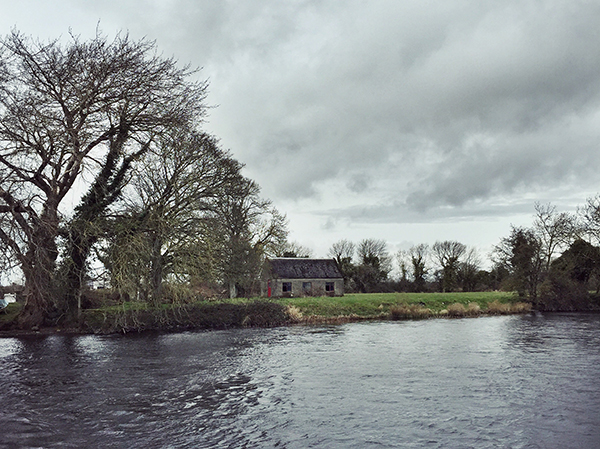 Silver line cruise on the river Shannon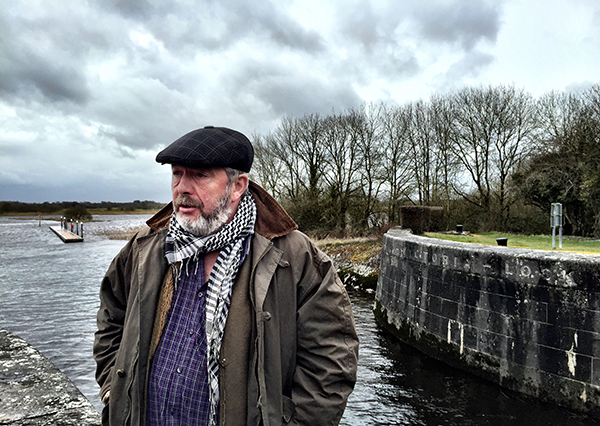 Alfie from Mid Ireland Tourism – also pig farmer at Olde Farm
We only had two days in the Midlands but you could spread this to a week and thoroughly explore. I would go back for a walk around Leap Castle, and another visit to the castle itself. I would also like to stay at Bellefield Gardens to cook with the local produce and enjoy the little garden that comes with each little cottage. Birr castle is a day trip, rounded off with a visit to memory antiques and a dinner at Spinners. And Lough Boora parkland is definitely the place for a day of walking. It was a real treat to get a taster of Irish culture, which is similar to the English but oh so very different as well. I definitely want to explore more of Ireland! Thank you Alfie from Mid Ireland Tourism and Margaret from Olde Farm, this husband and wife team, who I have known for a couple of years now, have done a fabulous job organising this trip. Thank you so much! x


Food and lodgings


Spinners on Castle Street, Birr
We flew to Dublin and from there it was about one hour and forty-five minutes to drive to Birr, a small town in the Midlands. Margaret, the fire behind this trip had booked us into Spinners in Birr, a beautiful old stone building opposite Birr Castle. Spinners is a place with a big potential to become a foodie destination in the Midlands. Its location is central, its surroundings are beautiful, the food is the best we have tasted in the Midlands and Birr is apparently one of the favourite towns in the area.
Jordan who owns Spinners is very passionate about his business and I hope his hotel and restaurant will thrive. The Irish breakfast was fantastic, with tasty bacon and one of the best bangers I've ever tasted. The next day he had gone out for the best local black pudding, and I have to agree, it was very good indeed. We had dinner there on the first evening of our stay and the place was packed, so it was on the next day. It looks like Spinners is no longer a secret!
Olde Farm
Margaret and Alfie have an Air Bnb room in their lovely pig farm just outside Birr. If you prefer to stay at a B&B this is your thing. You will get a brekkie cooked with home reared produce and a nice chat. Margaret and Alfie know heaps about these surroundings so can point you to the best places to go.
Bellefield Gardens, the home of Angela Jupe. "In 1987 she established and ran the first specialist garden shop in Ireland – "The Garden Furnishing Co." and set up the Traditional Gardening Co. which specialised in garden design and construction."
She now lives at Bellefield Gardens, where she lovingly looks after her garden and holiday cottages. She is  passionate about Irish snowdrops and has a wide variety of them in her grounds.
Mossfield Organic farm cheese
The organic shop, Mainstreet, Birr
This shop sells Mossfield organic farm cheese, truly wonderful cheeses from the Slieve Bloom Mountains.
Killeen farmhouse cheese
A very creamy parmesan style hard goats cheese, available in some shops
Bo Bristle brewery
Absolutely loved the IPA, a very easy drinker and lovely with food
To see and do in the Midlands


Gardens – Houses
Bellefield Gardens
Gardens designed by Angela Jupe, hope of the Irish snowdrops
Leap Castle, north of Roscrea on the R421
Open to visitors but you have to contact the owner Sean Ryan first. Entry fee goes to restoring the castle
Birr Castle, Birr, Castle street
An impressive castle and estate, a Science museum, Telescope and some fun for the kids too. For those who are as geeky as I, the grounds of the estate also have an ice house. But you have to ask where it is.
Fancroft Mill
Gardens designed by Angela Jupe and an impressive water mill.
Tea and cakes can be enjoyed in the café
Walking – Biking – boating
Lough Boora Parkland
An ancient Bog land with tranquil nature to walk or ride a bike in. A café is there for necessary cups of tea and cake after outdoor exercise
Silver Line Cruisers
Boat hire on the River Shannon, you can get off and pick-nick in the beautiful countryside.
Culture


Birr Theatre
for plays, exhibitions and workshops
Antiques
Memory Lane 
antiques and auctions, opposite the entrance of Birr Castle, Birr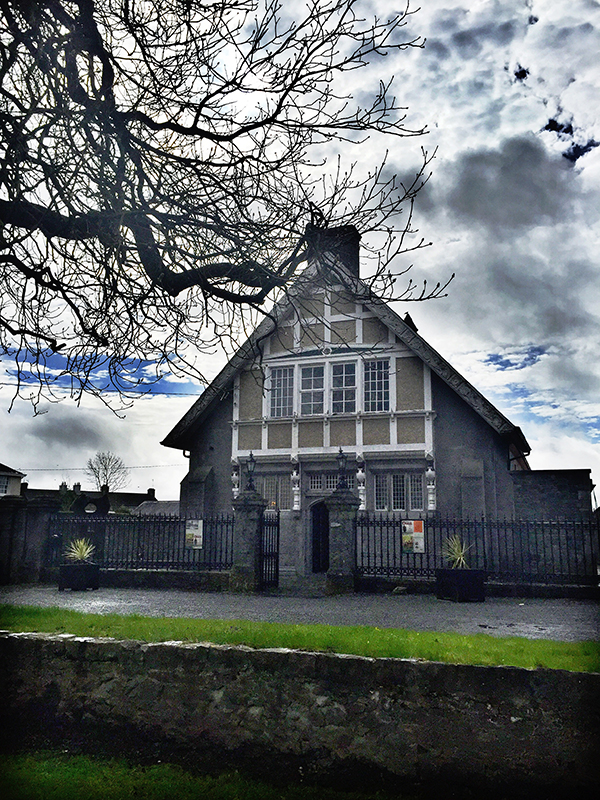 Birr Theatre – moody skies
I was invited by my Mid Ireland Tourism, my views are my own. I was not payed to write a review, I blog whatever I want so you know that when you read something here, it is always coming from me and me alone.