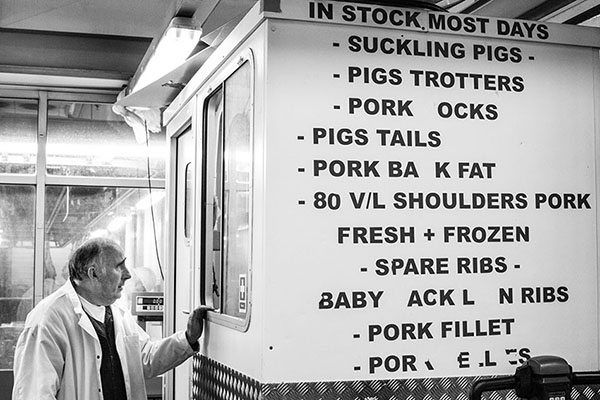 Smithfield Market, 865 years of notorious history of meat, bloodshed, crime and uprising.
Turning down Sun Street and Crown Street, and crossing Finsbury square, Mr. Sikes struck, by way of Chiswell Street, into Barbican: thence into Long Lane, and so into Smithfield; from which latter place arose a tumult of discordant sounds that filled Oliver Twist with amazement. It was market-morning. The ground was covered, nearly ankle-deep, with filth and mire; a thick steam, perpetually rising from the reeking bodies of the cattle, and mingling with the fog, which seemd to rest upon the chimney-tops, hung heavily above. All the pens in the centre of the large area, and as many temporary pens as could be crowded into the vacant space, were filled with sheep; tied up to posts by the gutter side were long lines of beasts and oxen, three or four deep. Countrymen, butchers, drovers, hawkers, boys, thieves, idlers, and vagabonds of every low grade, were mingled together in a mass; the whistling of drovers, the barking dogs, the bellowing and plunging of the oxen, the bleating of sheep, the grunting and squeaking of pigs, the cries of hawkers, the shouts, oaths, and quarrelling on all sides; the ringing of bells and roar of voices, that issued from every public-house; the crowding, pushing, driving, beating, whooping and yelling; the hideous and discordant dim that resounded from every corner of the market; and the unwashed, unshaven, squalid, and dirty figues constantly running to and fro, and bursting in and out of the throng; rendered it a stunning and bewildering scene, which quite confounded the senses.
Charles Dickens – Oliver Twist, 1838And so were the words of Charles Dickens about Smithfield meat market in his marvellous work Oliver Twist.
England has always been famed for the outstanding quality of its meat. In the 19th century, Smithfield meat market was notorious for its wild cattle that was hazardously driven through the streets of London. The drovers and butchers were apparently as savage as their cattle and murder and rape were no exceptions in these quarters.
Reports of cattle stirred up by drunk herdsmen killing men, woman and children on their way were frequent. Cattle was slaughtered at the site and the streets coloured red with blood.
Surrounded by dirty streets, lanes, courts, and alleys, the haunts of poverty and crime, Smithfield is infested not only with fierce and savage cattle, but also with the still fiercer and more savage tribes of drivers and butchers. On market-days the passengers are in danger of being run over, trampled down, or tossed up by the drivers or "beasts"; at night, rapine and murder prowl in the lanes and alleys in the vicinity; and the police have more trouble with this part of the town than with the whole of Brompton, Kensington, and Bayswater. The crowd­ing of cattle in the centre of the town is an inexhaustible source of accidents.
Max Schlesinger, Saunterings in and about London, 1853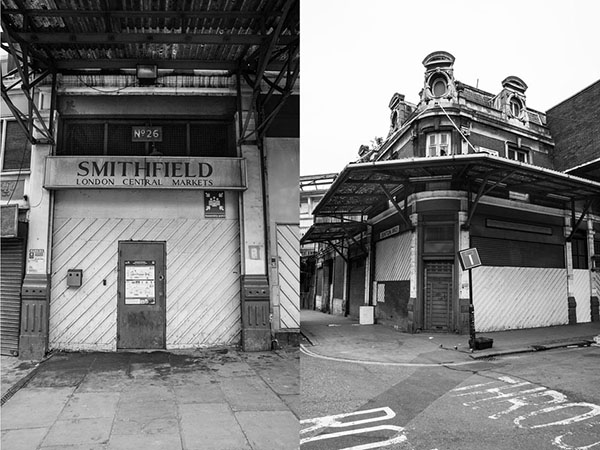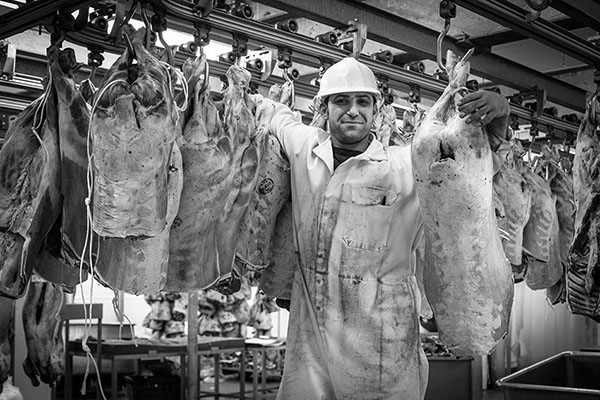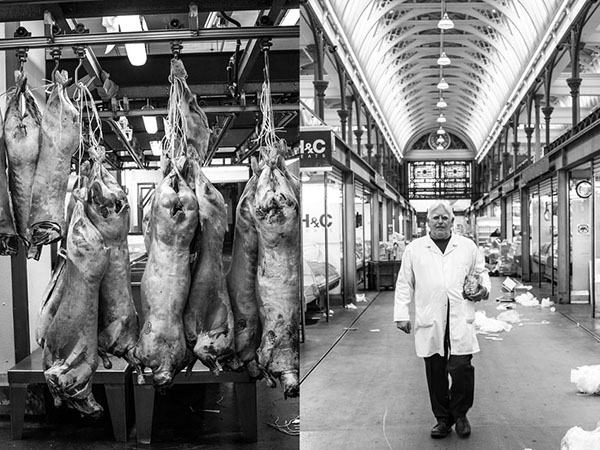 From 1150,
Smithfield has been used as a market for live stock. It was a large open space on the outskirts of town, it had small open spaces and wooden pens and a broad open street market.
In 1174 Smithfield was described by William Fitzstephen, clerk to Thomas à Becket in his 'Description of London', one of my favourite works to learn about Ancient London and its people.
'In a suburb immediately outside one of the gates there is a field that is smooth, both in name and in fact. Every Friday (unless it is an important holy day requiring solemnity) crowds are drawn to the show and sale of fine horses. This attracts the earls, barons and knights who are then in the city, along with many citizens, whether to buy or just to watch.'
A description of London, ca.1174/1183, translated from Latin.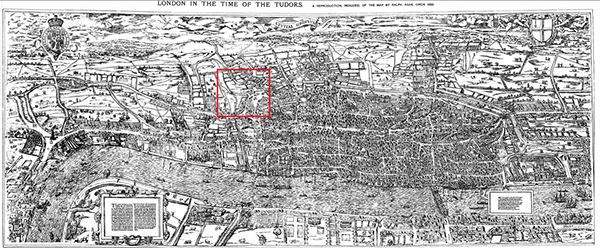 The ancient map of London 'Civitas Londinum' dated to 1561, shows large open fields and cattle pens. The market area is now called 'Schmyt Fyeld'. During that time the market area had access to the river Fleet so cattle had water to drink and grass to feed on.
Because Smithfield was an open space which was so close to the city centre, it was also used for public executions. William Wallace – known to most as Braveheart after the film – was executed there in 1305. It was also the meeting place to gather for the Peasant's Revolt in 1381. Executions continued well into the 16th century with Henry VIII murdering Catholics and his daughter 'Bloody Mary' burning in excess of 200 protestants. During the 17th century the site became a popular place for duelling and later it turned into a prime spot to pick up a prostitute for the night.
The structure of the market would remain largely the same as in the Middle Ages until a building was erected designed by Victorian architect Sir Horace Jones in 1868. By then the market was in the centre of London instead of in the outskirts, adjoining fields.
We can still see that majestic market building today, and some of its additions from later in that century, but sadly a part of it has been derelict for many decades now.
When I visited the market I was warned by Londoners that some of the butchers were still cheeky buggers and they weren't kidding. On my short walk around I got talking to one of them, I took his picture, asked him if I could use the image, and he gave me his phone number and told me to call him some time.
The market was at its end of trading that day when I visited, meat was being packed up and carted away in supermarket trolleys, leaving it to look nearly as rough and dirty as it must have looked centuries ago.
It is a historic place, there has been a cattle market here for 865 years, and I hope it will remain here for centuries to come. It's extraordinary that after the relocation of Billingsgate Fish market, Covent Garden and Spitalfields market, Smithfield market is still holding strong.
It is a heritage site, and with so many historical important places being demolished in London today – think the London Wool and fruit exchange in Shoreditch – we have to hang on to this one while we can.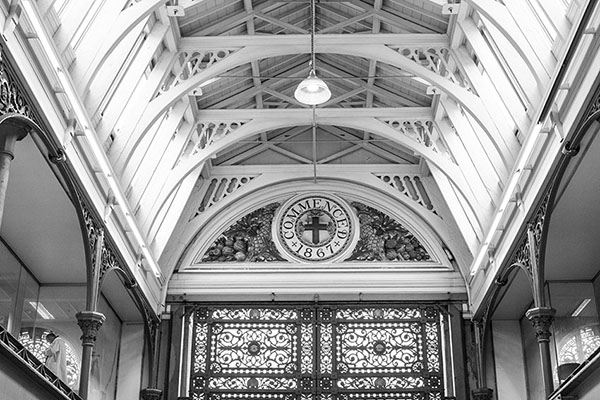 Looking up in the meat market building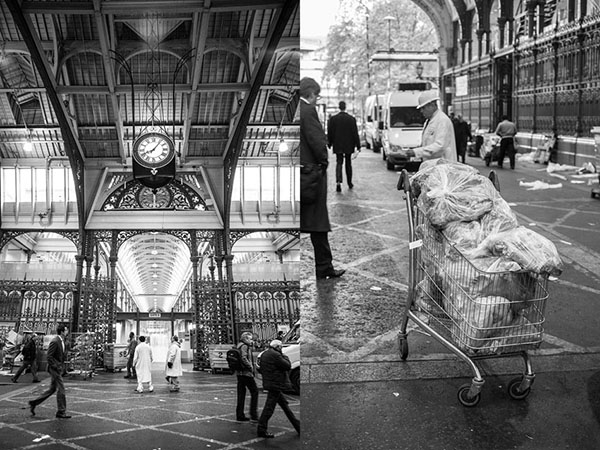 Supermarket carts are used to move the meat and are scattered around everywhere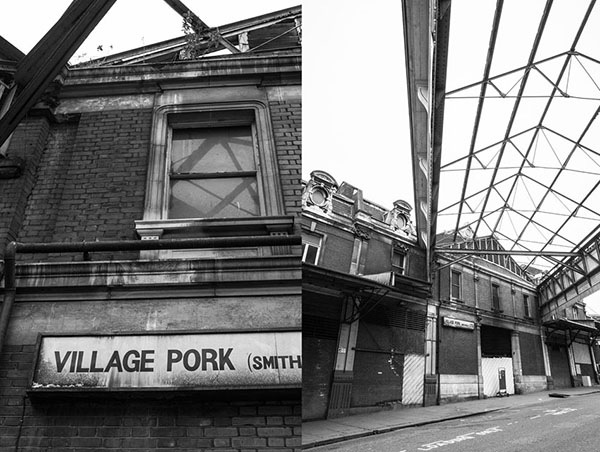 though crumbling, still a special place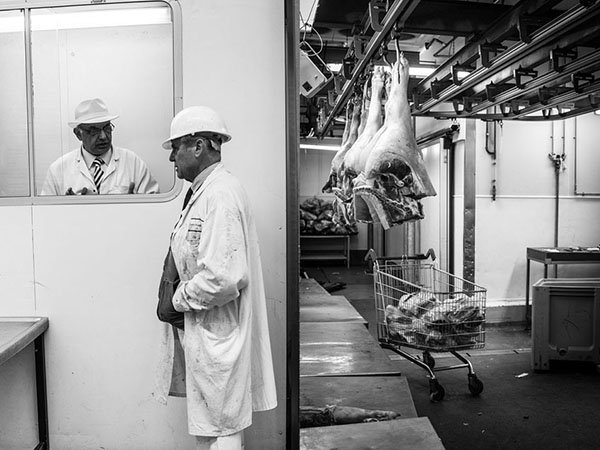 Butchers chatting during the clean-up of todays market day
One of the loading gates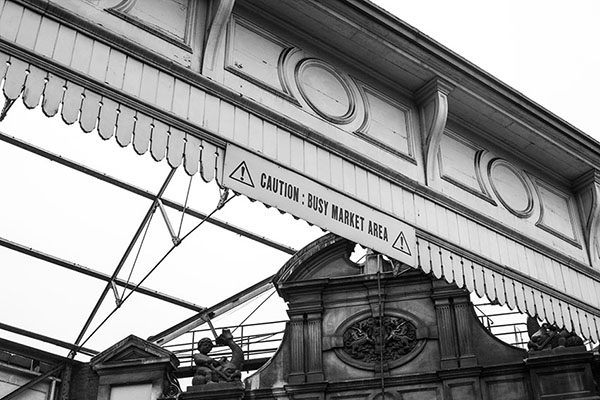 Lorries are driving on and off with loads of meat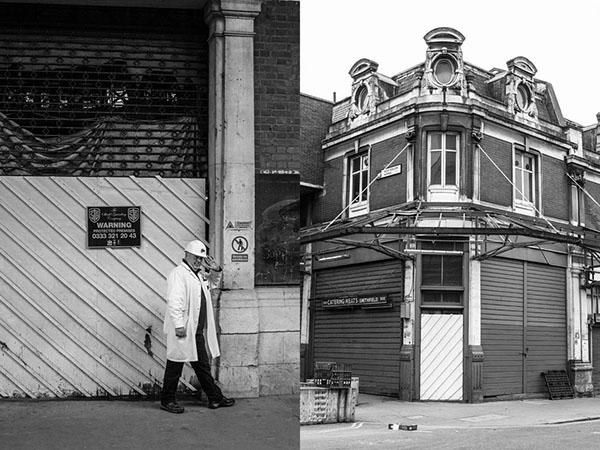 The butchers don't mind posing a little for my camera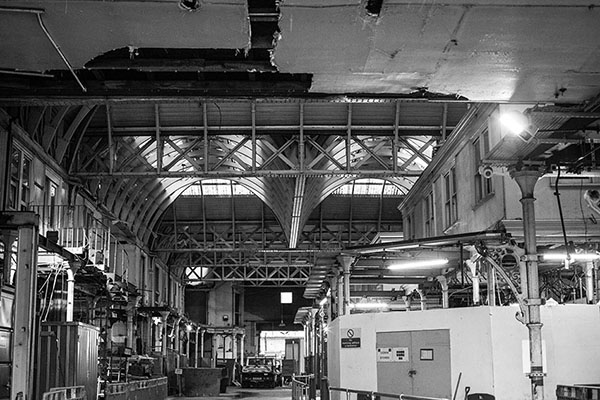 Part of the market in its derelict state, still waiting to be renovated and repurposed
Dear readers, the above image from Smithfield market has been shortlisted in the prestigious Pink Lady Food Photography Awards in the category 'Food For Sale' for the People's choice award. If you like my work, I would be super grateful if you would vote for my photograph! 
You can vote HERE > and scroll down to 'Food for sale'
Thanks so much xx
Do leave a comment, I love hearing from you!