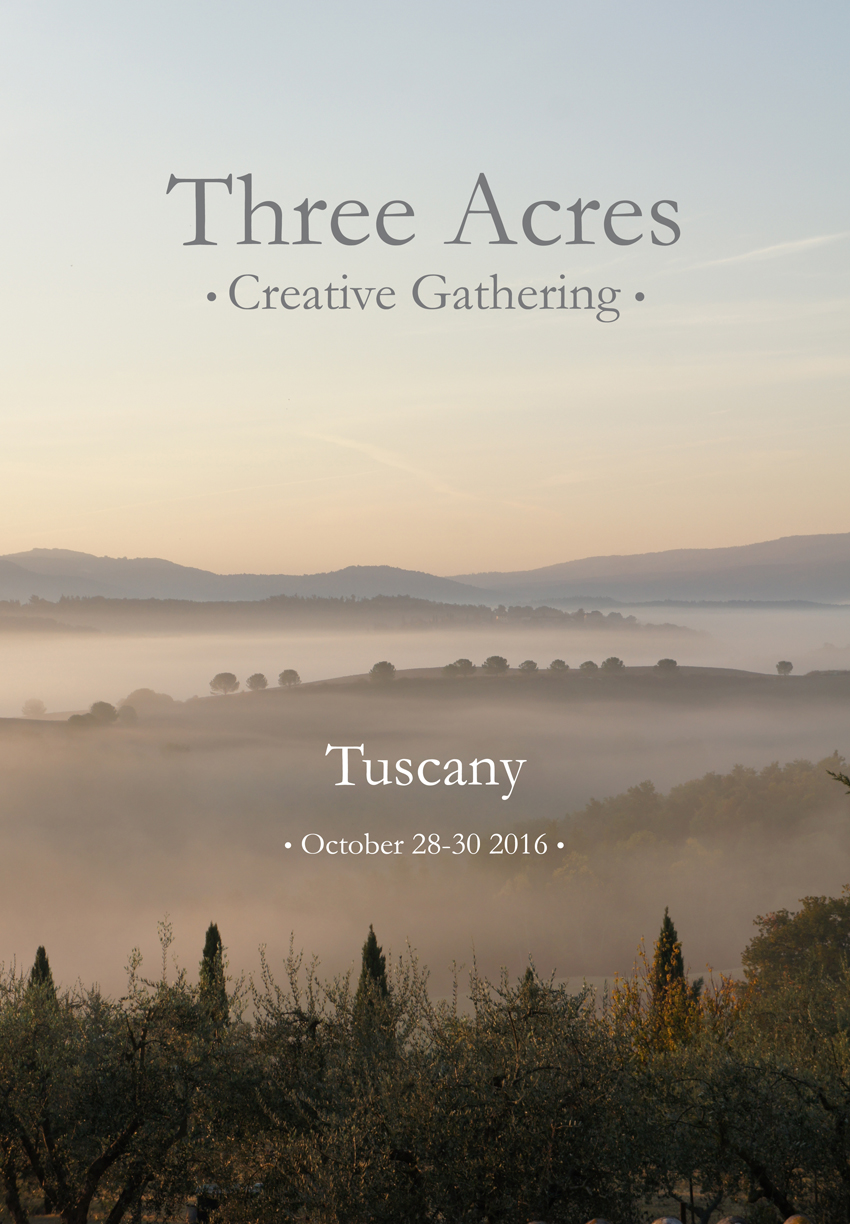 I'm excited to finally announce what my dear friend Giulia and Sarka and I have been working on for the past few months!
Join us for a creative gathering which will celebrate the seasonal food and the pleasure of getting together in a quiet location in the Tuscan countryside.
*UPDATE*: Be an early bird and get on the waiting list for our Spring Edition, email us for dates!
For five years now we have been growing creatively together and while we struggled to find a work/life balance, especially in the process of writing books! We always managed to find new strength by arranging creative get togethers where we laugh, cook, eat, drink and most importantly learn from each other. We have now joined forces under 'Three Acres' to create this get together in beautiful places so you too can join in the conversation, the learning, the cooking and the eating. We will take photo's though you don't have to be a professional or even hobby photographer, just capture the moment with whatever camera you got. From a smart phone to a proper shooter, all is welcome.
Three Acres – Creative Gathering
Strands of mist entangled around the branches of the trees on the hilltop. The smell of a fireplace at dusk. A whiff of roast chestnuts around every corner, a chestnut cake with rosemary, pine nuts, raisins and olive oil. Mushrooms and squash. A glug of nocino – a traditional walnut liqueur by the fire. Toasted bread with a drizzle of new olive oil and creamy beans spooned on top.
You can not find a better moment to visit the Tuscan countryside.
Details
October 28 – 30 2016
Siena countryside, Tuscany
Nearest airport: Florence or Pisa
You can also arrive in Rome and take a train to Florence.
Limited to an intimate amount of participants
Further details on the gathering page on Big Cartel here >
What we will be up to*
You will stay at a lovely agriturismo in the Sienese countryside on the outskirts of a tiny village with only a few houses. We will pick you up every day and when we are at Jul's Kitchen we will walk there and enjoy the fresh air. Juls' Kitchen is situated in that tiny village and is the cookery studio of Giulia Scarpaleggia who has been teaching Tuscan cookery courses and food expeditions there for over five years. The studio is cosy and features a large open plan kitchen where will will cook and eat and drink copious amounts of tea. We have a lovely big garden there with wonderful countryside views, olive trees and the company of a Maremma Sheep dog and a black cat.
We will light up the wood burning oven to make pizza, focaccia and bread, we will enjoy a spread of local vegetables and charcuterie to taste the real flavour of the countryside, we will walk under century old oaks to channel nature's force and inspiration.
Inspired by the 'Three Acres and a Cow' philosophy we will visit a local organic family run cheese farm where they make a raw milk pecorino, the typical sheep milk cheese of Tuscany. After the farm we will head to Siena for a walk and dinner in one of the most well preserved medieval towns of Tuscany. There will be plenty opportunities for each student to practice the techniques learned during the weekend.
Giulia, Regula and Sarka will discuss their philosophy on styling and shooting and we will show you how to style and photograph one subject in three different styles.
(You will receive more information in an email)
Who can attend?
It is open to everyone, not just photographers and bloggers, but all creative people who want to explore different styles and deepen their visual voice.
Who are we?
Giulia is the author of 5 cookery books, she has been running Tuscan cooking classes, food excursions and workshops for 5 years from her Tuscan family home and studio Juls' Kitchen.
She also writes an awardwinning blog Juls' Kitchen:
www.julskitchen.com
Twitter & Instagram: @Julskitchen
Regula is the author of 2 books on food and drink culture. She photographs and writes for a living. She is also a graphic designer. Her focus lies with reality, this can mean natural light or going on a fishing boat at 4 in the morning to capture the essence of a situation.
Regula also writes a blog which was shortlisted for a Saveur Blog Award:
www.missfoodwise.com
Twitter & Instagram: @MissFoodwise

Sarka has been a professional photographer for 6 years working with editorial clients in the UK and her homeland Czech Republic. She has been tutoring photography workshops for years and she is your go to girl for the technical part.
www.sarkababicka.com 
Twitter & Instagram: @ Sarkababicka
The cost
The all-inclusive cost is 890 € per person
This includes:
2 nights accommodation in a countryside agriturismo with a double room
1 dinner on Friday at Juls' Kitchen + 1 dinner on Saturday in a restaurant in Siena
2 lunches cooked at Juls' Kitchen with local produce
2 breakfasts at your agriturismo
Drinks and refreshments during the weekend at Juls' Kitchen
Transport during the weekend
All teachings and excursions (2)
Not included:
Transport to and from Italy and to the agruturismo
Anything extra you would like to purchase personally
Travel insurance
Cancellation insurance
Practical
 october 28
Check-in at the agruturismo
6-7 meet and greet at Juls' Kitchen followed by dinner
october 30
Goodbye at Juls' Kitchen at 17h
Option to book an extra night agruturismo if you want to travel back on monday
You are welcome to join us for dinner at a restaurant but each will pay for their own
*Note the schedule is subject to change*
Feel free to email me with questions!
Why this price?
We have done everything to keep the price as low as possible but as we pay each producer or business and work with beautiful local produce, the price reflects that. We want the small businesses we work with to benefit from this, not be left out of pocket because we are after a freebie. Everyone deserves to get the price they or their product is worth.
Three Acres And A Cow
Three acres – or in full: 'Three Acres and a Cow' is a phrase used by British land reform campaigners in the 19th century to highlight rural poverty. Every man would need three acres and a cow to look after his family for a year. Today we have moved so far from this situation that most of us don't even have a garden to grow some vegetables or rear a couple of chickens. We don't even know what vegetables, fish or meat are in season. With our Creative Gatherings we want to unplug a little from modern day and age. We will visit an artisan producer in the most beautiful countryside and we will start a fire in a brick wood fired oven to prepare our meal to celebrate the end of summer and the coming of winter. We will reconnect with nature and the wheel of life through what we see and do.