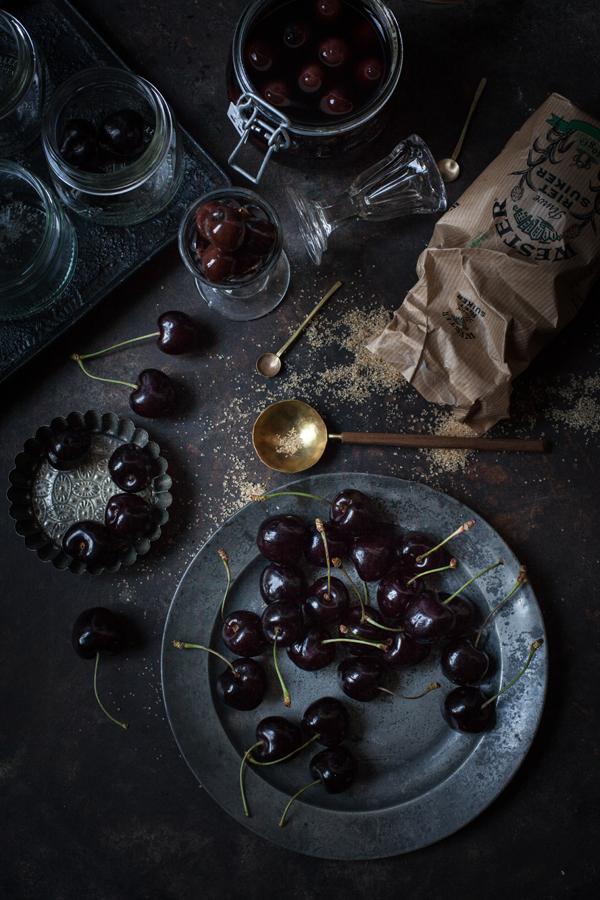 Preparing the cherry brandy or 'Kriekenborrel' as we called it in Belgium, is the first step towards Christmas and winter for me. On Christmas eve when I was a child, I was allowed one single drunken cherry in a small dainty glass as a treat. This is how memories are made, and how time and time again when Christmas comes, you need certain flavours to transport you back to the past. Nostalgia and Christmas go hand in hand. It is the one western tradition that is still going strong. People prepare things like this cherry brandy and plum pudding months in advance. The anticipation grows in the jars, and by every spoonful of brandy that is poured over the pudding every week.
Preserving fruit in 'Jenever' which is almost identical to Gin, has been a custom in our parts for many decades. It was particularly popular in the 1950's when my grandmother was young. Because my mother grew up with it, it was sentimental to her, which is why she taught me how to make it. I still have the last jar of cherries my mum and I drowned in Eau de Vie in 1998. It is quite special, because the jar holds memories as well as cherries. In my kitchen I have jars from 2006, 2010, 2011 and 2013. Some I give away, ladling the cherries and booze out into smaller jars to decorate with a ribbon and the date. They go to people I know will appreciate my precious preserve. Because I part with memories of making them and hope they will be cherished.
My cherries of choice are dark English cherries from Kent. Their flesh is thick and eats like a plum, their juice is deep red like the liqueur it produces after months of ripening. The ones you see pictured here are of the 'Regina' variety and grown in Kent. It's good to see Kentish cherries on the shelves of English supermarkets. This means that the farm will have a set income and that it is worth to harvest the fruit. Far too foo often fruit is left on the trees because harvesting would cost too much. And although I'm not a particularly big fan of supermarkets, not everyone lives near a farmshop or market where you can obtain these beauties and other produce grown on local soil.
In Belgium it is hard to find home grown cherries too, again the expense of harvesting and demand are too high. Most of our cherries come from Turkey. They are usually quite flavourless and dull. When I was a child, we had cherries from Belgium and France in our shops. One particular type, which we called white bellies, were my absolute favourite. They reminded me of the red blushing apple of snow white so I pretended they were tiny apples. You see them rarely these days which is a terrible shame. It is those wonders of your childhood you miss when you grow up. Fruit you got every season which is now only available rarely and at premium prices in premium stores. The farmers wife at my local farmshop tells me that when they go to the fruit and veg market early in the morning to buy the produce they do not grow (they are a dairy farm), they see less and less older farmers selling the more rare fruit like mirabelle plums, sloes and medlars.They harvest them from their farm hedges from trees much older then they are themselves. But as these older farmers retire, so is lost the supply of these most wonderful fruits. I appreciate the farmshop for buying the produce from these old men, that way it is still possible to see more of the season than just what the supermarkets wishes us to see.
What about the future of cherries and other home grown fruits? One of the fears of Brexit in Britain is that even less home grown fruit will be harvested. Most fruit pickers are immigrant workers because English (and Belgian people too for that matter) don't want to do the hard work. So the question is, will there be an even further decline in home grown fruit? Well… Britain hasn't left the EU yet and we can't know now what will happen later. So lets just buy local when we can.
In the 19th century most fruit was picked by the poorest people in the cities. Just like with hop picking, families would move out of towns like London to spend the summer by the orchards. Although it was hard labour, being out of the city meant that the children had clean air and nature to run and play in before and after work. They saw it as a vacation, a working holiday. The money earned would go to the mother, men usually stayed in the towns to work, and the women would use the money to buy well needed items like new shoes and clothes for the children.
The past 50 years 90 % of the cherry orchards have disappeared. Before the second world war there were about 40 000 acres of cherry orchards in England alone. These were mainly in Kent, Worcestershire and Herefordshire.
The labour was very intensive as the trees were very high, too high to cover the crop from the birds. Cherry pickers would climb on very high ladders with baskets tied to their waists. Nowadays trees are kept smaller so they can be managed more easily and trey can be covered with netting to keep the birds from stealing or damaging the entire crop. When you drive through Kent at this time of the year, you can spot the netting. It looks like a giant spider has creeped out of that Harry Potter book to cover the trees in her enormous web.
To be able to enjoy cherries for longer, drowning them in strong alcohol really is the best way.
As true and loyal readers of my blog will know, I have featured a recipe for my family cherry brandy before. This one is quite the same, but using more readily available alcohol and more sugar so it keeps for longer. Traditionally this liqueur should be made with sour cherries, not sweet, but it works just fine with either.
A little news, I am organising two creative gatherings in the autumn. One will be a two day retreat in Tuscany the last weekend of october, the other is a one day in Dorset end of november. If you are interested, details will be shared in the next weeks but you can already email me to be put on the list without obligation. We will be cooking, photographing, styling, eating, drinking, learning and we will also have the most wonderful time with like-minded creatives.
On to the recipe now
What do you need
sour or sweet cherries: 1kg
A neurtal alcohol of minimum 35%
(vodka, jenever, gin, everclear, eau de vie,…)
raw cane sugar: 500 g
brown sugar or mollasse: 1 tablespoon
glass preserving jars
Method
Rinse the cherries well and pad dry with kitchen paper. Remove the stalks carefully without damaging the fruit.
Layer the cherries with the sugar, pour over the alcohol and close the jar.
Put in a dark place at room temperature – a cellar is perfect – and shake every day for a week
Forget about the cherries until christmas or thanksgiving!
Enjoy in a dainty glass or add them to your cake batter (don't forget the kernels!). If you got some leftover from last year, toss on your ice cream. Also a treat baked into a batter pudding or clafoutis.
You might also enjoy
Cherry tart and prostitution >