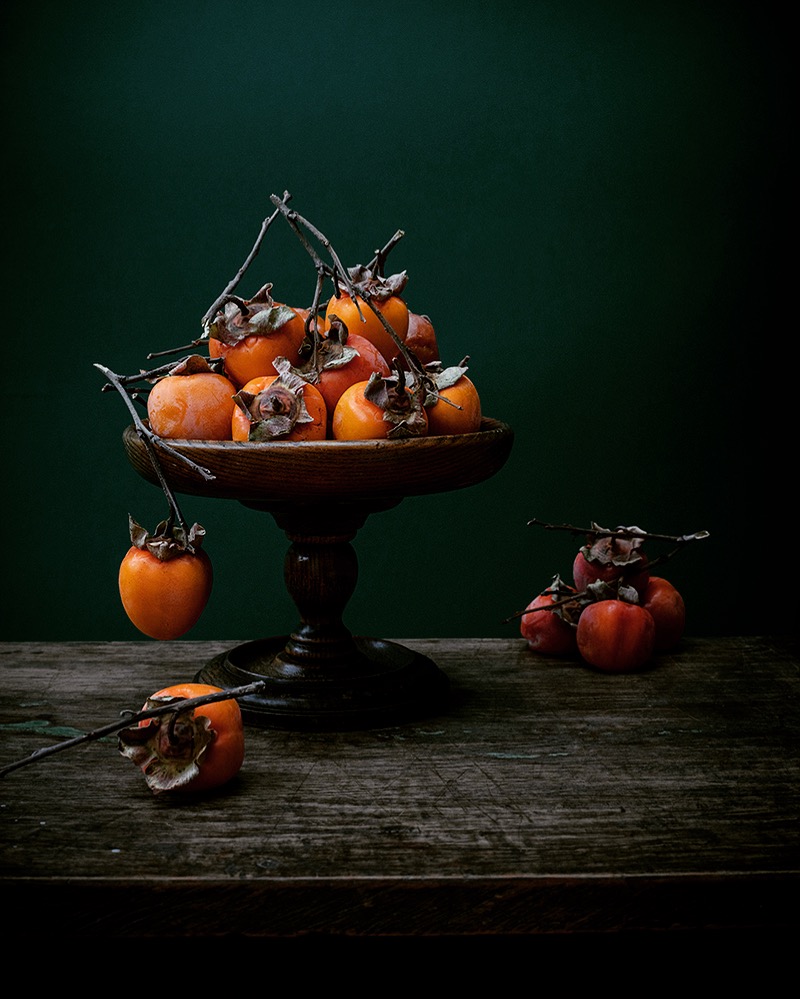 Turns out I've never experienced a persimmon in its prime. Doubtful about the overly ripe state of my bunch I was assured that this is how a persimmon should be eaten. Carefully cutting into the skin and scooping out the jammy flesh. A whole new world of persimmon opened… how on earth have I never tasted a ripe specimen before? I like them quite hard, eaten pared like a peach but this is something else. It opens up so many possibilities. The flesh scooped on thick yoghurt or even a creamy dessert or ice cream.
A thick jam to spread on toast, eat with a good blue cheese or use as a filling for a light sponge cake.
American readers have told me their mothers used to make persimmon pudding and persimmon biscuits. Possibilities with persimmon are plenty, that is if you have the patience to let the orange baubles ripen enough for them to almost burst.
Having received a bunch of persimmon as a gift, the fruit still beautifully attached to their wilted branches, I wanted to make the most of this little crop.
First there was the joy and amazement to scoop out the flesh and eating straight from its incredibly thin yet leathery skin. Then there was indeed the splash of colour it brought to my morning skyr. And then there had to be cake, shared with friends and the lucky plasterers at work in my new studio kitchen downstairs. The English love a roll cake, maybe even more than anywhere else in the world, usually with strawberry or raspberry jam with or without cream or with fresh rasberries and strawberries. This cake recipe is wonderfully fluffy, it might sound like a faf to first make a merengue but really if you have one of those big mixers this recipe is a walk in the park. You do need a swiss roll tin or you'll have to improvise. Happy baking!
Persimon roll cake
What do you need
Thick persimmon jam
You only need about 4 tablespoons of jam
Equal amounts of persimmon flesh to jam sugar
Whipped cream
200 ml of double cream (min 40% fat)
1 tablespoon of sugar
Swiss roll batter
4 eggs, separated
100g caster sugar
Grated zest of 1 lemon
45g plain flour
45g semolina (or cornflour)
Pinch of salt
Make the jam as you would normally do, scooping the flesh from the ripe fruit. Let the jam cool.
Preheat your oven to 220°C
Make the roll cake, normally I'd use organic corn flour but in this case I wanted a more yellow cake so used semolina flour instead. You can of course use cornflour instead.
Line a swiss roll tin with baking paper and sprinkle with caster sugar. To make the sponge, whisk the egg whites in a large bowl until they form stiff peaks. Add in the caster sugar, a teaspoon at a time, until you have a meringue. Add a teaspoon of meringue mixture to the egg yolks, add the zest and whisk together. Then add the egg yolk mixture to the meringue and mix well. Sift the flour, then fold the flour and cornflour into the meringue, making sure it is well mixed but keeping in as much air as possible. Scoop the batter into the swiss roll tin and level the surface with a spatula. Bake for 6–8 minutes until pale golden.
Whip 200 ml of double cream (min 40% fat) with 1 tablespoon of sugar
Turn out the sponge on to a sheet of baking paper, trim the sides, then roll up and set aside for a few minutes. Unroll the sponge, spread with the jam and dollop the whipped cream on to the sponge then roll up to end with the seam on the bottom.
Serve immediately as it is or with a scoop of fresh persimmon flesh on the side.