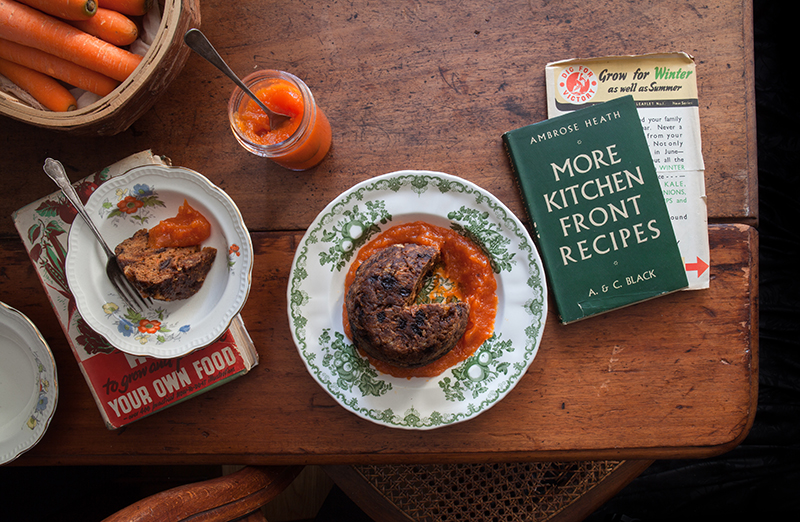 Today 8 may I'll be showing two war-time recipes over at London's Borough Market for the 75th anniversary of 'Victory in Europe Day' or the end of WWII.
While world wars and lockdown are very different, both have led to difficulties obtaining certain ingredients. We'll be looking at two war-time recipes that were actually promoted by the Ministry of Food because there was an overload of carrots and potatoes. Recipe booklets were made to help cooks to whip up a variety of recipes with carrots and potatoes and other austere but often very delicious creative recipes
We'll be cooking up "War & Peace Pudding" with "Mock apricot" carrot jam, both wartime recipes from my book Pride and Pudding. Tune into our IGTV over at Borough Market on Instagram
During wartime, ingredients for plum pudding were hard to come by so the Ministry of Food produced a recipe for a 'War and Peace Pudding' made of carrots, potatoes and suet.
The recipe also appeared as a 'Wartime Christmas Pudding'. Carrots and potato were both promoted by the Ministry of Food because they grew easily and were plentiful, and therefore they were important to keep people healthy. Potato was often used as an alternative to other ingredients in dishes and carrots were used because of their sweet flavour. At some point 'carrots on sticks' were sold to children instead of ice cream – which was banned – and 'toffee carrots' replaced toffee apples.
This is an excellent pudding and the "mock apricot" carrot jam absolutely sublime and a great novelty for when dinner parties are back allowed!
War & Peace Pudding
Makes 1 pudding in a 14 cm (No. 42) diameter basin (mould)
75 g carrots, grated
100 g potatoes, grated
85 g  plain (all-purpose) flour
30 g fresh breadcrumbs
30 g shredded suet
1 teaspoon ground allspice
or mixed spice
1 teaspoon bicarbonate
of soda (baking soda)
2 tablespoons warm water
1 tablespoon mixed dried
fruit, soaked in water, rum or brandy
Method
Preheat the oven to 160C. Prepare the pudding basins for steaming
In a large bowl, combine the carrot, potato, flour, breadcrumbs, suet and allspice. Dissolve the bicarbonate of soda in the water and add to the mixture. On a lightly floured work surface, knead into a ball. Don't be alarmed if the mixture seems dry, it will come together after kneading it for a few minutes.
Work through the mixed dried fruit and roll the dough into a ball. Put the ball into the prepared pudding basin and push it down.  Close the pudding basin off with baking paper and wrap in tin foil. Place on an inverted saucer in a pot large enough for the pudding basin and pour in boiling water to come up halfway the sides of the basin. Close the lid, cover any steaming holes the lid might have and steam for 2 hours.
Serve with carrot jam
"Mock apricot" Carrot jam
500 g carrot puree made from boiled carrots
500 g raw sugar
juice of 1 lemon
zest of 1/2 lemon, grated or cut into fine strips
5 apricot kernels
2 tablespoons brandy
Put the carrot puree in a large saucepan and bring to the boil. Add the sugar, lemon juice and zest and apricot kernels.
Boil until the mixture has thickened and gels quickly when spooned onto a cold plate.
Remove from the heat and take out the apricot kernels if you can spot them. Stir the brandy through the jam and decant into sterilised jars. Close the jars and turn them upside down to cool.
The jam has a hint of apricot; it was marketed as mock apricot jam.
This jam doesn't keep long and must be stored in the fridge.