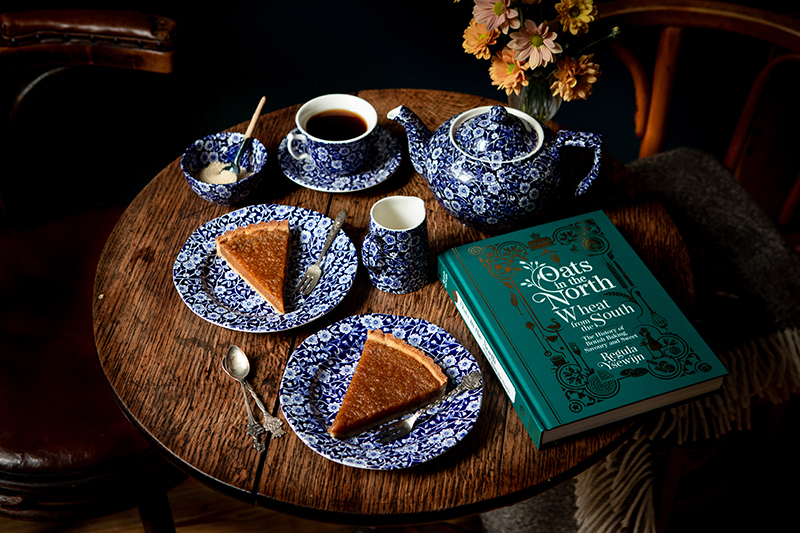 I am a huge Burleigh Pottery fan, as you will know if you have been following me on this website and my Instagram. I have used almost exclusively British pottery in my cookbooks Pride and Pudding and Oats in the North, Wheat in the South and a lot of that is Burleigh ware. That's why Burleigh Pottery and I thought it was a super idea to team up to celebrate British pottery and my latest book on British baking! As an extra treat I'm finally sharing the pictures I took at Middleport Pottery many years ago, scroll down to find a reportage.
On to the giveaway! The winner will receive my book Oats in the North, Wheat in the South and Burleigh Pottery are offering this amazing Blue Calico (my favourite!) set worth over £250 consisting of:
A Blue Calico Teapot
A small milk jug
A sugar bowl
A large cake plate
2 dessert plates
2 teacups and saucers
All you need to do to be in the running to win is follow @burleighpottery and me @missfoodwise on Instagram and comment telling us why you'd love to win this incredible set of British pottery! You will have extra bonus entries if you share the competition page from @burleighpottery in an Instagram story, or if you bake my Treacle pumpkin tart recipe on the Burleigh website and share a picture of it on Instagram tagging us both (so we can see it and share!). Competition ends 31 oktober!
Burleigh ware is made by hand at the iconic Middleport Pottery in Stoke On Trent, it is the last working Victorian pottery in England. Burgess & Leigh was established in 1851. "Burleigh" is a combination of the two names William Leigh and Frederick Rathbone Burgess who were the founders. In my book Oats in the North, Wheat from the South' which tells the history of British bakes and how the diverse climate of the British Isles influenced the growth of cereal crops and the development of a rich regional baking identity, you'll read the story of the staple food of the pottery workers in the North of England and how these bakes are a fantastic relevant and healthy breakfast or lunch option today.
But since Halloween or Samhain is upon us I wanted to create a treacle tart with pumpkin for a very English pumpkin pie for this occasion. This recipe was adapted from the treacle tart recipe my latest book 'Oats in the North, Wheat from the South'. Combining breadcrumbs with a sweet syrup in baked goods dates from before the 19th century, but the treacle tart that we know today came into existence sometime after the invention of the iconic golden syrup in 1883. It's called "treacle tart" and not "golden syrup tart" because "treacle" is the general term for by-products of the sugar-refining process. Pecans are a nice addition to the tart crust, but don't hesitate to replace them with more flour. See recipe on the Burleigh Pottery website here >
A couple of years ago I had the huge privilege to visit Middleport Pottery for a unique inside look into its Victorian buildings. Everything was covered in a thin layer of white dust, huge slabs of clay ready by the door. It was quiet and where there were people working, it felt like it was even quieter.  The orange brickwork of the pottery was a bright light on a grey day which felt more like oktober than june. Behind an unassuming door I found a treasure trove of moulds, some over a century old. There were moulds for teacups, plates but also elaborate jelly moulds and other decorative pieces. The layer of dust on them acted like a blanket, where they rest until they can be used and produced again. The sleeping pottery of Middleport.
The only regret I have is that no one told us about the canal on the other side of the building, a place where barges come and go and where you can see the unique tower-high factory chimneys. I hope that one day, when this pandemic is over, I can travel here again, to walk by the streams in the beautiful Peak District and to once again enter the archway of Middleport pottery and make my photo reportage complete.