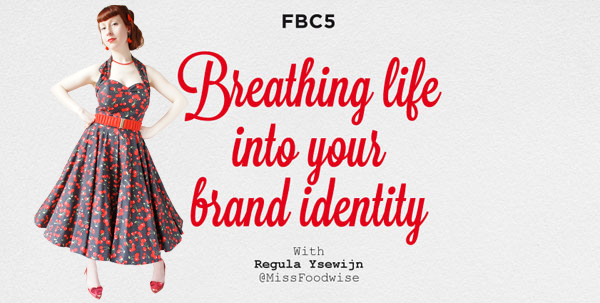 Just over a week ago I did a talk on 'Breathing life into your brand identity' at this years Food Blogger Connect Conference in London.
Like last year, it were fun food filled days and even the sun came out to play.  A few people who were there and a lot who missed the conference emailed or tweeted me to ask me to write about my talk, apparently branding your blog is a thing a lot of you think about these days. And I get it, us blogger have to be writers, photographers, stylists, web developers and why not also graphic designers.
I had the advantage of being a graphic designer myself, my husband is an art director/ illustrator and we have our own company specialized in unique branding and graphic design called The Tiny Red factory. Although I enjoy photography and writing more than graphic design these days, it will always be a big part of who I am.
So here are my views on branding your blog.
Branding is about asking questions and getting the right answers 
to build your strategy on.
First ask yourself this question:
Why do I blog?
Is it to build a business, to get some kind of income out of it or out of pure fun?
This will determine what kind of blog and branding you are building. Asking yourself questions and thinking about the answers will make for a more solid brand.
My brand has become me and I have become my brand, that is one strategy. Another strategy is to stay the person behind the blog and let you site/blog be your branding.
One golden rule is to stay true to yourself, don't paint a picture that isn't true. To get a successful blog you can't be dishonest about 'you' because you can't keep up a lie for ever.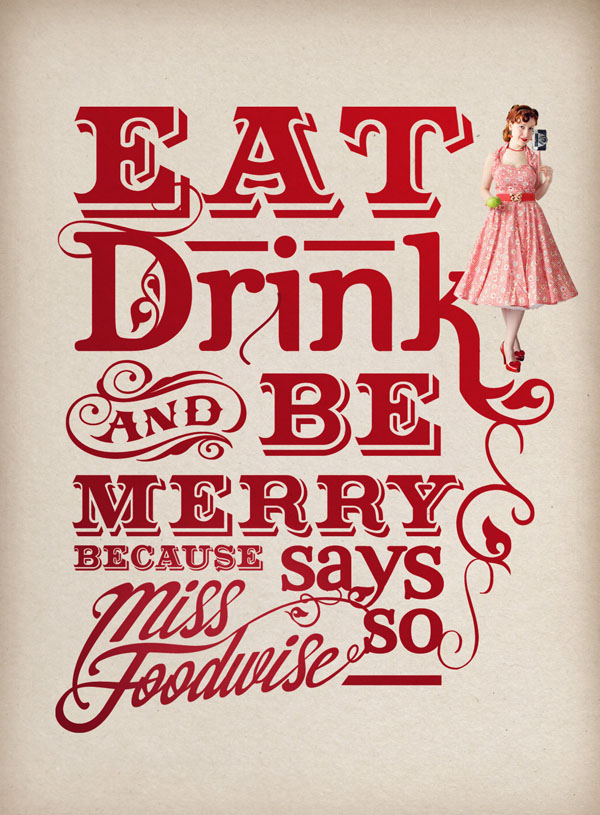 My branding integrated into my christmas card
Another important question to get straight before you take your brand to the next level is What do I blog about?
Do I have a niche, do I blog about food in general, parenting or am I a review blog. Make a choice. It doesn't mean you can't do a review or giveaway if you don't choose to be a review blog but it is good to figure out which way you want to go so your readers know what they can expect.
A niche is always good, find something that sets you apart from other blogs  –  be personal and be unique.
Choosing a blog name
If you have answered the questions above you might have a fair idea on what to name your blog. Make sure your name isn't too long, you still have a strapline you can use to explain things further.
Make it catchy.
Choosing a strapline
Keep it short and topical is the message here. Try to narrow it down to a few words. This benefits you SEO and will also be more easily remembered by your readers.
Your strapline can explain what you are blogging about, what kind of blog you are or a little about the person behind the blog.
A few words should say it all so have a good think on it or ask advise from a copywriter.
When you have your name and strapline it is time to take it further.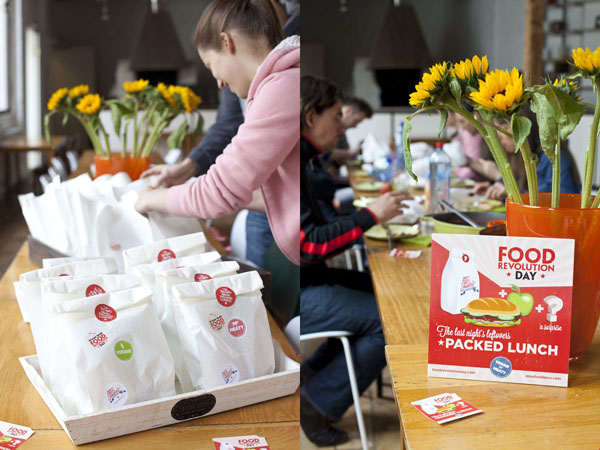 Taking your branding further – Miss Foodwise for Food Revolution
Create a Moodboard
Before you start your logo and pin down your visual branding, create a moodboard for yourself but also for your graphic designer if you choose to consult one – pinterest is a handy tool we ask our customers to use.
The board should be full with interests that are relevant to your blog, color scheme, fonts and styles. Have a play! Don't just pick things you like, pick things that represent you.
This will give your graphic designer an idea in which direction to work and will also help you to build your further branding. A solid moodboard will also keep the cost of a graphic designer under control. There is nothing harder than to design a logo for someone who doesn't know what she wants and budget can go out of the roof because of it.
At this point I think I mention the F-word in my talk… 😉
The logo
Although a logo doesn't make a brand it is extremely important.
It is the whole branding – the package – that makes your brand and how you use it.
When you create your logo, try to make it as clean as possible, don't try to put everything in you like, make choices.
A blog logo should have a web version which means one that works in your header, and a print version. On you business card the logo will be smaller so therefore it should be revised for print use as well. I myself have 3 different versions of my logo, one is my blog header, one is my logo for larger use and the last one is my logo for smaller use like on a business card or stationery.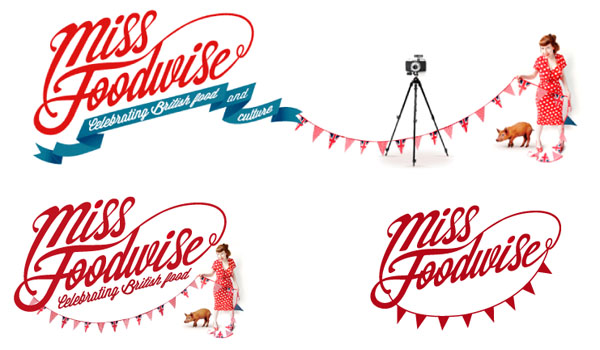 Ask for help!
Don't try and do it all by yourself.
Invest in a graphic designer, the time you spend trying to put a logo together is time you could be working on actual content for your blog.
It doesn't have to be a costly affair especially if you go to an expert prepared. If you have done your homework – like creating a moodboard – you will have saved money.
On to The blog
To choose a platform, an interesting post about choosing a platform can be found here.
I'm on blogger – changing to WordPress soon.
For the design of your blog – use elements from your logo like colors and or details from your logo to determine the rest of your branding.
Make it all come together visually and then go on to define it further via your content.
A HUGE part of breathing life into your brand identity is defining your writing style and photography.
If you write a blog on a farm, I don't want to see minimalistic studio photography, I want a country feel. Even minimalistic can have a country feel, be creative. The fact that you are on a farm, or perhaps in a renovated industrial building can be a selling point – it can be part of your branding.
For writing, try to find your voice and stick with it. It doesn't mean you can't evolve but try and find a rhythm that is truly yours and tell a story.
It can be conversational or more formal, again a choice you have to make. Here on my blog I tend to write more conversational because that's just who I am, I am a chatterbox! My English won't always be correct, but hey, I'm Belgian and that's my voice! I'm not ashamed of my accent, it becomes part of who I am.
Typography
Make sure everything on your blog is reader friendly.
Go for contrast and just think, would I read a book if it looked like this. I've seen blogs with orange text on blue background, you stop reading that after a while.
Font size
Make sure the font size is large enough to read comfortably.
Anywhere around 12-16 px is readable for your blog posts, your title can be larger.
Of course the font has to work with your branding but it also has to be readable.
Different browsers and different screens render fonts differently.
Make sure the font you choose is a web safe font, one that also works on older devices and especially on PC.
A font that looks gorgeous on Apple might look awful on PC!
On this website you can test fonts to see if they are suitable for body copy.
Curly fonts aren't suitable for body copy of your blog posts however they can be used for titles. Just make sure you choose a web safe font!
About page
Also very important to breathing life into your brand identity is is your about page. On this page you should tell a little something about yourself and show your face. People always enjoy reading blogs more if they know who is behind it.
If your about page is too generic and has no profile picture, you will loose readers. Blogs are personal, so your head shot is a selling point. Include contact information, you don't want people to have to search for you details, provide them clearly.
For writing a good about me page, go to Dianne Jacobs blog for a post here.
Your brand in print
Put some thought into your business cards, they have to show who you or your brand are.
Add your full name! A lot of blogger forget to add their names on business cards.
Add your logo, your social media handles – if you like but especially your main contact details. We don't need to see your profile picture on there -unless that's your brand of course – but show a picture of your food or something else that people can link to your branding.
Don't go all corporate in your business cards if your blog has a fun 'down to earth theme', that just doesn't fit. Like I said before, make sure your logo is suitable for print. If your logo looks great when on your blog when it is large it might be too small and unreadable when scaled for your stationery.
Always look at your moodboard for inspiration. Again, your moodboard is here for keeps!
And finally, let your branding be the red thread that runs through all that you do!
Thank you for all the lovely tweets during and after my talk, I'm glad it was useful! x
LINK LOVE
Which platform to use
Branding Your Blog: You're Doing it All Wrong 
Are you making these 3 mistakes on your about page