There is something to be said about British cheese.
They are versatile as much as they are delicious.
I've been a keen explorer of these cheeses for a few years now and I am amazed by the variety of cheeses this country holds.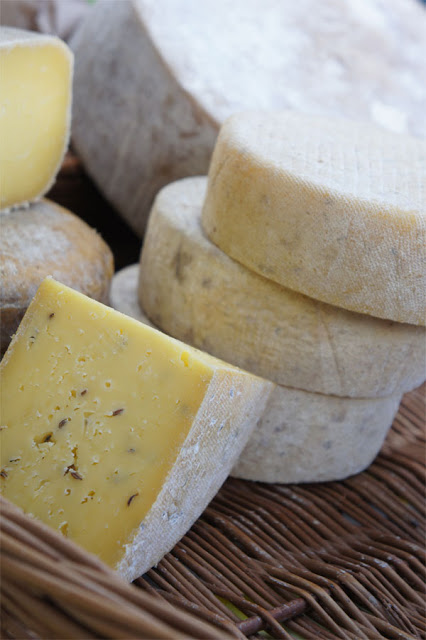 Caraway seed cheese by Crudges – The Cotwolds
Some are huge, some are tiny some have strange shapes but they all have one thing in common: they are a product of love and caring.
I was lucky to talk to a few cheese makers and the most important thing they all have in common is a passion to create an outstanding product.
As you might know already, my heart beats a little faster when I meet people who are passionate about creating their delicious product.
I enjoy to see the smile on their face when they tell me how they made it, the sparks in their eyes because someone is taking an interest and the warmth they share by telling me about it.
Over the last years the small cheese makers are popping up all over the UK.
There are over 700 cheeses produced in the UK so there will be a cheese to everyone's taste.
A broad public is becoming more aware of the benefits of artisan products and are starting to prefer these product to the mass produced items the supermarkets have on offer.
Lord London by Alsop & Walker – Kent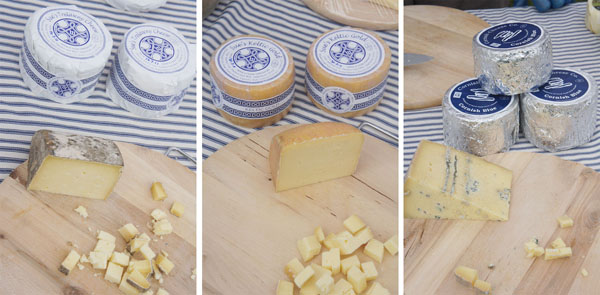 Trelawny, Keltic Gold, Cornish blure – Cornwall
Cheese has been made in Britain for over thousand years but it was during Roman times that the techniques were refined. In Medieval times most of the cheeses were made by monasteries.
Cheshire is one of the oldest British cheeses. It dates from Roman times and is even mentioned in the Domesday Book. Wensleydale was made by monks at Jervaulx abbey in Yorkshire and can be traced back to the 12th century.
From around the 16th century, cheeses were being named after the region in which they were made.
In the 19th century during the Industrial revolution, it became more profitable for dairymen to sell milk rather than making cheese. The new railway networks made the transport of fresh milk over larger distances possible. This resulted in a situation where less cheese was being produced in Britain.
In the 1940s cheese making suffered another blow due to WWII. Milk was rationed and the Ministry of Food banned cheese making in general, only one type of cheese was allowed to be made: the National cheese. By the time the war had ended only a few varieties remained.
It would take almost 30 years before cheese making became popular again and it hasn't stopped since. We've only seen a thriving trend with old cheese recipes being re-discovered and new ones being developed. Cheese varieties that were once lost were now found again.
I've been wanting to write this post about British cheese for some time now but as it's British cheese week this week I thought it was just the time to start writing.
British Cheese Week starts with the announcement of the winners of the awards and the opening of the Great British Cheese Festival.
Some British alternatives to well known cheeses
Tunworth – Camembert
Carnevale's Greys Farm in Theydon Bois, Essex. – Ricotta
Farmers' Hand – Parmesan
Mature Winchester – Parmesan
Fine Fettle – Feta
Cornish brie – Brie
Frances Wood's Somerset mozzarella – Mozzarella
Berkswell – manchego
Ogleshield – Raclette
Cornish Blue – Roquefort
Cashel blue – Fourme d'ambert
(note that there are a lot more…)
A few places to buy British cheeses:
Neils Yard dairy
Borough Market
Daylesford farm shops
cheddar gorge cheese co
Online
UK
Neils Yard dairy
Daylesford farm shops
cheddar gorge cheese co
USA
www.zingermans.com
www.igourmet.com
Useful links
http://www.greatbritishcheesefestival.co.uk/content.asp
http://www.britishcheese.com/
http://www.thecheeseweb.com/contentok.php?id=205
http://www.great-british-cheeses.com/