The view at 7 in the morning…
You know that feeling when something sounds to good to be true?
I had that feeling about Tuscany…
Like so many people, I had fallen in love with the pictures in magazines, travel guides and the tales of good food and wine.
I was very eager to find out if the story's about Tuscany were wildly exaggerated or true.
After arriving at Pisa airport, I took the train to Florence where I would meet two of my fellow food bloggers Zita from Hungary and Karin from Germany. We were going to explore the city and later drive back to to meet our lovely hostess Giulia, for dinner at Trattoria Bel mi' Colle in Colle di Val d'Elsa. Florence is grand, we had fantastic coffee at Roberto Cavalli, visited David and strolled around town feasting our eyes on all the pastries. When we left Florence it started to get dark, we saw the sun set over the Ponte Vecchio and drove off to Colle di Val d'Elsa in pitch black.

Panforte, a Tuscan speciality – Carabinieri – Lovers lock at the Ponte Vecchio
The next morning I woke up at 6:30, too early but so eager to finally see Tuscany! I got up, took my camera and opened the blinds on the windows of the house.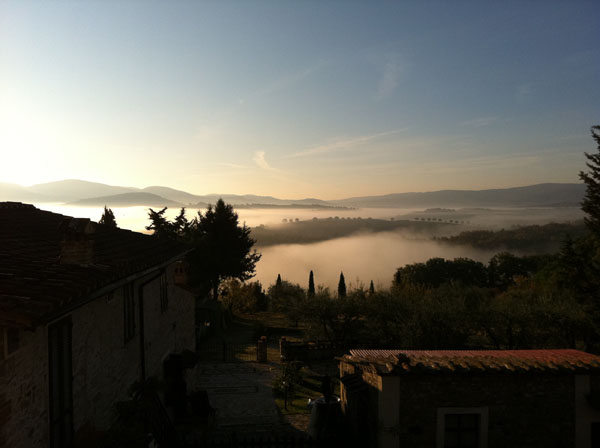 The view at 6.30 in the morning.

The view… Perhaps it was the cold and the fog of dawn, but I was breathless for a moment.
I think I must have stood there for half an hour, looking at how the colors of the landscape changed by the minute.
Seeing the sun rise up behind the roof of Giulia's house and warm the room with the last warmth an autumn sun gives.
I ran outside, still wearing my gingham pyjama and only a big red scarf to warm me. There was so much to see, so much beauty.
The dew on the olives was slowly drying up, the landscape turned from pink to orange and the sun shone on my red hair making my braid look like it was on fire.
I felt all kinds of emotions at ones, running around like a child, trying to capture every moment with my camera.
In the house, the girls started to wake up. The light changed from orange to a bright yellow with a deep blue sky. The day had started, we had a cup of tea and left to have breakfast in a little pasticceria in Siena.
We ate grapes straight from the vines, sat in the sun and tasted a lot of delicious food.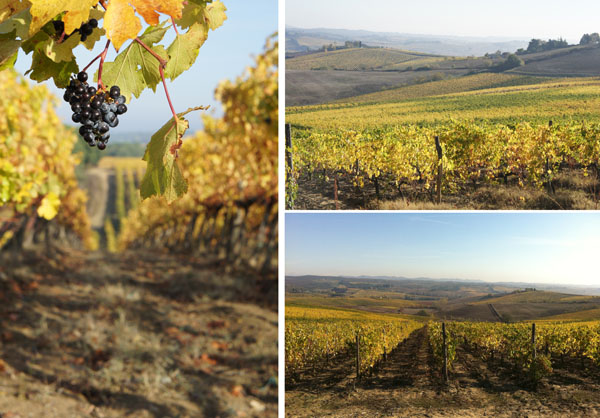 These grapes that were left behind after harvest, were without doubt the best I've ever had!
On our roadtrip we went to a medieval little town called San Quirico and to a village known for its thermal waters, Bagno Vignoni. This is where we ate Pici for luch, a traditional thick hand rolled pasta whilst sitting in the warm sun. When we arrived at the Renaissance town Pienza, the sun was already hanging low in the deep blue sky. We tasted pecorino and wild boar sausage in a sweet little shop and walked trough the town when the setting sun started to color the ancient buildings orange.
The evenings are getting quite chilly so when we were walking through the streets of Siena in the evening, we warmed our hands on a bag of roasted chestnuts, not that it was very cold but we just enjoyed the romantic feeling of passing the warming bag of chestnuts to eachother.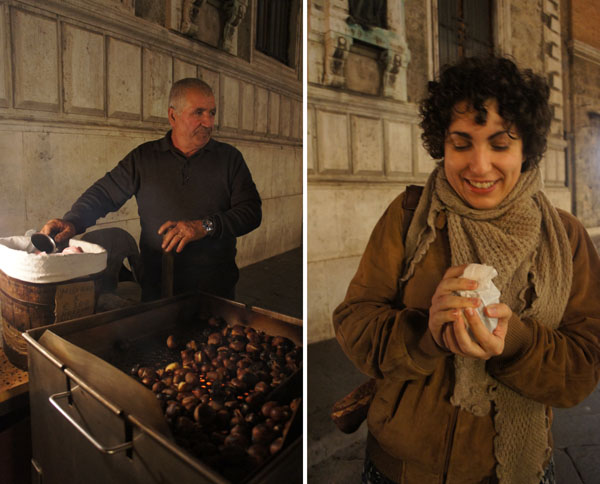 Chestnuts warming the hands of lovely Giulia
The height of our trip must have been the farmers market at Montereggioni, a quintessentially medieval castle. We tasted the new Organic Olive oil, had snail ragout for the first time and bought a load of beautiful local produce. I will show you this adventure in my post next week. (see post here)
For lunch we made chickpea crepes, pasta cacio e pepe and for dinner we made fresh pasta tagliolini with truffle. In the evening we went to the Chestnut festival in the old part of Colle val d'Elsa. Everything seems to evolve around chestnuts, wine and olive oil at the moment. Autumn really is the perfect season to visit Tuscany.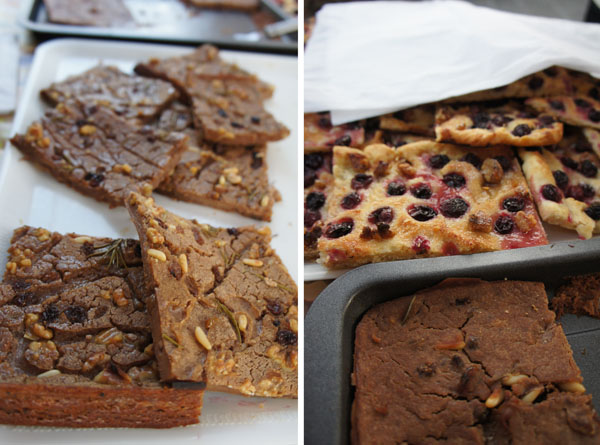 Tuscan pastries: left: Castagnaccio, chestnut bread with rosemary. right: Schiacciata con l'uva, flatbread with grapes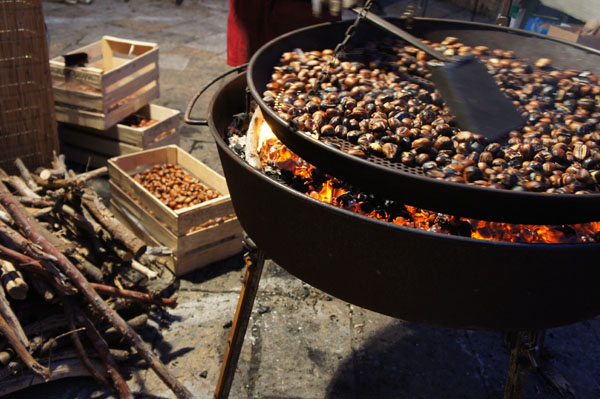 At the chestnut festival the whole town waits while the chestnuts are being roasted..
Sadly, the next day our journey came to an end, so after a nice walk through the Tuscan countryside we set sail to our homelands.
These were truly a wonderful four days, thank you Giulia for being such a fantastic hostess and for your warm persona.
I will never forget this, ever.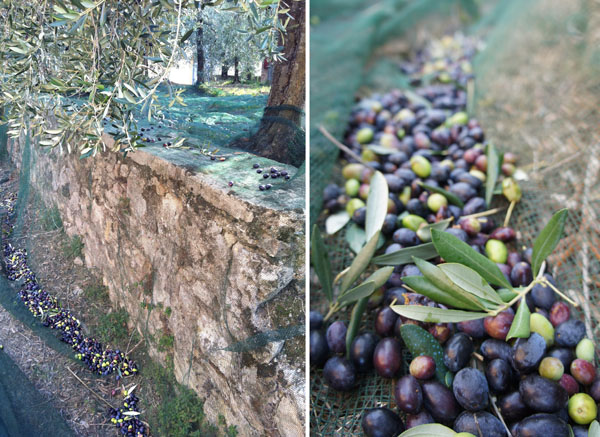 Olives are harvested by families, who then take the olives to a mill where they press their own Olive oil.
If you would like to see Tuscany through a local girl's eyes like we did, Giulia arranges Tuscan food & wine tours and Italian cooking classes at her fabulous Juls' Kitchen.
Fabulous places:
Nannini, Via Banchi di Sopra, 24, Siena. For Panforte.
La taverna del Pecorin, Via Condotti1, Piento. For cheese and delicatessen
Trattoria Bel mi' Colle, Via Giuseppe Garibaldi 56, Colle di Val d'Elsa. For good local food and wine.
Caffè Giacosa, Via Della Spada, Firenze. For the best coffee and a slice of cake.
Pasticcerie sinatti, Via Fiorentina 99, Siena. Fantastic place for breakfast.
Trattoria La Parata, Piazza del Moretto, Bagno Vignoni. For traditional pici.
To be continued…
Other posts about Tuscany:
• A trip to the farmersmarket of Monteriggioni and Chestnut cake