A beautiful farmers market in the heart of a fortified town.
It was a sunny autumn morning when we left for Monteriggioni, the fog had slipped away and gave way to a yellow and brown colored landscape.
We changed our clocks one hour ahead that night so when we awoke the dew had already dried up and the sun was giving a warm glow.
We drove trough the rolling landscape of Tuscany to reach the hill where the quintessentially fortified town of Monterriggioni lies.
From a distance the town looks like a giant fairytale castle, as we drove towards it my thoughts wandered off to the Middle Ages when Monteriggioni was at the very heart of the conflicts between Florence and Siena. I imagined large battalions of knights approaching the town and peasants going about their business. The knights have all gone now but the farmers remained and were the reason we were driving here today.
Today was a special day in Monteriggioni because in the heart of the fortified town there was a farmers market going on. It was only for one day and there were no certainties for it to happen ever again. The town square was filled with food stalls, producers were proudly presenting their new Organic olive oil and wines were given to taste generously. There were smiling faces everywhere, from the stallholders insisting we'd try their food to the people who were enjoying the scenery and the sun. It was like at this moment, everyone was happy here. There was no music, no dancing but nonetheless this was a feast, a food fest.
The produce at this market was absolutely beautiful, if I could I would have bought something from every stall. But luggage restrictions bound me to making choices, a choice like this is hard to make. What do I leave behind, the glorious organic chestnut flour or the tasty Boar salami… I decided to leave the Fava beans behind and regret that choice every day since. What if I could have fitted an extra bag in my luggage?
Oh well, you can't have it all and I went home with a beautiful selection of food.
Monteriggioni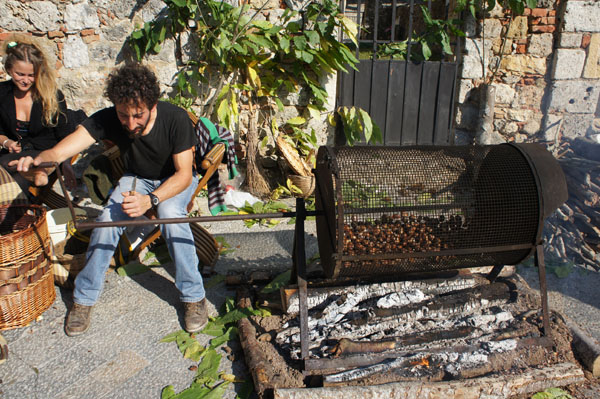 Chestnuts roasting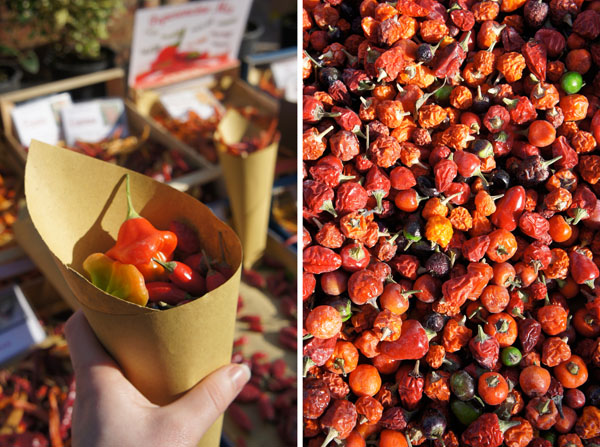 Fill your own cone of tasty chillies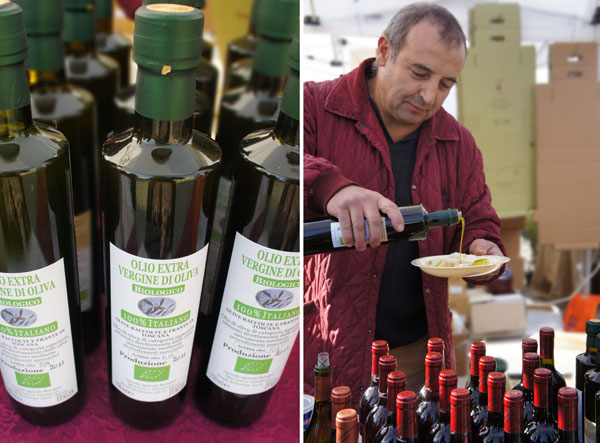 Proudly presenting the new Organic olive oil of 2011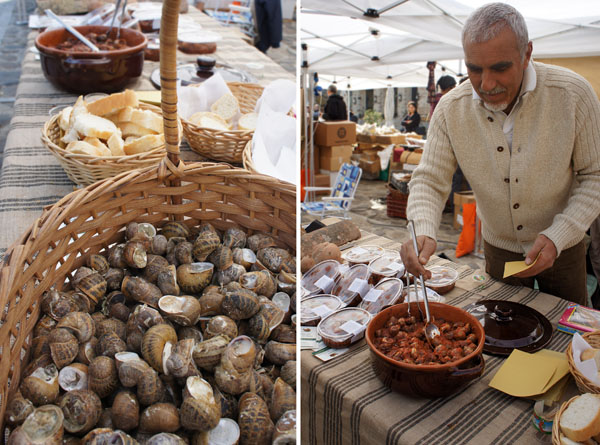 Snail ragout, suprisingly delicious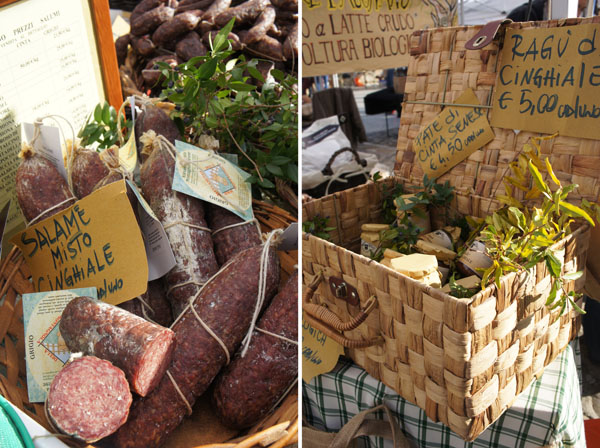 Wild boar delicacies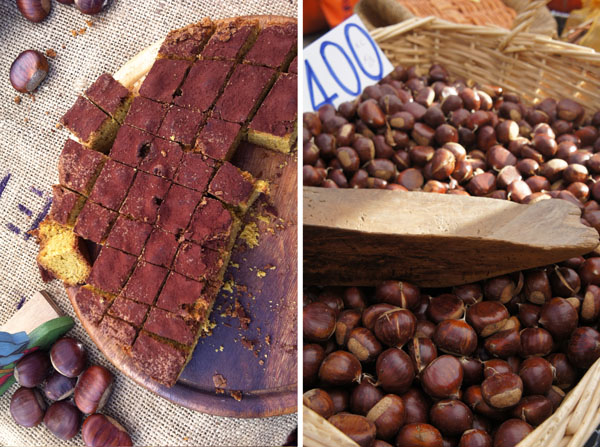 Chestnut cake, recipe for my version of this cake below.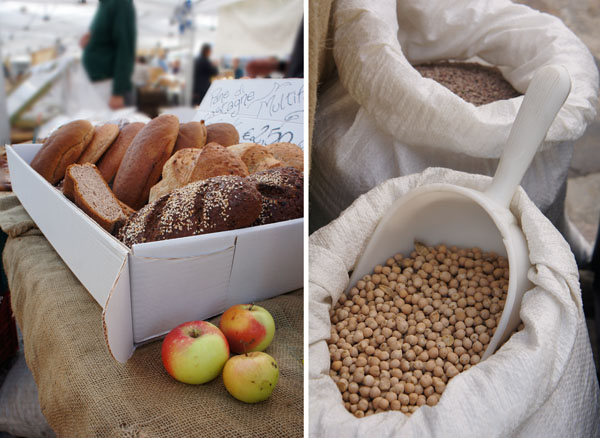 Chestnut bread and chickpeas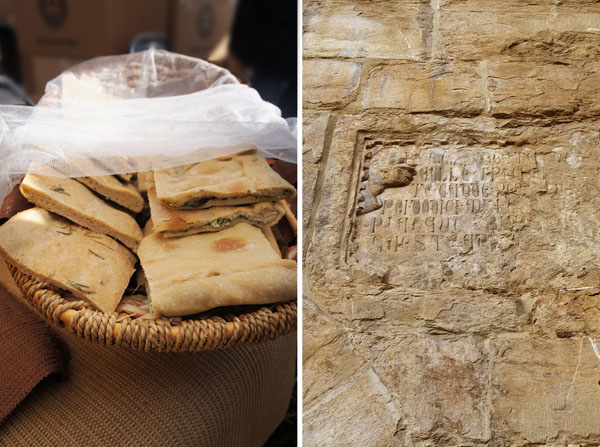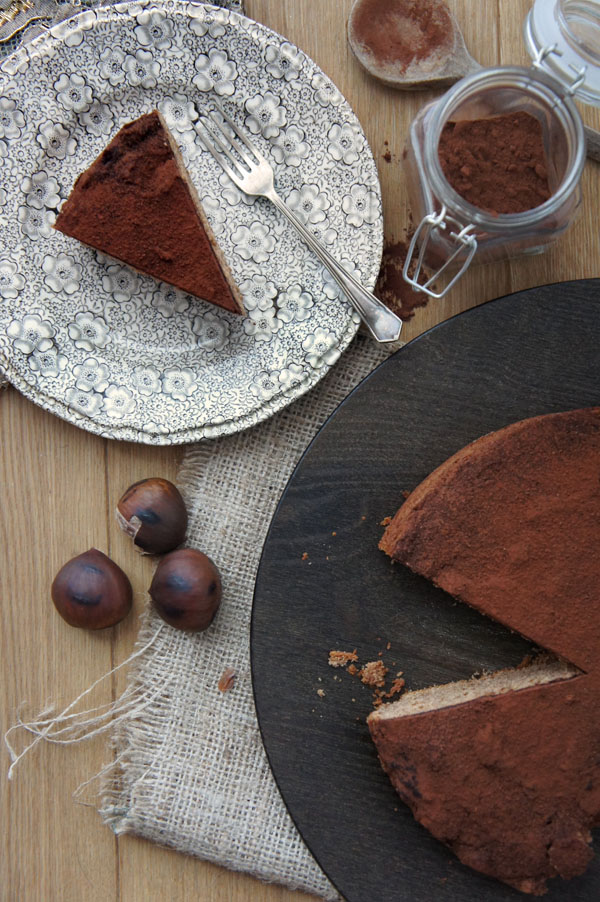 I baked a cake with the organic chestnut flour I bought at the market.
My friends and I tried to bake this cake in the evening as we tasted chestnut cake at the market that day. The heath of the oven warmed Giulia's house and filled it with a lovely smell of chestnuts, on this chilly autumn evening.
We loved it so much at the market, I decided I wanted to have another try at reproducing this wonderful cake. After a few tries I came up with this recipe, it's not at all the cake we tried at the market but I think this one tastes more of chestnuts, which was something I was going for.
Ingredients
200 gr of Chestnut flour
75 gr of corn flour
175 gr good quality butter (unsalted)
1,5 teaspoons of baking powder (check the pack, not all brands of baking powder are gluten free)
4 organic eggs
50 gr of cane sugar
3 teaspoons of Ricotta
1 teaspoon of Cocoa
Method
Preheat your oven to 160° (gas)
Cover a cake tin with baking paper
1. Mix your butter and the sugar, whisk until creamy
2. Add the eggs one by one
3. Add the Ricotta to the butter and egg mixture and stir
4. Add the two types of flour to a bowl and add the baking powder
5. Add the butter, egg and sugar mixture to the flour and mix together.
6. Pour the batter into your baking thin and put in the oven for about 50 minutes.
When you take it out of the oven, leave it to cool in the baking tin.
Dust with Cocoa when the cake is still warm.
You wouldn't believe how much this cake tastes of roasted chestnuts, just divine!
A good thing about this cake is the low amount of sugar used.
Enjoy!
Next week I'm attempting another dish I discovered in Tuscany: Fagloli al fiasco
Have you missed my previous post about our Tuscan escape? You will find it here
Special thanks to Giulia from Juls' kitchen
Please leave a comment. I appreciate every single one.