I love social media, a few weeks ago I saw some tweets passing by from a friend about a restaurant she was at. The tweets got me all excited to go to that restaurant, I got my review about the place from a reliable source because I know the lady and know she is a tough nut to crack 😉 So when we decided to go to London, that restaurant was my first choice.
I tend to do my research before I book a table for dinner. You probably know the story, first you google it for reviews than you go to Tripadvisor. Thanks to social media, you can just ask someone who you know you can trust on the matter. I mostly check if another foodblogger has written something about it on his or her blog.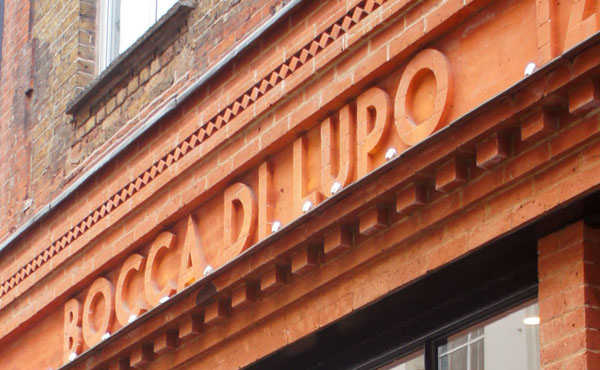 Back to the post. We are at Bocca di Lupo today, because of Twitter.
After a walk trough the busy neighbourhood of Soho we turned into a quiet street where the restaurant and it's little sister Gelupo have found their home.
'Bocca di Lupo' the child of
Jacob Kenedy
and Victor Hugo, opened its doors in the winter of 2008 and has since received numerous awards and great reviews for its down to earth 'real' Italian cuisine.
On their website they say that despite being in glamorous surroundings they are still "a family business and a humble trattoria at heart".
If they can make something themselves, they will and some of the home made delights are available along with their gelato across the street at
Gelupo
.
We had high hopes and quite and appetite after we went prop shopping at
Potobello Market
in the morning.
The onion focaccia and the big green olives soothed our first hunger and soon we made a choice between all the delicious dishes on the menu card. Next to every dish on the menu is the region mentioned where it originated from, nice touch.
Sitting at the Chefs counter we were able to see all the cooking happen in front of our noses.
We had a few primi from which I must say the radish salad was my absolute favourite, even B who would usually never touch pomegranate loved it.
The great thing about this place is that you can choose between a large or a small portion so you can have an assortment of small plates to taste if yo want.
That way you can try a lot of things and you don't form an opinion on just one or two dishes.
B was totally in love with the spinach and ricotta malfatti and I could have eaten a bucket load of the tortellini filled with Mortadella. I had tripe 'Italian style' for the first time and rather liked it.
Soon all the little plates were empty and spoons licked clean.
The service was correct, attentive and not too formal, just the way I like it.
This Italian restaurant is a little gem tucked away in Soho, after our meal we crossed the street to Gelato for the delicacies and ice cream.
I left the Bocca di Lupo experience with the big Bocca di Lupo book under my arm and a Ricotta bonbon in my mouth.
Lovely experience, can't wait to eat here again.
Bocca Di lupo
12 Archer street, Soho, London
Underground station: Piccadilly

Some of the dishes we tried