On saturday mornings I look forward to a wholesome slice of bread, spread with -when I have the time to make it- home made butter and a sprinkle of seasalt or jam that reminds me of the warmer days of the year passed.
But it has become so hard to get a decent loaf these days, I admit I'm not the easiest of customers but I think my wishes aren't odd at all.
I want 'real' bread made from good quality – organic – stone ground flour, not low protein Chorleywood style loafs or other breads that have been made in a jiffy filled with additives and bread enhancers that feed food intolerance and allergies.
Many people don't realise that when they buy this unnaturally square shaped spongy bread they get more than they bargained for. Chorleywood bread is one of these wonderful inventions of the 60's when everything had to go fast and had to be industrialised. The ingredients don't only list low quality wheat flour, water, salt and the double amount of yeast used for 'real' bread, it also contains a cocktail of hard fats, ascorbic acid, enzymes, emulsifiers and other chemicals that speed up the process.
Some scientists claim that the Chorleywood method is responsible for the growing amount of people who have trouble digesting bread, the use of potassium bromate (E924) -which is now banned in the EU but not the US- being the primary cause. Potassium bromate is carcinogenic and nephrotoxic to experimental animals, causing cell tumors to the thyroid and Renal cell carcinoma.
I apologise for the usage of these scary words but when I found out about this an researched it some more I felt I had to share it with you.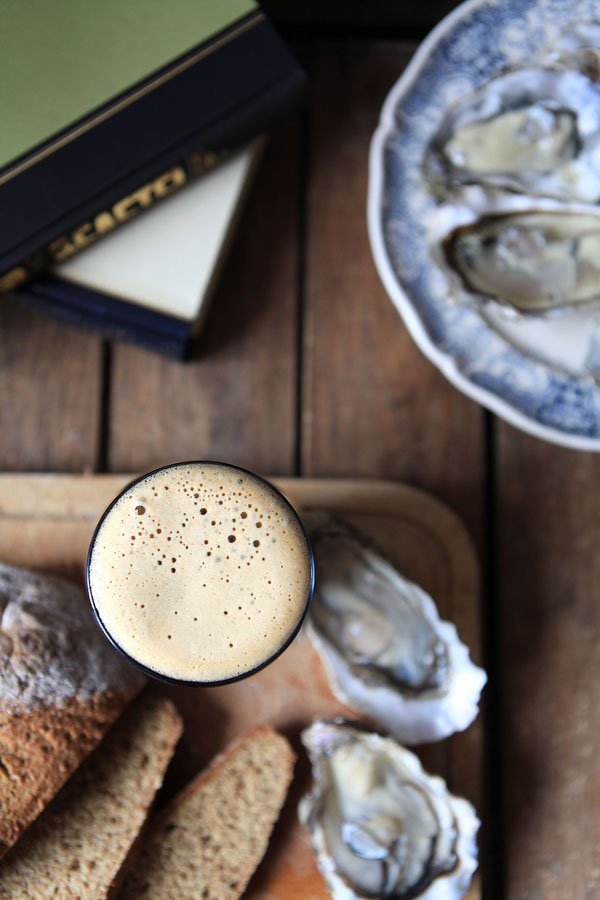 Soda bread, oysters and a pint of stout. A fisherman's tea.
I don't want to be the one screaming 'horse meat' but I wouldn't be surprised if this harmful E924 would still be circulating in our food chain. After all it isn't banned all over the world and still used widely in the US.
The Chorleywood method is used all over the world and not exclusively for the iconic square shaped loaf but also to speed up the process of regular bread.
I've stopped eating store-bought bread unless I know it was made traditionally.
Now I know some people might argument that baking your bread takes longer and one hasn't the time to do this very often and I agree.
Baking this Soda bread is in my opinion a great alternative to baking your bread traditionally when in urgent need of it and no time to spare. Made with good quality organic wholemeal flour this makes a fine loaf in just 45 minutes – baking included. This is faster than hopping on my bike and driving to a store.
Soda bread is an acquired taste but I promise you it is very much a treat on busy saturday mornings when all you need is to get on with things.
In soda bread Bicarbonate of soda is used as a raising agent instead of yeast or a sourdough starter, the process is activated by the acidity in buttermilk, live yoghurt or in some traditional recipes even stout beer. Buttermilk and live yoghurt contain lactic acid, which was also used in Milk stout beer before the usage went out of fashion. The lactic acid reacts with the baking soda and forms air bubbles of carbon dioxide. The trick is to underwork your dough and get it in the oven as fast as you can to get a good rise.
Unlike the chemicals used in Chorleywood method, baking soda and lactic acid from buttermilk, yoghurt or beer, isn't harmful to your health.
In Ireland Soda bread is often eaten with oysters, before the decline of oyster beds they used to be a cheap source of protein. The tale goes that down at the harbour pubs, fishermen used to get served soda bread and oysters along with their pint of stout. I must say it is a treat indeed, the bitter taste of the stout pairs perfectly with the salty oyster especially when fresh and still drowning in seawater. The soda bread brings a slightly sweet and sour taste to the table, along with a crumbly texture.
So now perhaps a treat only enjoyed on special occasions.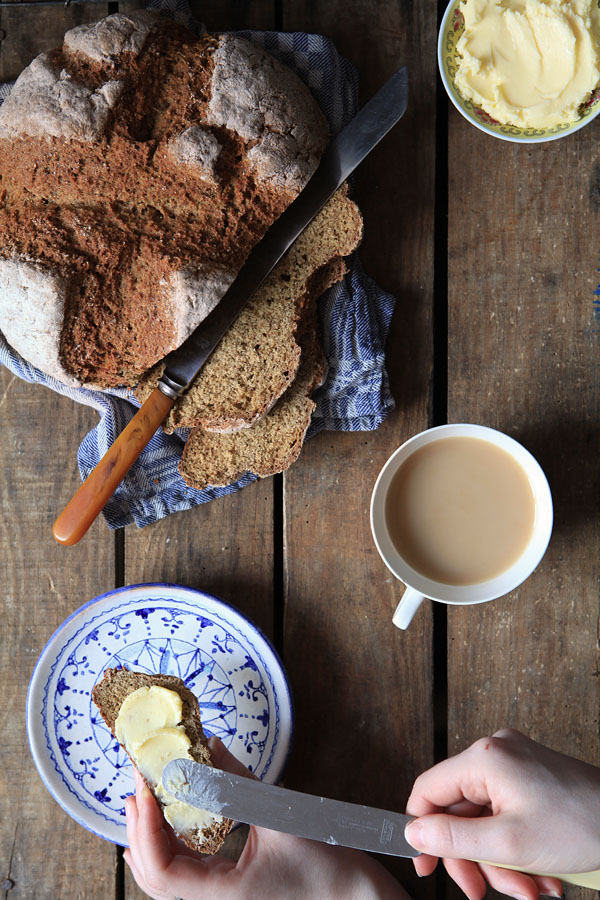 What do you need
500g good quality – organic wholemeal wheat or spelt flour
2 teaspoons of baking soda
1 teaspoon of seasalt
400 ml buttermilk
or 200ml live yoghurt and 200 ml milk
or 200ml stout beer and 200 ml buttermilk
Method
Preheat your oven to 180C°
Line a baking tray with greaseproof paper
Combine the flour, baking soda and salt well in a bowl.
Add the buttermilk, milk, yoghurt or stout – whatever you chose – and mix with the dry ingredients.
Quickly form a wet dough – it is important to get the bread in the oven as quickly as possible and not to overwork it – dust it with flour and cut a cross half way down the dough.
Put on the baking tray in the oven for 40 minutes.
Eat warm and spread with a generous amount of butter …
For a smaller loaf, split the recipe in half.
You might also like
Home made butter – so easy and so worth it! >