As the weather suddenly changed from gloriously sunny to dreadfully grey again, I ventured out to beautiful yet misty Dorset to be a judge on the Great Taste Awards.
After seven hours on several trains I finally arrived in Shaftesbury, one of the highest and oldest towns in England. Shaftesbury, also known as Scaepterbyrg in the Domesday book was either built or rebuilt by Alfred the Great in the 9th century when he also founded the abbey where his daughter Ethelgiva would be the abbess. Although a Saxon settlement, there is reason to believe that a much older Celtic village named Caer Palladur used to exist on this hilltop.
I walked up and down Gold Hill three times and sat on the cobbled street at the top of the hill to watch the evening spread it's cloak over the valley. After a walk I ended my day with a much needed pint of Chocolate Stout at a local pub and a plate of excellent Devon crab – with Hovis bread of course, as you do when in Shaftesbury. The town and especially Gold Hill has become famous for the evocative Hovis advertisement film in the seventies. The film was directed by Riddley Scott, whom you might know from films like Gladiator and featured a small lad pushing a bike with a basket laden with a loaves of bread up the steep cobbled street of Gold Hill on the tunes of Dvorak's 'New World' Symphony. The advert has been voted Britain's most popular advertisement of all time and shows the power of a good advertising campaign. It's a deceiving plot to convince the consumer that Hovis bread is something more artisan than just a factory made bread. It feeds on nostalgia, showing images of times gone by, suggesting the bread is still being made by the traditional method. It is not. It is made by the fast 'no-time dough' Chorleywood method using not only wheat flour but also a larger amount of yeast, emulsifier, stabiliser and Soya flour. Things that are hardly traditional.
This brings me back to the Great Taste awards and how important the Guild of Fine Food is in supporting artisan and 'real food' producers. We're turning back towards foods that are once more traditionally made with the best possible ingredients out there. Pasture fed beef is now a regular term as well as rare breed pork and raw milk yoghurt. We want quality for our pennies again, and we want to make a difference when we do our food shopping.
After my ponder gazing down over Gold Hill I decided an early night is what was needed as the next morning some serious judging had to be done. Not only is winning a Great Taste Award for your product an excellent way of promoting it, it's also an unique opportunity to receive feedback about that product from the 'crème de la crème' of the British and Irish food scene. The panel of experts is perfectly balanced and consisting of food buyers for the leading speciality stores, seasoned food writers, critics, chefs and other people who have earned their mark in food.
Every grade we gave was weighed up and discussed, these decisions have not been taken lightly as so much depends on it for the producer. In the afternoon it was up to a selection of the judges to choose the overall winner from the 15 products that were chosen to receive the 3 star rating. I can't be sure which of the products won the overall winner of the awards, I have my fair idea as one of the products left me silent and wanting for more… We will have to wait until september when all the winnings are announced.
I feel truly privileged to have been a part of this and to taste so much beautiful food.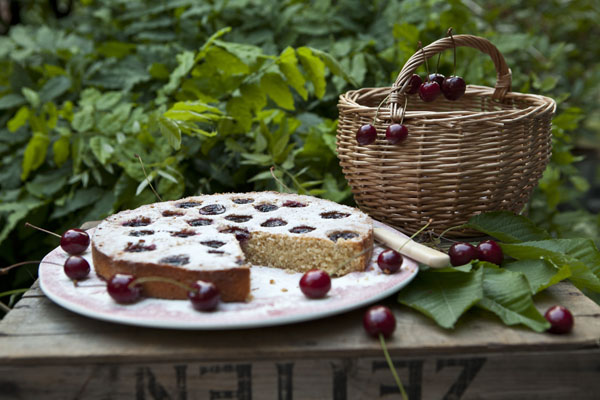 So here I give you a slice of the cake I took with me on my long travel to Dorset this week. A super easy gluten-free, low GI, super delicious and nourishing Cherry and Almond cake.
While other years the yield of my tree was about five cherries, this year it must have been twenty. I had my eye on them as the birds had too, and I was set on picking the little red jewels before the birds would steal them. Although I do feel a bit guilty for taking this delicious cherry treat away from Mr and Ms Blackbird, the family Great tit and the little Wrens, this would be the first year I would actually get to enjoy my own crop.
At first I was thinking of preserving the cherries by making my cherry brandy, but then I suddenly craved a cake with almonds and thought the cherries would make a lovely addition to the bake.
I really was too hot to turn on the oven to be honest, but when a girl wants cake you can't argue with her. So I baked.
To get as much out of the oven temperature as possible I also added a jar of prunes to the oven, I like to do that because then you are using your oven for more than just your cake and end up with a lovely slow cooked prune puree that works like magic as a filling in a prune tart like this one here.
What do you need
200 g good quality unsalted butter soft, not runny
100 g sugar
3 organic eggs
50 g buckwheat meal or another gluten-free flour
125 g almond meal made of blanched almonds
cherries, a handful, pitted and halved
Method
Prepare a 22 cm round cake tin – spring form is best -with greaseproof paper and set aside
Preheat your oven to 160° C
Cream the soft butter and sugar together in a mixing bowl and use an electric mixer to beat the mixture until light and fluffy
Add the eggs one by one, beating well
Add the almond meal and the other chosen gluten-free flour bit by bit and combine well
Transfer the dough into the prepared cake tin, press down the halved cherries into the dough and put in the preheated oven for 60 minutes or until golden.
Tip: Why not use the cherries from last years Cherry brandy ?
You might also like
Strawberry Spelt Shortcake
Chocolate beetroot and walnut cake
Cherry brandy