A year ago, while on my never-ending quest for rare books, I stumbled upon a selection that once belonged to one great man.
Upon his death over a decade ago, his impressive library was split up and sold to the highest bidder. It was a collection of great value, which showed how this man did his research, and the thoroughness of it.
Alan Davidson was the owner of these books, and although the lot I bought was small compared to his enormous library, it already shows an insight to his train of thoughts.
Various seemingly unimportant books all decorated with his fish bookplate, on wild fruits, on citrus, on cider making and even books in Dutch and French. It is no surprise to me after spending 2 years researching pudding for my book, that Davidson spent 20 years to write that bible; the Oxford Companion to Food. Today that food bible is the first resource I grab when I am in need of an explanation. If it weren't such a large and heavy tome, it would be my bedside reading. And it is so well respected and loved by many that facts from Davidson's Oxford companion to food are even used in the program IQ, presented by Stephen Fry.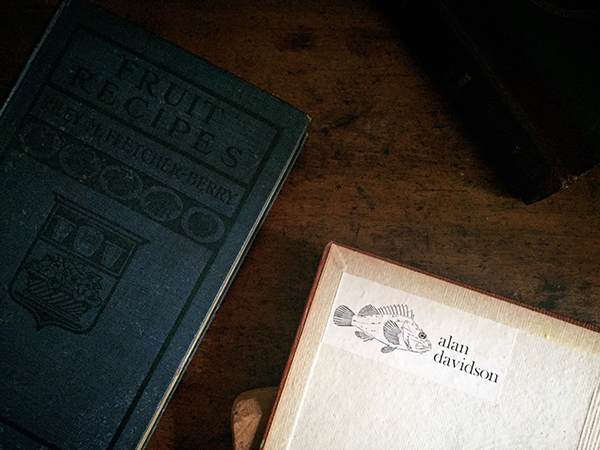 Although I never met him, I think I would have liked Alan Davidson for his down to earth manner. He loathed food fads and said in a radio interview in 1993:
"Haute cuisine, as they call it, is something I avoid, I am far more interested in what ordinary people eat.
And I am far more interested in producing information about say cookery in latin America, Afrika or South East Asia than adding to the already enormous pile of material about say cookery in France. I'm keen to add to the cell of human knowledge rather than just repeat."
Davidson wrote his first book on food for his wife when they were living in Tunis – a handbook giving the names of 144 species in 5 languages with some recipes of people he met there. This was upon her request so shopping for food on the market would be slightly easier not speaking the language and not recognising most of the fish on offer.
The result was 'Seafish Of Tunisia And The Central Mediterranean' illustrated by art students in Laos which he published himself. Elizabeth David reviewed it in her column for the Spectator and passed it on to Penguin who published it as 'Mediterranean Seafood' in 1972. Tom Jayne writes in Davidson's Obituary that Elizabeth David, ever watchful of professional values, had advised the diplomat to avoid self-publication.
In 1979 Davidson started his own publishing house called 'Prospect Books' and a journal of food studies Petits Propos Culinaires or PPC which was taken over by Tom Jayne in 1993. The publishing house has published some of my favourite books on food history and culture and their facsimile editions of old cookery texts have been valuable to me and many others. We can only be thankful that the team behind Prospect Books then and now have saved so many ancient and more recent books from being entirely forgotten, and that they managed to give life to new and slightly quirky books on food subjects. Titles range from 'Noshe Djan' (1987) a book on Afghan cookery to 'Persia in Peckham' (2007) and 'Cooking & Dining in Tudor & Early Stuart England' (2015). Prospect also publishes the proceedings of The Oxford Symposium of Food and Leeds Symposium. The Oxford Symposium was originally founded and co-chaired by Alan Davidson and Dr Theodore Zeldin. The Oxford Symposium website notes that: 'The first Symposiasts included Elizabeth David, her editor and publisher Jill Norman, Anne Willan and Mark Cherniavsky of the La Varenne Cookery School in Paris, Paul Levy, Richard Olney and Professor Nicholas Kurti'.
Davidson was also supported and guided by Jane Grigson in his work. It is fair to say that Davidson, his wife Jane, their two daughters, Tom Jaine and people like Elizabeth David and everyone involved in Prospect and the Oxford Symposium are to be celebrated for creating a home for food history, a community, where constant research is being constructed and works of great importance for the future created.
We all know that the world is being consumed by a religious battle, but it is in food that we are united. If only the world would be like the Prospect list which shows a clear interest in all cultures of food, and an equal respect for all of them.
It is a privilege to own a selection of Davidson's books.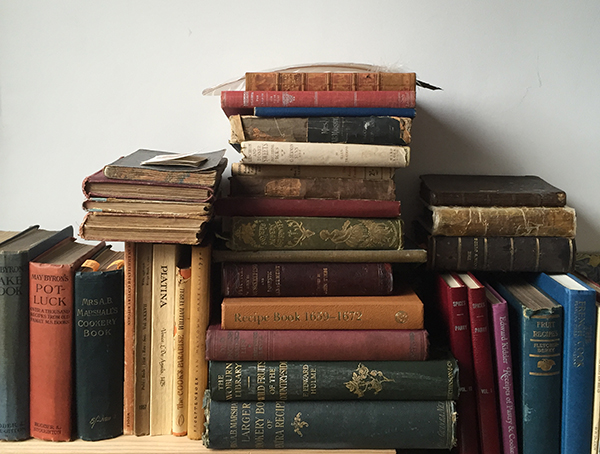 For those interested in where Davidson's books are, these are the ones in my hands apart from The Citrus Cookbook, which I gifted to a special friend.
Delightes for Ladies, Hugh Platt
The Citrus Cookbook
Spices – Volume 1 and 2
Food History Comes of Age – Praemium Erasmianum Essay, 2003
A Book of Mediterranean Food, David, Elizabeth 
The French Cook, by Francois Pierre La Varenne, translated into English in 1653 by I.D.G. [Alan Davidson's copy] 20.00 £
Receipts of Pastry and Cookery for the Use of His Scholars, Kidder, Edward
Fruit Recipes – a manual of the food values of fruits and nine hundred different ways of using them, Fletcher-Berry, Riley M.
The Receipt Book of Elizabeth Raper, and a portion of her cipher journal, edited by her great-grandson, with a portrait and decorations by Duncan Grant
GRANT, Bartle (ed). Elizabeth Raper
Recepten Boek van Mevrow Marselis , Marselis
De Honesta Voluptate, Platina. Bartolomeo De Sacchi Di Piadena.
In an Eighteenth Century Kitchen – a receipt book of cookery, Rhodes, D.(ed); Nichols, Beverley (preface)
Diana Astry's Recipe Book, c.1700, Stitt, Bette (ed). (Cirket, A.F.)
Lady Bountiful's Legacy to Her Family and Friends – a book of practical instructions & duties, counsels & experiences, anecdotes hints & recipes, in housekeeping & domestic management, calculated to increase the comforts of home. Timbs, John. (ed).
Hostess, Spry, Constance & Hume, Rosemary
The Household Accounts of Kenninghall Palace in the Year 1525, Howlett, Richard
Dumas on Food – selections from Le Grand Dictionnaire de Cuisine, Dumas, Alexandre (translated by Alan and Jane Davidson)
Wild Fruits of the Countryside, Hulme, F. Edward
How to Know Wild Fruits – a guide to plants when not in flower, by means of fruit and leaf. Peterson, Maude Gridley
An Essay on Bread. (1758), Jackson, H. (chemist)
The Recipe Book, 1659-1672, of Archdale Palmer, Gent, Lord of the Manor of Wanlip in the County of Warwickshire Uden, Grant (ed)
The Cook's Paradise, being William Verrall's "Complete System of Cookery", published in 1759, with Thomas Gray's cookery notes in holograph. Verrall, William.
Food, Cookery and Dining in Ancient Times – Alexis Soyer's Pantropheon, Soyer, Alexis
Further reading
Read Tom Jaine's Obituary for Alan Davidson here >