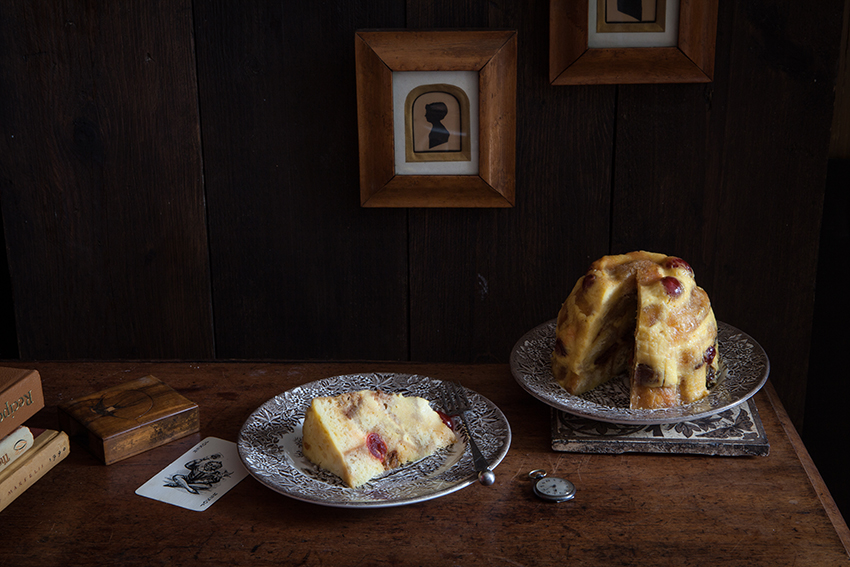 Let me share with you a recipe from Pride and Pudding, my debut book that was festively launched in London's Borough Market two weeks ago. There is also good news if you haven't ordered the book yet! The Amazon editorial team has not only included Pride and Pudding in their 'Books of the Month' – this week it is also part of their 'Deal of the Week' which comes with a 50% discount only this week. (Get it here >) Meaning it will only set you back a tenner! It looks like sales are going splendid as I haven't seemed to have lost my spot in the first 10 of the top 100 Bestsellers. As an author you do fear no one will buy your book. As do you fear bad reviews and negativity. So if you have a moment and you like the book, Amazon reviews do make a difference.
Now back to the actual order of the day. Cabinet pudding was a favourite on Victorian tables, the first recipes for it appeared in the early 19th century, though similar puddings had been made long before then. It is also sometimes called Newcastle pudding, diplomat pudding or Chancellor's pudding, though the connection with politics isn't clear. Recipes also vary. There are theories about the name but none seemed to hold much truth to them.
Most recipes are tipsy puddings – much like a trifle – with pieces of sponge cake or sometimes even plain buttered bread or biscuits soaked in alcohol layered with dried fruits and custard. These are placed in a fancy mould and the pudding is then steamed.
This makes for a very satisfying pudding, I must admit I'm game for any pudding containing decent booze. There's just something about a alcohol soaked cake, especially when not overly sweet and softly steamed like this one. It is so moist, it really doesn't need anything else, and it is better on the next day. The best result however is obtained when using a home made sponge cake, or one that you have purchased from an artisan bakery. This because the cake should not disintegrate, but hold all that alcoholic liquid remaining quite in shape. But also because you can keep an eye on the sweetness, flavourings and other ingredients which are often added to keep the cake from going mouldy while it should actually just go stale.
I like to search out good candied cherries for this pud, as it is a pudding I will not make on a plain old tuesday, I like to go the extra mile and make it as best as it could be. Don't use those marashino cherries in a jar, just dry candied but still looking plump and juicy.
When it comes to the ratafia biscuits needed, decent amaretti biscuits will do just fine. Or if you have stale ratafia's left over from another time, then of course those will work splendidly.
Makes 1 pudding in a 1 litre (35 fl oz/4 cup) fancy mould
190 g (6. oz) stale sponge cake (or us the recipe in my book)
10–15 ratafia biscuits

 

or amaretti biscuits (or us the ratafia biscuits recipe in my book)
cognac or dark rum, to taste
custard sauce 1/2 recipe see below

(

see page 338

)

10–15 glaceed cherries
For the Custard (you need half of this, but you can use it to serve with it too. But I feel it really is best without)
10 egg yolks
500 ml (17 fl oz/2 cups) milk
500 ml (17 fl oz/2 cups) thick (double) cream
50 g (1. oz) raw sugar
1 mace blade or cinnamon stick
1 bay leaf (optional)
Method
Preheat the oven to 180C (350F).
Slice the sponge cake in 1 cm (3/8 inch) thick pieces and arrange in a deep dish with the biscuits. Drizzle with a generous amount of cognac or rum and let it soak.
Lightly grease the mould (if you don't want to take any risks getting the pudding out later, line it with plastic wrap – the sort that doesn't melt in the oven – sticking it to the butter).
Make the custard and let it cool slightly while you fill the mould.
Whisk the egg yolks in a large bowl. Bring the milk, cream, sugar, spice and bay leaf, if using, to a simmer in a saucepan. Strain the hot milk mixture and discard the flavourings. Pour a little of the hot mixture into the egg yolks and whisk thoroughly. Now continue to add the hot milk mixture in batches until fully incorporated and you get a smooth sauce. Pour the mixture back into the saucepan and cook over low heat, stirring constantly with a spatula until just thickened, making sure the eggs don't scramble.
When just thickened, remove from the heat and pour into a cold bowl. If you don't want the custard to develop a skin, cover the bowl with plastic wrap.
Place a few cherries in the base of the mould, then add a layer of sponge cake and one of biscuits, then add a few more cherries and another layer of sponge and biscuits. Repeat until the mould is three-quarters full.
Pour in the lukewarm custard then place the mould on top of a trivet or inverted saucer in a deep ovenproof pot that can completely cover the mould. Fill the pot with boiling water halfway up the sides of the mould, place a saucer on top of the mould and put the lid on the pot.
Carefully put the pot in your oven. Leave to steam for 1 hour, then allow the pudding to cool for 5 minutes in the mould before attempting to turn it out on a plate.
Serve with Sack sauce (equal amounts of butter, sugar and sherry or madeira), custard or just on its own, as it shouldn't be dry.