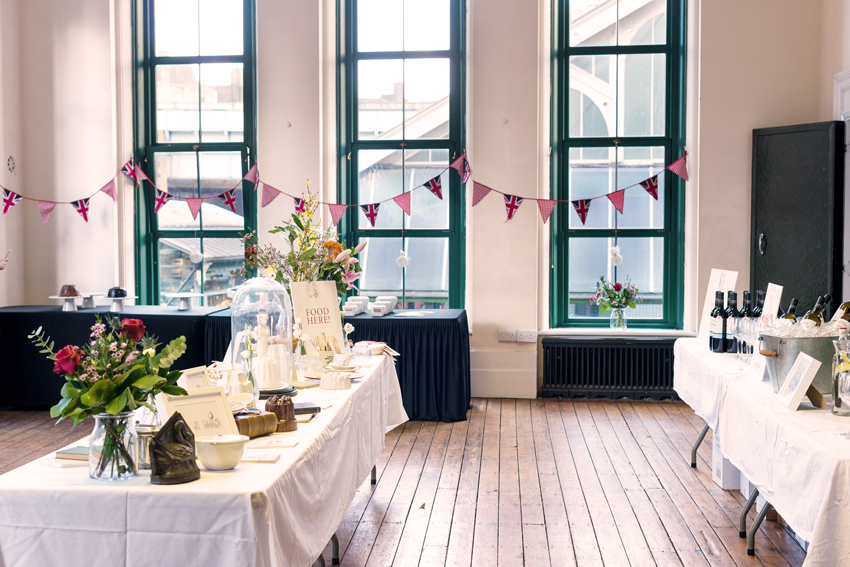 Two weeks ago was the day I have been waiting for, for a very very long time.
The publication day and book launch of the English Pride and Pudding, my original work. My baby. You might find it quite odd that the Dutch translation came out before the original but the whole editing process of the two books was completely different. I'm thinking of writing a post about the two different ways this book was brought to life, it is quite interesting and could come with some advise for any of you are thinking of publishing a book.
So there we were on a nippy april evening in the beautiful old Borough Market Trustees building. I photograph for Borough Market so there is a connection to the place, which was something I was looking for. As you can imagine the day was quite hectic, especially because a journalist assistant kept me waiting for 2 hours in the morning, then finally calling me an hour before guests arrived which is stress you really don't need on days like these. We decorated the space with the help of our friends, Jo helped me into my dress and shoes, only fifteen minutes before the people started to walk up the sweeping staircase. That dress is something I want to tell you about too. It was made by my dear friend Jo and her team in Birmingham, her business is called The Couture Company and this is the second bespoke dress that she has made for me. Each time the dress tells a story, the first was my swan dress, telling the story of my love for England. This dress was of course the Pride and Pudding dress and it showed the illustrations of the cover on the skirt part, which were all delicately embroidered onto the fabric. The belt was the image of the chapter opener of Baked puddings, the collar had the 17th century pie lid decorations… it is unbelievably epic. These were gold to match the golden cloud clutch I bought from my friends over at The Cambridge Satchel Company. Jo first made me a dress called a 'toile', which is in plain cotton to get the shape right. From this dress the final pattern is made, and because I didn't have my last fitting Jo sewed on all the buttons at the venue, to guarantee a perfect fit. Many of you don't know, but I have a degree in Fashion Design and I do know where a seem should be, and all too often with of the rack clothing… the seem is somewhere where it shouldn't be. Having a handmade dress is therefore for me, one of the most amazing things to invest in. So an absolute treat to celebrate my debut book.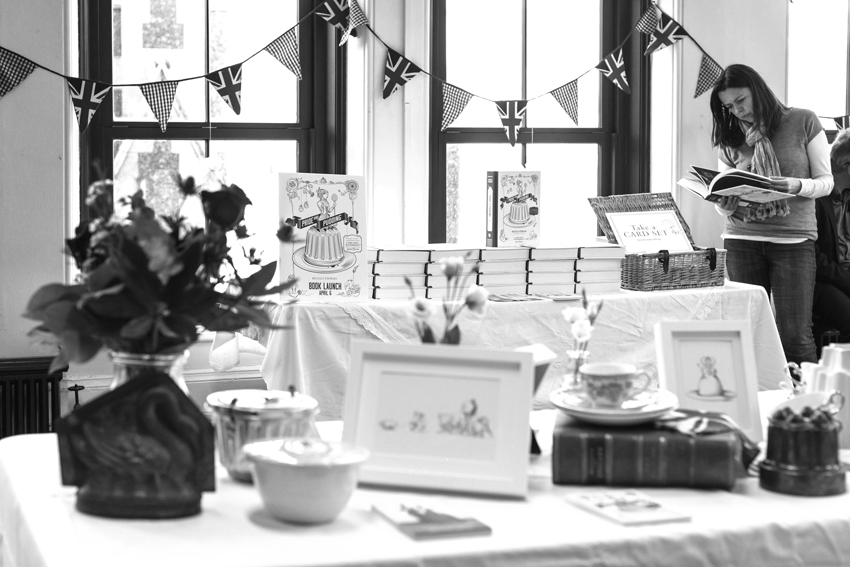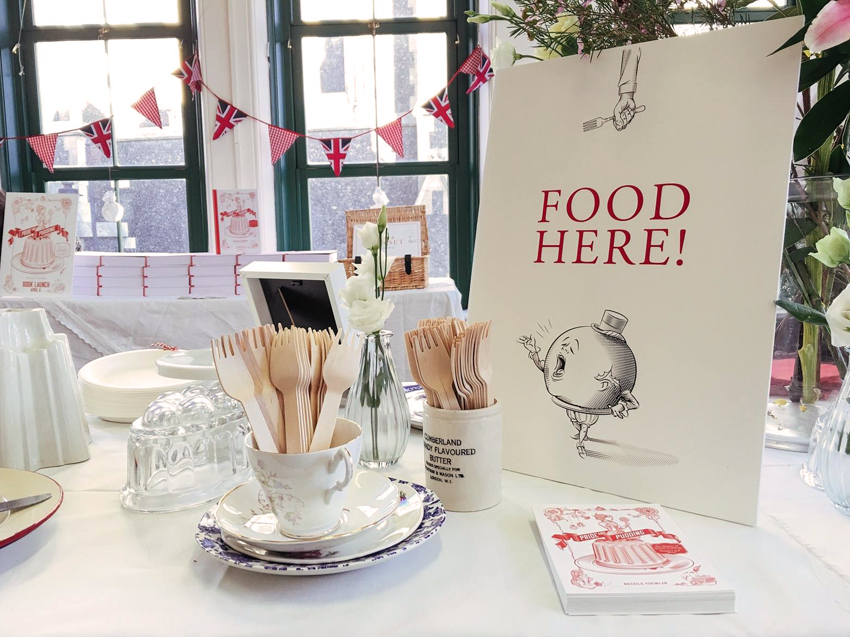 Because health and safety didn't allow me to bring in food that I have made and I only found that out very last minute, I teamed up with Kate from Pudd'eng who just started her steamed pudding business weeks before. I had already booked my friend Sarah from Brays Cottage to create some Pride and Pudding pork pies. She brought them all the way from Norfolk and I have to admit I did it for the selfish reason to finally taste her pies!
The pies went in like the treats they are, and so did the amazing puddings. John, who I became acquainted with because I needed someone to be my eyes and make sure everyone's glass was full, was our drinks manager and quite popular with the crowd! He creates these fabulous cakes when he is not being a fantastic musician. Emma Bunting came in with her handmade Union Jack Bunting. I've known Emma since the week of our wedding when I discovered her and she made us bunting for the wedding party in a record time. Ever since, we have been friends and the bunting pops up in all our occasions. It features so often that people sometimes think I made it myself.
Another launch that evening were our Pride and Pudding bowls, made by the talented Solomia Zoumaras in her studio in London. The whole process of creating the bowl can be found in this posting here. We are so proud of them, they came out so very beautiful. It was something I had wanted to do from the very start, create a pudding bowl like the ones I had been collecting for the research of the book. It is part of our Limited Edition Pack, of which only a few of the 25 remain (email me to secure one). We are planning more of these collaborations in the future, so if you are like me and like full sets of things, get into it soon 😉
I want to thank Murdoch Books, my publisher, because so many people have told me on the launch about how much you guys seemed to love the book, and that really means a lot. I also want to thank Jamie Oliver, for one obvious reason – his amazing words on the cover, but also for his support from the very start of my career and this book project. The editorial team of Amazon who came to my launch, thanks for electing my book as one of your 'Books of the Month' and for the amazing support again this week when Pride and Pudding is included as 'Deal of the Week' (get over there, it comes with a nice discount too!!). The editor of Delicious, Karen Barnes, who shouted out about my book before it was out, and included it in the magazine. Jamie Oliver and Andy Harris of Jamie Magazine for including me in the British issue, it couldn't have been more fitting! The Guardian for sharing extracts of my book on their website, BBC Womanshour, BBC Breakfast tv, The Telegraph, and so much more… It has been awesome so far and there's still plenty of amazing things to come!
Thank you to my friends who came from afar, some took an airplane, others spend 6 hours in a car or train. Thanks Sarah and Kate for the amazing food, John for being the most smashing drinks manager. Thanks Borough Market, Lucy you went beyond duty. Thanks mum and dad for coming from Belgium. Thanks Anne and John from Grubstreet publishing, who advised me on so many things throughout this book project. Thank you Bruno, you super husband and amazing artist. Thank you all who I have forgotten, you know I appreciate it…
But finally I want to thank YOU my readers for your support. And I am giving away a book! (English or Dutch). To win, just leave a comment on the Pride and Pudding post here. Tell me about your favourite pudding!
Now here are some more pictures of the launch! Check back later this week for a recipe!
Pictures by Sarka Babicka, my Dad, me, and Tommasso Galli
You might also enjoy:
The making of the Pride and Pudding bowl