I can clearly remember the first time my brain registered the juiciness of a nectarine and its heavenly scent. It was summer and unusually hot. I was about 3 or 4 years old and me and my mother, the lady next door and her son Sam who had the same age, had walked quite a distance to a park where we could play. After we had played a while, Sam and I were each given an unusually large nectarine – mostly because our hands were very small. They came out of a brown paper bag, and I can still recall the sound of the bag, and the scent that came next when it was presented to me to pick my fruit. I remember that I smelled the skin of the fruit, looked at it, turned it around and was then handed a piece of white kitchen paper to catch the juice that was about to drip from my chin and hands. I investigated the skin between my fingers, the texture of the fruit. I recall the bitterness of the magenta red stone as I was trying to get the last of the flesh from it.
I had lost this memory for years because I had not encountered the scent of nectarines like that for a long time… I complained for the last decade that peaches and nectarines were harvested too early, that they never ripened, but rotted instead. They were as hard as a rock, cold from the fridges in which they were kept, like many people like them. They eat them like an apple, and enjoy the tangy unripe flavour. But this is not the way for me… You have to wait until the fruit gives off a heavenly scent as if it is a last breath. Only then, the fruit is ready to eat. Only then would the juices flow so rudely down from your chin and down into the collar of your dress or shirt.
I now feel like I have been given back something that I had lost, something I had forgotten that I had. Because saturday I opened a bag of unripe nectarines that I had forgotten about in my wicker shopping basket from the day before. It had been warm in our house, and the moment I opened the bag, there was that last bewitching breath of the nectarines… telling us they were ready to be devoured before they become so ripe that their skin only holds juice rather than flesh.
I feel blessed to have been given back a memory of my childhood with the scent of nectarines. This only goes to show how powerful the memory of taste and smell can be. Back came that summers day in the park, the tiredness from walking, the relief from hunger in the afternoon with the fruit, the long walk home in the sun… My little friend Sam who I was going to marry because he was going to be a fireman when he grew up, his mother, my mother. Back came the memory of dinner that night, my mums special Moussaka which isn't a Moussaka at all. I recall being too tired to eat, nearly falling asleep in my plate of hot food, the window opened in our dining room, a breeze giving a well needed refreshment after possibly one of the warmest days of the year.
Something else was given to me in the last few weeks… a heavy leather photo album that contains photo's of my ancestors. Up until that day I had never seen any old pictures of my fathers family. The album and a stack of other old pictures had been in the possession of my fathers sister who died over 10 years ago. Only recently when I was in a couple of magazines and newspapers with my book, my aunts daughter, my niece, contacted me. I hadn't seen her for over 20 years, on my grandmothers funeral to be precise.
I now have an album with a couple of pictures, though it is mostly empty. I had never thought that the sight of old family could be so special. Most of us grow up with frames of pictures on walls and bedside tables, but I had none of my fathers side and few on my mothers side.
I first saw a picture of my dad when he was a boy, he was blonde like I was as a small child. He and a couple of other kids were playing in some field in Antwerp, most likely it is now a new neighbourhood. Then there were pictures of my dad when he was in his late twenties, on family gatherings with my mom. He wore flares and tight tee shirts as was the fashion in the 60's. On other pictures he was filming and taking pictures, with my mom, niece and aunt around as well. I recognised myself in him, and the face I pull when I'm behind the camera. My dad decided to hold on to those pictures for a while but the oldest ones in the album, I took home. It is quite strange to have such a large album and have it nearly empty, but still it is a family heirloom I will cherish.
With the nectarines so lovely and fragrant I decided to bake batter puddings for tea. They are often referred to as Dutch babies, though they have nothing to do with the Dutch and are an American invention. Basically this is a Yorkshire pudding with a sweet topping. Something that has been eaten in England for a very long time. Leftover puddings from dinner would often be eaten as dessert – for pudding.
Theories on why it is called a Dutch baby are plenty, some say it comes from the Dutch 'poffertjes' but the method is different and the Dutch baby or batter pud tastes more like another batter pudding called 'smoutebollen' which are balls of dough deep fried in 'smout' which is tallow (animal fat) then dusted with icing sugar. But smoutebollen have a yeasted dough while the Dutch baby/batter pudding has a pancake dough.
The 'Dutch' could refer to the German-American immigrants known as the Pennsylvania Dutch, so 'Dutch' is in this case a corruption of the German autonym 'deutsch' (meaning German in German). If you want to know more about pancake-type history, I would recommend you read the whole story in 'Pancake: a Global History' by Ken Albala.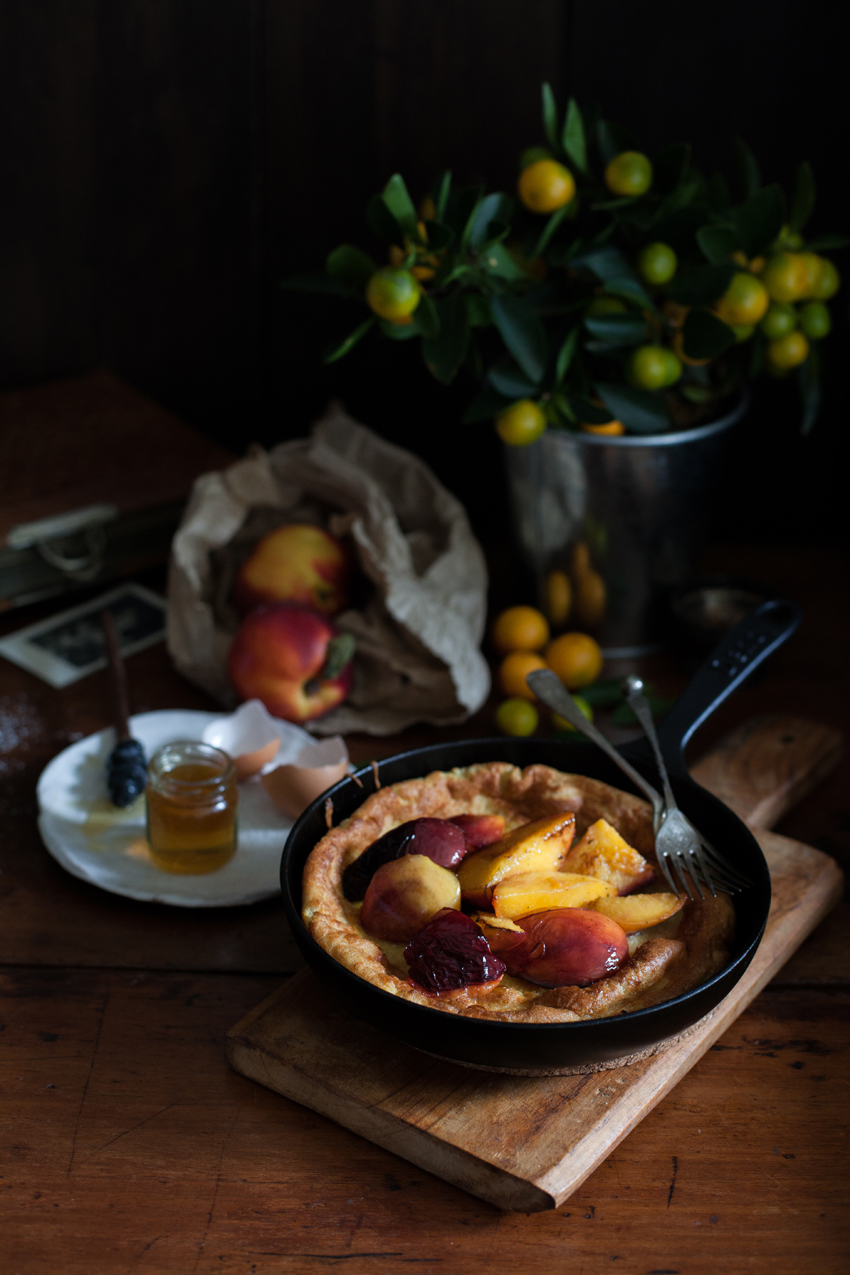 Batter puddings – or Dutch babies
What do you need (makes 2 batter puddings in 25 cm skillets, or 1 large one, or several small ones if using a muffin tray)
110 g  plain flour
a pinch of salt
a teaspoon of vanilla sugar (optional)
a pinch of nutmeg, or cinnamon if you prefer
280 ml milk (oatmilk or any other plant based milk works too)
3 large eggs
sunflower oil, clarified butter, lard or tallow, for frying
Method
Proceed by creating the batter as you would for a pancake batter, adding the flour and pinch of salt to the milk and eggs, making sure there are no lumps. I find that the pudding improves if you leave the batter to rest for 30 minutes or so before cooking.
Preheat the oven to 250°C
Pour 1 cm of sunflower oil, clarified butter, lard or tallow into your cast iron skillets, or cake/muffin tin and set it in the middle of the hot oven. Place a larger tray underneath in case the fat drips: you don't want extra cleaning and a smoky kitchen afterwards.
When the fat is hot (you will see it spitting): carefully but swiftly pour the batter into it and close the oven door.
Bake for 20–25 minutes without opening the oven until the pudding is puffed up and nicely coloured.
While the pudding is in the oven, you can prepare your fruit for the topping. Strawberries dusted with icing sugar and maybe some cream too is a definite winner. But roasted or baked nectarines or peaches make it into a more cosy pudding. Drizzle the fruit with some Grand Marnier in the pan for a grown up pudding. Roasted apples and pears with spices in winter and autumn, with maybe some blackberries added for colour. Cream or ice cream added to it is good for the soul.
If you are not into puddings that have warm fruit, or cold fruit on a warm pudding, the pud is just as good with a drizzle of honey, syrup (golden, date or whatever fancy syrup) or a simply dusting of icing sugar.
Eat hot.
You might also enjoy:
Cabinet Pudding from my book Pride and Pudding >
Kentish cherry batter pudding >