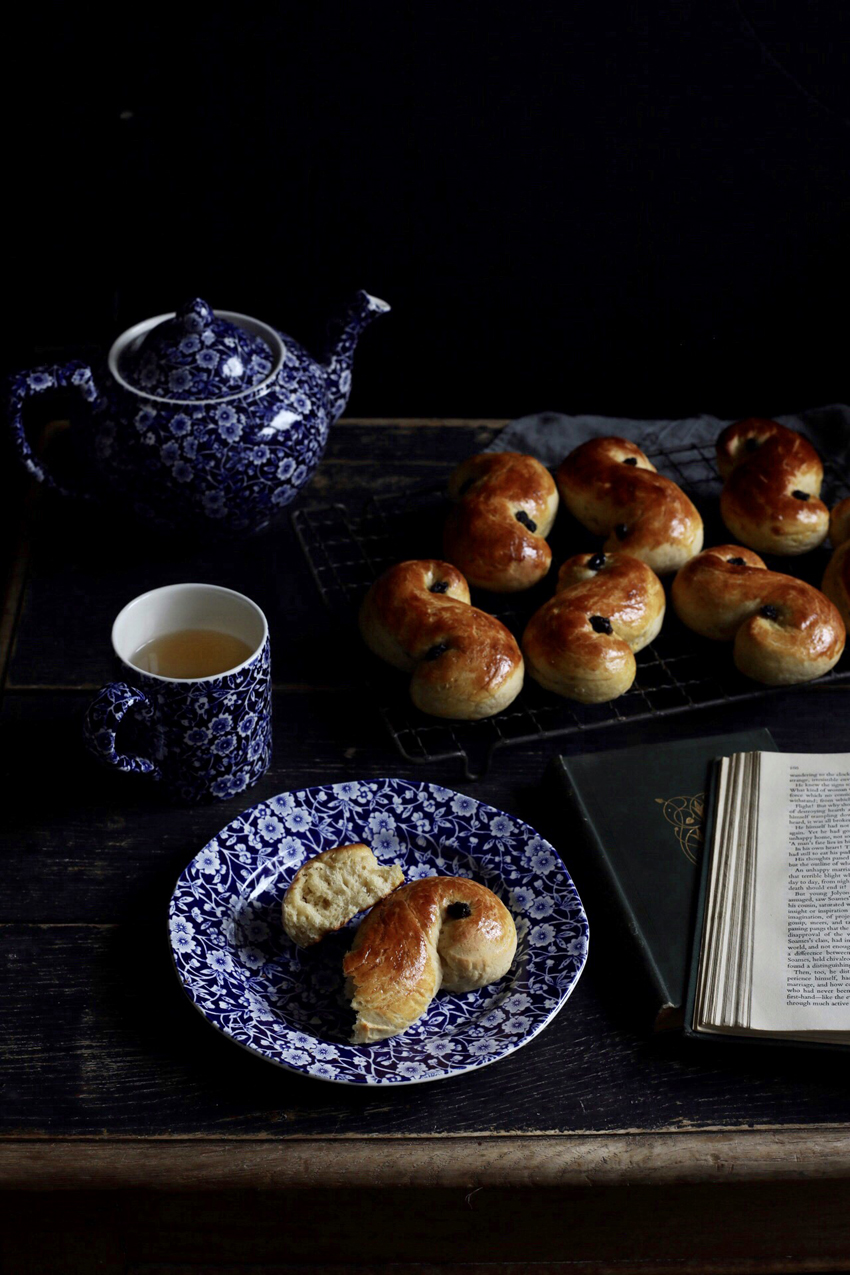 First of all good news! My book Belgian Café Culture (Authentieke Belgische Cafés) has won the 'Food History' Award for Belgium at the Gourmand World Book Awards! I'm extremely happy that our Belgian café heritage is getting such recognition, in the hope that this will lead to some day preserving cafés as protected heritage. Now on to todays business…
Ever since I spent some time in Sweden I can not stop baking traditional Swedish delights! So of course I had to bake on Santa Lucia, which is celebrated in Sweden today. They go by a few names: Lussebullar, Lussekatt, Lussekatter, St.Lucia bullar and plain old saffron buns.
According to tradition it is the eldest daughter of the family who is in charge of baking these buns. Santa Lucia is the christianised pagan feast of the winter solstice. Today is the darkest day of the year and therefore light has to be celebrated and cherished. Before christianisation the Nordic people would celebrate the goddess Frigga or Freya and her awakening from the tree in which she was hiding with her child Baldur. This marks the shortest day and the moment in which the days will start to lengthen again. For pagans today is christmas.
Santa Lucia or Sankta Lucia is a feast of light and celebrated with candles because Lucia wore a candle-lit wreath to guide her through the catacombs to bring food to christians who were in hiding from persecution. Lucia is represented as a lady in a virgin white dress with a red sash symbolising the blood of her martyrdom. In Norway and Sweden girls are dressed like this and one of them wears a wreath crown of candles on her head. The girls parade around the town or village hall with these delicious saffron buns and other delights which symbolises Lucia bringing the light and love of christianity. There is song singing and the whole community comes together.
These buns are easy to make, easy to freeze and have become a staple in our household. Yes I am cheating and eating them all year round! I started from a recipe of a Swedish cookery book from the 1970's which has had more than 14 editions! I do love to search for the most authentic recipe and there are so many recipes around that this book – I'm in the opinion the older the better – was the best guide. It uses too much sugar so I have reduced that, plus I added a bit of yoghurt or quark which other recipes often do. My method is different too, so scroll down for the recipe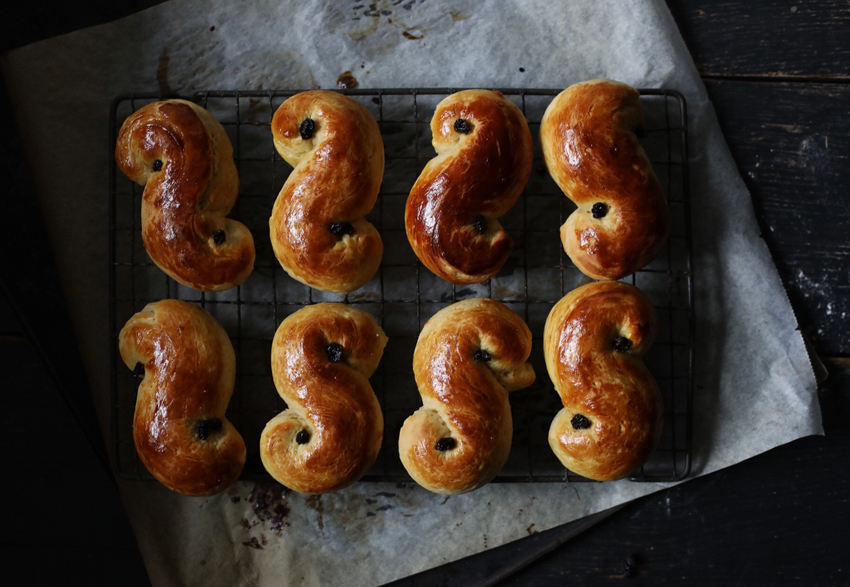 Recipe
What do you need (10 buns)
250ml full fat milk
a pinch of saffron
1 pack of dried yeast (about 10-12 grams)
420g all purpose flour
50g of caster sugar or cane
a pinch of salt
1 egg yolk
85 g soft unsalted butter
1tbsp of greek yoghurt or quark
a bunch of currants or raisins for decoration
1 eggyolk for eggwashing
Warm the milk with the saffron and let it infuse so it gets a beautiful golden colour, then add the pack of yeast and stir
In a bowl, combine the flour, sugar and salt. Then add the butter and the egg yolk and half of the milk mixture. You can do this in a mixer, I've used nothing else since I got my Kenwood in august! Add the rest of the milk gradually and let the mixer (or your hands) knead for 5 minutes on medium fast. The dough will start to form a ball, that is when it is ready.
Now put a towel over the bowl and let the dough rest for 1 hour or until about doubled in size.
Put a piece of baking parchment on a baking sheet. When the dough has rested, knead briefly and roll into a big sausage. You won't need flour, the dough is sticky but will not stick to your hands or your kitchen counter. Divide into pieces of about 85 grams and roll into snakes to make the shape required. Place neatly on the baking sheet with space in between each bun so they can expand in the oven.
Leave to rest for 30 minutes covered loosely with a tea towel.
Preheat your oven to 250°C
Eggwash your buns, add a currant or raisin on each end an place your buns in the middle of the oven.
Bake for 8-10 minutes.
These buns freeze well, just heat up in an oven before serving!